The Choosing Raw Cookbook + Raw, Vegan, Blueberry Cheesecake
Oh friends, do I have an awesome book to tell you about.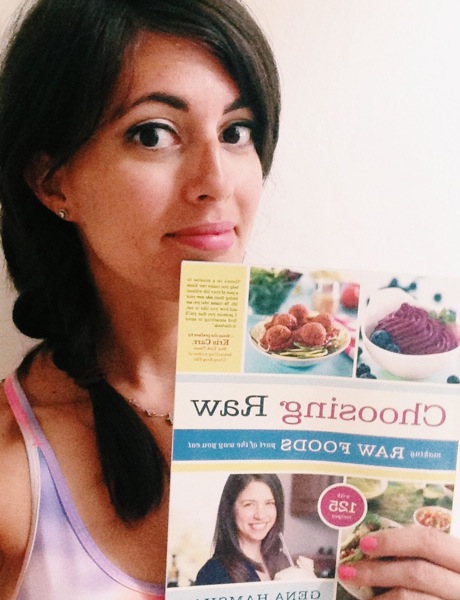 I was so excited about this one for a few reasons:
1) It was written by one of my dear friends, Gena Hamshaw from Choosing Raw (If you haven't heard of her blog before, please click here and enjoy)
2) I knew it would expand my horizons on the plant-based food front and
3) I looked forward to devouring it like a novel; like the recipes, the words would undoubtedly be savored, as Gena truly has a gift with writing.
Of course, it surpassed my high expectations (as I knew Gena would do an amazing job). It's a gorgeous book that will soon have spice smudges, dog-eared pages, and green juice splatters all over it. The only bummer?
I wish this would have existed years ago.
If you've been reading the blog for a while (thank you!!) then you already know that I was really into raw food for some quite a while. When I say "really into," I mean that I devoted quite a bit of time into reading and learning about a raw diet, experimenting with recipes, and even attended a raw foods culinary school. In the end, I decided that a totally raw lifestyle wasn't for me. I still love and frequently enjoy raw recipes, and I'm confident that a mostly raw diet didn't last because I made it too hard for myself.
The "raw foods" lifestyle I had created was so far from the one that Gena discusses in her book. I fell into the "raw or nothing" mentality, and was making complicated recipes that wouldn't be sustainable for the long term, especially now that I have a little one to feed. Many of the fancypants raw recipes involve multiple steps, which can include blending, juicing, dehydrating, sprouting, fermenting, etc. "Oh, I think I want pizza in three days. Ok, better start making it now!"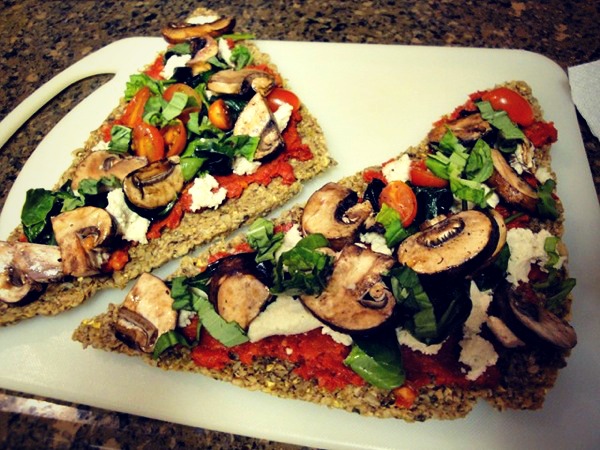 Not the most efficient way to go 😉 Choosing Raw would have changed a lot of that.
For starters, Gena debunks some of the common myths in the raw food world including food combining. She also breaks down the basics of safe vegan nutrition, the staples to include in your kitchen, and practical tips for anyone looking to increase the amount of fresh and raw foods in their life. The best part is that it incredibly informative without coming off as judge-y. I consider myself somewhat of a vegan cookbook connoisseur, but there's no getting used to feeling badly about my lifestyle and eating habits after reading a condescending vegan cookbook. I'm happy to say that's definitely not the case here. Gena writes with a sassy, knowledgeable demeanor that's humble and inviting. It encourages readers to make positive changes, whether they're from large or small steps. So much love and heart went into the creation of Choosing Raw. You can feel Gena's beautiful spirit throughout the book, especially when she shares the details of her history with an eating disorder and how a plant-based lifestyle assisted her on the path to health. (I didn't know her before, but the Gena I know now is the epitome of vibrant health. Just hanging out with her from time-to-time inspires me to eat more plant-based foods.)
While the book does include recipes (125 vegan recipes, many of which are gluten-free), the best part is that it includes 21 days worth of meal plans. You learn how to enjoy raw meals with non-raw dishes, use leftovers throughout the week and create well-balanced meals. Choosing Raw begins with the basics of raw food + recipes, and through three "levels" increases the unique ingredient or complication level. Level one ("Tried and True") includes raw and vegan twists on usual staples (like pumpkin granola, sweet potato and black bean enchiladas and "rawvioli" with nut cheese and pesto), while levels two and three ("Something New" and "Brave New World") feature more unique ingredients (like superfoods!) and raw "cooking" techniques. There's a host of information and options to make your meals as raw and as simple or more adventurous as you'd like them to be.
Of course, one of my favorite chapters is the dessert chapter: 13 Desserts for Everyone. In my personal experience, I've noticed if anyone is a doubter of a vegan or raw lifestyle, just make them dessert. Gena includes a lovely variety of new recipes, like carrot cake cupcakes with cream cheese frosting, no-bake tartlets with chocolate ganache filling, and this decadent cheesecake. I'm lucky enough that I had enough batter left for the actual dish because Liv and I got a little overzealous "saving" batter for us to eat 😉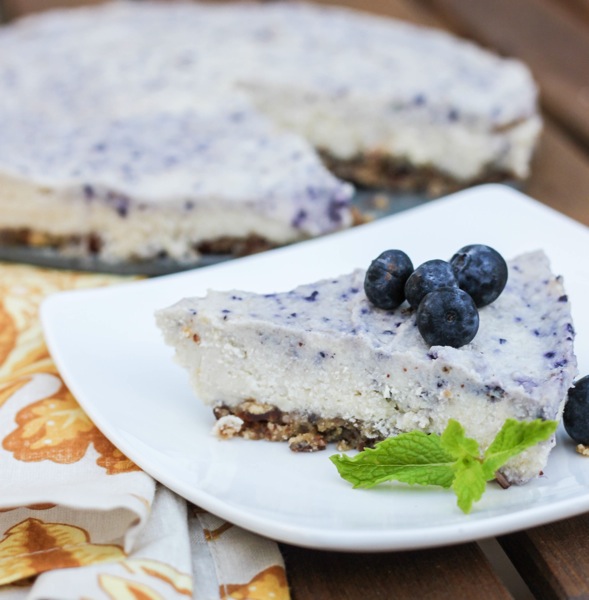 The secret to creamy consistency: soaked raw cashews.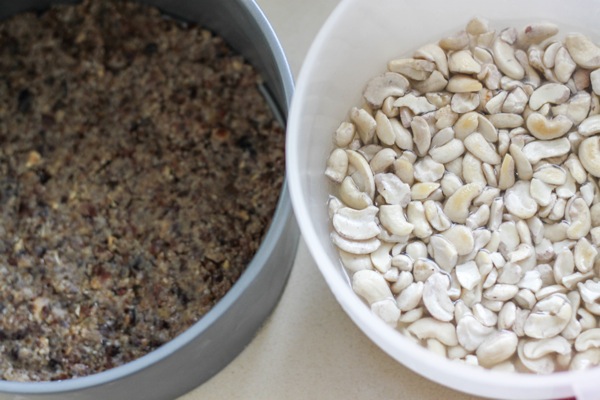 Gena kindly offered to share the recipe with all of you! Hope you enjoy it as much as we have.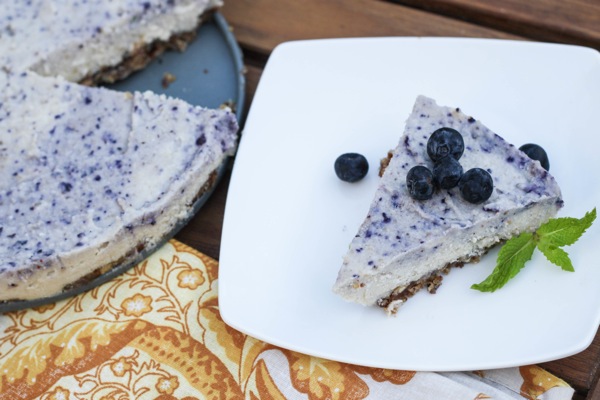 Whether you're vegan, raw, vegetarian, an omnivore like yours truly, I think you will love this book. It would also make a wonderful gift for vegan or health-minded friends!
Raw, Vegan, Blueberry Cheesecake
If you think authentic cheesecake flavor is impossible without the cheese, think again. Raw cheesecake happens to be one of the most authentic tasting raw desserts, thanks to the magical combination of cashews and coconut oil. The cheesecake is easier to prepare in a high-speed blender than a food processor, but the processor can work if that's what you have. Just be sure to soak your cashews overnight!
Author:
Prep Time:

15

Total Time:

15 minutes

Yield:

1

1

x
Crust Ingredients
1

1?2 cups almonds
Pinch sea salt

2 cups

pitted Medjool dates
Filling Ingredients
3 cups

cashews, soaked in water overnight and drained

1

?4 teaspoon sea salt

2

?3 cup melted coconut oil
Seeds of

1

vanilla bean, or

2 teaspoons

vanilla extract

1

?4 cup freshly squeezed lemon juice

1

?2 cup agave nectar
Topping Ingredients
2 cups

blueberries

2 teaspoons

freshly squeezed lemon juice

2 tablespoons

agave nectar or pure maple syrup
Instructions
1. Place the almonds and sea salt in a food processor and grind roughly. Add the dates and process until the mixture is well processed and sticks together when you squeeze a bit in the palm of your hand. Press the mixture evenly into the bottom of a 9-inch springform pan.
2. Use a high-speed blender or food processor (high-speed blender is preferable, but a food processor will work as well) to process all the filling ingredients thoroughly, until they are silky smooth. If you're working with a processor, you may need to stop often to scrape it down. Pour the mixture over the layer of crust and use an inverted knife to smooth it over. Place the cheesecake in the freezer for an hour, then transfer it to the fridge and let it set overnight.
3. When the cheesecake has set, blend 1 cup of blueberries, the lemon, and the agave
nectar in a blender until smooth. Transfer to a small bowl and stir in the remaining whole blueberries. Pour the mixture over the cheesecake (or you can spoon it over individual slices). Serve.
Cover and store the cheesecake in the fridge for up to 3 days, or in the freezer for up to 10. If you freeze the cake, defrost the slices in the fridge for several hours before serving.
From Choosing Raw by Gena Hamshaw. Reprinted with permission from Da Capo Lifelong, © 2014.
Notes
If you don't have cashews, macadamia nuts are a perfect substitute.
Hope you have a wonderful day <3
xoxo
Gina
What's something you wish you would have known when you were first getting started in health or fitness? I still can't believe I feared fats for so long. I'm still making up for lost avocado time.