Hey everyone! How's your Friday treating you?? Hope you're having a great day <3 LOVED all of the purse links. Thank you for encouraging my supreme shopping addiction 😉
I'M IN ORLANDO!
Scamp is so excited because Viesa is here, too.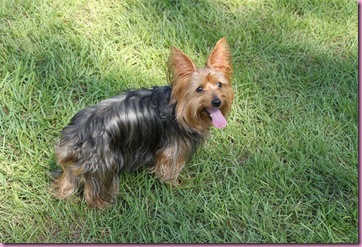 He keeps trying to kiss her on the mouth. Bella is his friend, but Viesa is his GIRLfriend 😀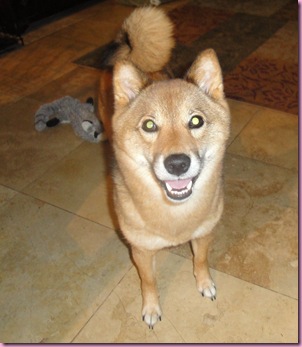 As soon as I got on I-4 this morning, I knew I made the right decision coming here. Walking into my aunt's house and being surrounded by memories instead of empty walls and desert-colored uniforms, a wave of relief washed over me.
These past few days have been emotionally and physically exhausting, but the good news is that I'm now on the downhill slope. I'm here! 😀 All I have left is to get settled and start this new little adventure.
I'm off to unpack, chill for a second, head to yoga and then meeting some blog friends for a legendary dinner 🙂
See ya later <3
xoxo,
Gina
Upcoming:
-Next Food Blog Star entry #1
Something to read: A guest post from Kaitlin! 🙂
Hi, Fitnessista readers! My name is Kaitlin and I blog over at Kaitlin With Honey. I'm a fairly new blogger (I started in June) but have long been a healthy living blog reader. So, when Gina put out the call for guest bloggers, I jumped at the chance. Coincidentally, taking chances is what I'm writing about here.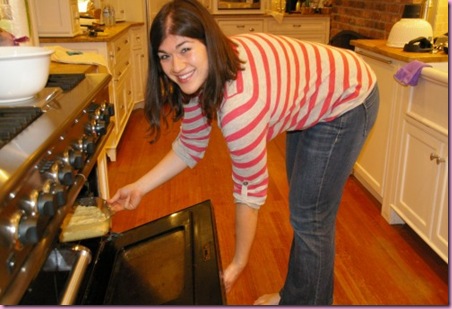 This past weekend, I ran a 10K. To some, this race is nothing. To me, though, it was a milestone. You see, I am not a natural runner. Not. At. All.
Less than a year ago, the idea of running even a mile would have seemed laughable to me. Even though, at that point, I had reached a weight and level of fitness I felt truly proud of, I was still skeptical of running. Back then, to think of running meant flashing back to desperately failed attempts at completing "the mile" in high school.
When 2010 hit, though, I decided that I was going to take this challenge head-on. I wanted something to work toward and running seemed to be both a lofty goal and one worthy of a year-long project.  And really, taking a chance on running meant taking a chance on myself, which felt important.
To me, that's what it's all about: taking chances. I'll skip over the months of training, the (happily few) moments of self-doubt and the (happily many) moments of exhilaration at my own abilities. I just want to tell you that, when I crossed the finish line this past Sunday, I have never felt happier, prouder, or more certain that taking that chance was the smartest thing I've ever done.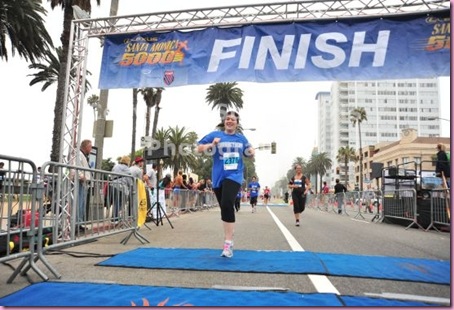 So, now what? I knew that as soon as I'd completed a 10K, I'd want to try something else. This is not to say I'm abandoning running by any means (I've signed up for two more 10Ks in 2010 alone!). I'm just thinking that my recent success means it's time to face something else I never thought I'd want to try again: yoga.
I know – the horror! I almost can't believe that I'm admitting, on Gina's blog, to my deep-seated mistrust in all things OM.
Yoga is something I haven't tried in a long time and is a practice that I gave up on long before giving it a fair chance. But, if I've learned anything from running, it's that taking a chance in something I feared gave me a kind of confidence in myself that I never knew was possible.
So, you know, maybe I'll never be a natural at yoga – but I'll never know if I don't try, right?
Trying new things isn't just about fitness, either. It can be about anything! I think it's so easy to fall into ruts once we become comfortable. I found an almond butter that I loved and ate it consistently for a year. Finally, after months of reading about so many other nut butters, I started trying a bunch of others. Now I have eight in my kitchen.
Okay, that might not be the best example. I went a little overboard on the nut butters.
No, but really, it can be about anything. Have you long wanted to pick up photography but don't know the first thing about cameras? Find and take a class. Been noticing a guy at Starbucks? Talk to him, even if it means you need your friends to push you to do so, like Gina did. It can even be attempting to bake a batch of cookies in spite of your fear that you're going to burn your house down. Just try something new today! Even if you think you might fail – heck, even if you do fail! – you just pick yourself back up and try again.
I promise, you won't be sorry.
(Unless you really DO burn your house down. In that case… you never read this post.)
Now, where can I find a yoga mat?