Now that the Pilot has officially finished airline training, I have so much to tell you guys! The airline life is unlike anything we're used to, and we're just starting to feel like we're getting the hang of things.
WHEW.
It has been a whirlwind 6 months over here.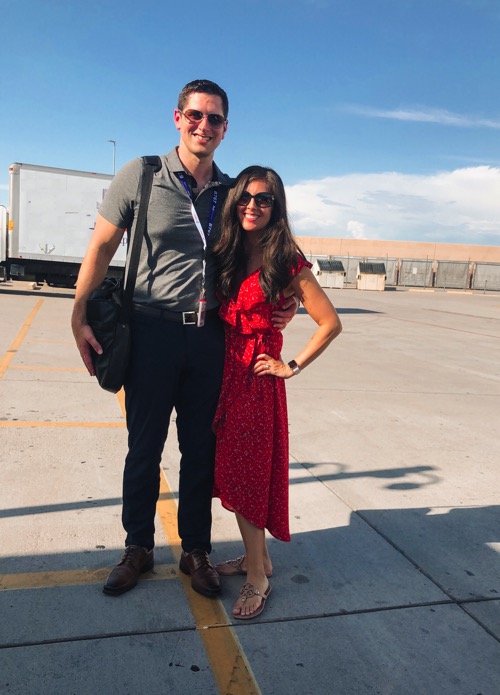 Basically as soon as the Pilot came back from his deployment, he was straight into airline preparation. We had hoped that he would be hired by an airline within the year, but were pleasantly surprised and excited when the interviews came rolling in. He was offered interviews from several of the major airlines, and after his second conditional job offer (from companies that we love), he canceled the remaining interviews as we started making pro and con lists.
Various factors went into our decision-making process: ease of commute, domicile (where you're "stationed"), company culture, travel perks, ability to hold a line close to Tucson, etc. We're also fortunate to have a lot of friends in the industry who can share their experiences. As soon as his pilot friends found out he had a conditional job offer (CJO) from one particular airline, they nearly-unanimously said, "If you got an offer from <there>, take it." We're not revealing the specific company because the pilot has be advised to keep a low social media presence, but we feel incredibly fortunate to be apart of its amazing family.
So, we went for it, and we're so thankful we did. They treat their pilots well and he's loving it so far. We have quite a few friends who fly for the company, and all of the pilots he's met have been welcoming, generous with their knowledge, and genuinely kind, cool people. I feel like he's in the right spot.
It seems that training is kind of bananas, no matter where you end up. After immense preparation, flying out for interviews, and accepting a CJO, you have to go through something called indoc. It's two weeks to learn all about the company (history, insurance, benefits, flying policies, etc.) and also receive your aircraft assignment. After indoc, you're into training, which for our airline, takes about two months. It's lots of academics, "flights", and check rides in the simulator. Once you finish your final sim, you need to complete a certain amount of hours in the aircraft with specially qualified captains before you're considered out of training.
The Pilot has been flying for the past couple of weeks! It's crazy to think about him flying such an enormous airplane. An entire A-10 could fit inside this model!
So while he's been going through indoc and training (since June!), the girls and I have been doing our thing. I joke that he was really deployed for a year because we haven't seen him a ton. The stretches were usually 10 days with 1-2 days home in between. It was intense but now that training is finished, everything is supposed to slow down a little. I honestly have no idea what his schedule will be like, and it adds a new layer of complexity into planning our lives.
Something the military life taught me: you can't plan on them being around. If they are, it's just a bonus! In the meantime, you can't let it stop you from doing fun things. The girls are my little adventure buddies, and I've just been treating it like deployments and TDYs.
That's what's been going on over here. It's exciting and a huge change. and I'd be lying if I said it was totally easy – it's been challenging – but I'm excited to see where it takes us.
xo
Gina