Make Your Move: veggies in every meal
This post is sponsored by Fitlfuential on behalf of Kohl's. Through their new #MakeYourMove campaign, Kohl's is on a mission to support others towards their goals of healthy sleep, fitness, stress management and nutrition. You can check out my last post on improving sleep quality here!
When I eat better, I feel better, which isn't too surprising. Since I transformed my diet and transitioned to a whole foods style of living (for the most part, with the "fun stuff" sprinkled here and there), I noticed a dramatic increase in energy and focus. I felt like my body was in touch with my mind, instead of slowing it down, and could feel the benefits of consuming nutrient-dense vibrant foods. Because of the noticeable benefits and antioxidant protection, I try to emphasize my produce intake throughout the day. Fruit is easy: a handful of frozen berries in a smoothie here, a sprinkle on my oatmeal there. Veggies can be a little more challenging.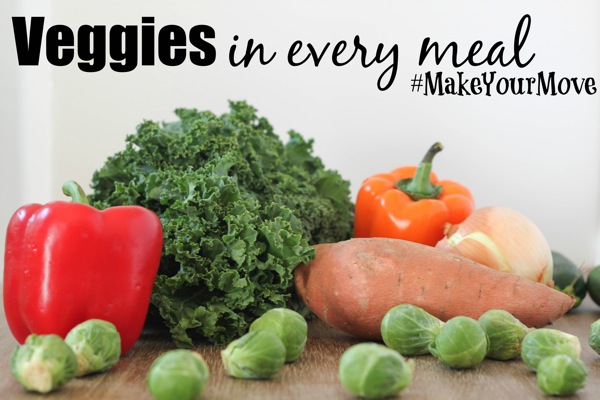 Here are some of my favorite ways to get veggies in every meal.
Cooked:
-As part of my meal prep, I like to roast a pan of mixed veggies. I'll chop and peel some bell peppers, zucchini, sweet potato, tomato, Brussels sprouts, whatever we have on hand. I'll drizzle everything with olive oil or a little melted grassfed butter and season well with oregano, salt, pepper and garlic powder. They'll roast for about 30-40 minutes at 400 degrees, flipping once and re-seasoing halfway.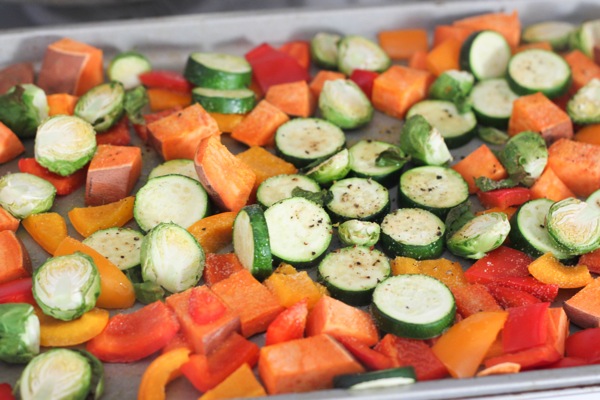 The roasted veggies are the perfect components for a few things:
1) Layered in a salad in a jar. Just be sure to add the lettuce and greens last so they don't get soggy! Last week, I layered roasted veggies with grilled chicken, hummus, quinoa and romaine. Shake and eat!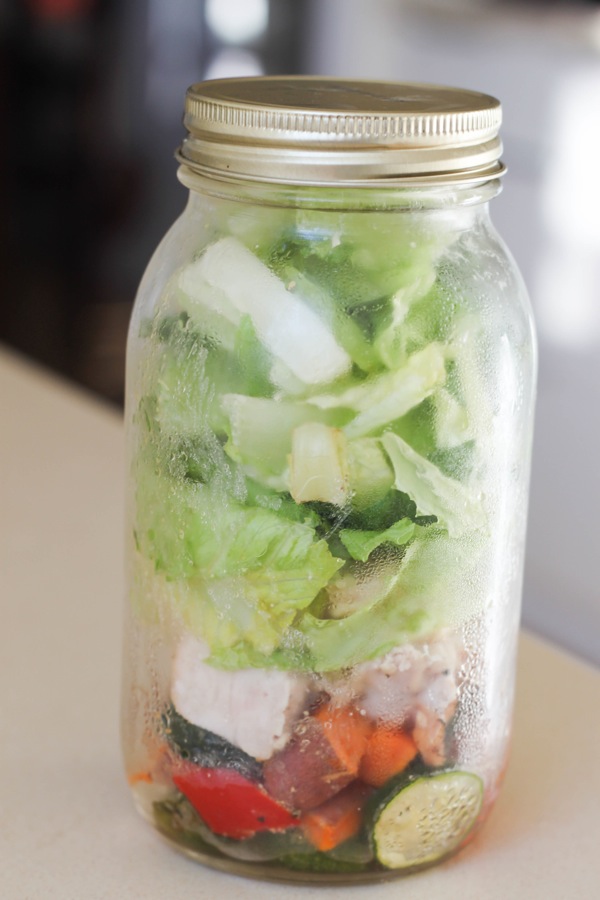 2) With a drippy egg or two on top for breakfast.
3) Make a bowl! Start with brown rice or quinoa, top with roasted veggies, egg, avocado, and drizzle with hot sauce, salad dressing, salsa or hummus.
4) Make a pizza. Grab a tortilla and add hummus or marinara sauce, roasted veggies, a protein/cheese (optional) and bake for 10-12 minutes at 350.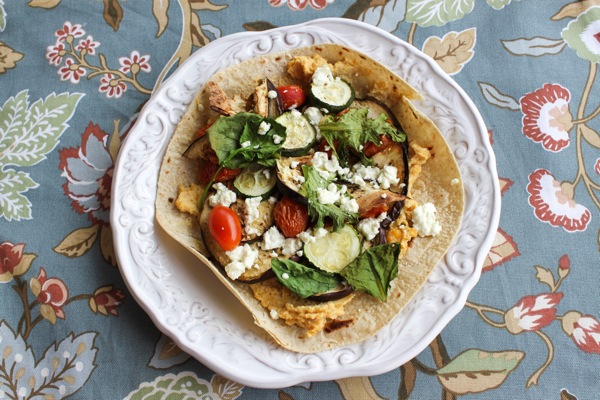 5) Roasted veggie and chicken soup. Heat up some chicken or veggie broth on high, and when it reaches a boil, reduce to low and stir in your roasted veggies and chopped chicken. Before serving, add chopped fresh herbs, a squeeze of lemon or lime juice, and your favorite cheese.
6) Pureed soup. I'll add chopped veggies to the blender and puree with some chicken or veggie broth. It makes a delicious lunch, and also freezes beautifully. A combo I learned from my brother: blend sautéed apple, parsnip, shallot, and celery with veggie broth and a little salt and pepper. Perfection.
Raw:
Raw veggies are a convenient and delicious veggie option. Just wash, add in a little prep and serve. With their high water and fiber content, they're also extremely satisfying.
1) Keep some crudités on hand: chopped fresh zucchini, carrots, cucumber and celery do well in our house. Serve with a dip of choice as an afternoon snack. I love this creamy goat cheese dip,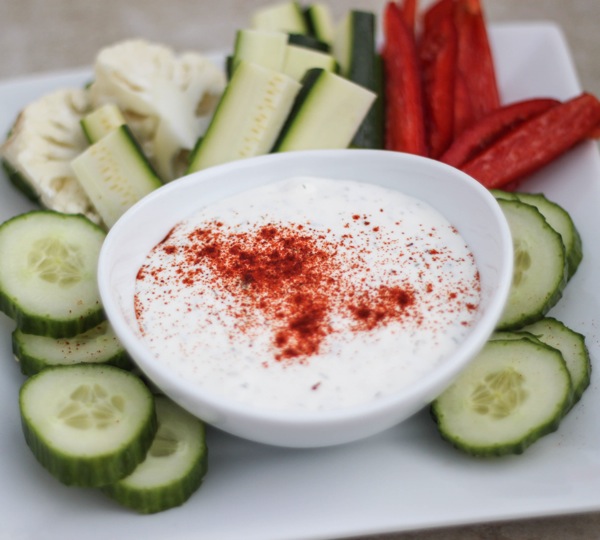 this almond dip, or this buffalo hummus.
2) Make noodles! Using a spiralizer, or simply a vegetable peeler, some favorite veggies can instantly be transformed into noodles. Sweet potatoes, butternut squash, and zucchini work well. I'm a huge fan of this raw lasagna, with well-seasoned zucchini noodles, vegan cashew cheese, sundried tomato marinara, heirloom tomatoes and fresh basil.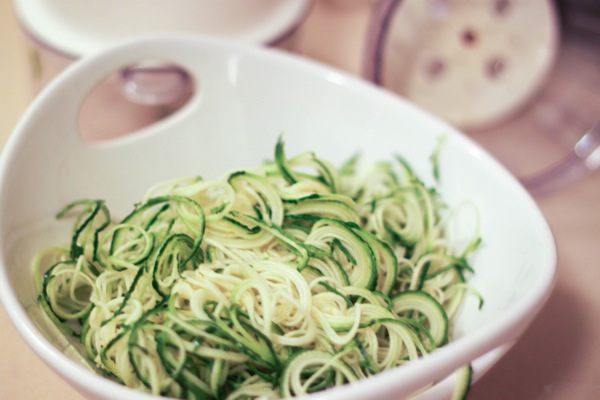 I also love zucchini noodles with marinara sauce and turkey meatballs. To "beef" them up a little, I mix equal components of zucchini pasta with quinoa or brown rice pasta.
It's such a hearty meal, and you get a bonus green veggie dose.
3) Add some greens to your smoothie. Kale and spinach are easy ways to add a nutrient boost to your smoothie, and don't significantly affect the flavor.
Here is one that we're loving lately: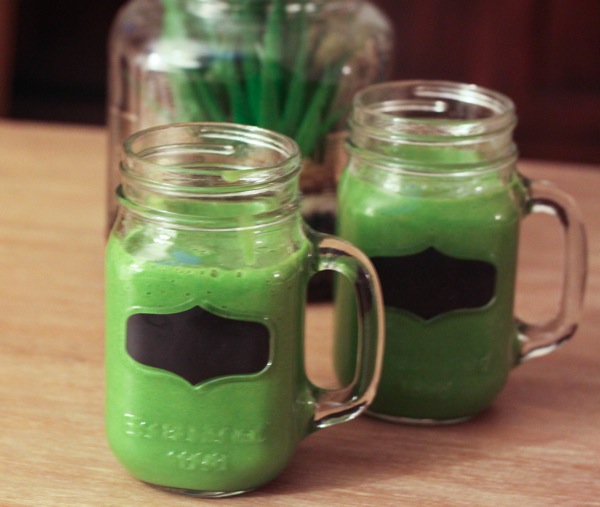 (similar glasses are here)
Tropical kale (adapted from the smoothie I enjoyed daily at Canyon Ranch)
-1 bunch of raw curly kale, washed
-1 cup frozen mango
-1 small banana
-1 container of coconut water
-Splash of orange juice
Just blend all of the ingredients in a high-speed blender, pour to serve and enjoy!
What are some of your favorite ways to add veggies into your daily meals? Any favorite dips or prep strategies?? Do you prefer your veggies cooked or raw?
xoxo
Gina
This post is sponsored by FitFluential on behalf of Kohl's.
Kohl's Make Your Move campaign provides resources and support for others to achieve their fitness and health goals. Feel free to join in with the hashtag #MakeYourMove and tell us how you're creating momentum towards a healthier and happier you. Thank you for supporting the companies who help to support our family. xoxo