Hi friends! How's the morning going? Hope you're having a great day. In the spirit of reviving Indian Food Wednesday, I'm making channa masala, veggies, gf naan and basmati rice for dinner tonight. It's nice to have some kitchen motivation since I've been feeling blah about food since our vacation. Everything we had in Maui was so delicious (and three cheers for someone else cooking and cleaning up afterwards) and I can't help but think it would be so nice to be surrounded by fresh tropical fruits, the best coffee, sweet potatoes and desserts (shaved ice! pie! banana bread!) all the time.
Since I already shared some adventures and where we stayed, here's a recap of some of the amazing things we ate in Maui!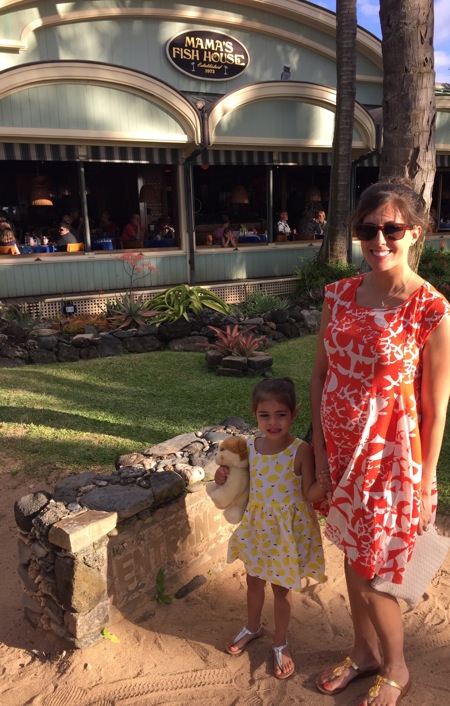 (dress from Anthropologie)
Night one: We arrived at the hotel (Hyatt Regency) fairly late, so many restaurants were closed. We decided to hit up the pool restaurant and it was amaaaazing. I got the Caesar salad which had fresh Spanish anchovies and blackened mahi.
Day two:
Breakfast: hotel buffet! I wish I would have snapped a picture of the spread, because the buffet was packed with tropical fruits (papaya, pineapple, mango, melons), yogurt, oatmeal, eggs (and a Tuscan omelet), potatoes, breakfast meat, bagels, miso soup (!), pancakes and pastries. We're huge buffet fans in our house, and this was perfect because there was something for everyone.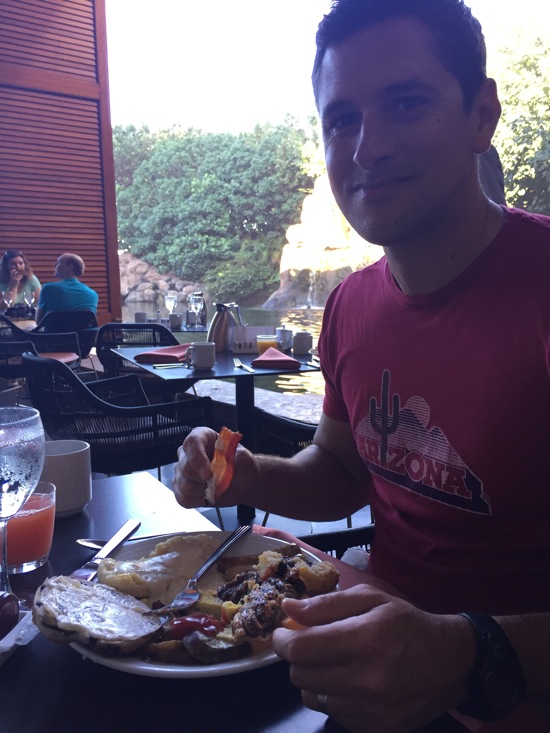 Dinner: Star Noodle. This was highly recommended, and for a great reason. We ended up calling a couple of hours in advance, which we learned was a mistake because reservations book a couple of days ahead. The hostess said they get extremely busy, but they would take walk-ins and that the earlier crowd was a little slower. This is one of the benefits of being 3 hours in the future (still on SD time). We showed up at 5pm, were seated right away, and left just as the restaurant began to fill.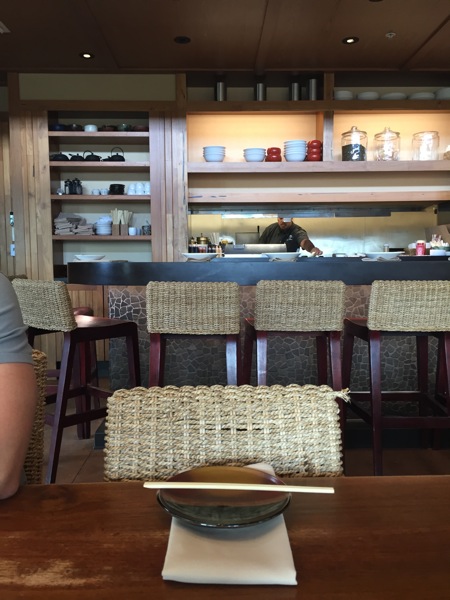 The food consisted of Asian shared plates, and it was a lot of fun to order different things from the menu to sample. We enjoyed a pohole salad, which was infused with kombu seaweed, various types of dried seafood and sesame oil. We also shared some chicken skewers, miso salmon (perfectly cooked), tempura shrimp,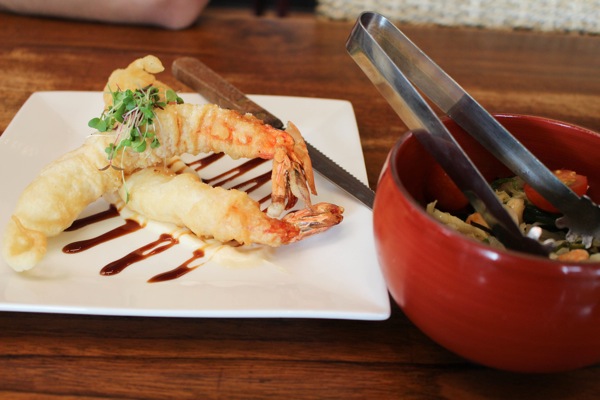 and pad thai with rice noodles, chicken, shrimp and peanuts. It was my pad thai experience, and I had a feeling nothing will compare.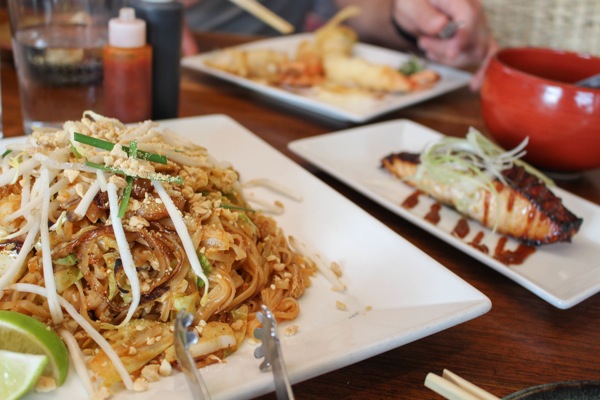 I want to dive into that photo.
Day 3:
Breakfast: Slappy Cakes! I saw this on Nom Nom Paleo's Instagram, and knew we had to take Liv. You pick your batter/s, toppings and filling, and make your own pancakes on the griddle at your table.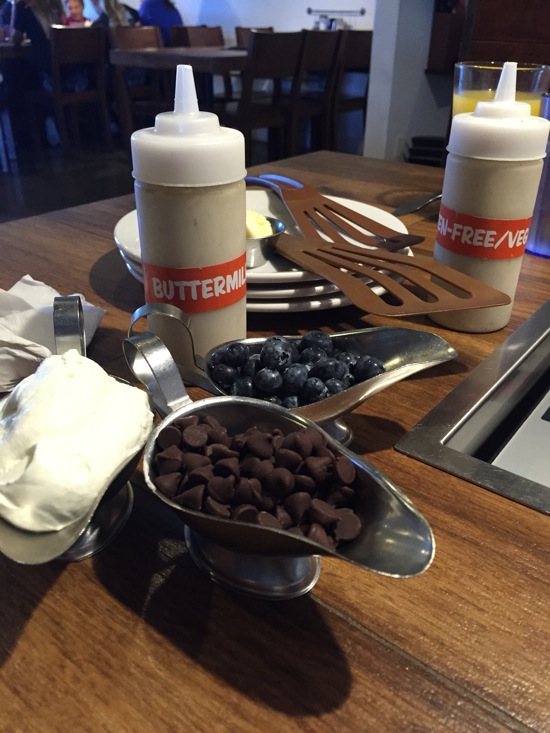 They had a gluten-free and vegan batter (which was light and fluffy; not overly chewy like some gf mixes can be) and a house-made coconut syrup, which was lightly sweetened; I should have asked to buy some to bring home, or at least asked how they made it.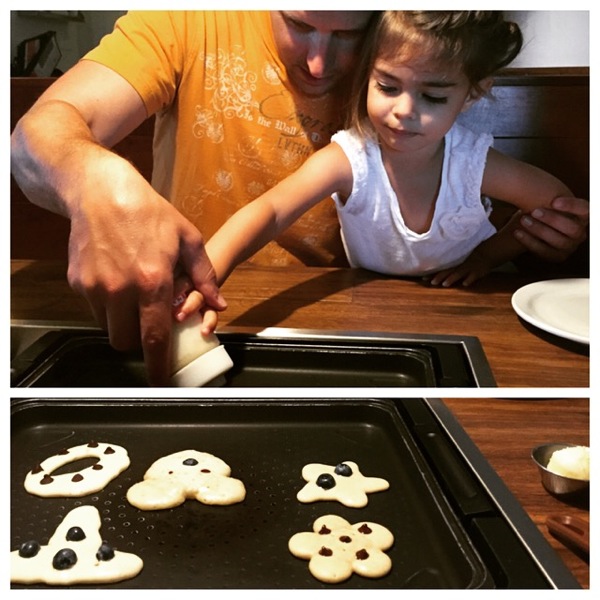 If my career as a fitness instructor and blogger ever fails, I have a backup plan as a pancake artist.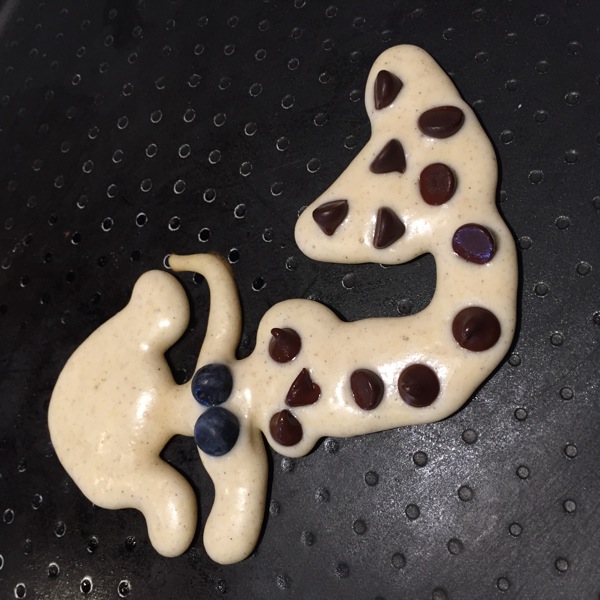 We did the DIY pancakes, along with eggs, bacon (turkey for me!) and THE BEST coffee I've ever had. Hawaiian coffee is not from this world.
Dinner: Mama's Fish House. I've found that sometimes when restaurants are overhyped, I end up disappointed or leave the meal expecting more. This was not the case at all with Mama's Fish House, and the hype level was high. My aunt frequently travels to Maui for work, and I knew it had to be good when she said it was her favorite restaurant on the entire island. It was an hour drive away, and totally worth it.
Mama's Fish House is in Paia, and located on the beach. Half the restaurant is beachside, and the surrounding ocean and exquisite sunset views make it a perfect date night spot. Throughout the restaurant, there is authentic Polynesian and vintage decor, and the menu changes daily according to what their fishermen catch.
I got the party started right away with a virgin Lava Flow: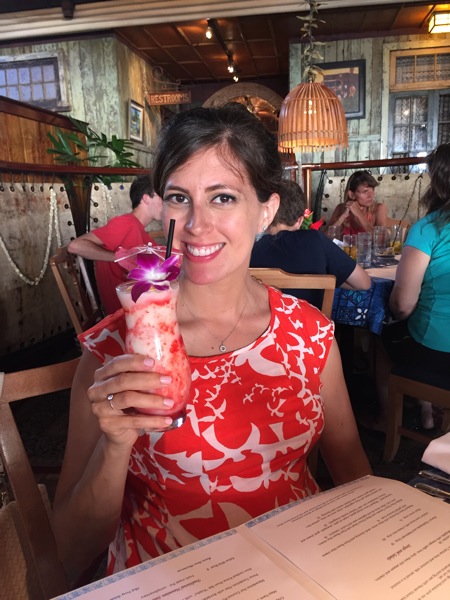 (liquid dessert)
and the Pilot had a Mai Tai.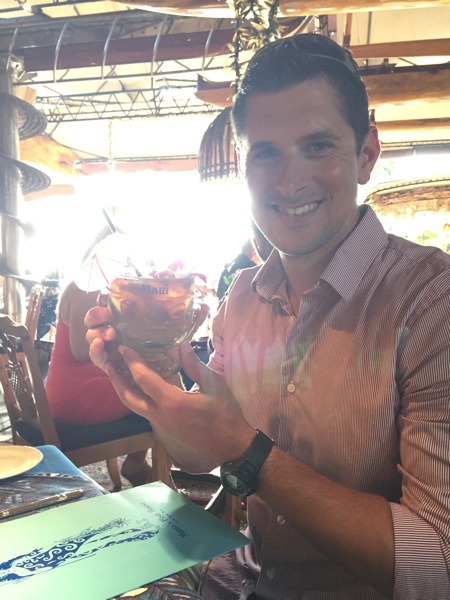 (We got Liv a Shirley Temple just for kicks but she wasn't into it haha.)
For an appetizer, we chose the lobster guacamole, which was served with house-made taro and sweet potato chips.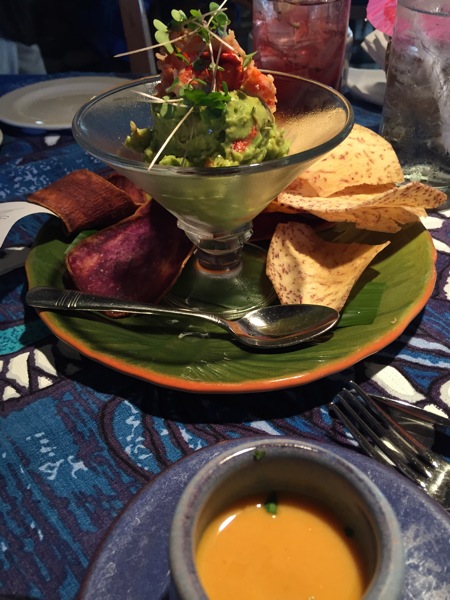 They also surprised us with a carrot ginger soup, and freshly-baked honey wheat bread.
For my entrée, I had a really difficult time deciding. I love fish, and everything on the menu sounded perfect. In the end, I decided to go with the ahi, which was rubbed with red chili, served in a ti leaf with roasted banana, coconut rice, and papaya.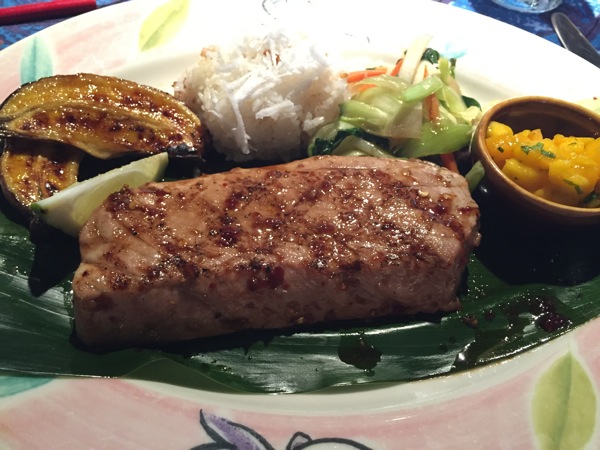 The Pilot ordered the mahi mahi, stuffed with lobster and crab in macadamia nut crust, and Liv got the keiki's breaded white fish with veggies and fries. We will definitely be back next time we're in Maui! (Tip: It's not far from the airport, so next time I'm going to book our reservations either around the time we arrive or are heading to the airport to leave.)
Day 4:
Breakfast: Ka'anapali Hotel. We wanted to try something walking distance and venture out of the hotel, so we ended up here at the patio restaurant. It was so good that we went back the next day! Food in Maui is pricey, and we found this spot to have great options for a decent prize. (We tend to splurge more on dinners while we're on vacation.)
Dinner: Old Lahaina Luau. This is getting it's own post because there's so much to say. In a nutshell, it was truly magical and hula dreams do come true. (Livi has always loved hula dancers, so she was enthralled the entire time.)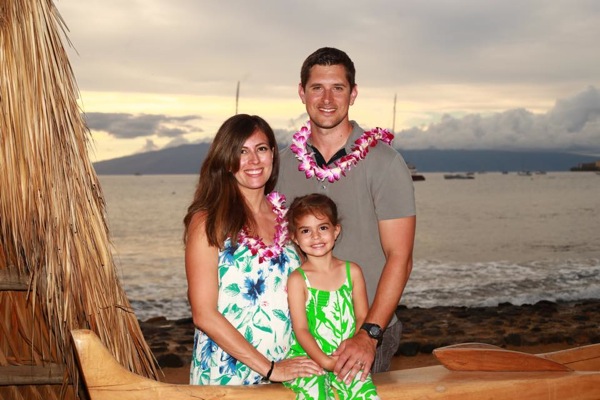 Day 5:
Breakfast: Ka'anapali Hotel. Back for round two! I tried a frittata with arugula salad the next day and it was great.
For lunches and snacks, each afternoon we stopped by the little shops in our hotel, which had a great variety of sushi, sandwiches, acai bowls and salads.
Desserts:
Ululani's Shaved Ice. This is on the must-do list for Maui and they have various locations. You have to do it.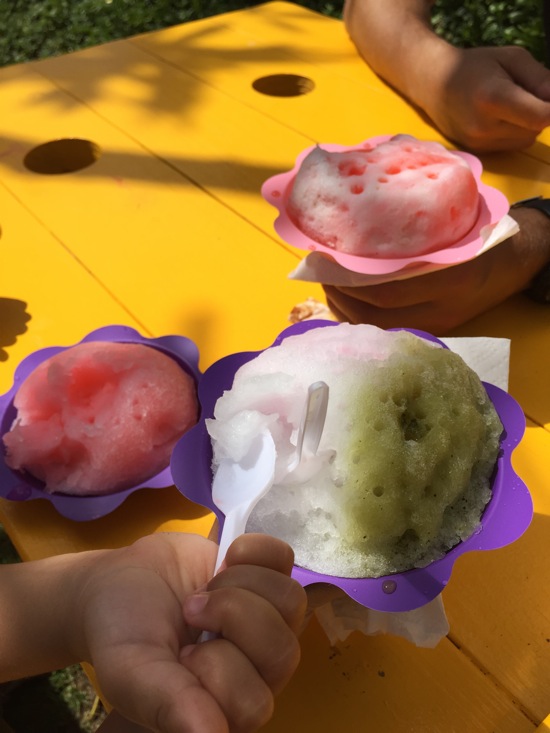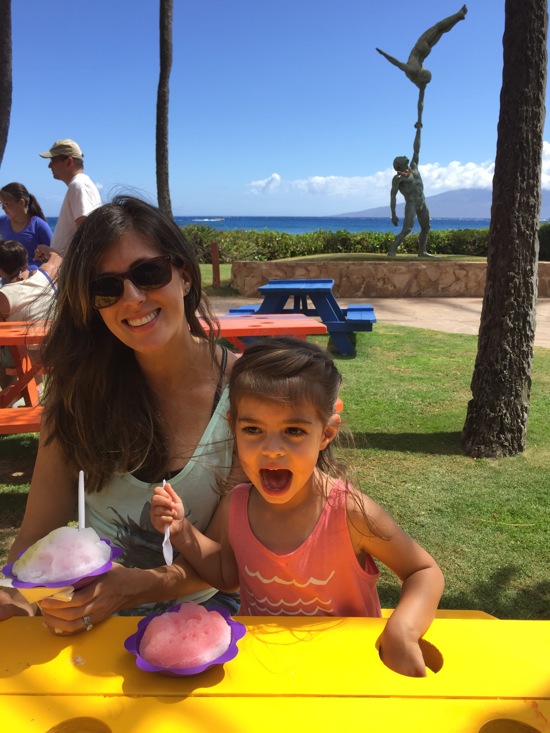 I loved that the syrups weren't overly sweet or glow-in-the-dark neon colors.
For mine, I ordered the sunrise which had green tea, lychee, and almond.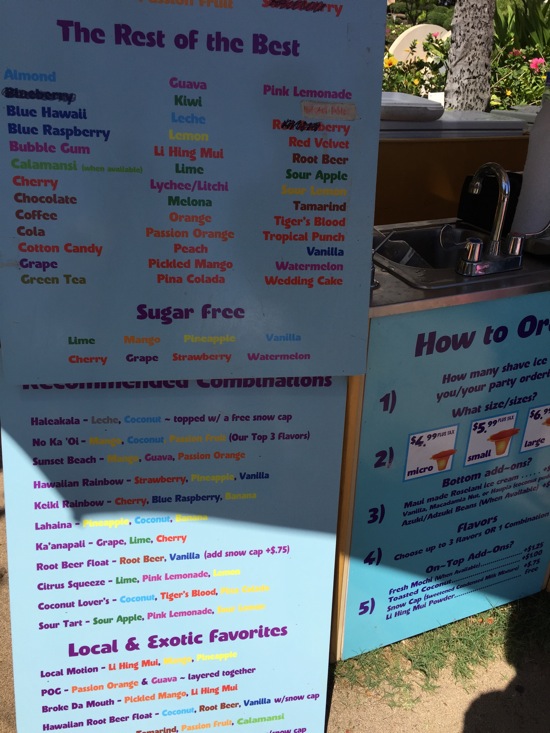 Homemade ice cream on Front Street. The Pilot and I didn't partake, but Liv had some strawberry ice cream with fresh strawberry chunks in it. She seemed
Leoda's Pie Shop. Seriously the best pie I've ever had in my life (and that's coming from a usual cake > pie person) and in my top list of desserts ever. They have a variety of flavors, and the graham crust is outta control.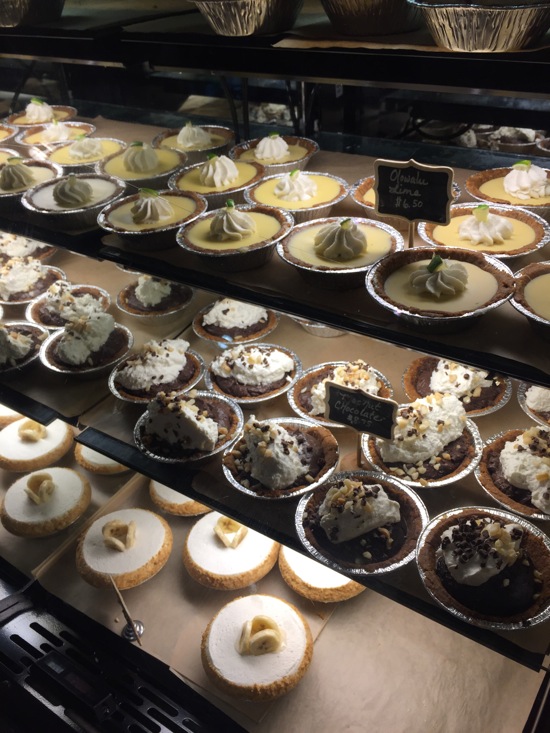 This photo makes me laugh because it perfectly captures my pregnant-eating-pie-in-pajamas euphoria.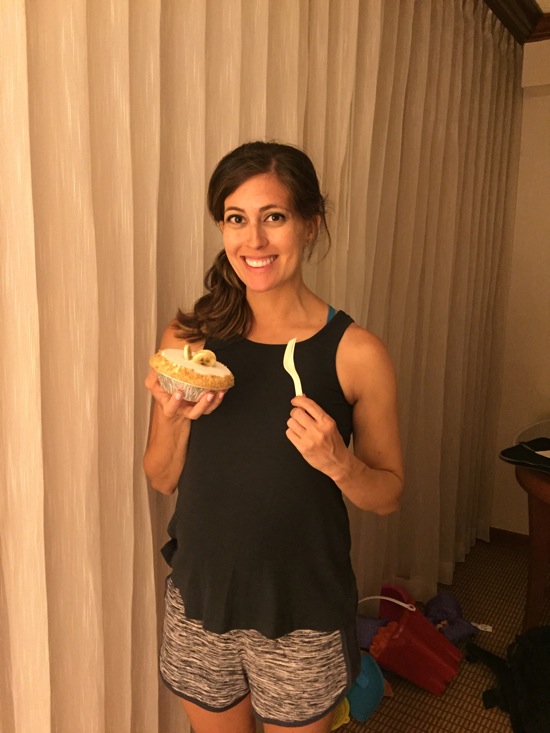 So there we go!
Maui, I hope we get to come back soon. In the meantime, I'll be savoring the banana bread that's in the freezer.
What's your favorite thing you ever ate on vacation??
xoxo
Gina