What I've learned as a pregnant fitness instructor
I'm not-so-secretly afraid my water is going to break teaching Zumba. Can you imagine the horror? Shaking my booty in front of class when a waterfall of fluid hits the floor to Pitbull. I'd die.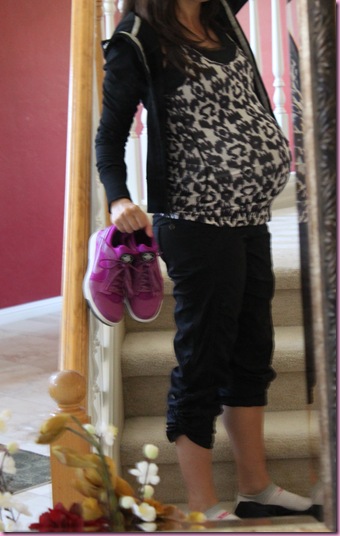 [Side note: the new lululemon Quick Step pant is my new fave. I like it even more than the Studio Pant]
Whenever I walk into class, I can kind of feel the vibe that some people are wondering what type of workout I'm going to give them. "Harrumph. How hard is a pregnant lady going to make me work?" Hard. I will still make your muscles beg for mercy, don't you fret.
It's definitely been interesting, fun and challenging to teach fitness the past 8 months with this little lady growing in my belly. I'm also grateful for the ability to work where I do, since I think it has helped me keep a positive attitude –there's nothing like the high of teaching a high-energy class- and have a healthy pregnancy so far (knock on wood).
Throughout the pregnancy, I've gone from complete exhaustion to feeling like a superstar, and back to tired with a side of heavy, so things have definitely been different than my usual teaching routine.
Here are some of my lessons learned:
1) Go with whatever the doctor says. Some doctors or midwives will say that you need to keep your heart rate at a certain level. Mine told me to keep doing whatever it was I was doing before. I nixed the Bodyrock workouts, since they felt too high impact, but everything else has pretty much remained the same. You can read more about how my workouts have changed *here* and *here*. I explained to the doctor and midwives that teaching Zumba is pretty crazy and that I get super sweaty, and they were fine with it. They said the baby has adapted to whatever it is that I'm used to doing, so to keep it up as long as it feels good. Thanks to my belly support belt, it still feels good.
2) Don't be afraid to ask for help. I'm fortunate that in my situation, whenever I'm teaching, I have an assistant. The assistant for my Zumba classes will usually do a few songs in the middle of class so I can take a little break and just dance along showing the low-impact modifications. When they're done with their 2 or 3 songs, I feel revived and ready to tackle the rest of class. I haven't had a problem teaching the rest of the classes entirely on my own.
3) Be patient. As time goes on, there are going to be things that you can no longer do, and that's ok. It's hard enough to put my shoes on right now, and when I got taken off the schedule for a bootcamp style class I was teaching, as bummed as I was about it, it was for my safety. [Lots of equipment set-up and the like] I'm so grateful that my work has been flexible with my teaching schedule, and even though I'm in the weight room a lot more than I used to be, I still get to be there surrounded by health-minded people, enrich my brain with as much fitness knowledge as possible, and am very thankful that they've taken the health of myself and the baby in mind when they schedule me. I will be honest and say that it's been hard for me to keep my energy up, especially considering the fact that I can't physically teach how I'm used to right now.
In the grand scheme of things, I feel like this has been an amazing break as far as intense classes go, and when I come back to work after maternity leave, I'll be even more excited to tackle and teach the crazy challenging stuff.
4) Even though you have to scale back, you actually work harder while teaching. Not only is maneuvering a little more challenging, but it's kind of a fun obstacle to break whatever first impression the participants may have about you. I know when people see my giant belly they probably wonder if they're going to get a worthwhile workout, so I really have to focus on making sure they get the best class possible, even if I can't do all of the moves myself.
5) Drink lots of water, snack like crazy, and keep a little sugar on hand. From being on my feet all day, on rare occasions I can feel my blood sugar dropping, even though I'm constantly snacking. I asked about it, and they said it was from the increased blood volume during this time. If I feel the crash start to happen, I'll grab a glass of lemonade and almost immediately feel better.
Have you had a pregnant fitness instructor before? Did they still give you an amazing class?
Any fellow pregnant fitness instructors out there? I'd love to hear your tips!