Hi friends! Thank you so much for the fantastic Camelbak cleaning ideas. I rinsed it with a little vinegar and water, whipped the tube around in a circle to get the water out and it's hanging to dry. It's hoping it stays funk-free. I'm also happy to hear you liked the recipe round-up! As much as I'd love to make everything on the list, even though it would take me a month, I'm pretty stoked to make the few desserts I mentioned here.
Last night was amaaaaazing. We have 3 basketball tickets, and since Kyle was working and the Pilot was flying, it was a girls' Wildcat night.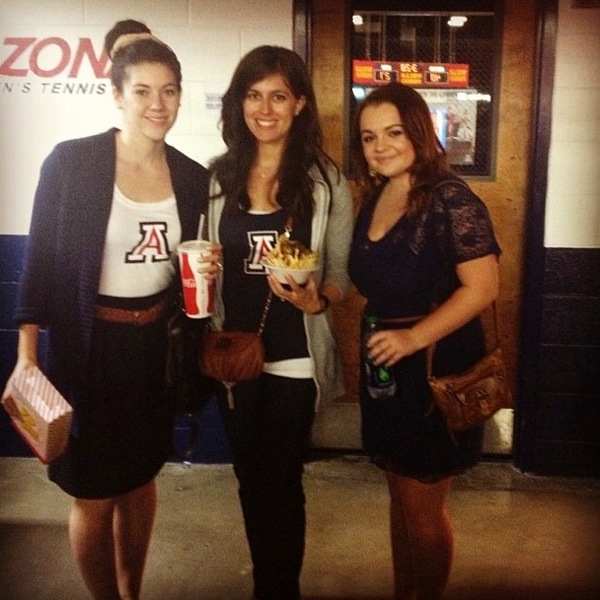 (Meg= the classiest Wildcat ever)
Cats rocked it out, we sang all of the cheers and yelled -the U of A band and student section are probably my favorite part, they crack me up- and I was horrified when a little old man went out onto the court during a media timeout. He threw down his cane, started taking off his shirt (to reveal another layer of U of A clothing underneath), and everyone was cheering. I had visions of the cops coming down to arrest him, but then realized he was part of the "show." He lead the entire stadium through spelling out "Arizona" and chanting "U of A" in our sections. Legendary. It was an over 80 pt game, so everyone in the stadium got free tacos. 
When I got home, I had some of the amazing pictures from Sunday night's Zumbathon in my inbox from Lisa.
My favorite one: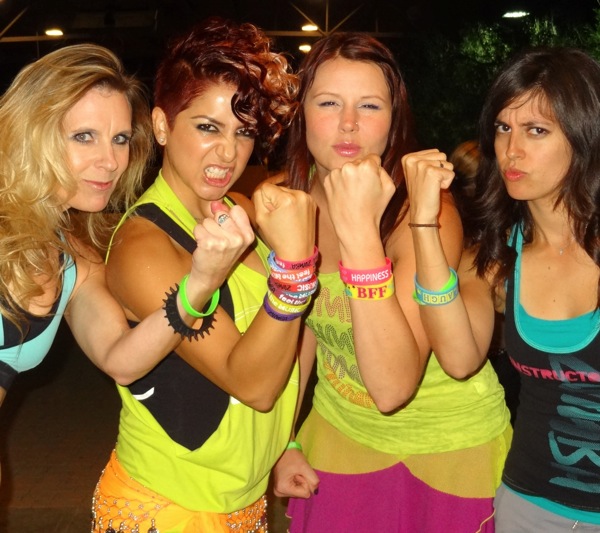 So tough 😉 One of my huge goals, way down the line, is to become a Zumba Jammer or Education Specialist. I've been fortunate to teach a variety of classes, but Zumba will always be my favorite (ok, World Beat is tied but not offered everywhere).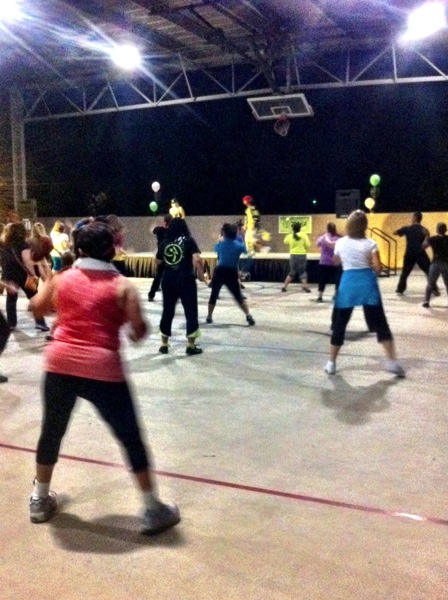 Since I usually share tips for things, I thought it would be kinda fun to share some of my fitness instructor fails and mistakes I've made since I started teaching. I figured maybe fellow or newbie fitness instructors can learn from my mistakes….
Some of my fitness instructor flubs:
-Not knowing the music. When I first started teaching Zumba, I figured "I know the song well enough, I'll be fine" only to discover some crazy interlude and making up something on the spot. I'm still guilty of choreographing in my car, but since I always listen to Zumba songs while driving, I know the songs really well. This way, if I forget a move or find out that a certain move won't work for a certain class, it's easier for me to come up with something else since I know the music.
-Not setting up a playlist. When I taught on base, after each song, I would go to the stereo and find a new song. In the meantime, heart rates were dropping and participants had to wait for me. Not ok. Now I have a playlist ready to go for every class so that no time is waster fiddling with music. 
-Saying the SAME THINGS over and over. When I taught step, I would say "great job" ALLLLLLLLL the time. "Great job, A-step, great, over the bench, ok, grapevine." It's important to switch up your feedback  and alternate what you're saying. Since I have to teach a huge variety of classes now, it makes it much easier to say difference things during each class. 
-On the same note, making the same jokes. In life, and now in fitness classes, I like to follow the rule of two: something is funny two times. Anything after that, it's old. 
-Letting personal life affect performance. There have been times when something has happened before class and I've arrived at the studio with a black cloud over my head, not really wanting to teach. Teaching during deployments was challenging for me because I always felt distracted, and there were also the times when I've read a hateful comment right before teaching, or found out something happened in the family. The thing is: the class doesn't care what's going on in your life, they're there to workout. Being an instructor has helped me to block out certain things and fake it til I make it, even if I'm not feeling 100%.
-Wearing the wrong attire. Think about a llllll the moves you'll be instructing and make sure the goodies are covered up. I had planned an entire inner thigh sequence and immediately had to change things when I thought about the shorts I was wearing.
Crimes I have yet to commit:
-Singing into the mic. It's fitness, not karaoke.
-Not having a hair tie when you need it. There are at least 5 in my gym bag for emergency situations.
Fellow fitness instructors, what are some of the fails you've made? 
Any instructor or trainer pet peeves to share??
It's cookstavaganza time and Michele and Levi are coming over to hang out.
Hope you have a happy Tuesday!
xoxo
Gina
New on the Fashion page: Life-changing skincare product