What to do, see, eat, and where to stay in Tucson
Sharing some tips from a Tucson native on what to do, the best restaurants, and where to stay in this amazing lil city.
Hi friends! Hope you're having a lovely morning. We're having an amazing Beautycounter promo right now: order any regimen or collection and get a free full-sized product! Details are here. You know how much I love Countertime! If you didn't get this week's safe skincare newsletter and place an order, email me and I'll let you know about something special I'm doing for clients right now. 🙂 To join the safe skincare newsletter, click here!
For today's post, I'm sharing some of my favorite things about Tucson! While I totally understand that Tucson isn't the must-see destination of the US, it is a really unique spot with incredible local restaurants and exquisite scenery. There aren't many places like it, and while I'm biased since I was born here, I've grown more fond of Tucson as I've gotten older. (For example, in high school I was like, "GET ME OUTTA HERE" and then when I finally moved far away, I couldn't wait to eventually come back.)
Lately, I've been inundated with requests on where to eat and where to stay here in town. We're at the end of winter and hitting some of our most gorgeous weather, so it makes sense that so many people plan on early springtime trips.
Here are some of my top suggestions for what to do in T-town!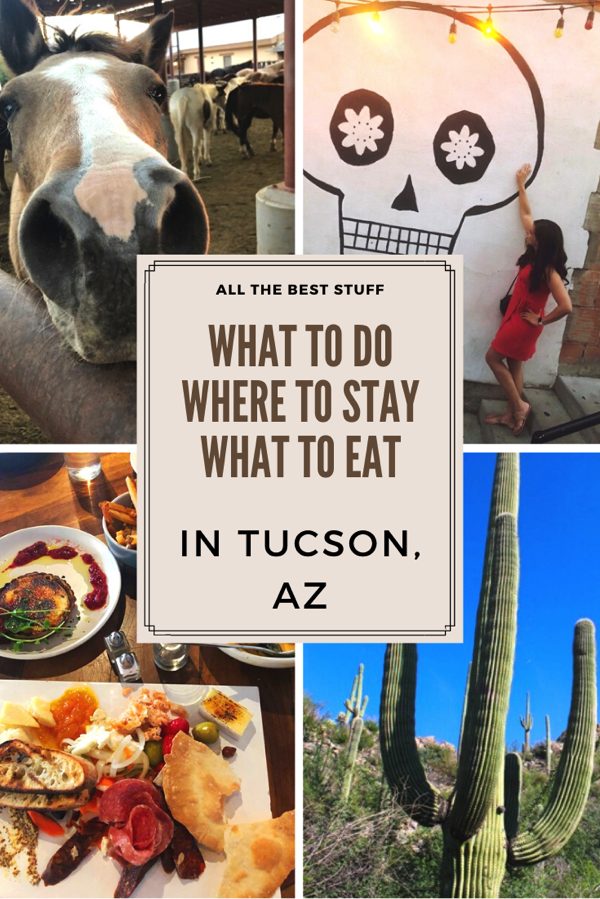 What to do, see, eat, and where to stay in Tucson
What to do in Tucson for a day
1) Wake up and grab a coffee at Ren coffee in St. Phillip's plaza. They have incredible drink and snack options – I love their housemade vegan protein bars. If you're lucky, it will be over the weekend and you can explore the farmer's market and get a crepe from Planet of the Crepes for breakfast.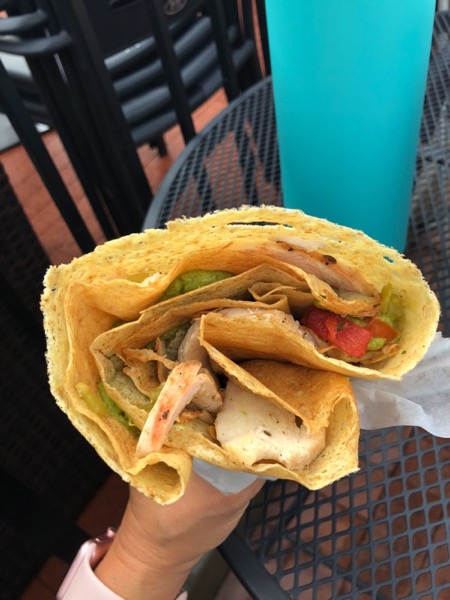 2) Head up to La Encantada for some outdoor shopping (they have an anthropologie, lululemon, kate spade, Athleta, and Pottery Barn) and a craft at Creative Kind. They have drop-in crafts that you have do, including indigo tie dye, wall macrame hangings, watercolors, and wreaths. This is the perfect spot to hang out with a friend and make a little souvenir with a Tucson twist.
3) Drive down Campbell and enjoy brunch at the best spot: Prep & Pastry. Everything on the menu is good and you can choose if you'd like something a little lighter, like their avocado toast or sweet breakfast bowl, or something more indulgent, like the biscuits and gravy or French toast (changes daily). No matter what you do: order one or two of their fresh pastries to share.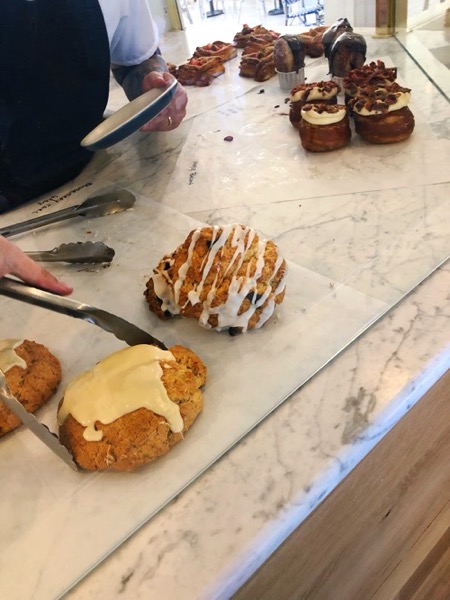 4) Head back to the hotel for some downtime at the pool, or down to University, 4th Ave, or the MSA Annex to explore the shops.
5) Late afternoon, enjoy a stroll at Sabino Canyon, which is one of the most picturesque hikes in Tucson. You can also ride on the eco-friendly tram that makes stops along the main trail. (The entire distance up and back is 7.4 miles.)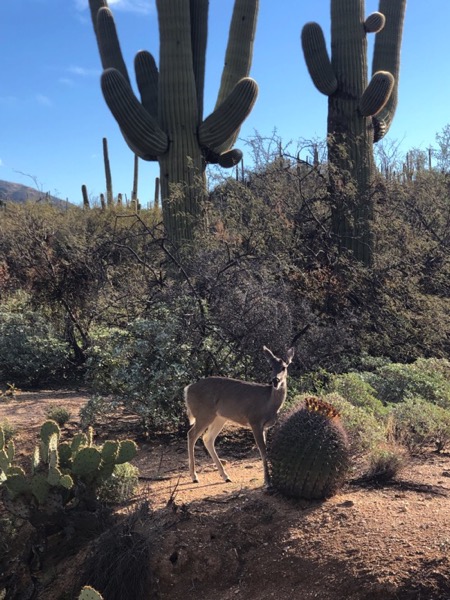 6) Dinner at Cafe Poca Cosa, followed by drinks and music on the patio at Hotel Congress or on the rooftop bar at Playground. Cafe Poca Cosa is still my favorite dinner spot for out-of-town guests. The menu changes twice daily, based on what's fresh at the market and servers carry around an enormous chalkboard with the menu options. I recommend the Plato Poca Cosa, which is chef's choice, and if everyone at the table orders the plato, they'll all be different!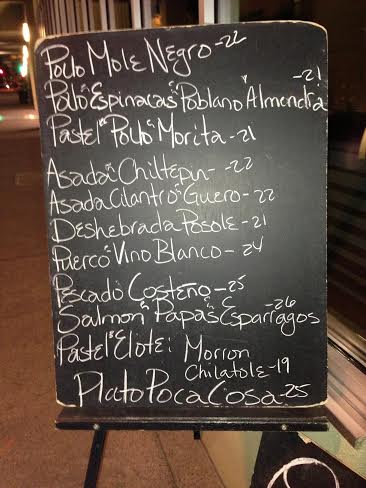 Favorite taco spots in Tucson
– Boca Tacos. These are our favorite tacos in Tucson! They have so many incredible flavor options, a guacamole flight (!), great margaritas, and chips that arrive hot out of the bag. Just do it.
– Calle Tepa. This is an awesome spot that we go to almost weekly for casual street Mexican food. The service is insanely fast and the good is always good. This is a great spot to take the kids!
– Blanco Tacos. Blanco is located in La Encantada (our most high-end shopping center), surrounded by shops, other restaurants (we also love North and Ra) and gorgeous city views. They have the BEST rice.. it's creamy, buttery perfection.
Healthy restaurants in Tucson
Tucson has so many incredibly local restaurants with healthy options. You can go pretty much anywhere and find something that will sound good to you. (For example, you can go to Prep & Pastry and get the best pancakes of your life, or a sweet potato hash with eggs. You do you!) For this section, I'm focusing on the best restaurants that focus on health-centered food. What I mean by this: they're plant-based, source local and organic incredibles, offer vegan and gluten-free options, and will make you leave completely full, but still feeling energized.
Goodness:
Goodness is one of my favorite lunch spots in Tucson. They have smoothies, bowls, fresh juices, kombucha, it's awesome.
Charro Vida:
Charro Vida is one of the newer spots that I love. They have a ton of vegan and gluten-free menu options, including gluten-free chocolate churros!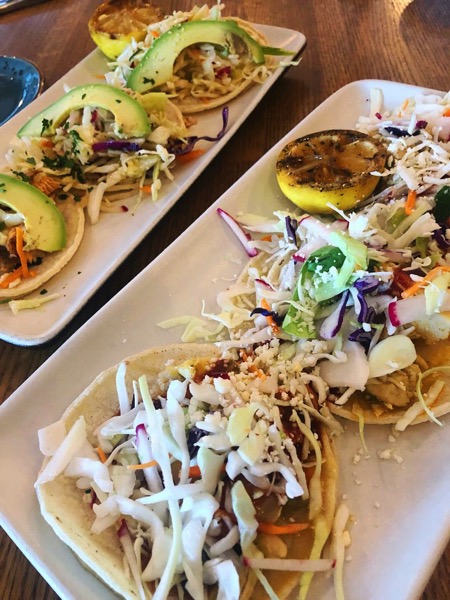 Renee's Organic Oven:
I've loved Renee's Organic Oven for a long time. They use a lot of organic and local ingredients, have amazing pasta and pizza dishes, great wine, and fab desserts.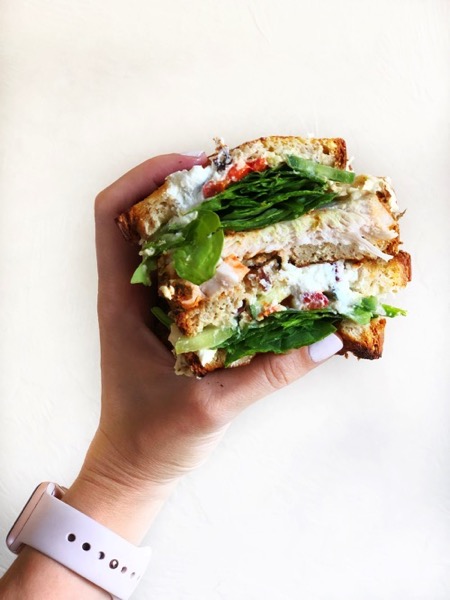 August Rhodes:
This is the best sandwich spot in Tucson, hand's down. The sandwiches aren't gluten-free, but they have salad and soup options. All of the bread is made in house and it is amaaaazing.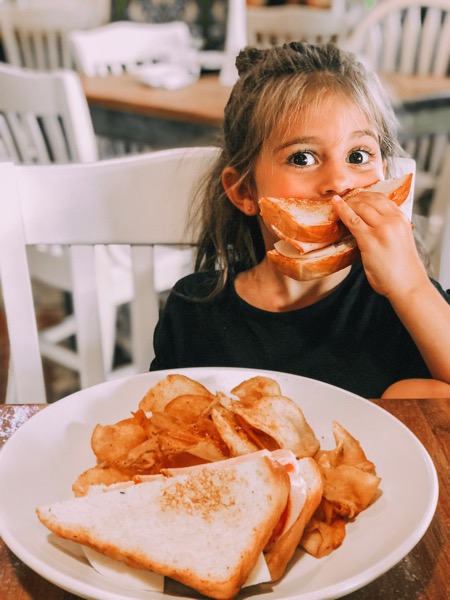 *Tumerico:
I actually haven't been here yet but everyone RAVES about it! It's Mexican food with lots of healthy options. Maybe we'll finally head down there this weekend.
Lovin' Spoonfuls:
This is an entirely vegan restaurant with lots of gluten-free selections. One of my friends from high school is their pastry chef and makes all of the ridiculous creations in the dessert case each day, including different brownies, cakes, pastries, and pop tarts (AHHHHH). My fave is the falafel, greek salad, and gf pita bread.
Saffron Indian restaurant:
Saffron is our favorite Indian restaurant in town – they catered my bday party! – and they have a lunch buffet, too.
Guilin Chinese Restaurant:
This is a healthy Chinese restaurant that Kyle goes to often. (if Kyle likes it, you know it's good!)
Where to stay in Tucson
– Loew's Ventana Canyon: This is the hotel I recommend the most often because it's nice, they have a great pool, it's perfect for families (they have a playground and a koi pond where you can feed the fish, plus a small trail that leads to a man-made waterfall), and their Sunday brunch is LEGENDARY. It's also in a great location. It's safe and quiet while being about 20-25 minutes away from most popular areas and destinations.
– Hacienda del Sol. Hacienda is a quieter hotel, nestled in the Catalina Foothills. They have a courtyard with twinkling lights, a fabulous restaurant on site, and is also in a desirable location.
– Miraval. Miraval is a world-renowned health resort, featuring on fresh and healthy cuisine, spa services, fitness classes, activities and treatments focused on well-being. It's all-inclusive (so meals and many activities are included, plus you receive spa credit) so it's definitely worth a trip if you plan to stay on property, Zen out, and life your best spa life. Check out my review of Miraval here!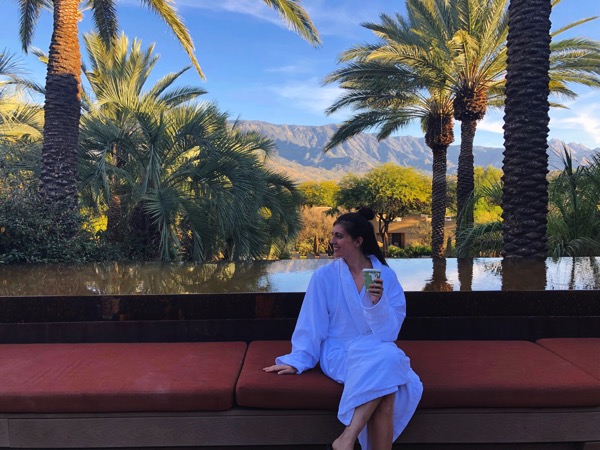 – Arizona Inn. This is a historic boutique hotel in central Tucson. It's closer to the university and downtown dining and shopping options.
– Tanque Verde Guest Ranch. This is another great choice if you bring the kiddos! The rooms are a little bit older, but they have awesome Southwestern casitas (see our review here!) and their Sunday cowboy cookout is amazing. We'll often go for dinner when the weather is warm to enjoy the food, prickly pear margaritas, and live music. They also have a great pool, horseback riding lessons and camp for the kids, fishing, and activities.
Honorable mention: The Ritz-Carlton at Dove Mountain. It's a Ritz, it's in a gorgeous location, but a pretty far hop on the freeway from most fun things in Tucson. I'd stay there if you don't mind driving back and forth or if you just plan on living the hotel life while you're here.
Honorable mention: Hotel McCoy. We haven't visited this one yet, but I've heard so many positive reviews! It's an art boutique hotel.
What to do in downtown Tucson
Some bars to check out:
– Sky Bar- solar-powered cafe, astronomy bar at night
– Downtown Kitchen & Cocktails- love the vibe here!
– Scott & Co – a small speakeasy for a low-key vibe (though it's packed on the weekends)
– Highwire Lounge- this is a great people-watching spot on the patio
– Cobra Arcade Bar- they have game-themed cocktail and old-school arcade games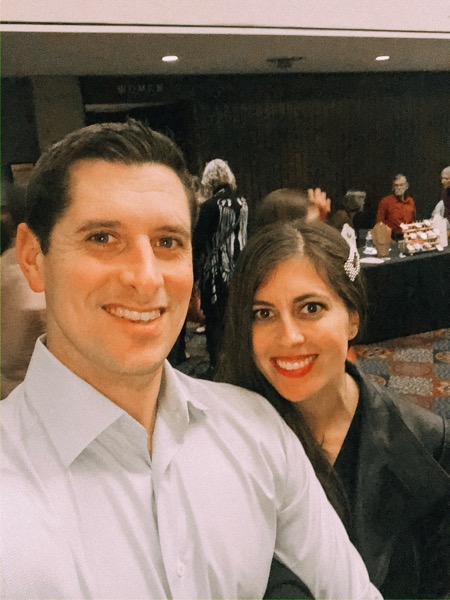 Date night options in Tucson
– Commoner & Co. – I've been raving about Commoner for years and it's still our go-to date night spot. Just go and try it – make sure to get reservations first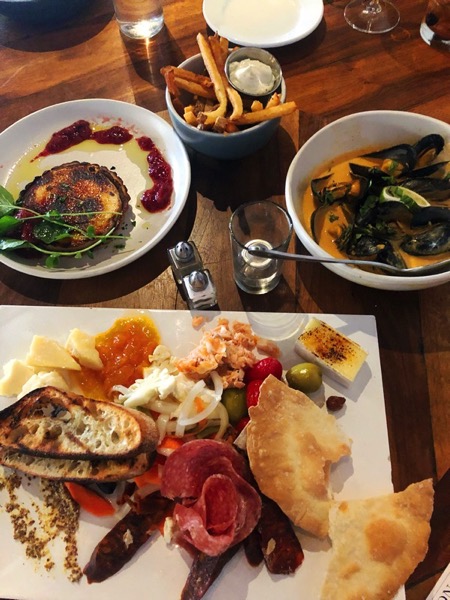 – The Flying V – Their tableside guacamole is our favorite. Their food was just meh last time we went, but I'd definitely go for guacamole, chips, drinks and dessert
– Tito and Pep – their cocktails are incredible and they have add a Mexican flair to bistro cuisine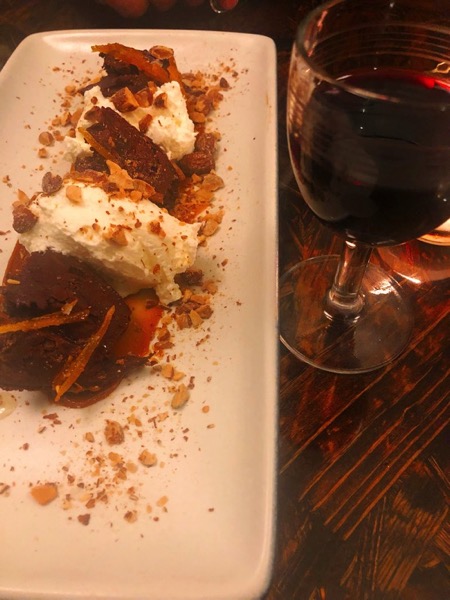 * The Coronet – haven't checked this out yet but Kyle said it's excellent
– Charro del Rey – the table side Caesar salad is SO good and they also have oysters (a rare find in Tucson)
– The Grill at Hacienda del Sol – a great date night spot and they often have live music on the weekends
– Gaslight Theatre – our local melodrama theatre, where you can "boo" at the bad guys, cheer for the heroes, and enjoy diner food while watching a live show. Definitely bring the kids along for this one 🙂
– Laff's Comedy Club – this is our local comedy club where you can see local and national acts. They also have a bar + appetizers
– Top Golf – we've recently become huge Top Golf fans, which is funny since we're not real golfers. The food is great and it's fun to have a friendly competition (and quote Happy Gilmore the entire time).
I think that's it!
Are you planning any little trips or vacations soon? What's the #1 thing you recommend to people when they visit your hometown?
I'll share a post soon with kid-friendly dining ideas and family activities!
xoxo
G