What's inside the [quart-sized] bag?
Heyyyy

How are you? Hope you're having a lovely afternoon.
It feels SO GOOD to be back on my (semi?)regular blogging schedule. As I'm sure you can imagine, the weekend was a little crazy with limited WiFi, rides with other people, and days packed full of to-dos. That's why I blogged a little less than normal- if I don't have time to write a decent post, I'd rather not post at all and wait. I don't like to clog up your Google readers

*Note: All photos were taken via iPhone… I forgot to turn my camera off last night :/
So after our legendary feast at Lindsey's, Katie and I slumbered away peacefully and then went to Panera this morning to hop on the free WiFi and get our blog on.
For b-fast, I enjoyed a serving of gluten-free oats with Sun Warrior (both packed from home – I ended up eating all of my travel snacks this weekend), a crumbled blueberry Larabar and a drizzle of Justin's chocolate hazelnut butter (donated by Katie).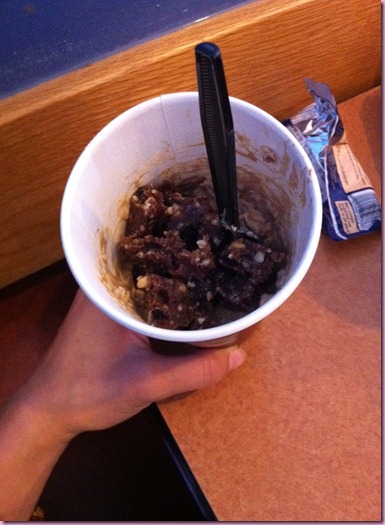 It was so delicious and SO filling. Oats do the trick, fo sho

Since we had some time before we had to be at the airport, we shananiganed around for a while.
First to Whole Paycheck to get snacks and lunch for our flights
and then to World Market to look around.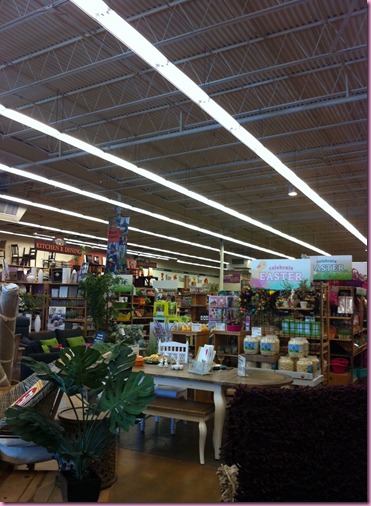 I could spend hours in that store. I'm so glad we have one in Tucson

A silly sentimental thing is that I'm SO excited to buy a new living room table. Before our last huge dinner party, we almost bought a beautiful table and chairs at Pier 1. We were thisclose to making the purchase (I was sitting at the table pretending it was mine already while the Pilot paced around me) but in the end, decided not to do it because we would be moving soon. We knew it would sit in the POD for quite a few months, we wouldn't get to use it and we had no idea where we would end up. We decided wait.
Now, we can buy a new table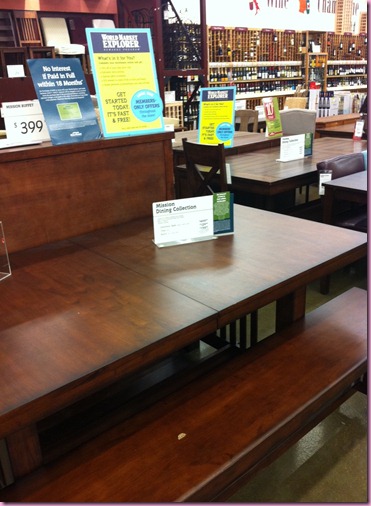 It's such an exciting thing for me. A table.
And now that I know where we're going, I can start picking up house stuff!!! I'm a little scary excited

After shopping, we came to the airport and now I'm waiting for my flight home.
Since I'm nosy and LOVE when bloggers post inside looks at their lives (their purses, their closets, etc), I thought it would be fun to post my quart-sized liquid baggie.
One side: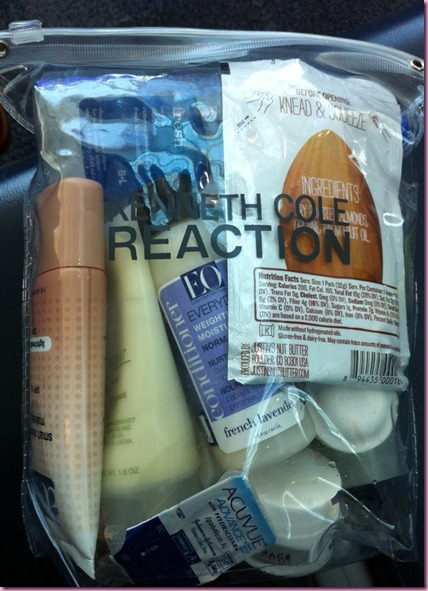 (Almay foundation w SPF that matches your shade –I have no idea how they do it, Fredderick Fekkai hair gloss, contacts, face wash, shampoo, contact case, almond butter)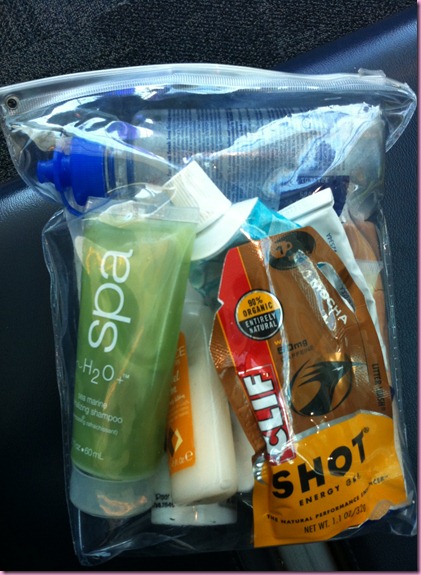 Shampoo, conditioner, Clif shot gel, toothpaste, lotion
Using mini bottles helps me get a LOT more in there

For lunch today, I grabbed hot bar, which I just munched at the gate: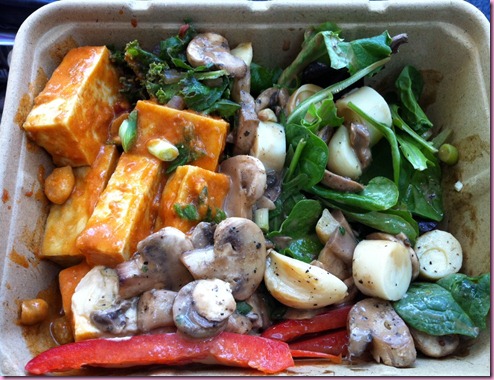 Kale, greens, hummus, bell pepper, mushrooms, hearts of palm, balsamic and peanut tofu. They didn't have chicken today and this girl needed some protein, so I rolled with tofu, which I haven't had in months. It was especially uhmazing.
Snack attack (for later):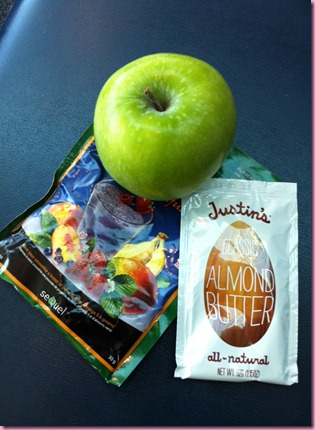 Vega, apple, almond butter
Well I'm gonna hop on the plane and head home! Sorry to the person next to me on the flight- I'll be practicing the new DT choreography in my seat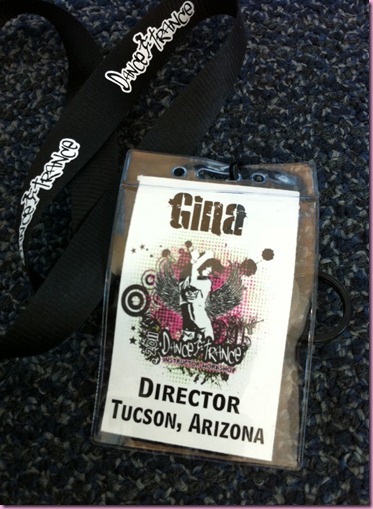 I can't wait to cuddle Bella.
See ya in the desert <3
xoxo
Gina