Hey friends! Happy Humpday 🙂 Hope your morning has been lovely. For today's Focus On post, I thought it would be fun to talk about something that we could all do a little more of: stretching.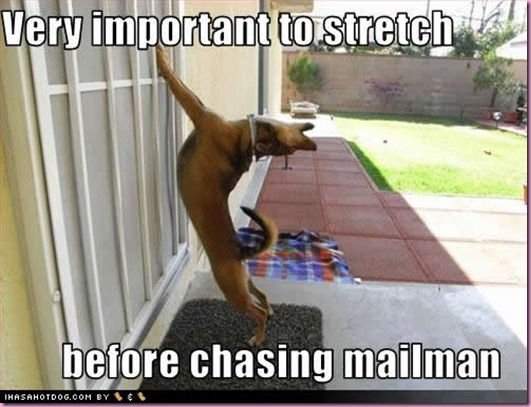 Source
I think we all know the benefits of stretching, but for whatever reason, it's easy skip out on a regular stretch routine. We're actually one of the only animals that doesn't stretch on a regular basis.
[As always, talk to a doctor in your area if you have specific questions or concerns about your fitness routine and stretching]
So why is stretching so great?
-It helps prevent injury by encouraging full range of motion in your body
-By stretching, you can increase athletic performance by improving flexibility
Some tips on keeping stretching safe:
-It shouldn't be painful. Stretching is uncomfortable, but don't let your body feel pain as you stretch. If something is painful, back off, or skip out.
-Hold the stretch, and avoid ballistic movements or bouncing. Bouncing can actually create small tears in the muscle, which can leave you less flexible from potential scar tissue.
-Aim for 15-25 seconds per muscle group, every day that you possibly can – at least 2-3 times a week is beneficial. Focus on muscles you use the most often.
-Save your stretching for after your workout, or warm up for 5-10 minutes before stretching. This way, you aren't stretching cold [less flexible and tight] muscles. Athletes have been shown to have increased performance when they stretched after an event than before, which I've always noticed, too. When I used to run on a regular basis, I always had a better run when I stretched afterwards instead of before.
-Keep up with it! Any gains you experience from stretching (increased range of motion, flexibility, improved performance) will decrease if you stop stretching.
-Check out *this article* on Sparkpeople, which includes different stretch plans and a guide to stretching.
Also, here's a little stretch video I put together:
I wanted to keep it short (around 10 minutes), so I didn't include every muscle group. It does target many of the muscles we use on a regular basis, and if you plan to use this in your stretch routine, make sure to stretch your lower back and hamstrings (a forward fold would be perfect for this), chest and front of shoulders [my favorite way to do this is to hold onto the back of a chair or a counter with one arm and slowly rotate my body away].
-It's been a long time since I made a video, so as expected, I'm a little rusty. Please excuse the misspeaks in there, and the fact that I said "Go a little deeper" at least 48 times. Oops.
-If you try the video and would like to do it more often, feel free to mute me and play your favorite slow, stretching music.
Relaxing Noodle Playlist #1 and #2 include some of my beloved stretch songs 🙂
Happy stretching!
xoxo
Gina
How often do you stretch? What's your fave stretch?