12/30: Thoughts from the week
-I found it hilariously appropriate that this poster was hanging in the exam room for today's midwife appointment.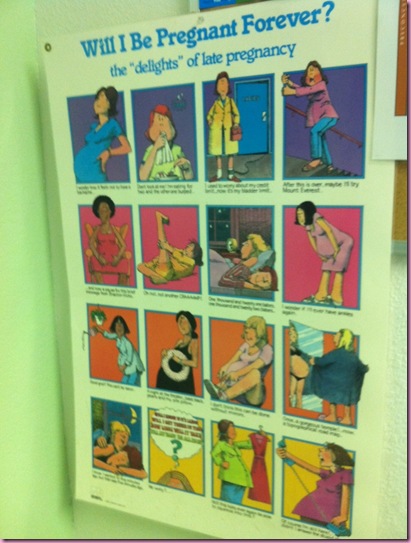 -My cervix is not a trampoline, but I have a little friend who seems to think otherwise. I'll be walking along happily and KA-POW! It's a feeling unlike any other- shocking, really.
-I can fall asleep anywhere right now… unless it's bedtime. Then I toss and turn until I have to perform the athletic event of getting out of bed and shuffling to the restroom. The other night I got up 4 times. Just when I thought I couldn't possibly love naps any more, I do.
-While I'm napping on the couch, I consider putting down a towel or blanket just in case my water breaks. I really like our couch, and it doesn't matter what spills happen in the future, something about having it soaked in amniotic fluid grosses me out a little.
-Weight training seems to have officially fallen by the wayside this week. I love the effects of weight training, even though I've been lifting much lighter, but it just doesn't sound good to me right now. I figure carrying around an extra 32 lbs counts as strength training….
Zumba and walking are the only things that still feel amazing- everything else will probably take a break until after I'm cleared to workout again after she's born.
-Sweet baby is still happily resting in her egg-like state. Even after the mix of horror and success stories I've heard, I feel much better after talking to the midwife today. Her first baby was sunny-side up and she had a very easy labor, and she said that if she stays that way for now, she'll probably flip during labor, and if not, I'll be fine. All of the things I tell myself are always more reassuring to hear from someone else.
-The interesting thing is that if I end up needing to have a C-section, I have no idea who our doctor will be. The doctor will be on-call at the hospital and have to do the surgery, without either of us meeting him/her before. It's strange to think that someone I've never met could be cutting into my body, but at the same time, no matter what, it will obviously be someone with a lot of experience.
-Yesterday, I went to Babies R Us to get the tiny last-minute things for our hospital suitcase. While I was grabbing a pair of little mittens to keep her from scratching her face, I was hit with the most overwhelming urge to meet our baby. Of course I've been thrilled and excited this entire time, but it's gone from "It will be so amazing when the day is finally here" to "I have to meet her now."
-Speaking of meeting her now, my very good friend whose due date is 4 days after mine is about to have her baby- her water broke this morning. I'm still secretly hoping we can be hospital neighbors, but little miss will be here when she's good and ready.
Until then, I'll keep singing to her and playing Zumba music, napping to my heart's delight, and trying to be as patient as someone can be in this type of situation… <3
-For fun: 25 best mom confessions