2/3: Thoughts from the week
-The stability ball has become a permanent fixture in here- thank you to those of you who recommended using it as a rocking chair. Of course, Livi is a huge fan. I think it's because I spent most of the last 3 weeks of pregnancy on the stability ball, gently bouncing and encouraging her to flip. Word to the wise: not the best idea after the little one has had a full meal. I had a back full, and hair full, of spit-up in the middle of the night. All I could do was laugh.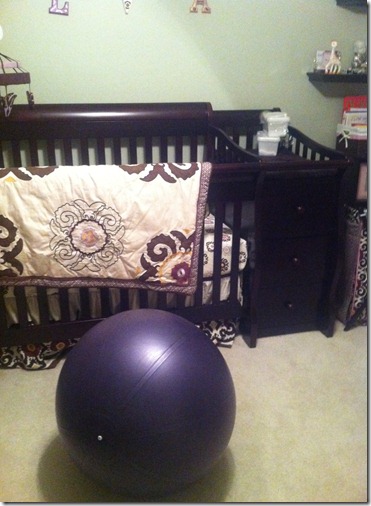 -This book is awesome: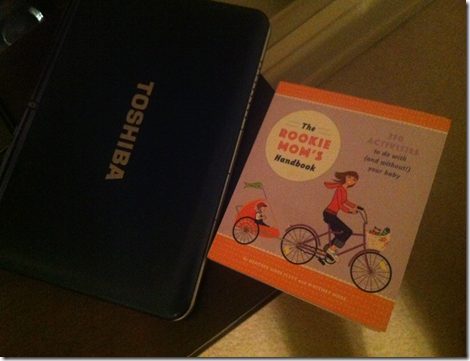 Not only can you skim it page at a time, but it gives you reasonable things to do with your child each day according to how old they are. By reasonable, I mean they're things you can actually do with a full baby schedule and getting out of jammies is a task. Some examples: take the baby with you to a coffee shop and read a book or write thank-you notes while they snooze, practice babywearing (already love this one!), and have a PG makeout sesh with your significant other, since mattress mambo is on hold.
-The best thing you can say to a new mom: you're doing a great job. During those first two insanely crazy and taxing weeks, you're recovering, emotional, and trying to do the best you can based on experience, what you've read and intuition. I'll never forget when Meg's mom and sis were over here, I hadn't showered in who knows how long, was having a really horrible time breastfeeding and emotional, and they told me I was doing a great job. It warmed my heart, and the encouragement meant a lot to me.
-When you're breastfeeding around the clock, how do you go to the dentist, especially when they're notoriously running late with appointments?
-Sleeping in 1-2 hour increments makes for some CRAZY dreams.
-Is it possible to have nursing cravings similar to pregnancy ones? I feel like I'm back in my first trimester as far as vegetables go- they've been slightly MIA from my life, mostly because of the prep time and also because they don't sound that great to me- and calorie needs are even higher than they were in my third trimester.
-I'm convinced that my pump talks to me. After every feeding session, I turn the pump on and cringe a little (excuse the pun, but pumping sucks). Even though I'm not stoked about it, the pump seems to be saying "'Wahoo! Wahoo! Wahoo!" At least someone is excited 😉