14-month old favorite foods and snack ideas
are getting a little stagnant around here. I recently got a comment asking for some ideas to feed a 14-month old toddler. I'm happy to share some of our faves and also get some of your ideas! While Miss P is a blast to eat with, and loves food (she'll "MMMM!!!" enthusiastically), we get stuck in the same things over here. I'm excited to switch it up a little bit!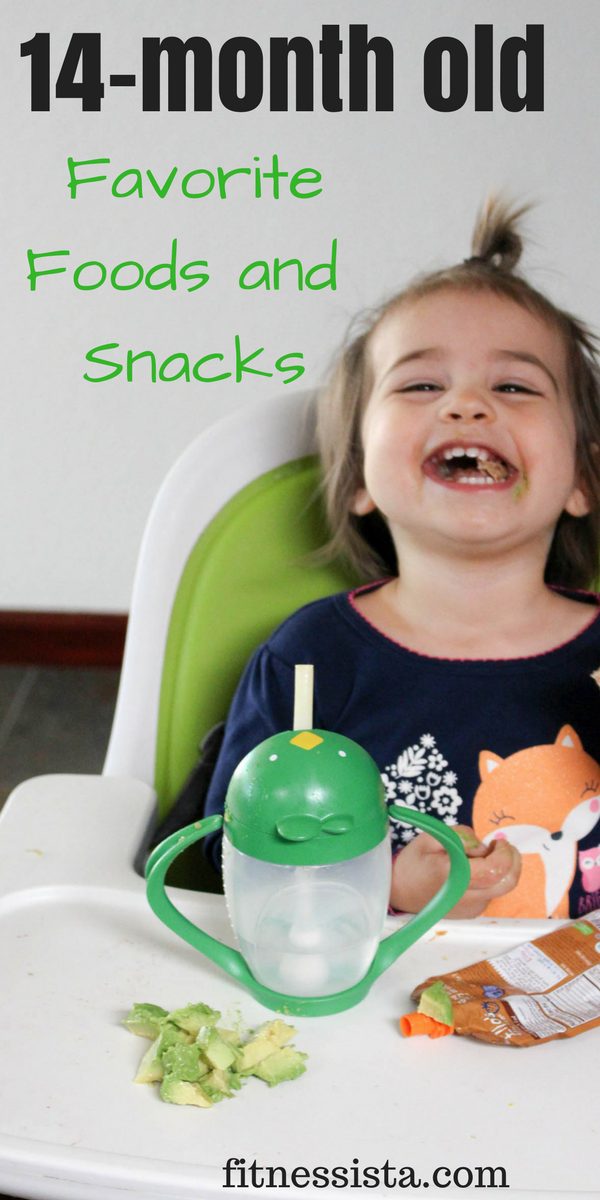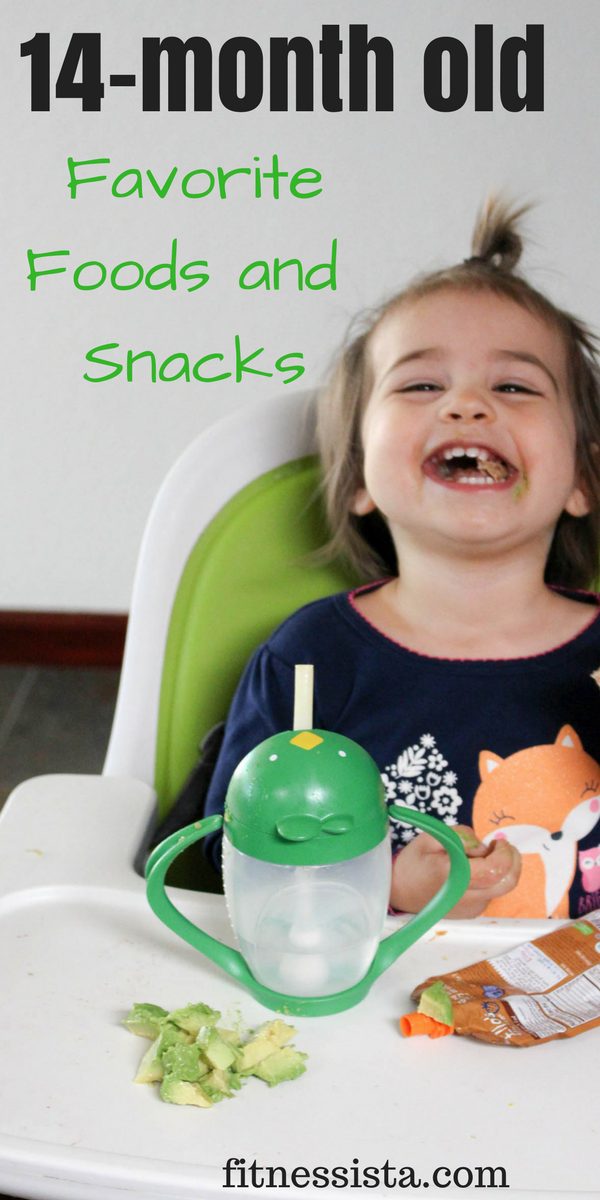 Here are some of P's 14-month faves:
Breakfast:
I'll almost always give her a combo of fruit, a scrambled egg, and something fun like a Van's waffle, banana-egg-oat pancakes, or oatmeal
She loves:
Any berries
Whole apples, peeled (she'll take bites out of the apple)
Banana
Chopped melon
Toast with melted coconut or olive oil (the ped suggested to cut out all dairy right before our Tucson move)
A pouch (we use mostly the Happy Baby or Plum Organics brands. They're a good distraction while I cook something or chop fruit)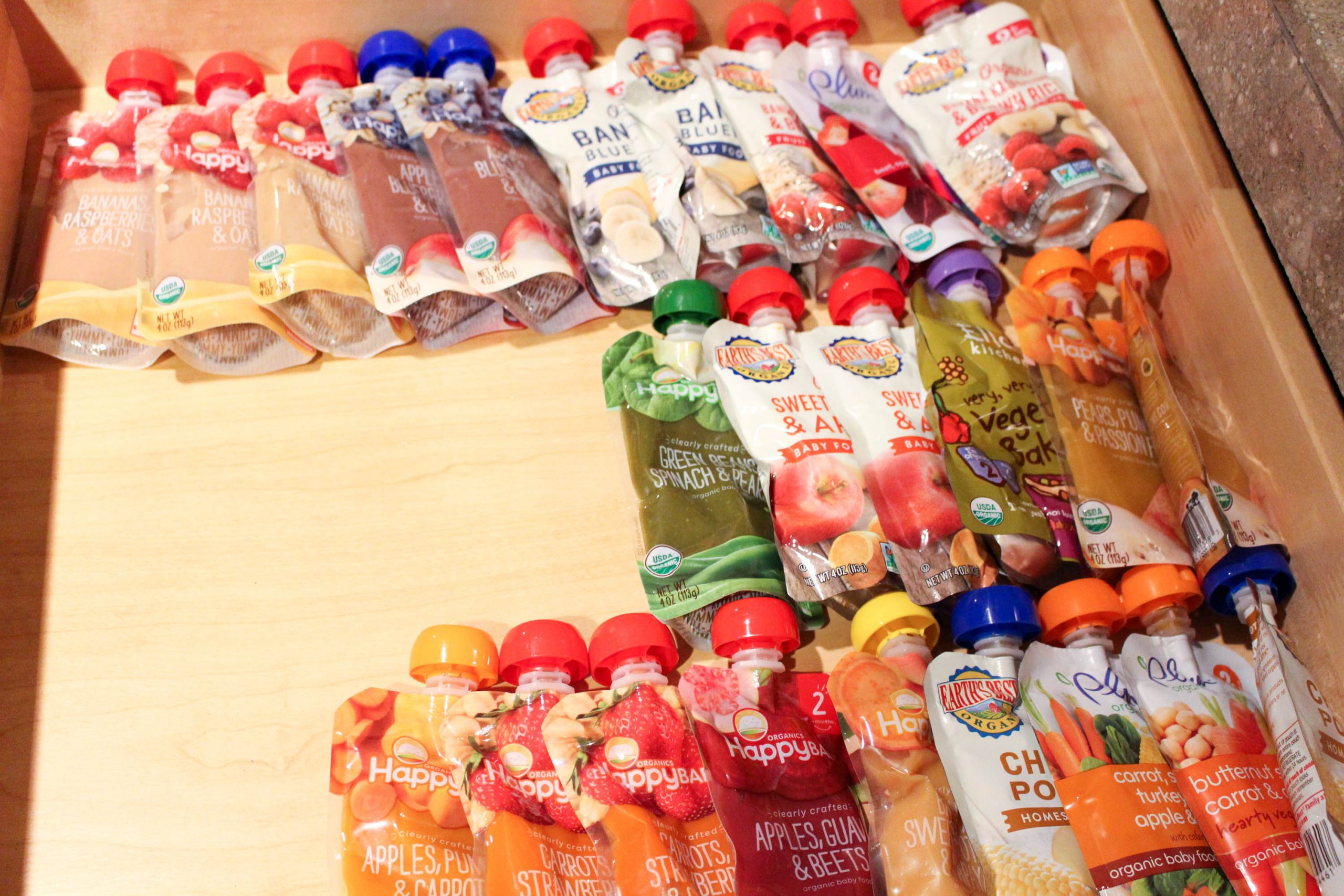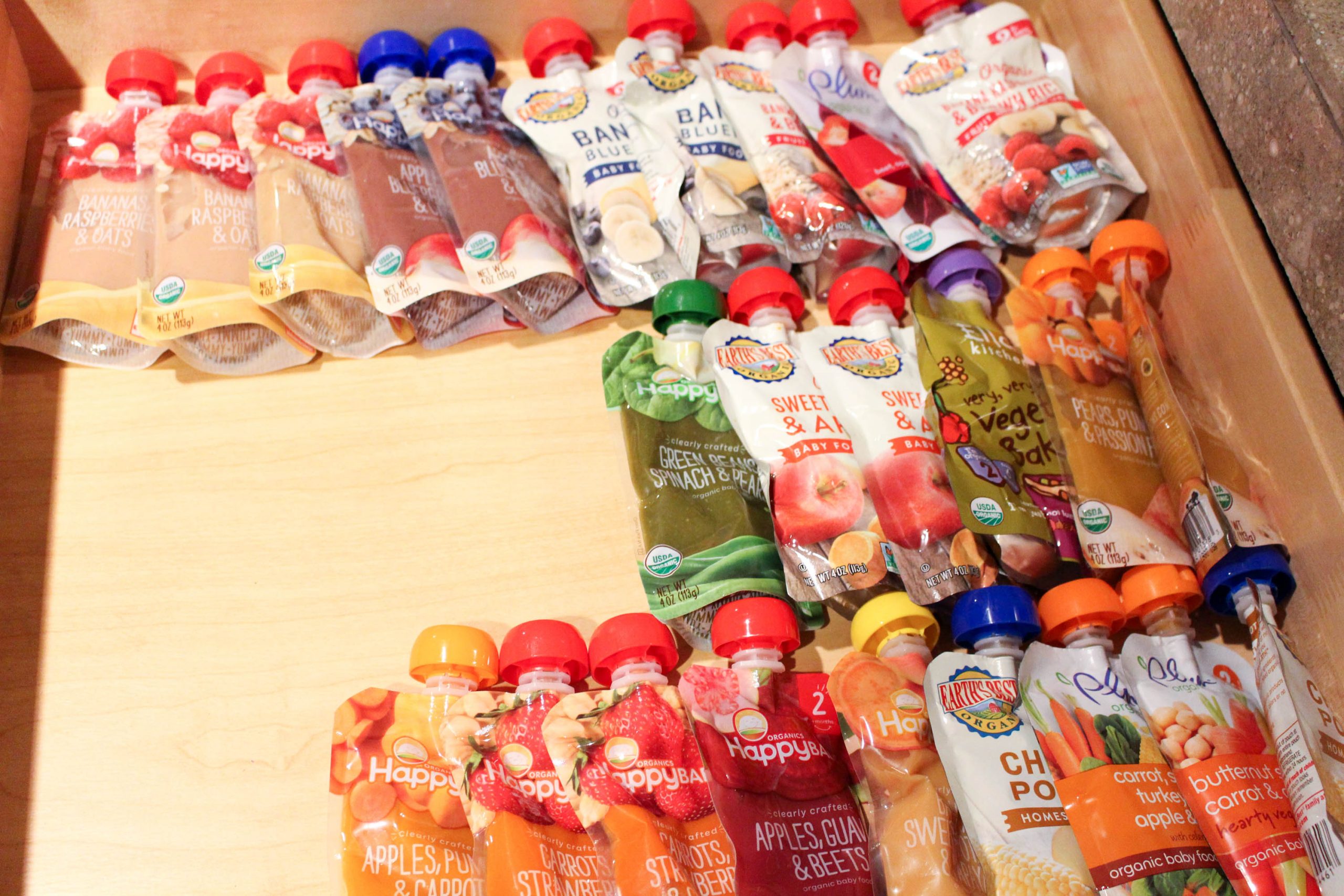 (The green pouches go in the middle and I usually offer those first. I'd love to make all of P's purees, but I'm happy that there are so many organic options.)
Lunch
I've gotten super boring on the lunch front. I'm having a hard time because she's dairy-free, and can't have anything super acidic (tomatoes are a noooooooo). She'll almost always have some baked sweet potato or steamed squash, steamed peas or broccoli, fruit, a whole avocado, and a peanut butter and jelly sandwich. Since we found out she loves peanut butter (and thankfully isn't allergic!) I'll make her a half PB&J on whole-grain bread and she'll crush the whole thing. If she doesn't have a PB&J, I'll give her:
an organic chicken and broccoli patty (from the frozen section at Target)
soup (homemade chicken and veggie soup. I'll make a batch almost every week since the girls love it)
Snacks:
Pouches
More berries or fruit
Ella's Nibbly Fingers bars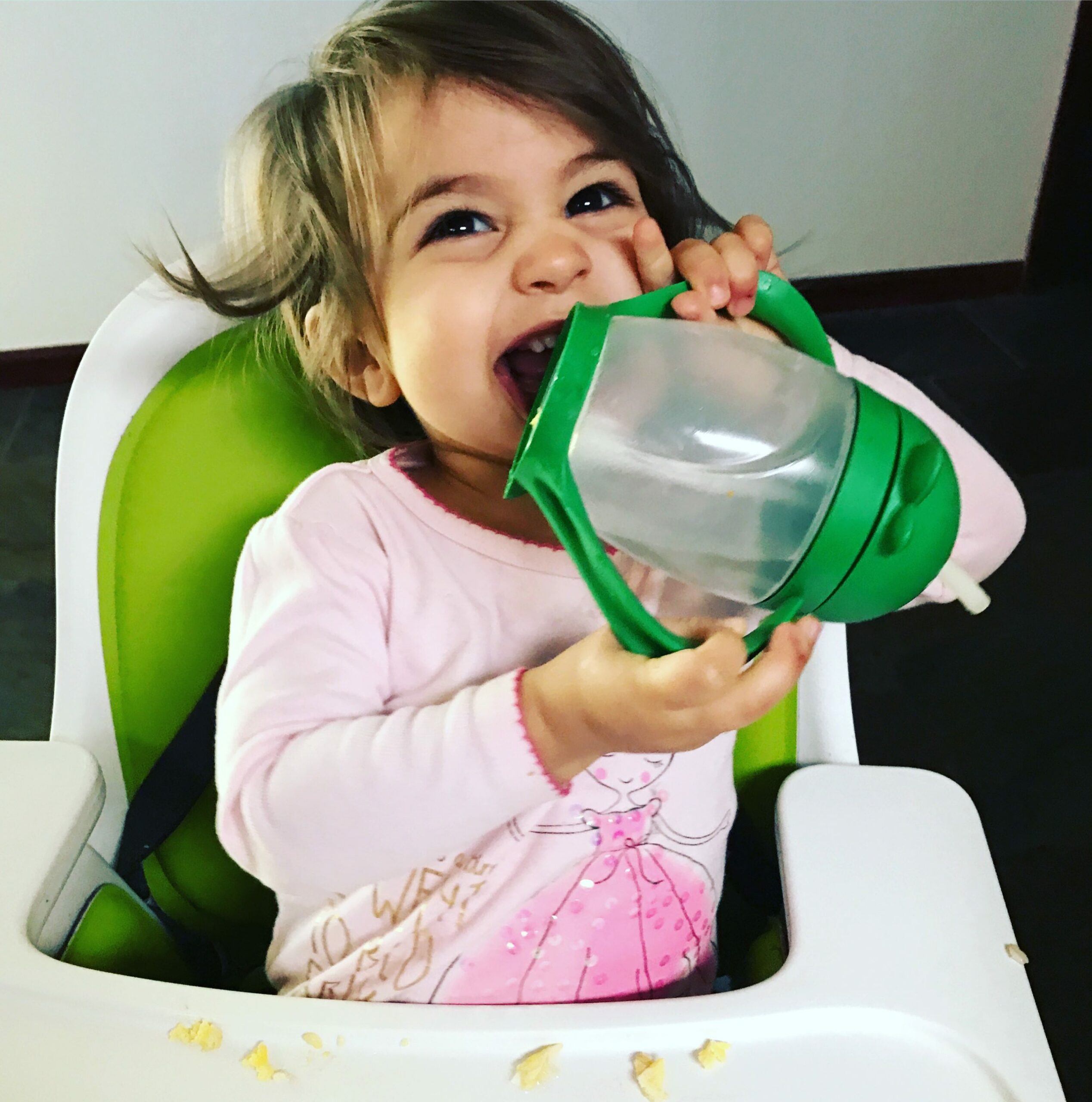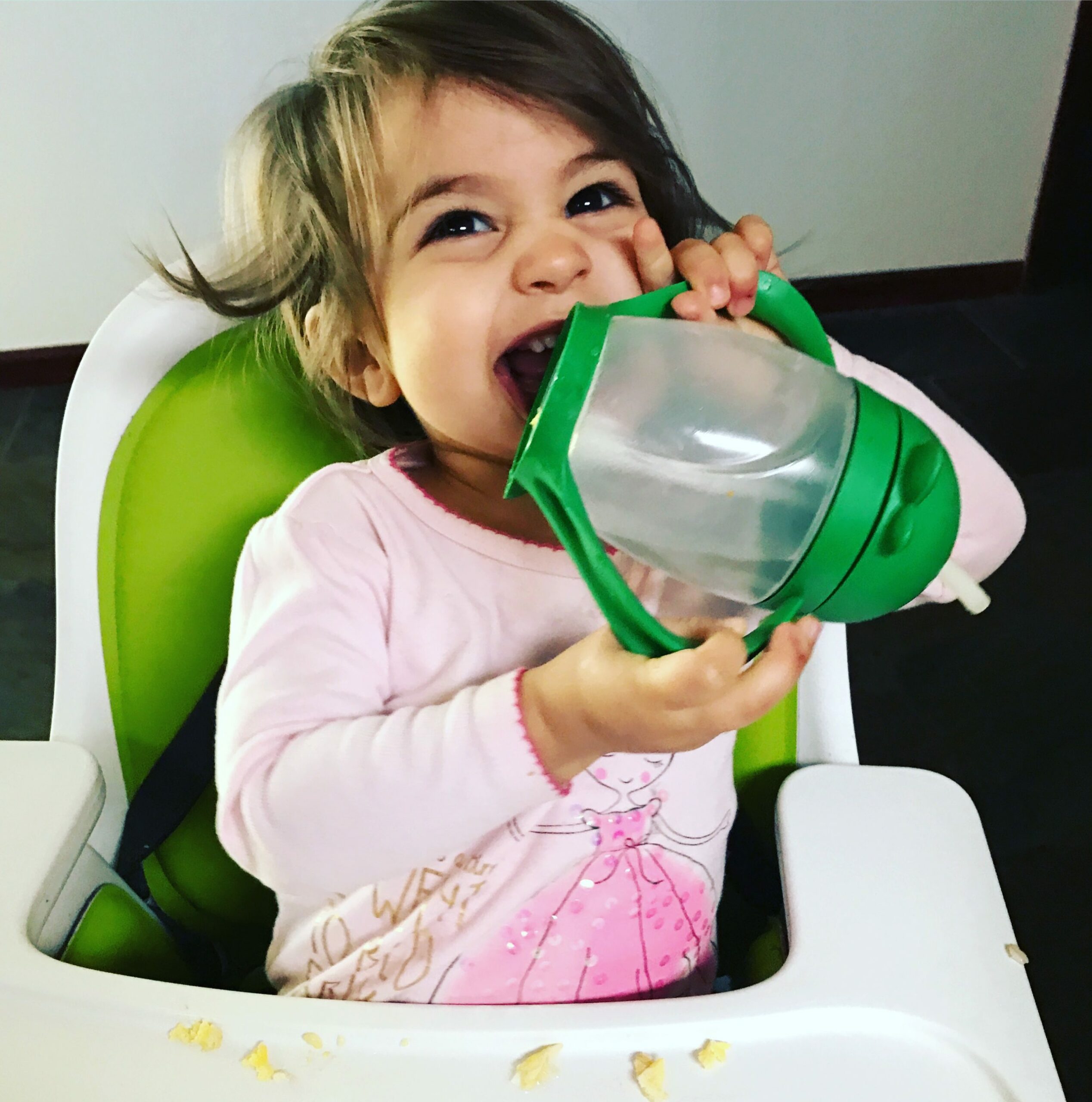 (the Lollacup is THE BEST)
Dinner:
For dinner, we usually give her what we're having if she's awake! She usually goes to bed earlier (around 6:30 or 7), so if we're having a later dinner, I'll feed P around 5:30
She'll usually get something similar to lunch, and will usually have beans (black beans, pinto, kidney, garbanzo or white beans) as the *protein* component
If she didn't have an avocado with her lunch, I'll add one in with her dinner
Things I think I can add into her routine:
Homemade nibble bars (super low sugar)
Muffins! Liv used to love homemade muffins when she was a baby
Chia pudding (she had some of mine when we were at breakfast and loved it)
More protein options, like organic burgers, meatballs, meat and pasta, etc.
Smoothies packed with nutrients, like spinach, coconut oil, peanut butter, fruit, etc.
Things that are freaking me out:
Almonds. When we were told to ditch the dairy (which I'm going to tell you right now: it broke my heart because I wasn't ready to say goodbye to her bottle and snuggly time), we gave her some almond milk in her oatmeal. That day, she broke out in an AWFUL rash all over her back and belly, but had no other symptoms. The pediatrician said it was viral, and it got much worse the next day before disappearing, but it freaked me out. I'm going to give it to her again right before her pediatrician appointment next week.
Any other dairy-free non-acidic ideas you think I should try? Mama friends: what's your kiddo's favorite food? Anything particular you loved when you were a kid? I used to go crazy for "egg in a hole" when I was a preschooler. Liv still requests these pancakes every morning.
xoxo