(Sing it to the Kelly Clarkson song "Beautiful Disaster")
Hey everyone! Hope your Friday is going well 😀
In celebration of cookie Friday a la Tina, I had two types of cookies in my life today…
1) a vegan cookie I split with Jeni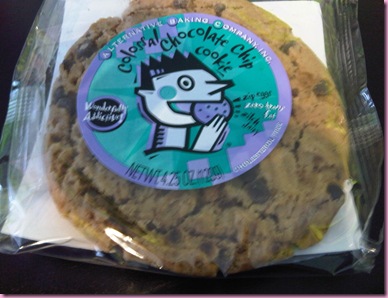 (Blurry crackberry pic. I'm embarrassed, haha)
2) a cookie abomination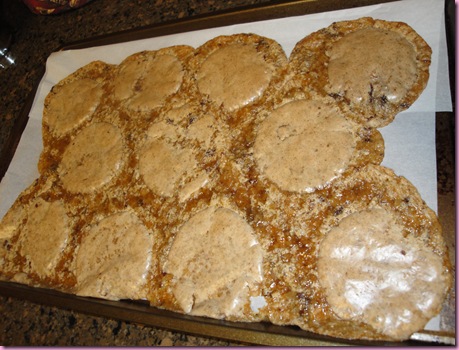 Ack! Attack of the cookie blob!
I tried (key word there) to make a gluten-free version of my Vegan almond butter chocolate chip cookies for a good friend who was recently diagnosed with Celiac, so I subbed tapioca flour for the spelt flour.
The dough came out beautifully: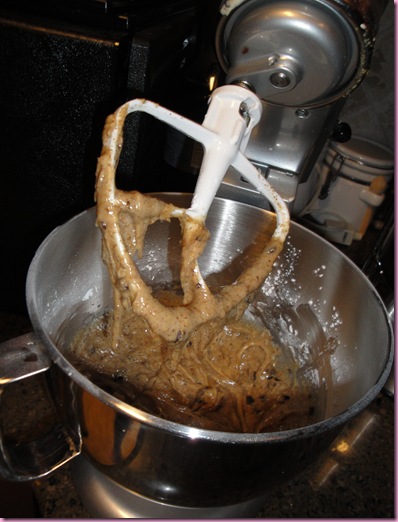 But as you can see from the pic above, the cookies were a flattened disaster 😉 The thing is, they taste like heaven (the pilot and I have been scraping bites off) but there's no way I could put them into a container and share them with friends. Oh well, ya win some, you lose some 😀
Some of the other eats from today include (but are not limited to)
The exact same chia pudding I had yesterday because I'm unpredictable like that 😀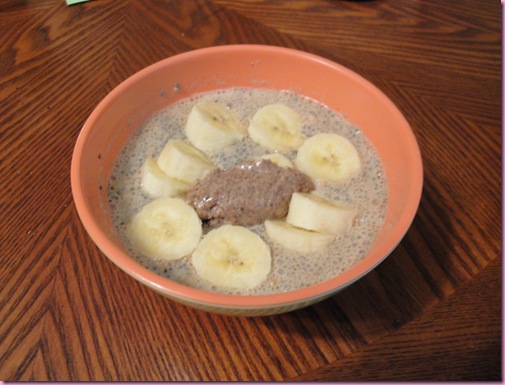 (I'm pretty sure that if I didn't have the blog, I would eat the exact same things for breakfast and lunch everyday. Thank you for keeping my life exciting!)
A green sludge from the Main Squeeze (tropical superfood with Sun Warrior protein I brought from home in a baggie)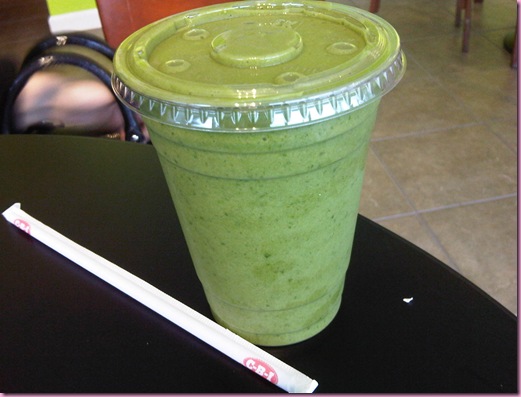 Extra spinach! Lurrrrve 😀
On the workout front, I did 50 minutes on the elliptical and back and biceps with Jeni.
I had a few training appointments and now I'm back at the casa, trying to figure out what to do for dinner. Some friends are going out but looks like I'm gonna be lame tonight – I have a meal plan to finish for a client and am going to work on the playlist for tomorrow night's soiree. Tomorrow morning I have a long run with Kelly and Meara, two training appointments and a massive Christmas sweater hunt in the works 😀
Have a great night!
<3
Gina
Something to do: Know your dosha 😀
From Yoga Journal:
Ayurveda, which translates as "knowledge of life," dates back 5,000 years to the ancient Sanskrit texts, the Vedas. It's a system of healing that examines physical constitution, emotional nature, and spiritual outlook in the context of the universe. According to the philosophy, universal life force manifests as three different energies, or doshas, known as vata, pitta, and kapha.

We're all made up of a unique combination of these three forces. Though everyone has some of each, most people tend to have an abundance of one or two of the doshas. This unique combination is determined at the moment of conception, and is your own personal blueprint, or prakriti (nature).

As you move through life, the proportion of each of the three doshas constantly fluctuates according to your environment, your diet, the seasons, the climate, your age, and many other factors. As they move into and out of balance, the doshas can affect your health, energy level, and general mood.
To help figure out your dominant Ayurvedic constitution, click here 😀