(give or take a bit)
7:37 am. Liv and I are awake and ready to start the day. (Miss P is still snoozing.) Liv is in our bed talking to Bella while I put my contacts in.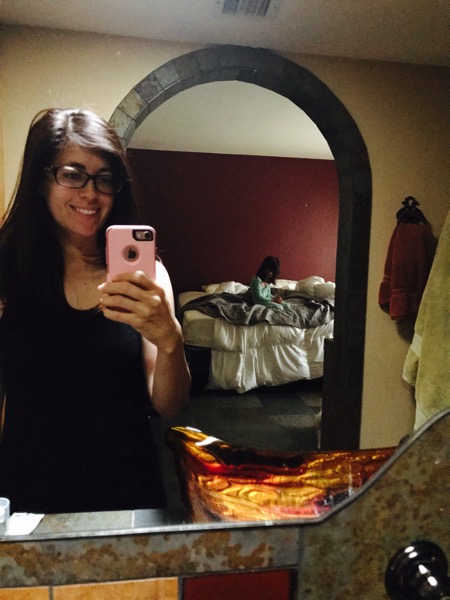 I go into the kitchen to start breakfast and chat with Liv, and then she goes into P's room to say"hi" and sing her songs while I finish and plate their meals + take my supplements.
8:15am. The girls are eating French toast,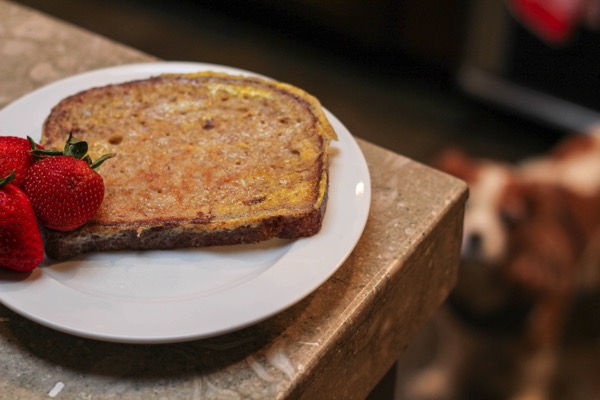 (snapped a pic of Liv's plate before everything was covered in maple syrup and chopped up)
while I sneak a couple of bites of chocolate and make some tea to drink while I quickly get dressed.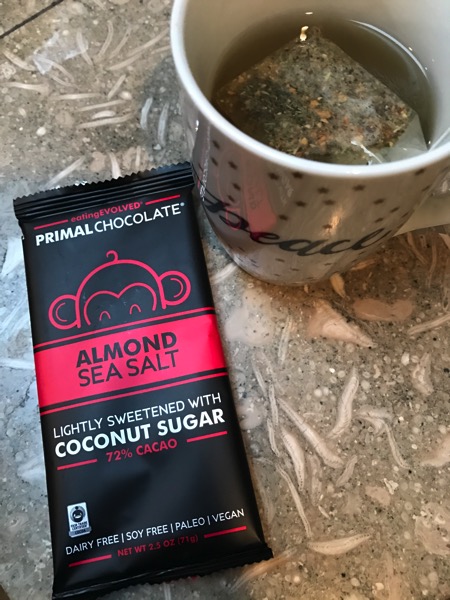 (this chocolate bar is life)
The girls finish breakfast, we get everyone dressed, and they dance a bit to Sesame Street while I quickly clean the kitchen and we head out the door.
10am: Storytime at Bookman's. This is one of those Tucson treasures for mamas, especially on cloudy/rainy days. I'd originally planned on going back to the playground, but when I saw the gloomy skies, our plans were squashed. Quickly, I remembered storytime and figured it would be a fun family outing.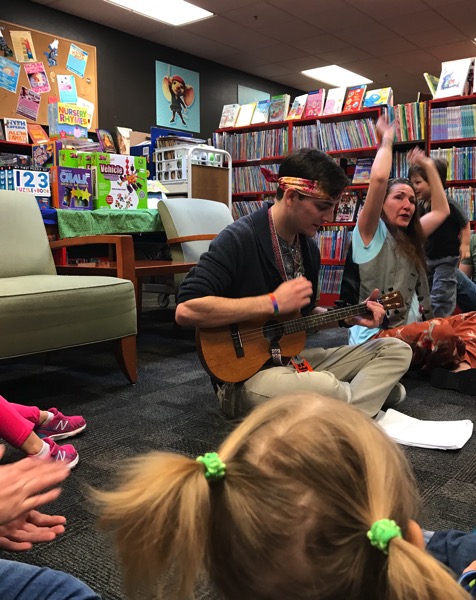 We stay for 20 minutes of singing, then we pick up some new books and head home.
11:15am: Down time. We're back at home, P just went down for nap, and I make a quick breakfast for myself and a snack for Liv. I have superfood oats with raspberries, eggs with kimchi, and mushroom tea.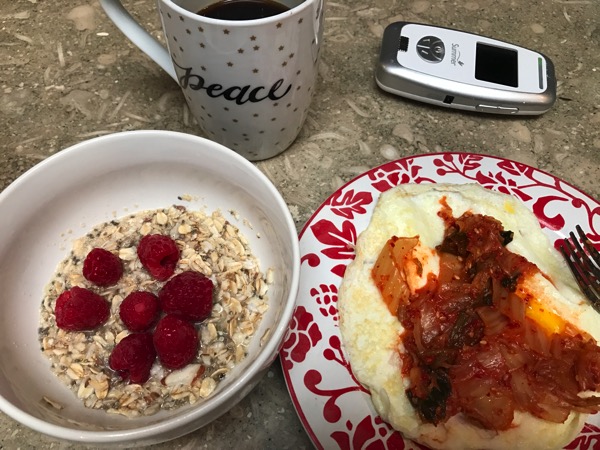 Livi has two "pop eggs" (<— over easy eggs) and a bar.
12:00 Livi and I work on a few kindergarten worksheets and read one of her new books. I downloaded some worksheets from Pinterest, and we've had a lot of fun practicing spelling and writing.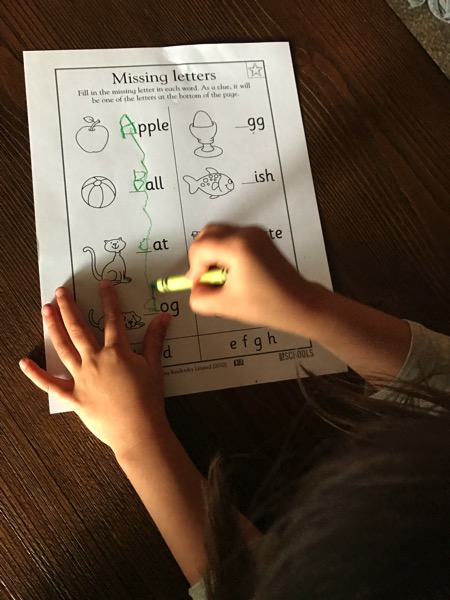 When we finish the worksheets and reading, she's allowed to watch a show, so I put on Mia and Me on Netflix, grab my computer and crank through as much work as possible. (Liv's doing part-time preschool while we're here in Tucson, so during the days she's at school I work more during P's nap.) I make a March workout calendar, write and send out a newsletter, write back to a couple of brand emails, and start an upcoming workout post.
1:30pm. We're at the pediatrician's. I had to wake P up from her nap to make it to her afternoon appointment. When she woke up for the day, she had swollen lymph nodes, which concerned me, especially since she isn't sick, so I made an afternoon appointment to get them checked out.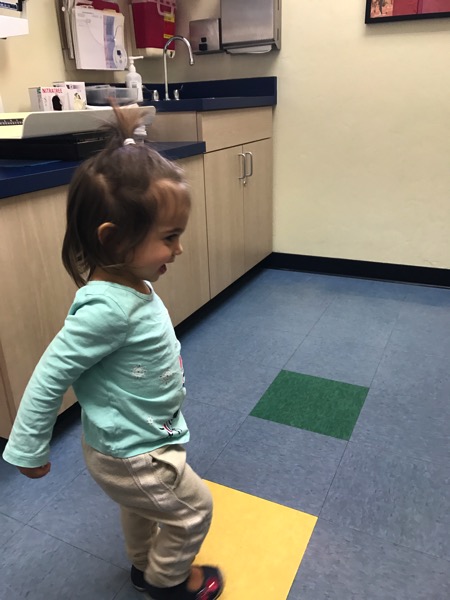 2:30pm. Thankfully, the doc said they looked completely normal, so we bounced out of there and headed to my mom's to eat some Beyond Bread for lunch.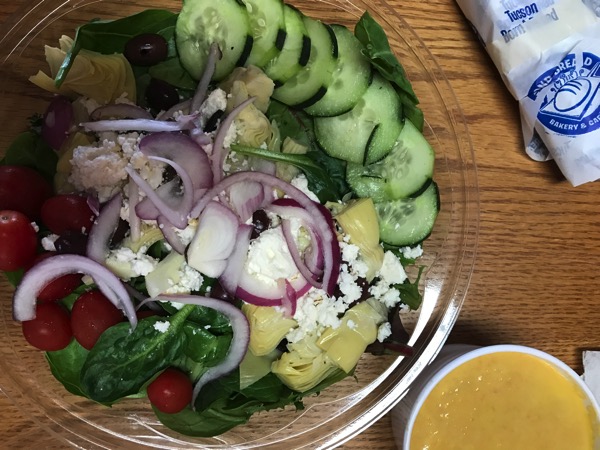 We enjoy lunch, the girls play with the enormous toy collection my mom has curated for them, and we head home to grab Liv's gymnastic's outfit.
4:15pm. The Pilot stays home with P -he got off work early!- while I take Livi to gymnastics. Usually I'm chasing P around the studio while Liv has gymnastics or dance lessons, and it's so enjoyable to sit and watch her and read a book.
Reading Lolita in Tehran. I picked it up at Bookman's because it caught my eye, and while it's taking a little while to get into it, it's definitely holding my attention and interest so far.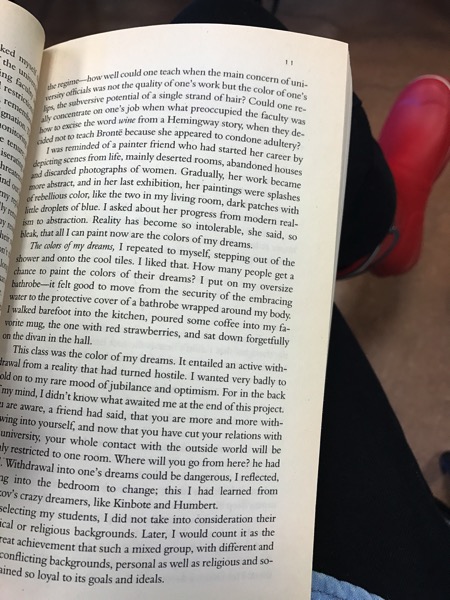 (the rain boots I wear any time it's the tiniest bit cloudy are on awesome sale right now)
5:15pm. Back home and it's officially pouring rain. The girls play with the Pilot (who opens a window so we can hear the amazing raindrops) while I make some dinner: shrimp with rice and pineapple in pineapple boats + sautéed spinach. This is one of those "on the fly" recipes (anything that isn't Blue Apron or Sunbasket is usually super quick and on the fly), but here's the breakdown if you'd like to make it!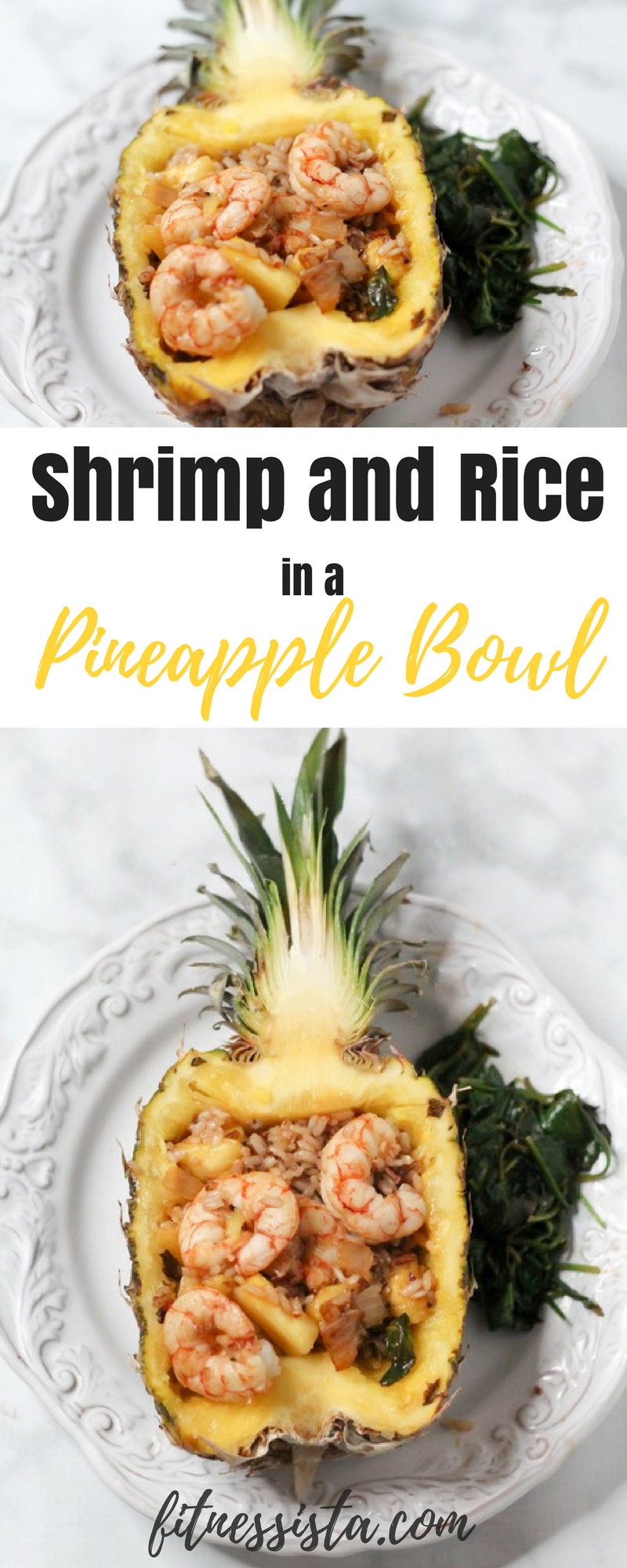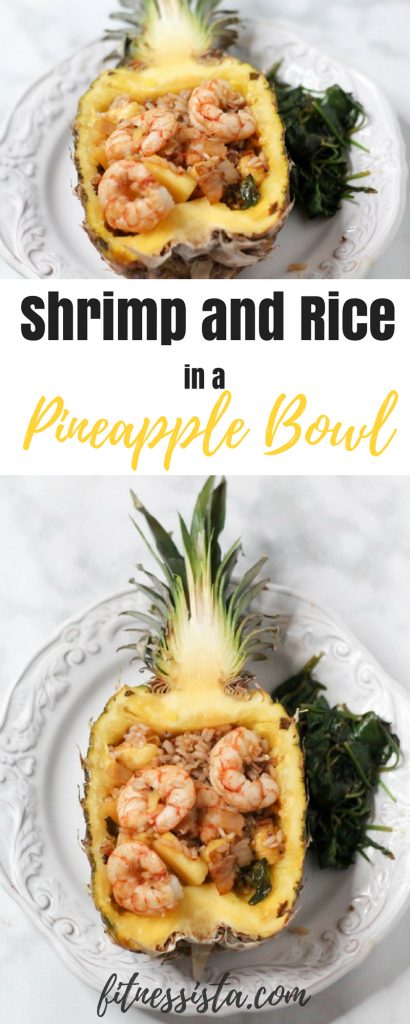 Shrimp and Rice in a Pineapple Boat
1 cup

dry favorite rice ( I use a mix of wild, jasmine and black)

2

whole pineapples

1

bag Spinach

2

cloves garlic, minced
salt and pepper to taste
lemon

1tbsp

ghee (or butter)

1/3

sweet onion, chopped

1

lb defrosted wild shrimp, seasoned with salt and pepper

1/4 cup

soy sauce
minced ginger
drizzle of honey
pinch of cayenne
Instructions
Start the rice–boil the rice and water, set to a simmer.
Cut pineapple in half and scoop out the inside, chop and set aside.
Heat olive oil in a pan, sauté minced garlic and spinach with a squeeze of lemon and salt and pepper. Once wilted, remove from heat.
In a separate pan, sauté 1/3 sweet onion in some ghee until fragrant.
Add one pound of defrosted wild shrimp, salt, pepper, soy sauce, garlic, ginger, a drizzle of honey and a pinch of cayenne.
When the shrimp is fully cooked, add the cooked rice and the chopped pineapple to heat it up. Add an extra splash of soy sauce and serve in emptied pineapple.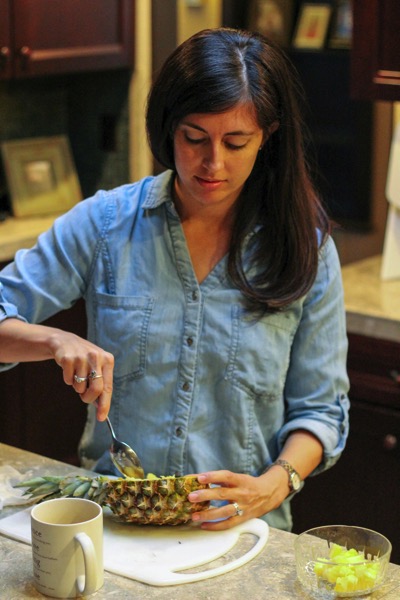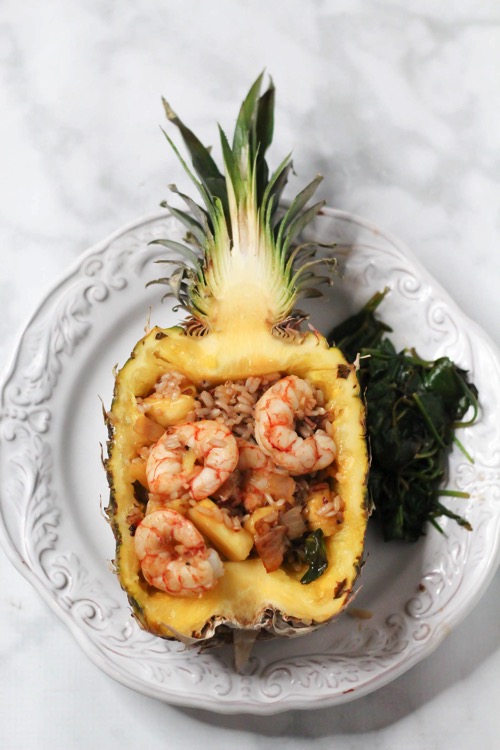 6:35pm. Ready for dance cardio at my favorite spot (BreakOut Studios). I have no idea what face I'm making in this picture, but I wanted to quickly snap a quick one before the room started to fill up.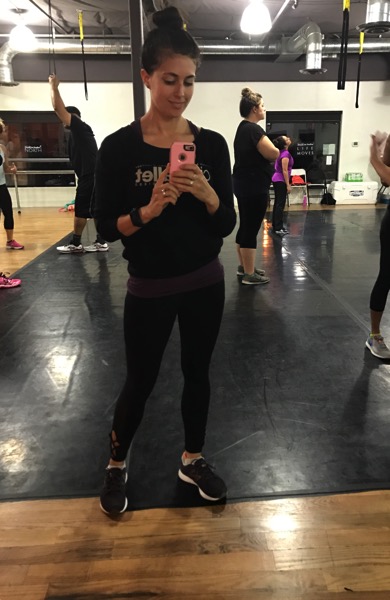 7:45pm. Post dance. The room is completely steamed up, and the class is trickling out into the pouring rain, drenched from sweat and totally euphoric.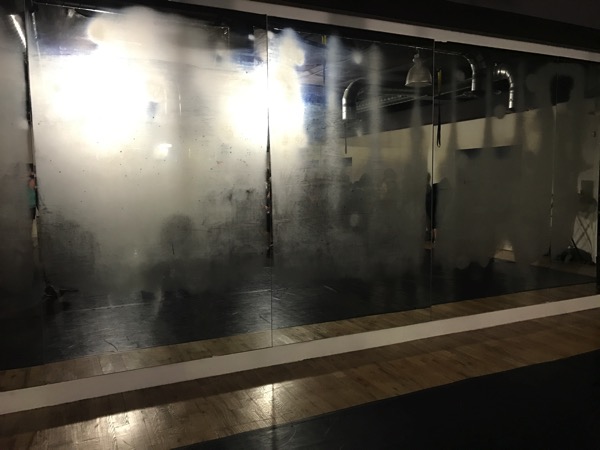 Whenever I see videos in Instagram stories from the *hot* dance cardio classes in NYC, I can't help but think they look a little lame. It's just a bunch of hopping around and punching?? With Todd, it actually feels like dancing. The moves are hip hop meets fitness, sassy, and energetic. Anyone who loves dance cardio needs to take a class from him once in their life. It's seriously magical.
8:00pm. Back at home, and both girls are asleep. While I was at dance cardio, the Pilot put the girls down for bed, and cleaned the kitchen (YESSSSS), so I heat up some bone broth to drink while I pack Liv's lunch, and set out all of our outfits for the next day. We catch up on the day, sort through and put away laundry, and start This Is Us.
9:50 Finishing This Is Us and trying to avoid the dinosaur cry. Failing miserably and drinking ginger tea.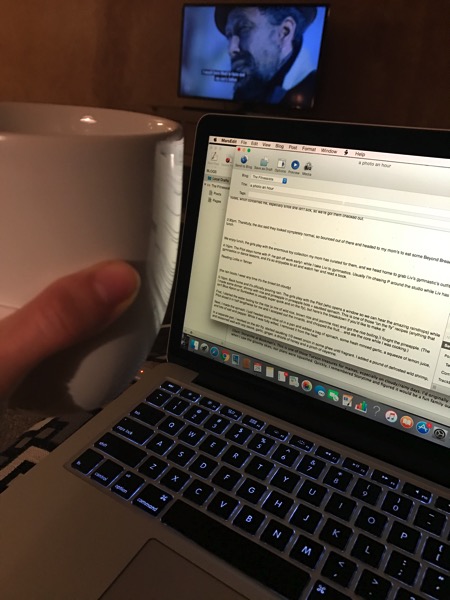 I finish this post, write back to emails and comments, edit an upcoming workout post, and then do some last-minute cleanup around the house. Then, it's time to get ready for bed!
11:30pm. In bed, reading The Core Program until my eyes can't stay open any longer. Crash out, and ready to do it all over again. <3