A sweet tater in Brussels
Heyyyyyyyyy 😀 How's your day going?? Thank you so much for the lovely bday wishes to the pilot and for your sweet potato ideas! I figured I'll play around after I re-stock the kitchen, and whatever's left is going in the dehydrator.
After this morning's 5k, I hit a brick wall. So I laid with the puppies on the couch and crashed for two hours. Much better 😉
Snack was the other half of the bfast cookie nanner, smothered in almond butter, and a Fiji with mesquite and cinnamon a la skull plate.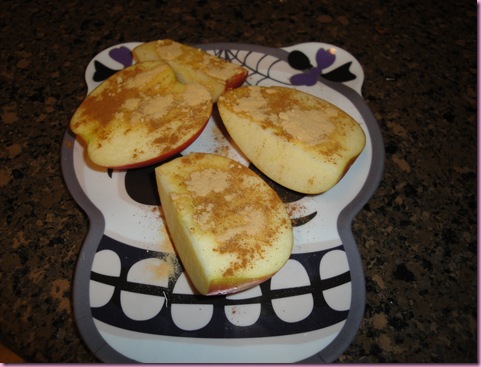 I suddenly felt a rush of motivation, so I rolled with it and was extremely productive at putting away the Oklahoma and Fresno disaster that is our condo. I washed clothes, put them away (which is always the tricky part), packed away summer clothes, put together Goodwill donations and made a huge dent in everything I need to do to get the casa back to how I like it 😉
Lunch was a wink and a nod to one of my favorite appetizers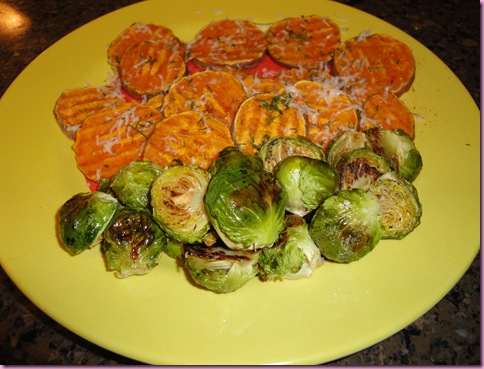 Sweet potato with goat gouda (my cheese splurge of the week… that stuff is not cheap), chives from the garden and roasted brussels.
It was my first time roasting brussel sprouts that didn't come out of the package and they were amazing! It just seasoned them with a little extra virgin olive oil, sea salt, pepper, and one minced clove of garlic. Deeeelish 😀
I found a stopping point for the massive reorganization project (I'll post a pic when it's all done!) and then did a 20 minute YogaDownload podcast(Core Yoga #1). It was only 20 minutes, but by the end I was sweating and shaking. Just how I like it 😉
Now I'm sitting on the couch with the puppers, watching Girls Next Door and sipping this comfy carob drink.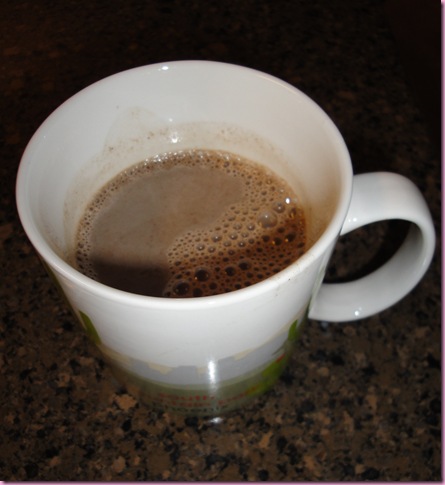 Showa time, then meeting the girls for some vino. We're going to celebrate the pilot's birthday 🙂 I just have to take it easy tonight or I'll be feeling every ounce during tomorrow morning's 8 miler. Yowza.
Enjoy your night!
xoxo,
G
Here's a list of seasonal produce that we get to enjoy during fall: (from this website)
Acorn Squash
Apples
Belgian Endive
Bok Choy
Broccoli
Brussels Sprouts
Butternut Squash
Cauliflower
Celery Root
Chayote Squash
Cherimoya
Coconuts
Cranberries
Diakon Radish
Garlic
Ginger
Grapes
Guava
Huckleberries
Kohlrabi
Kumquats
Mushrooms
Parsnips
Pear
Persimmons
Pineapple
Pomegranate
Pumpkin
Quince
Rutabagas
Sweet Potatoes
Swish Chard
Turnips
Winter Squash
Yams