Total body partner workout
So, the Pilot and I have never really worked out together. Do we work out at the same time? All the time. But we tend to walk into the gym, drop the kiddos off at Kids Club, and venture our separate ways. I'll usually do more cardio, and I tend to prefer more compound exercises. The Pilot sticks with straightforward strength, and really works on adding in weight each week. In other words, it would be kind of silly for me to spot him in a chest press. 😉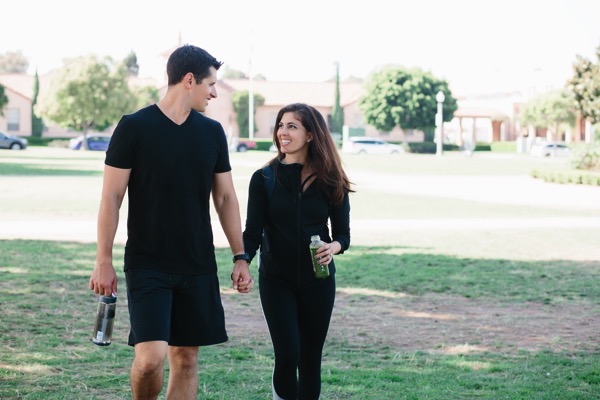 When HYLETE offered to partner for this post and share some of their performance apparel with us, I was inspired to create a little partner workout, using moves that we could both do and would challenge each other.
Here's what I came up with: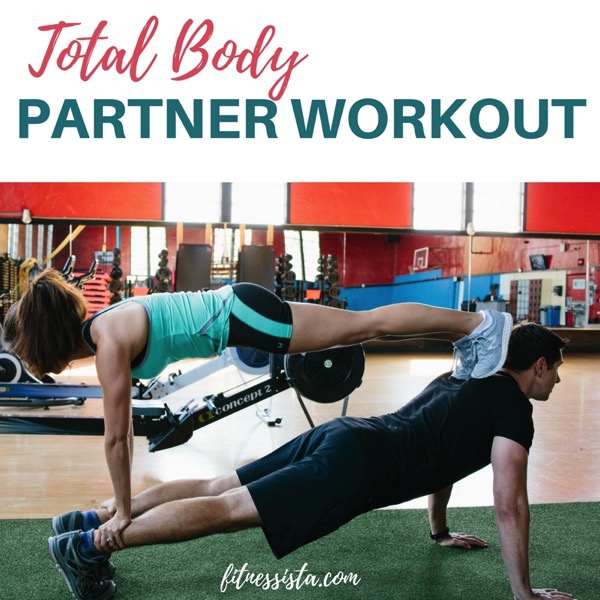 This workout includes a variety of compound exercises. Usually each participant is working the entire time! Complete 3 sets of each exercise before moving to the next one. As always, check with a doc before making any fitness changes. To add in additional cardio, take a 20 minute run or walk together following the strength exercises.

Form cues and tips:
Push-up with deadlift: one partner will hold the other person's feet as they come into a plank position. The person in plank will complete a push-up, making sure to squeeze the chest and exhaling on the way up. The person holding the feet will complete a deadlift after each push-up, keeping a flat back and tight core.
Back squat with ball pass: both partners are back-to-back and sink down into a squat. Holding a medicine ball, switch the ball from partner to partner, using the obliques.
Pull-up squat: for this one, there are a couple of options. The supporting partner can either have the other person's legs in their hands (to assist for the pull-up) or stand in front with the other person's ankles resting on their shoulders. The pull-upper will complete a pull-up, and after each one, the other person will perform a squat.
Plank with fist bump: both partners will come into a plank position facing each other. Using the same arm, high-five or fist bump before switching to the other side. Bonus points for goofy sound effects.
Resistance high knees: one partner will place a resistance band around their hips and turn to face away from the other partner, who holds the handles. The partner with the band about their torso will step forward until they have enough resistance and start to lean forward slightly for high knees (quick, taking deep breaths, and keeping your core engaged). The partner holding the handles can either squeezing them back (into a standing row position) or hold a deep lunge.
We had such a blast putting this workout together that it was great motivation to work out as a team more often.
Now, let's talk about the gear!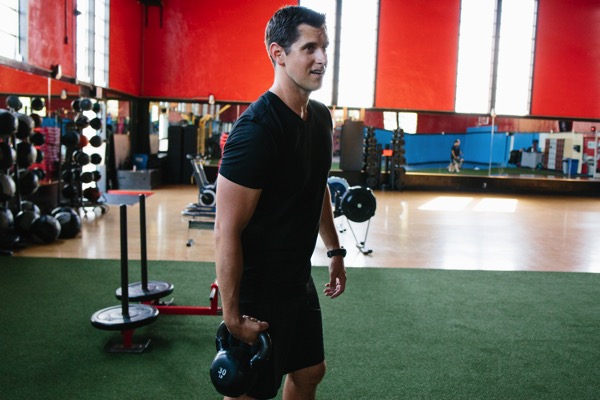 HYLETE, the sponsors of this post, is a premium athletic apparel company. What's different about it? The gear isn't sold in traditional retail stores, so without the mark-up, they're able to pass the savings onto their customers. Quality workout gear can be expensive, and HYLETE's goal is to provide performance apparel at exclusive community pricing. Usually if you join and buy one product at full price, 2-3 items are 20% off, and 4+ items are 40% off. BUT with my discount code (FITNESSISTA) you can get 40% off with no minimum order quantities.
They're dedicated to support a variety of charities, including Scratch My Belly Dog Rescue and the National Breast Cancer Foundation. You can read more about their philanthropic endeavors here.
HYLETE depends on community feedback to design attire that's functional and feels amazing. The performance fabrics are extremely lightweight and breathable.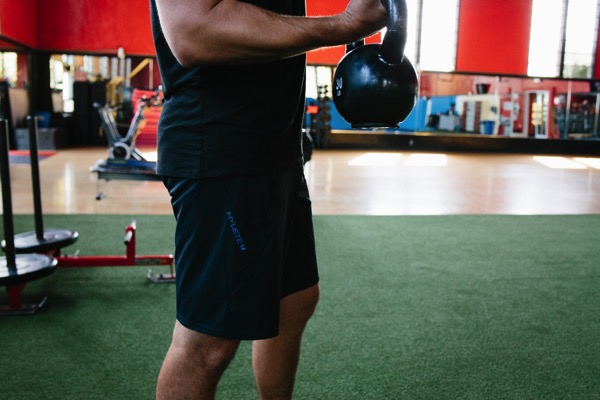 The Pilot is wearing icon quad-blend v-neck with the verge II flex woven zip pocket shorts.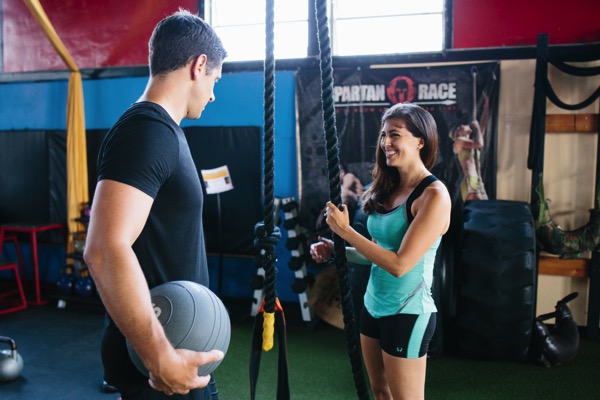 I'm wearing the insignia racer tank in mint,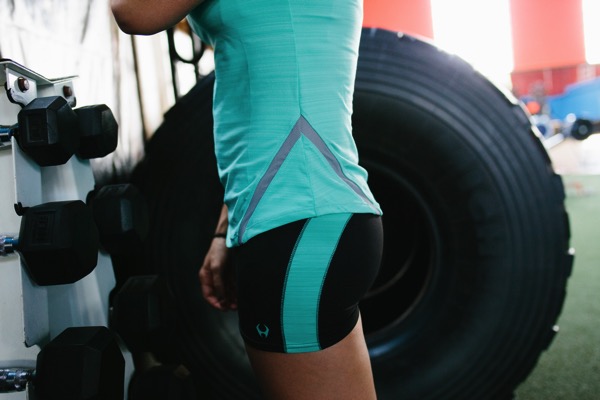 (the fabric is my absolute favorite. I could definitely wear it for a sweaty outdoor run or hot yoga class)
and the allium II 3-inch shorts in black and mint. I prefer wearing snug shorts on the ways I strength train, or when I'm getting in an intense cardio workout.
Since we were heading to grab a quick drink on the patio, I changed into the index II crops and the accent hooded jacket. The evenings have been a little chillier over here, and I can tell I'll be living in this hoodie.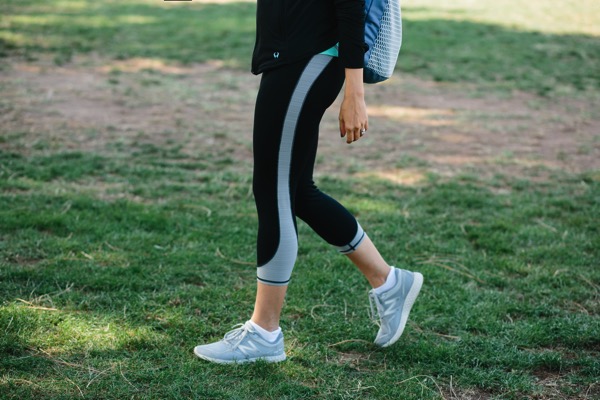 It's warm without being too heavy… and has thumbholes, which makes me insanely happy. 😉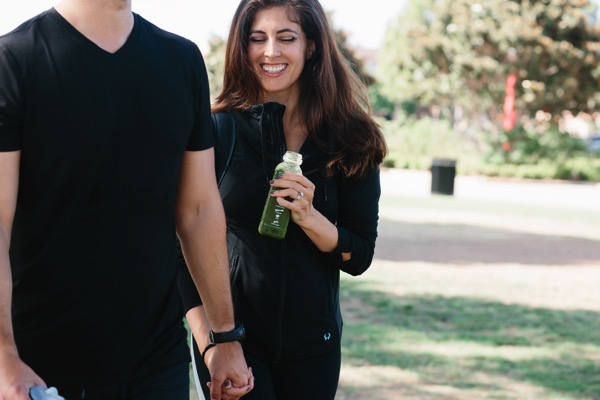 Check out HYLETE here and get your 40% off with the code FITNESSISTA.
So tell me friends, do you work out with a partner or your best friend? If not, try out one of the moves above! If anything, it definitely makes for some good blooper moments.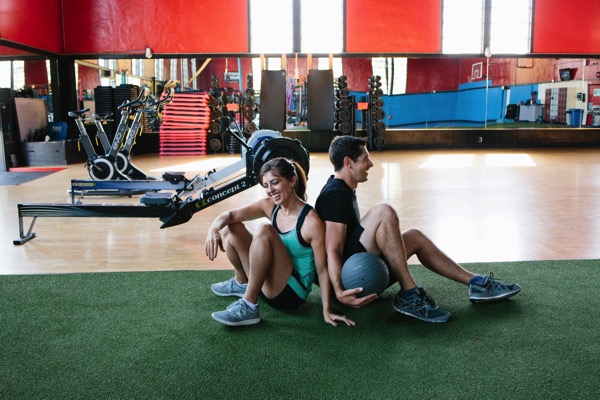 xoxo
Gina
Photos: Arielle Levy
Location: Point Loma Sports Club + Liberty Station park