Hey everyone! Happy Monday to ya 😀 Hope your morning is going well so far.
Last night, it was so glorious to have a meal at home with the pilot, even if that meant I had to cook it 😉
We had a version of Rachael Ray's Salmon Salad with orange vinaigrette. I'd made it once (and healthified it), so I just rolled with what I remembered. You can see the original Rizzle recipe here.
The star of the show was wild caught Salmon from Whole Foods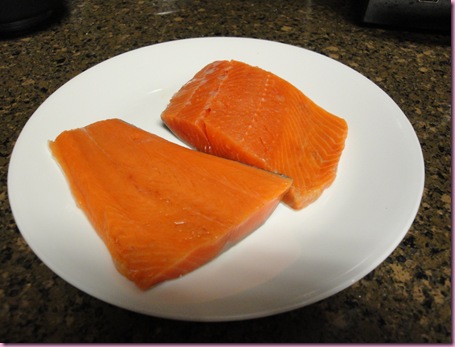 I seasoned it up with sea salt and pepper, pan-seared it, and baked it off in the oven.
While the salmon baked away, I blanched some asparagus (which the pilot and I call "asparagi"), made the dressing out of orange juice, zest, agave, olive oil, rice vinegar, red onion, salt and pepper and sliced up the red onion, segmented oranges and pitted kalamata olives.
Here's the finished product: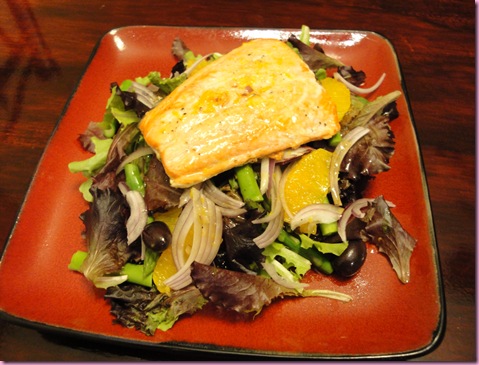 Perfect salad beast feast for two 😀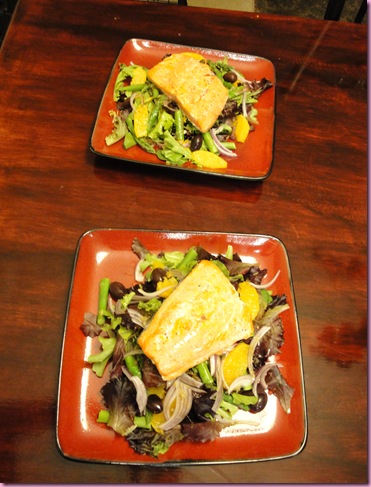 'Twas glorious.
I also put some raw okra chips in the dehydrator.. if they taste how they smell, I will post the recipe (and the vegan pasta primavera one) this afternoon.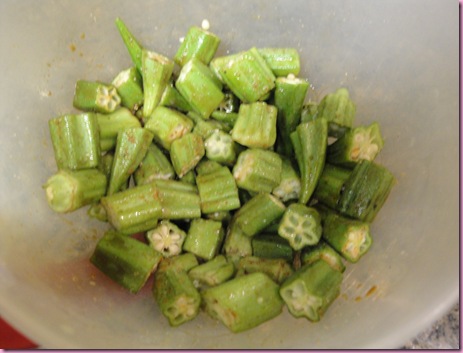 Before I go, there's something I wanted to ask ya'll about.
The pilot and I were talking on the way home from J-ville (and sorry, no it wasn't about babies) and I told him that my blog views were significantly lower last week. It also happened to be the same week that I launched my OpenSky shop… I have no idea if the lower pages views were due to spring break, or related/unrelated to the OpenSky shop, but it got me wondering if OpenSky shops, giveaways, reviews and the like turn you guys off.
Personally, I really like them… for the most part and if they're done tactfully.
I try to keep reviews on the blog minimal, unless it's something I bought with my own money and totally love, or if a company sent it to me and I would have bought it anyway. That's why you'll never see junky products on the bloggy that I wouldn't usually consume. The same goes for OpenSky- there will never be anything in there that I don't use myself.
I think that product reviews are a really helpful way to learn about new things, giveaways are fun, and OpenSky is super convenient (because you can find all the blogger's favorite things in one place). I think if done well (and not overdone), they can all be amazing assets to a blog. However, I don't like to look at a blog and see it as a commercial. Content should be #1.
So I'm wondering what you think about all of this???
I love my OpenSky shop so far (and you guys rocked out the foam roller promo- thank you!), but if it means losing readers at the sake of making some extra [eggplant] bacon then it's not worth it. You guys are what makes this blog the super fun place that it is and without you… well, it's lame without you. I really cherish and appreciate each and every single bloggy out there.
Don't be afraid to be honest in the comment section– I'm really anxious to hear your thoughts. Please be general and keep positive energy flowing—if I see any obvious personal attacks at one of my fellow bloggies, I'll have to delete it.
xoxo,
Gina