Hiiiii 😀 Sup bloggies?
We're back in Valdosta :/ Even though I'd much rather live in civilization, it always feels good to be home 😉
Before we hit the road, we made a lunch stop at Turtle Mountain (I think that's the name??)- the same organic market and deli we got the beach picnic goods from.
Since I had a tendency to order the same thing once I know I like it (Baigan bhartha? Salmon with double veg? Someone tell me I'm not the only one), I ordered the same Spanish Caravan wrap.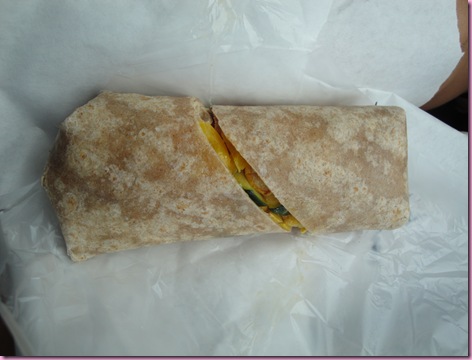 Roasted carrots, sundried tomato, squash, purple onion, zucchini, kalamata olives and goat cheese in a wheat wrap instead of spinach wrap.
While the girl was making the wrap, she asked if I wanted hummus on there, too.
Um, is the pope Catholic? Of course I want hummus 😀
So my wrap was a teeny bit different than yesterday's in the sense that it had a lovely blanket of hummus within.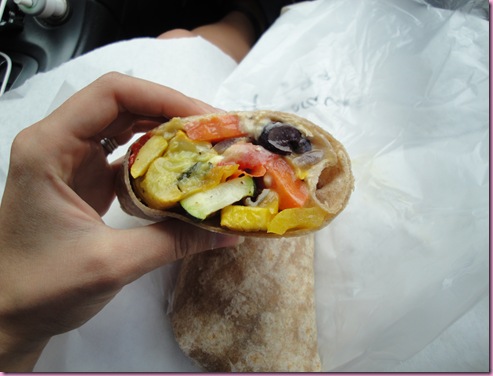 I also dripped veggie juice on my cute new yoga tee.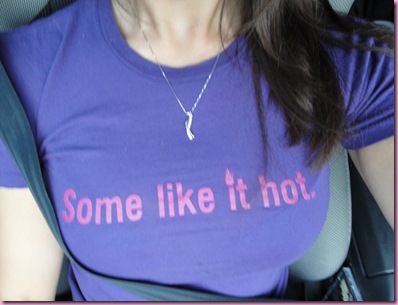 Our first stop on the way out was Fresh Market, where I picked up some necessities and some veggie chips to munch on.
Since I have a tendency to eat the entire bag of veggie chips (once you start, it's hard to stop.. they're so good!), I only scooped myself a portion that I would be happy with eating.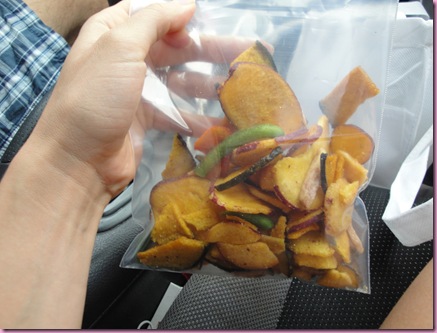 It worked out pretty well because I was STUFFED when we got to Whole Foods. This is a good shopping tactic because when I'm the slightest bit hungry, I buy so much more! I was able to escape with the necessary goods and still managed to spend almost $200. *Le sigh* Basically, I'll be eating a pair of designer jeans in the next few weeks.
Technically, it was my turn to drive since the pilot drove us to Jacksonville and had some pilot stuff to do. Since it was POURING, I begged him to drive. I haaaaate driving next to Semi's in the rain- it stresses me out a little :/
So since he agreed to drive, he asked me to erase some of his maps for him.
Behold the map of anger: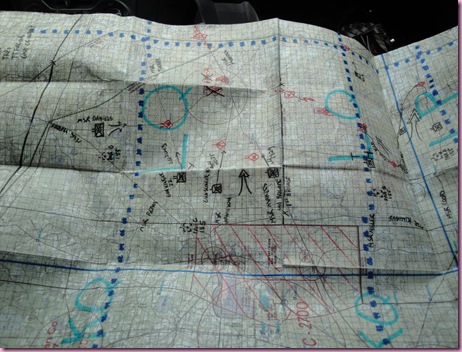 See all of the black and red markings on there? I had to erase those. It didn't seem like it would be too bad, but it was much more tedious than it looked! He had two maps covered with grease pencil marks that had to be erased.
Map-erasing fuel: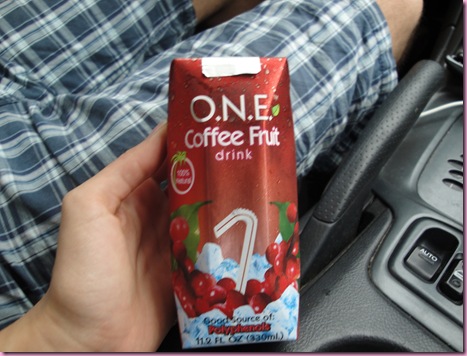 It was my first time trying this and it was SO good! (It also gave me a little caffeine buzz. Bzzzzz) The pilot and I shared the coffee fruit drink 😀 And even though it wasn't the most fun activity, I erased his maps –took me the entire drive- and was happy to help him out a little 🙂
While we were driving, the pilot and I also had a discussion about a little sumthin' sumthin' I'll be posting about tomorrow AM. I'm really anxious to see what ya'll say about this one.
We got back to the casa and then went to pick up little Bella. She's crashed out from all of the playing she did at funny quotes lady's house.
Snack:
Apple with almond butter, mesquite and cinnamon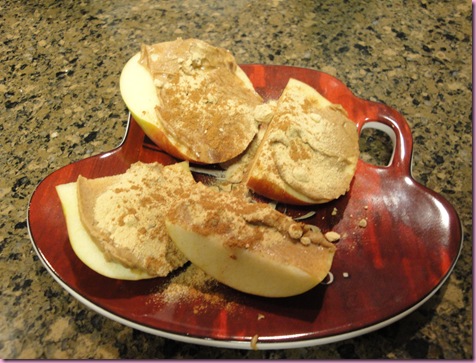 The pilot had to run into work and is picking Vieserton up on his way home. I'm off to Wizzle for groceries and going to start dinner- it will be nice to enjoy a home-cooked meal 🙂
Enjoy your evening!
xoxo,
Gina
Today's workout jam: "More" by Usher (nice poppy song for some steady state cardio or tempo work)