Heyyyyy 😀 Happy Indian Food Wednesday! Who's celebrating? I know this curry-loving cat is (thanks to the twitter friend who sent me the link!)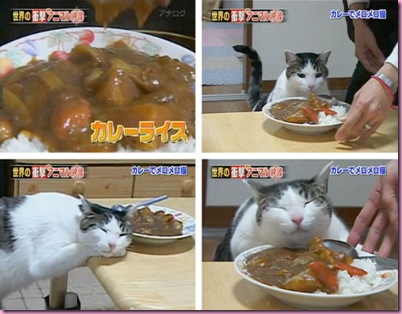 (Source)
I have plans for a legendary Indian dinner- hopefully I'll have time to hit up the grocery store so it can come to fruition.
Last night while watching GLEE, I munched burgers in a nest.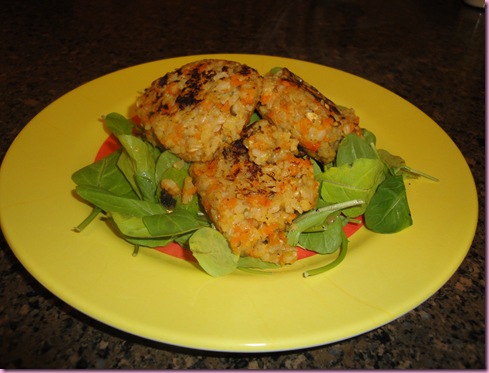 Remember how my last batch of brown rice burgers were an epic fail??
These ones came out AWESOME!
Maybe because I used the recipe from Eat, Drink and Be Vegan instead of the one from my brain 😉 Heh heh.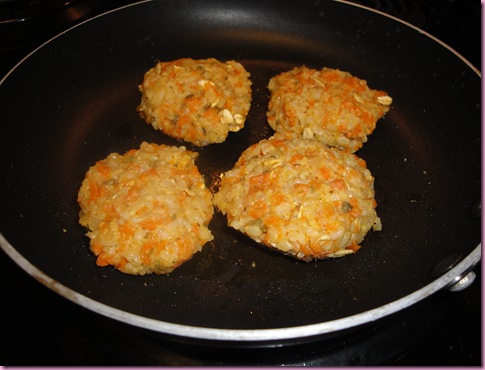 While eating these burgers, I came to the realization that I have a girl crush on Dreena Burton, the author of Eat, Drink and Be Vegan. I know nothing about her, have no clue what she looks like, but her recipes warm my soul. That's all that matters, right??
For those of you who aren't familiar with the term girl crush, here's the definition from the always profound UrbanDictionary.com:
1.
girl crush

feelings of admiration and adoration which a girl has for another girl, without wanting to shag said girl. a nonsexual attraction, usually based on veneration at some level.
Anywho, while I was eating the glorious brown rice burgers, I was snickering because the picture I was going to post would be this one: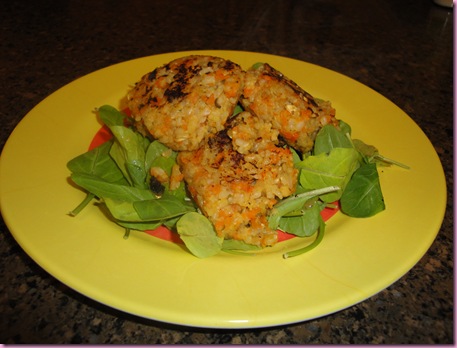 When in reality, I burnt the dickens out of the bottom side.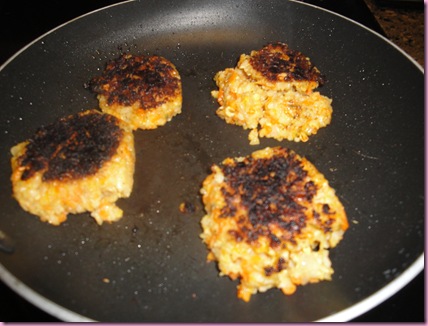 Oops 😉
Blogging has definitely changed how I eat and present my food.
If I didn't blog, I would:

-Pay no attention to presentation and would just plop whatever on a plate, scarf it down and get on with my day. It's helped me to slow down, present my food in a more appealing way (also thanks to culinary school) and actually savor my meals. It's always good to remember that we eat with our eyes first.

-Snack a lot more instead of having official "meals". A bar here, slice of bread later, small salad, an apple, whatever I could scrounge up in between training appointments and teaching. It's definitely made me focus more on having whole, complete meals.

– Probably eat the same thing every day. I'm totally a creature of habit and would have no prob eating the same thing for my meals and snacks every day. Another girl crush, Jessica Alba is rumored to eat the same thing every single day. Blogging has encouraged me to have more diversity with what I eat. Variety is the spice of life, yo 🙂
How has the blog world changed the way you eat?
And do you have a girl crush??
Jessica Alba is definitely up there, but Eva Mendes is number one 😉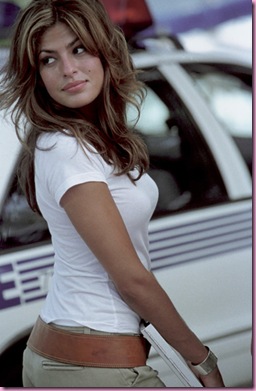 Well I'm off to shower my stinky post-Insanity workout face, PACK (for real this time! Haha) and then go to the eye doc before work. Ready, set, GO
xoxo,
Gina