Hey everyone! Happy Sunday! Hope you're having a great afternoon 😀
There is a definite lack of glamorous raw foods pics in this post, but I do have another video for ya:
I totally suggest taking a gander at it—ABC did a beautiful job capturing the essence of the restaurant and my blip in there is pretty tiny, so here's three cheers for a smaller chance of sounding like a goofer 😉
I had an unpictured slice of Ezekiel with AB this morning before getting ready to run. The rain interfered with my plans with Michelle to do 7-8 milers…when we walked out this morning, it was POURING!!!
Enter Bizzle: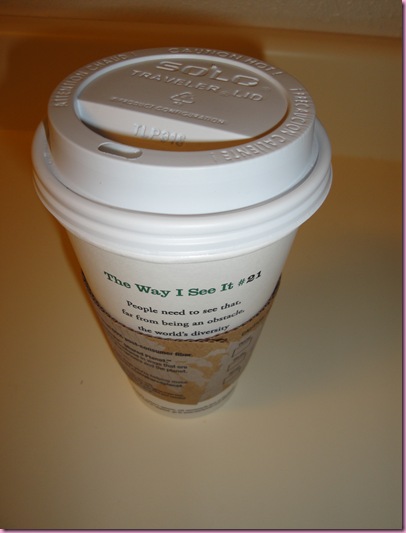 (I would have posted the quote, but it was a kinda blah one. Quotes on Starbucks cups are like fortune cookies.. they're either really amazing and profound, or totally lame). For those of you who are new readers (hi!!!!!), the pilot and I met at Starbucks, so it holds a special place in my heart 😀
I also stopped at Target to get some supplies and laundry stuff… lemme tell you, doing laundry at a hotel is no picnic.
Megan and I did two yoga podcasts (Power Yoga #2 and Solar Flow) and in between, I was running to the laundry room to switch loads. Then I had the fun of ironing… I love the fact that all of our outfits are organic cotton but they definitely like to hold onto wrinkles. My madre gave me an awesome tip to dampen a washcloth, put it on top of the clothes and iron on top of the washcloth– it steamed the wrinkles right out! Brilliant! I didn't want to be the only cook in a crumply outfit 😉
Michelle and I hit up the gym for some cardio—I did 30 minutes of hills on the elliptical and 20 minutes of hills on the treadmill reading the new Glamour mag, and then went to get some groceries.
I made a super simple, but very satisfying little lonchi.
An Amy's burrito (Dairy-free! Yay-uhhh!)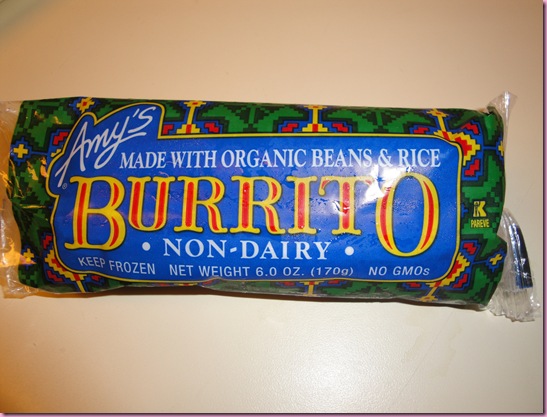 With some steamed broccoli, 1/2 a sliced avocado and a handful of grape tamaters, all sprinkled with Celtic sea salt and cumin.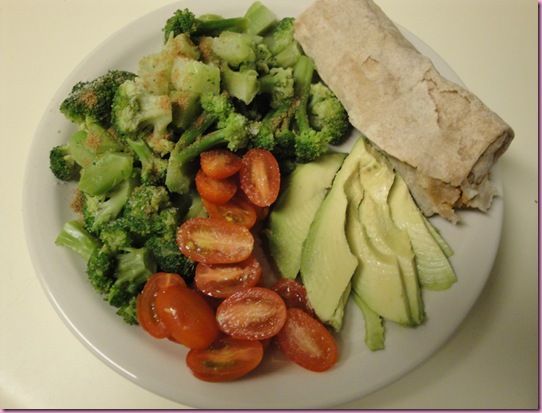 It wasn't very good 😉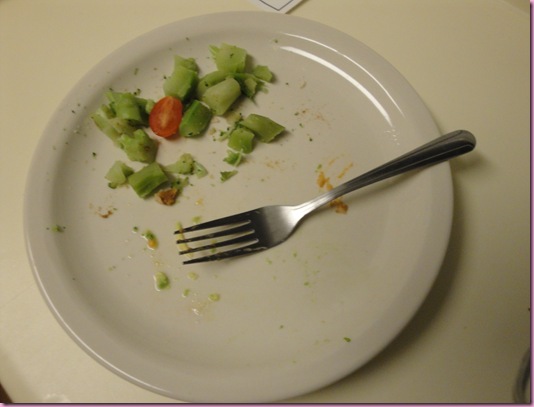 This would be an excellent lunch/dinner for those of you who are traveling or living in dorms. No cooking required (just a little microwave action), and a perfect balance of proteins, complex carbs and healthy fat. Winner, winner, burrito dinner.
Well I'm off to get ready for work, but I'm hoping to have a re-cap of our first week and some more glam raw food pics next time I see you 😀
Have a great day!
Much love,
G$
Okie readers: Don't forget to email me if you want to wine and dine on Wednesday night!
If you could have a blog meet-up in your area, where would you have it?? What place would you love to show off to some new friends??? If I had a meet-up in Tucson, I would definitely have it at Cafe Poca Cosa. The menu changes daily according to what's fresh and what the chefs are feeling and the servers walk around with a chalkboard with the meal options for that day. Everything is so fresh, and so delicious! Especially the chocolate mousse… 😉