Hi guys 😀 How's your day going??
I'm SO EXCITED that ya'll like the Intro to Iron Pumping! Please let me know if you give the workouts a try and what you think 😀 I know Caitlin tried the workout this morning and already felt a burn. Awesome 🙂
Speaking of awesome, so was breakfast 😀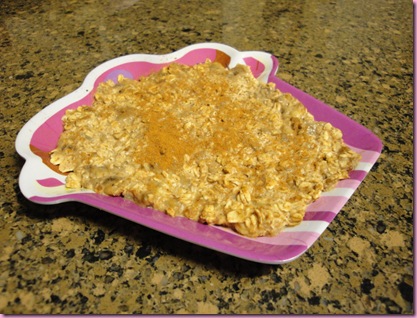 A BREAKFAST COOKIE! Atop a cupcake plate.
This baby had:
-1/2 cup oats
-1 small banana
-almond milk
-1/2 scoop vanilla Sun Warrior
-cinnamon
-1 T almond butter
T'was face rocking 😀
After bfast, I hit up the gym with Jeni and Ashley for legs.
| | | |
| --- | --- | --- |
| Warm up | 5 minutes | Elliptical |
| Plie squats | 8 lbs | 3 sets of 12 |
| Supine pilates hip lifts | Body weight | 3 sets of 12 on each side |
| Lunges | Body weight | 3 sets of 12 on each side |
| Squat jumps | 4 lbs | 3 sets of 12 |
| Leg extension | 35 lbs | 3 sets of 12 |
| Hip abductor | 50 lbs | 3 sets of 12 |
| Prone hamstring curl | 50 lbs | 3 sets of 12 |
| Bosu calf raises | Body weight | 3 sets of 15 |
| Total time: 1 hr |   |   |
When I got home, it was protein time.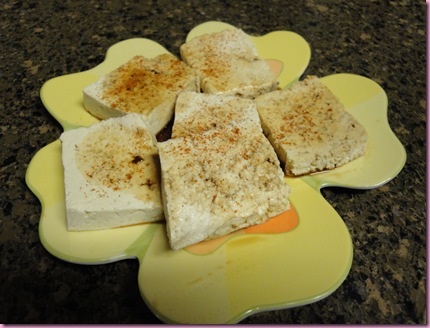 The rest of last night's tofu block with coconut aminos, cayenne and garlic powder. I ate it raw because I've been in a rush all day cooking is for suckas 😉
Next, I got dinner ready for the pilot so that it will be ready for him when he's done flying and fill the house with a pleasant aroma.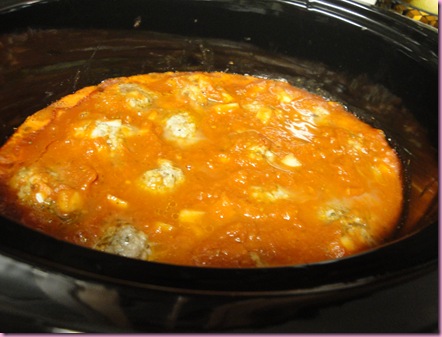 Doesn't look like much right now, but that's marinara sauce and meatballs (all organic). Hopefully the pilot will take a pretty pic of his dinner, since I'll be at work. I'll also post the recipe soon for ya'll because it was super easy 😀 For me, I'm going to take brown rice pasta and veggies to munch after Zumba on the way to work.
The madness continues:
-training appointment (have already done 2 today)
-Pilates
-Teach Zumba
-one more training appointment
The madness also continues at the Chick Fil-A that's about to open….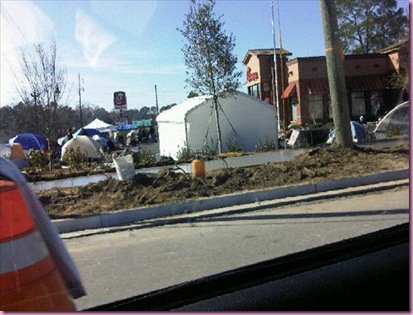 Yes, those are TENTS! People are camping out until it tomorrow's grand opening. My Twitter friends told me that apparently you get free chicken for a year if you're one of the first customers? Even if I ate chicken (which I don't), I'm not sure I could roll like that 😉
Well I'm off!
See ya tonight 😀
Gina