Helloooooo. Happy almost-Friday! SO ready for the weekend. Anything fun coming up? We're having some friends over for dinner tomorrow night and the Pilot and I also have a date night planned. We have no idea what we're doing yet, but want to try something fun and different. If you're from San Diego or have visited, and have any ideas, I'd love to hear them!
So today, let's talk about hair!
It's interesting to me how much hair changes over time. My thick and wavy mane has been a constant in my life, but the texture and products that will tame said mane have changed throughout the years. I only wash my hair a couple of times a week -more if I'm teaching and get in a particularly sweaty class or workout- and find that when I wash it less, it's cuts down on the damage and dryness. My hair is a bit damaged from bleaching it last year, and the ends have been getting a little splitty as of late. Time for a haircut and deep conditioning treatment.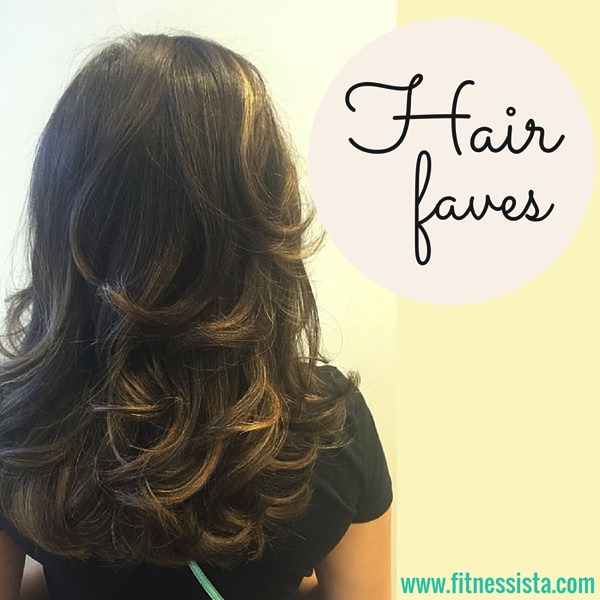 (Fresh hair + a blowout feels SO GOOD.)
I always love hearing about new products, so I thought I'd share some of my all-time favorite hair gear. Since my mom is a hair stylist, she's hooked me up with some of the latest and greatest, and I have some new faves to include in the products below. Please shout yours out in the comments! I always love your recommendations.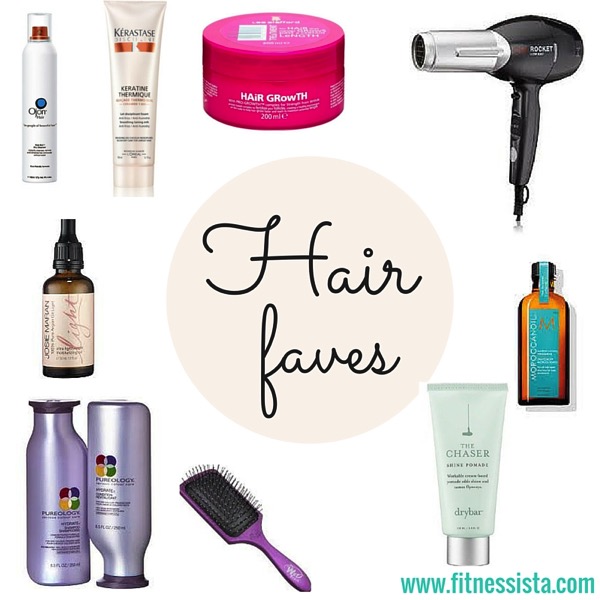 Shampoo:
Pureology shampoo is what I'll usually use. I only wash my hair about twice a week (more if I'm teaching or taking a sweaty workout class) and find that it helps to keep my hair from getting as dried out and damaged. I'll usually let it air dry one night, curl it with curlers or the curling iron the next day, let those curls last a couple of days and repeat.
After P was born, my hair (close to the scalp) started to get really oily as my hormones have been adjusting. The Honest Company shampoo helped a ton with this. I still use it often, but find that it's a little more drying that the Pureology.
I change up my shampoos every so often, based on what I get when I'm traveling (I'll get the mini bottles from Whole Foods or Sephora to try new brands), because it seems like my hair responds well to something new/fresh. I love the Kiss My Face shampoo, Yes To, Paul Mitchell, Bumble & Bumble,and Carol's Daughter.
Conditioner:
This is where I don't get to creative or experimental. I'm really weird about conditioner, and they usually either feel too greasy, or too "thin" for my hair. I want a thick conditioner that really feels like it's repairing my hair, without feeling like it's hanging around all day. One of the very few that will do this: Nexxus. It's not expensive, you can get a giant bottle at Target or Costco, and it does the trick. I feel like whenever I try a different conditioner, I feel disappointed. It's also not worth it for me to get super pricey bottles of conditioner since I use way more than I should. I glop that ish all over the bottom half of my hair.
Mask:
This mask is BRILLIANT. Julie was the first person who told me about this, after I had hacked my hair off following Liv's birth and was trying to grow it back. It totally works. It takes a while, but I noticed a difference in my hair's length within a month or so, and my hair grows slowly. It smells amaaaaazing, and I'll use it a couple of times a week. I also like to use this homemade mask every now and again since we always have the ingredients on hand, and it makes my hair super soft.
Dry shampoo:
If it's one of the days I'm not washing my hair, dry shampoo to the rescue. The Ojon is the best I've tried, and I also like the Living Proof. I'll get a mini bottle and stash it in my gym bag or in my purse.
Style:
Heat protectant. I didn't start using heat protectant until last year. *monkey covering face emoji* I didn't think that I need it because I usually let my hair air dry… and then fry it up with my styling wand haha. My hairstylist here in SD recommended this one (<— on sale right now, too!), and I can't rave about it enough. For starters, it smells like a beautiful perfume. (Sometimes I'll just rub a little on the ends of my dry hair to make it smell good!) It's also extremely lightweight. I've noticed a difference in the appearance of my hair since I've been using it.
This hairdryer. Like I mentioned before, I let my hair air dry most of the time. If for some reason we don't have time before leaving somewhere (and I don't want to look like a wet rat), I'll blow-dry it with a paddle brush. I've had this blowdryer for years, and if anything were to happen to it, this is the same one I would get.
This styling wand (<— also on awesome sale right now). I destroyed this one in Italy (rookie move), and had to replace it eventually because it works so well. it heats up extremely fast and the curls last a long time. I'm also a bit of a butterfingers and this one is easy for me to use without burning myself. 😉
A good straightener. I have this one, which heats up quickly and works really well. The plates are a little too wide to use for good waves though, so I mostly use it to tame things if I'm wearing my hair straight.
This is THE BEST hair spray I've used. It holds extremely well, and isn't overly fragrant or sticky.
Oil:
I like to use a couple of different oils on my hair: Moroccan before blowdrying, and Argan after it's already dry. I just add a little bit to the ends for moisture. I prefer the Argan Oil light to the original, because it's an equally-hydrating lighter version. If I don't use an oil, I'll switch things up with this shine balm.
The hair routine usually looks like this: shampoo, condition, mask (a couple of times a week, Moroccan oil and/or heat protectant, air dry. Next day: curl with curling iron or tame the ends with the straightener, hair spray, oil or shine balm on the ends. Repeat every few days. 🙂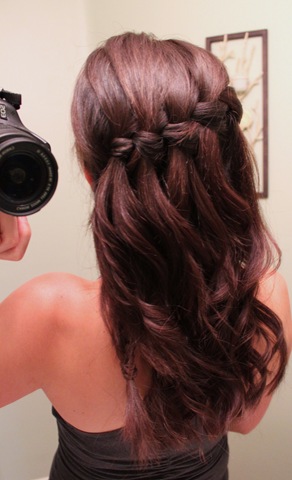 (How-to for this braid is here!)
So tell me friends, what's your #1 must-have hair product or tool? Also, important life question: paddle brush, or round brush?
Have a wonderful day and I'll see ya later on the Family page!
xoxo
G
*Affilate links are included above. They do not impact purchase price, and allow me to earn a small commission. Thank you so much for supporting this little blog <3
More: