F45 For Beginners: What To Expect At A Class
F45 is a high-intensity, 45-minute workout that challenges every muscle in your body. Learn more about the program, and tips for beginners and first-timers here.
Hi hi! Happy Monday! How was the weekend? I hope you had a wonderful one. Ours was packed with fun events: rehearsal dinner, Trevor and Danielle's wedding, Liv danced in a parade, family brunch, women's basketball game… it was so much fun, but a total whirlwind. I'd love to hear what you were up to!
Since I'm off to cardio day at F45 – let's be real, I work much harder there for cardio than I do on my own – I thought I'd share some tips for beginners or for friends who are considering trying it out for the first time.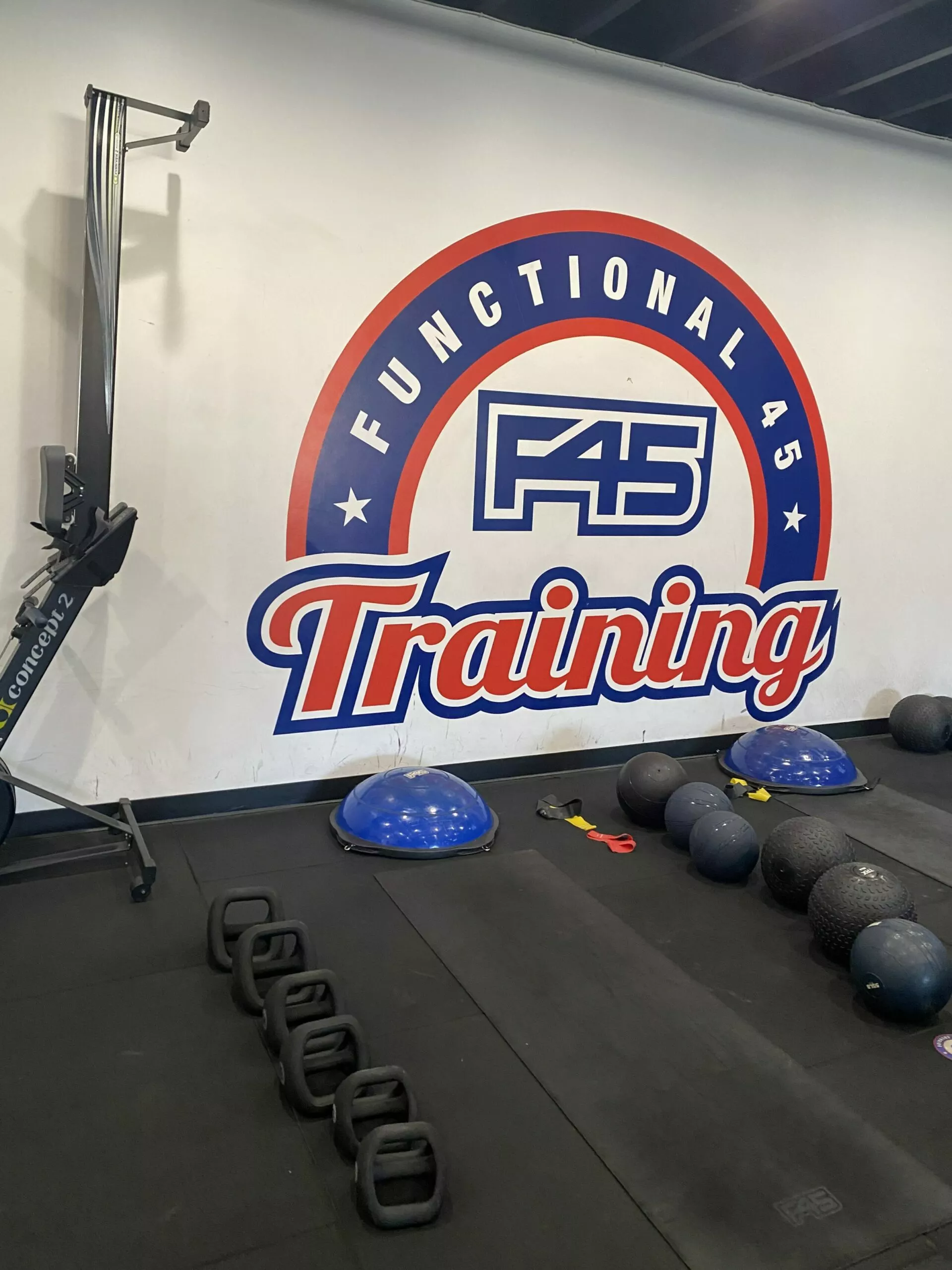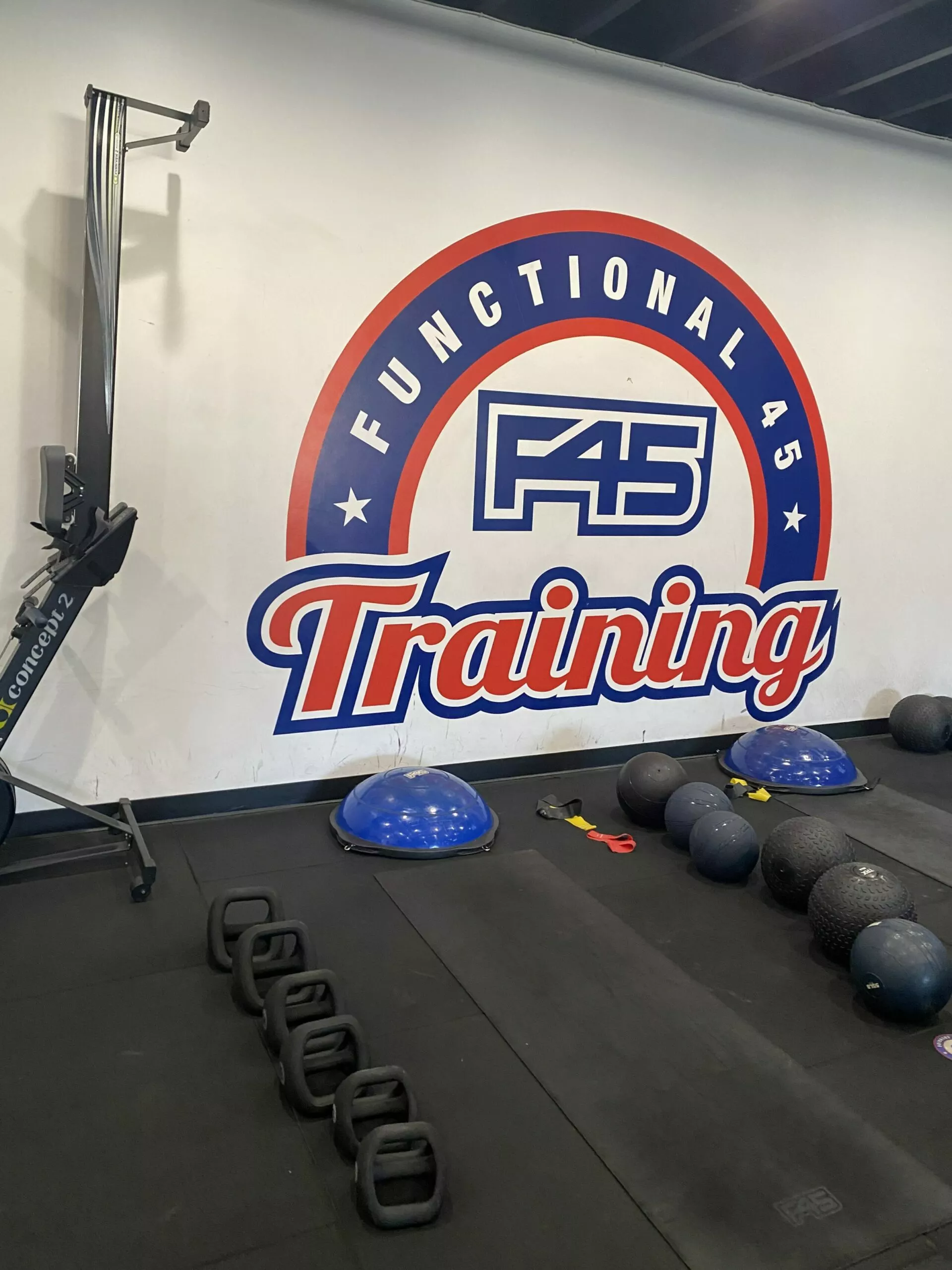 F45 For Beginners: What To Expect At A Class
What is F45?
F45 stands for Functional Training 45 – it's a team training environment with a functional workout that only takes 45 minutes. Their little tagline/motto is: team training, life changing.
One of my favorite parts about this workout is that they don't waste any time. They go through the demos, start the workout, and you GO. I LOVE that it's not an entire hour – except for the weekend classes – which makes it more reasonable for my schedule. I typically go to F45 once or twice a week, usually on a pure cardio day and pure strength day.
You can check out my post comparing F45 to Orangetheory here!
How are the workouts structured?
One of my favorite things about F45 is that the workouts alternate each day, so you can go MORE days without risking overworking certain muscle groups and overtraining. The intensities also vary, as each day has a specific emphasis. (Unlike Orangetheory, which I think is best around 2x a week depending on your goals. I think it's too much to do every day and can be counterproductive.)
A week at F45 *right now* looks something like this:
Sunday: Strength hybrid – 60 minutes
Monday: Cardio (High-intensity interval training)
Tuesday: Resistance training – full-body
Wednesday: Cardio (HIIT)
Thursday: Pure strength (upper or lower body)
Friday: Hybrid workout (total body cardio and strength)
Saturday: Total body cardio and strength – 60 minutes
How do you know what to do?
It's a screen-guided workout, so once the trainers go over the demo, you follow the exercises for each station on screens throughout the studio. They also have a heart rate monitor option on the screens, but I find that a majority of people at our studio don't use their heart rate monitor but rely on their own fitness trackers instead.
What to expect?
Classes are different every day, but you can expect to sweat in the 45 minutes you're there. I feel like it's a balanced and challenging workout for your entire body using functional strength and cardio exercises. They use ALL the equipment, too: ski erg, assault bikes, rowers, kettlebells, TRX, Y bells, dumbbells, sandbags, Revo bars, BOSU trainers, slam balls, and medicine balls.
Here's what you can do if you're a beginner or if you're taking class for the first time at F45.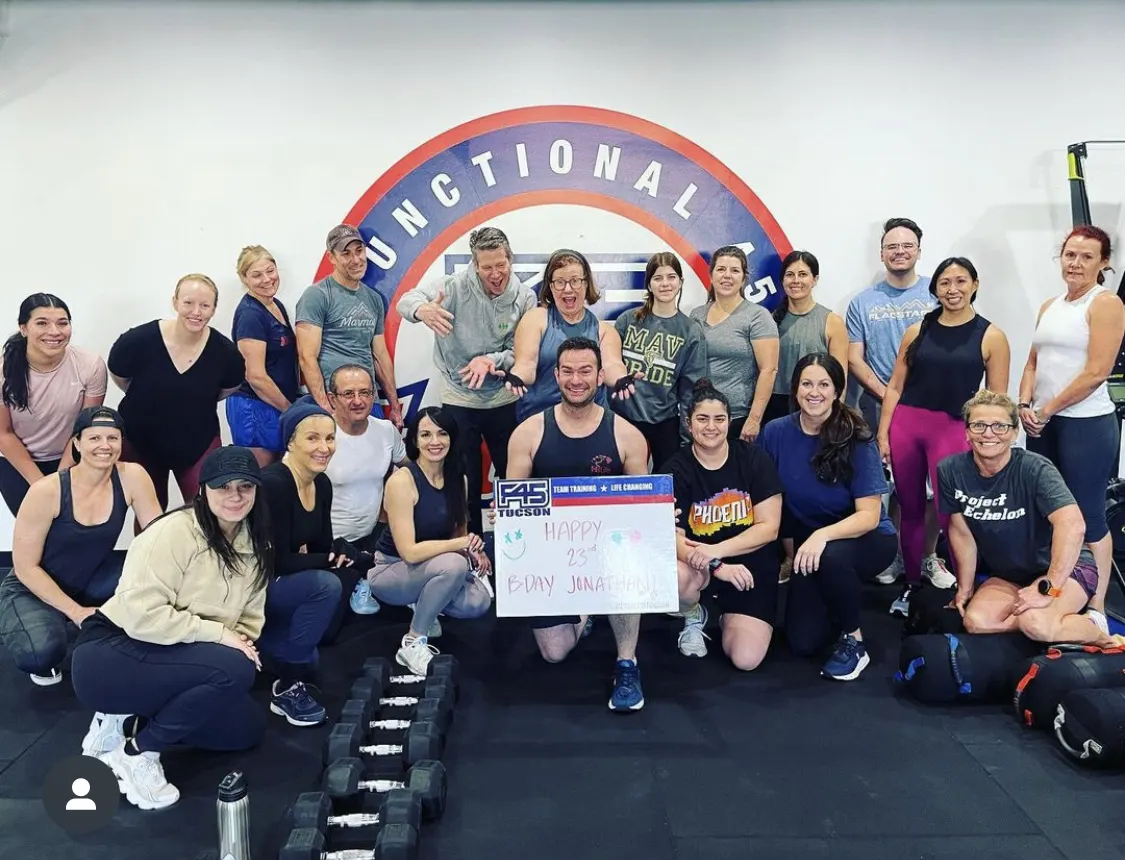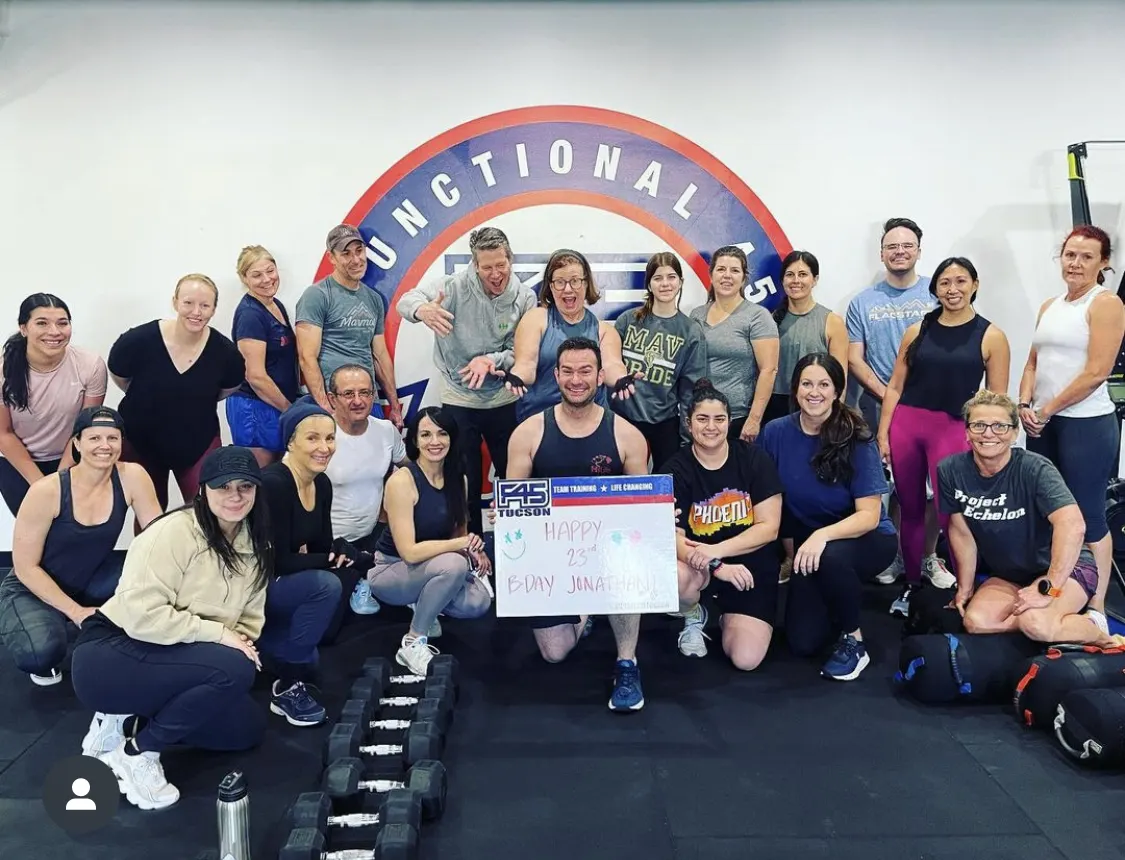 F45 tips for beginners
Bring everything you need and dress accordingly
Any fitness attire works that moves and fits well. Find out in advance if it's a cardio or strength day so you can wear appropriate shoes. (I like APL for everything and will report back on Vivobarefoot for strength.) Definitely bring a water bottle.
Arrive early
Class starts promptly at the start time. Sometimes the TVs are set to a clock, so at the exact moment class is supposed to start, the intro and demos begin. If it's your first time, make sure you check in at least 15 minutes early so your instructor(s) can explain the daily workout for you and you know what to expect.
Every single class is different and often uses different set and timing structures, so the instructor can tell you what's going on in advance. (Or you can be like me and lurk this Reddit forum before each class! Some people like to be surprised and I'm over here like give me all the spoilers.)
Pay attention to the demos
This goes without saying but it's common for some people to talk during the demos and get confused during the actual workout. Definitely pay attention to the exercise, how many sets you'll be doing, and how many laps you'll complete around the room. Each station is numbered, so look out for the numbers as you move through. (Also, some stations are in pods and you rotate through the pods before moving onto the next one. It sounds confusing, but I promise it's not!!) The instructors will typically demo low-impact and beginner modifications during the demos, so if you need an alternate exercise, it's good to pay attention. (Also, they're happy to help with modifications as you move through the workouts.)
Move slowly
It's tempting to move quickly through the exercises because many of them are timed. You might see people around you working at warp speed, but don't feel like you need to do this, too. It's better to move more slowly and do it safely than to rush through the exercises and potentially injure yourself. (When you're rushing, it's also difficult to put the emphasis on the correct muscle groups.) Take your time! The circuit-training workouts sometimes involve moving quickly to the next station (10-15 seconds), so I like to head to the next station as quickly as I can even if it takes me a little while to set up once I'm there. This way, I'm out of the way for the person who's behind me.
Modify as needed
In the demos, they'll typically go over modification options for each exercise. Ask for modifications if you need extra help and don't be afraid to reduce weights, eliminate weights, and modify for your fitness levels or any injuries.
Have fun!
It truly is a team environment at F45 and if you've been missing the community aspect of fitness, they have it. Your fellow participants will high-five you, the instructors will cheer you on by name, and it's a welcoming and motivating environment. They often run challenges if that's something you're interested in, emphasizing healthy meals and body composition improvement in their eight-week challenge.
So, tell me, friends: have you tried F45?? What do you think?
What's your favorite studio workout or class right now? I'm still thinking about how much I loved the Reform class at Pure Barre last week!
xo
Gina
More:
What to expect at an Orangetheory class?
Barry's bootcamp vs. Orangetheory