Workout Face-Off: Barry's Bootcamp vs. Orangetheory
It's the ultimate stand-off of bootcamp-style treadmill interval workouts! Which one is better…
Orangetheory or Barry's Bootcamp?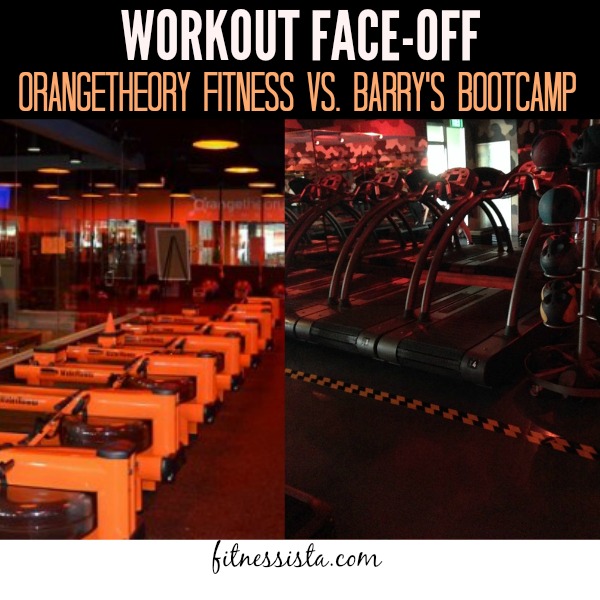 After my little fitness hiatus, I couldn't wait to get back to OTF. I had to freeze my membership while all of my medical stuff was at its peak, but I'm back, baby. It felt SO GOOD to push myself (especially knowing that I was fully recovered from my procedures) and get in a great, sweaty workout. I used to have trouble hitting the "orange zone" because I'm used to sustaining workouts at high intensities from teaching, but since I've been out for a while, it was a lot easier to hit that anaerobic spot.
I thought I'd do a little side by side comparison of the workouts if you've been wanting to check them out. I've only tried Barry's Bootcamp once so far -it's a little farther from the house which makes it tougher to catch a class- so I talked to a friend who is a Barry's regular to make sure I got it right.

Cost:
Fairly equal. They are both pricey workout options (ranging from $25-40 a class, depending on where you're located). You can use Class Pass for Barry's, which can cut down the cost dramatically. For both studios, if you plan on using it as your main workout, a membership is the most cost-effective option.
What to expect:
TO SWEAT. Both workouts are bootcamp-style workouts with circuit exercises. The tools are a little different in each class. OTF uses a rower for some of the cardio intervals, as well as dumbbells, an ab dolly, and TRX straps. Barry's uses dumbbells, medicine balls, benches, and resistance bands.
Barry's uses a muscle group split (which I LOVE), so each day, you know what you're working. Monday is arms + abs, Tuesday is butts + legs, Wednesday is chest + back + abs, Thursday is hard core abs, and the weekend workouts are total body. OTF separates the days based on training goals: strength, power, endurance, or a combination of the three.
The vibe:
OrangeTheory: bright, Orange (orange clothing and lights), a "team" atmosphere. I feel like OTF is like a "the gang's all here! let's crush it together!" workout. 🙂
Barry's: dark, sweaty and steamy. At Barry's, it's very easy to get into the zone, because you feel like you're in a workout club cave. I don't really feel the same team vibe, but more like you're in it for yourself and motivated to hit your max.
Difficulty of exercises:
I think that Barry's had more challenging exercises, but for both. it really comes down to how hard you push yourself. Since you work out at your own pace for both workouts, you get out of it what you put into it.
Which one is easier to follow?
I think OrangeTheory is easier to follow because the TV workout screens demo the workouts you're supposed to be completing. The coach takes some time before each set to demonstrate proper form and modifications. In Barry's, the instructor demos the workout and gives form cues, but it helps if you're already comfortable with most bootcamp-style exercises and a general knowledge of strength training and form. The demos are much faster during Barry's workouts.
Bonuses:
Barry's Bootcamp uses Woodway treadmills, which feel like you're running on air. They're gentler on the joints, and for this reason, I can run a lot faster. I also like the fact that you know what muscle groups you'll be working, so if you follow a solid muscle training split on your own, it's easier to jump into a class without shaking up your training. For OTF, I never really know what exercises we're doing, so it's kind of a bummer if I worked out legs the day before and the workout ends up being a legs-heavy day.
I love that OTF utilizes the rowers for cardio, since it's a different way to elevate your heart rate while strengthening your arms, legs and core.
The music:
I LOVE the music in both classes, which is a huge motivation driver for me. Each instructor plays something a little different (from house music, to rap, to pop remixes and hip hop), but the music in both classes has been incredible
Do they have childcare?
NO CHILDCARE. Womp womp.
Gear required:
For OTF, you need a heart rate strap, which you can borrow for your first class. You can purchase your own for about $70. They also have an OT Beat app, which is compatible with the strap, so you can wear it for other workouts. For Barry's, you really just need a comfortable pair of sneakers.

OrangeTheory FTW. While I did like Barry's (and still need to go back), my heart belongs to OTF. I like how much they emphasize proper form, effective workouts, and modifications so you can get everything you need from the workout. I think it caters more to the general population. For Barry's, it's still a killer and fun class. I think I would go more often if the studio was a tiny bit closer. 🙂
Have you tried either of these workouts? Which one did you like more? Or, which one do you think you would prefer?
xoxo
Gina
Read my OrangeTheory Fitness Review