Fiesta Friday! New Zumba video (Don Juan)
Hi friends! Happy Friday! I'm so happy you liked the Focus On post– I always love to write about different class formats! I also love guest posts about fitness topics/classes that I'm not as familiar with, so if you're interesting in writing one I haven't covered, please let me know.
Yesterday, I had the chance to get licensed in a new-to-me version of one of my all time favorite classes: Zumba, but in the POOL.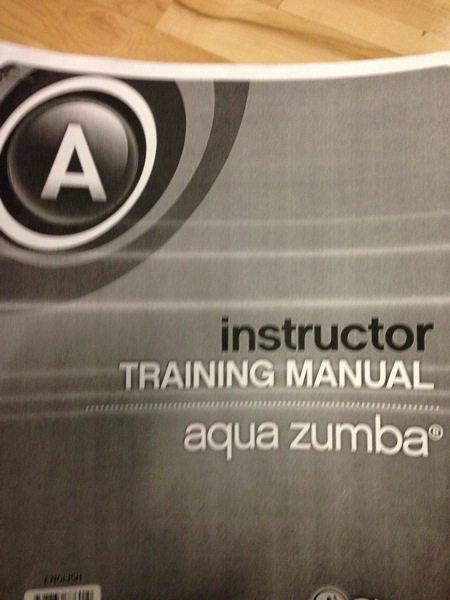 As you guys know, I'm not much of a swimmer, so learning to teach aqua classes was challenging for me. Eventually I got comfortable doing it- the more you teach, the easier it gets- and am now to the point where I have a lot of fun out on the deck instructing. When I heard that a few of us were being sent up to Phoenix for Aqua Zumba certification, I knew I'd be a huge fan. Not only would I get the chance to add another Zumba modality to my belt, but it's something else that would make me look forward to teaching pool classes.
A main difference between Aqua Zumba and regular Zumba (besides the very obvious) include the fact that your arms stay under water for the most part, so the movements are lower on your body. The water adds extra resistance to the music, so in addition to making lateral moves more challenging, it also gives the opportunity for strength improvements. Since it's a pool class, it's very easy on the joints and knees, plus the extra buoyancy enables you to jump HIGH which is a lot of fun.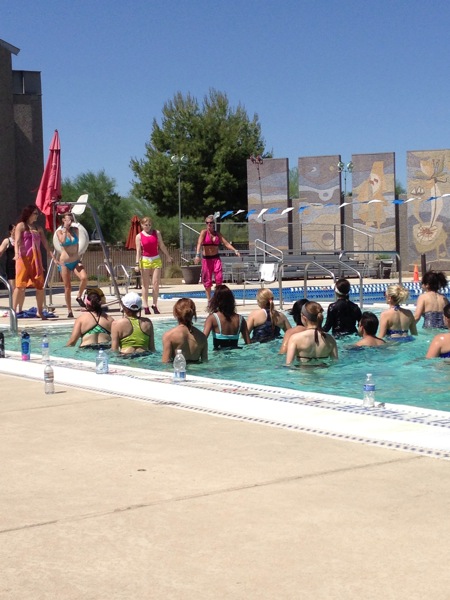 Since it's hard to move against the resistance of the water, the moves are much slower, often half-time, and using the hands to add assistance or resistance to whatever footwork you're doing. I think it will be fairly easy for me to Aqua-fy my current dances, but I'll definitely have to practice in the water to make sure it works. Also, from what I gather, you look like a giant goober teaching on the deck, and it's harder to do some of the moves on land than it is on water. I'm definitely going to get a workout from this one!
Here's a video of an Aqua Zumba class so you can see it in action:
Since I won't be filming any Aqua videos anytime soon, here's a regular Zumba dance to my current favorite son 😉 This song is unlike many standard Zumba selections because it has many different choreography blocks; it doesn't repeat the same parts very often. So do what you can, and the more you practice, the easier it will get. I hope you love it and please let me know if you have any song requests for future videos!
So, hop up from your desk (maybe get the coworkers to join in?), couch, bed, whatev, and have a little dance with me on this fine Fiesta Friday? 🙂
Happy shaking <3
xoxo
Gina
Fellow Zumba instructors: head's up! They're releasing a Zumba class for 0-3 year olds called Zumbini. We got a preview of the class yesterday, and it looks AMAZING. It's a mommy and me Zumba class with lots of dancing, singing and instruments. Livi and I are kind of excited to take it.