First brush with buttercup
Heyyyy 😀 Happy Indian Food day! Who's celebrating?? I've kind been slacking on the Wednesday Indian food tradition lately- both of my usual Indian food dates (Jeni and the Pilot) are out of town. I might ask one of the girls if they'll hit up the buffet with me sometime very soon 😉
Very interesting reading your opinions on the circus – glad I'm not the only one who thinks it's redunk. Still looking for fellow protesters… I'm ready to cause a ruckus !
So for lonchi today, I broke out this bad Johnny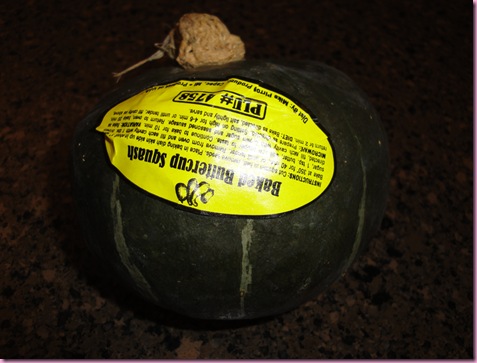 I was SO excited to see him at the commiscary as it looks just like kabocha squash which I've been unable to find in V-town. I learned from the lovely Heaby that kabocha and buttercup squash are remarkably similar in appearance and taste, so I decided to give it a whirl.
I threw some veggies in the oven, too 😀
While I was waiting for everything to cook, I got snacky and made a small salad.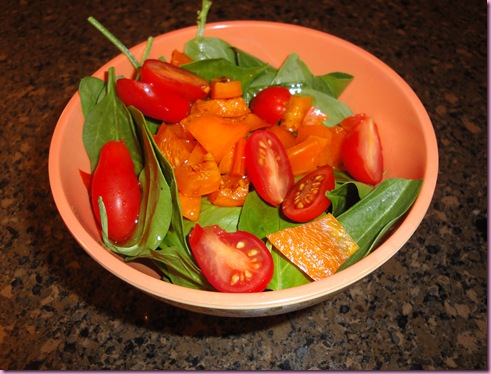 Spinach, grape tamaters, orange bell pepper, balsamic and EVOO
I had brussel sprouts, campari tomatoes, sea salt, pepper and garlic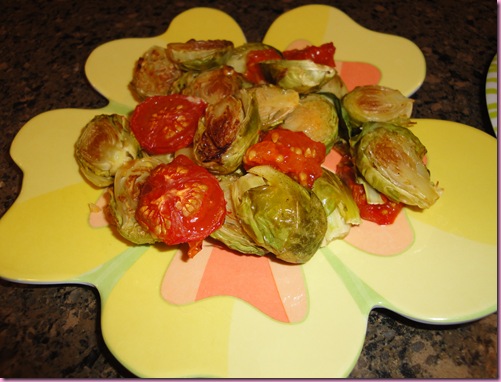 And the buttercup squash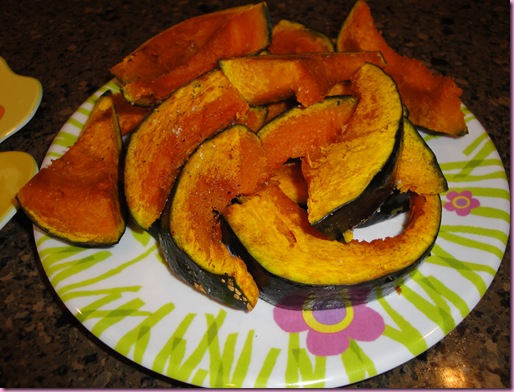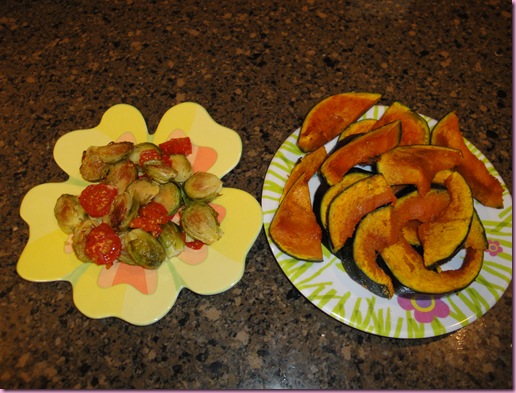 Everything roasted at 375* for 40 minutes (which was a little long for the brussels and tomatoes, but I like them crispy and slightly overdone)
How was it, you ask?
I'll let this photo do the talkin':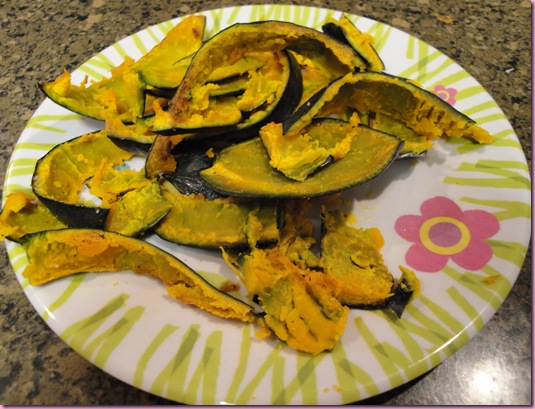 (Didn't eat the peel since it wasn't organic)
It was amazing!!!! The texture was smoother and creamier than my favorite butternut squash. I'll definitely be trying this again and looking forward to the day when I have a kabocha squash of my own 😀
On the re-organization front….
WE HAVE VICTORY!!!
Let's peer into our closet….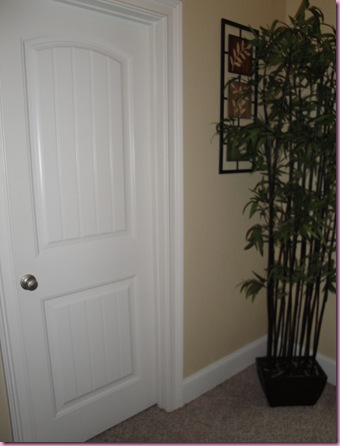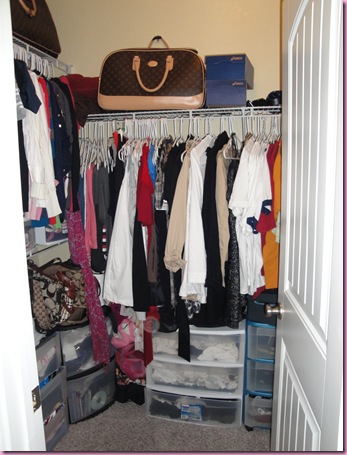 So what I did was take everything out, store ALL of my summer clothes (into bins in the storage closet), put old clothes into bags to take to Goodwill, wash the boatload of laundry we had accumulated since I've been gone to OKC and Fresno (12 loads… not joking) and put everything back in!
My side of the closet:
All of my shirts, spaghetti straps to tanks to short sleeved, to long-sleeved and sweaters.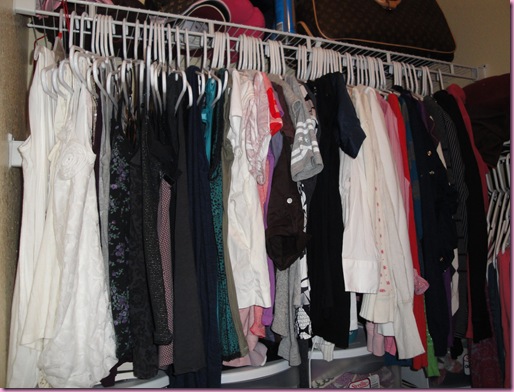 Plastic bins, each with its own category (swimsuits, pajama pants, athletic shorts, undershirts, etc.)—they barely close but at least everything is organized 😉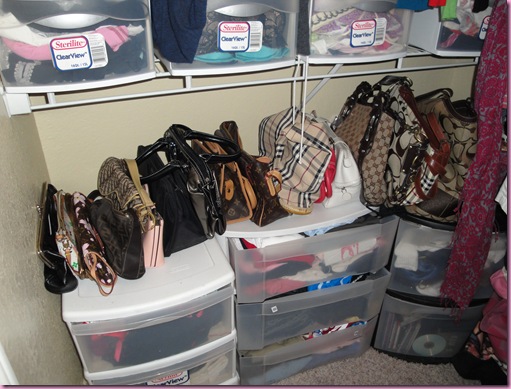 And the row of purses I use the most (rest were put into storage)
Nice pants, skirts, dresses, coats, pilot's shirts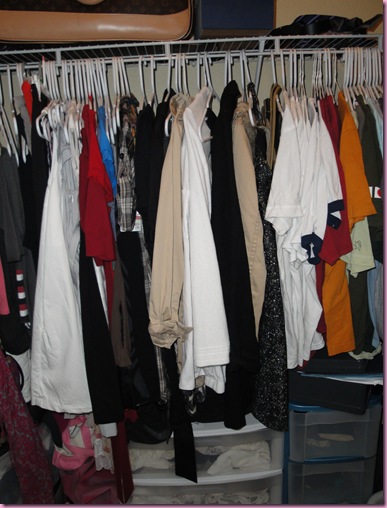 The pilot's side: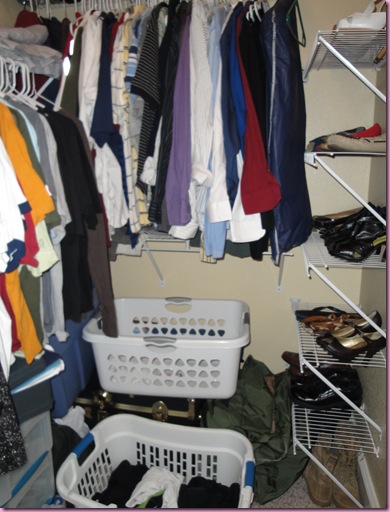 Shirts, long sleeve shirts, polo shirts and dress shirts; His and Her hampers
Shoe wall (I tried to save the pilot some room!)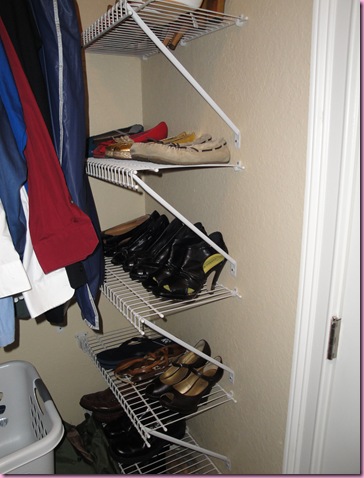 Whew!!!!
It feels SO GOOD to have that done with. Now I can finally get started on all the other things I want to do 😉
I leave you with one of my favorite pictures: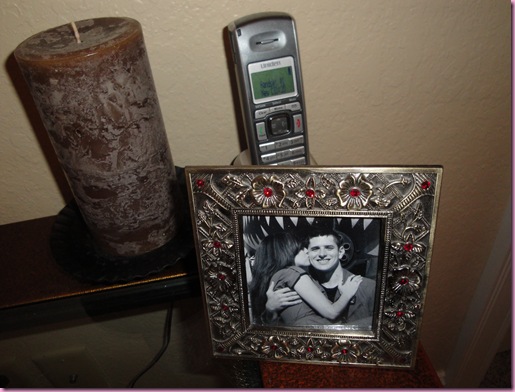 Nap then Zumba!
See ya soon!
xoxo,
G
Today's tip: Tips for closet re-organization! It's fall cleaning time 😀
If you haven't worn it in over a year, donate it. SO necessary! Often I hang onto clothes thinking "maybe they'll come into style again". They never do.
Color coordinate. Sounds a little nit-picky but I promise when you're looking for a certain item of clothing, you'll be so glad you did!
Invest in some bins (plastic works great or you could splurge and get the super nice ones). It makes it so much easier to fit more into a smaller space and can definitely come in handy when you need to find something particular.
Keep laundry separate. Some people can effectively do their laundry together, but I can't roll like that. I just love the peace of mind that my Cosabella lace bra won't be thrown in the dryer with his gym clothes.
Keep larger plastic bins in storage with seasonal items. Every spring and fall, I store the clothes I know I won't be wearing for the current season but want to keep for later. This way, I can fit more clothes in the closet 😉