There's only two types of people in the world

The ones that entertain

and the ones…
….who stand by appalled to see a CIRCUS in the parking lot of the gym. For real! There's a full-up traveling circus in the shopping center where one of the gyms I belong to is located. Something tells me that there should never be camels and elephants in Valdosta (which are outside in pens and everyone driving by can see them)….
Now I understand the circus is a livelihood for quite a few people but I fiercely believe that the animals could be treated better. They were out there in the rain yesterday –and a friend saw a worker mistreat an elephant as she drove by- and I was shocked at the lack of animal activists out there. No one! So if you hear of me getting arrested for protesting outside the circus, or for saving an elephant or camel, I went down strong ok??? 😉
On a lighter note, check out what I found at the commiscary today!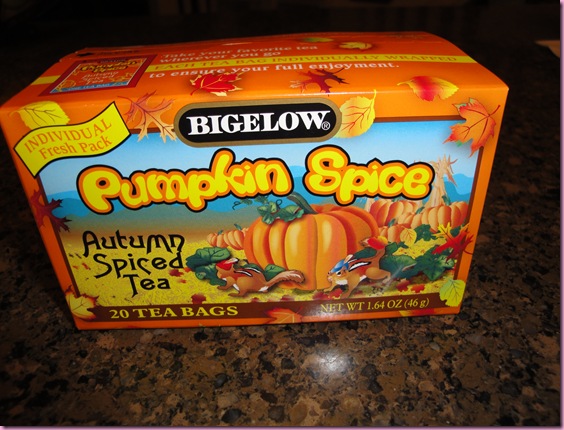 Mmmmmm! I just want pumpkin anything right now. You can bet your booty I have a mug in hand 😀
To rewind a little to last night, I didn't really feel like cooking after work. It's a little harder to be motivated when the pilot isn't around! So I just whipped up something easy peasy…
Pumpkin oat bran: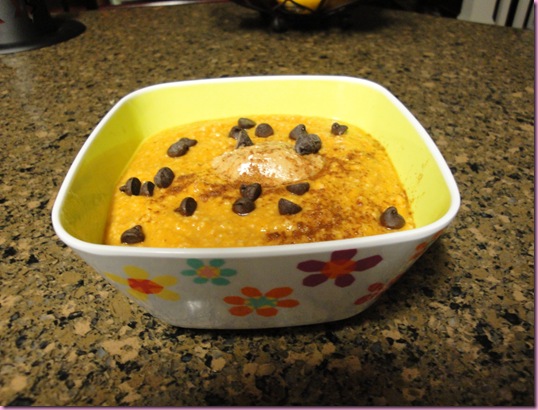 (1 cup almond milk, 1/3 cup oat bran, 1 smashed nanner, pumpkin pie spice, stevia, cinnamon, sea salt, vanilla, organic peanut butter and a few vegan chocolate chips "for garnish")
I haven't had peanut butter in so long! I've been rolling with mostly almond butter since peanuts are technically a legume and not a nut (more like a bean! Which is totally cool, but they're a little starchier). Anywhoo, I was out of almond butter and the peanut butter tasted glorious 😀
I watched Biggest Loser (Jillian is hardcore!), crawled into bed with the puppers and read Time Traveler's Wife, and crashed out.
This morning, I had an Ezekiel on the way to meet Ashley for legs and abs at the base gym.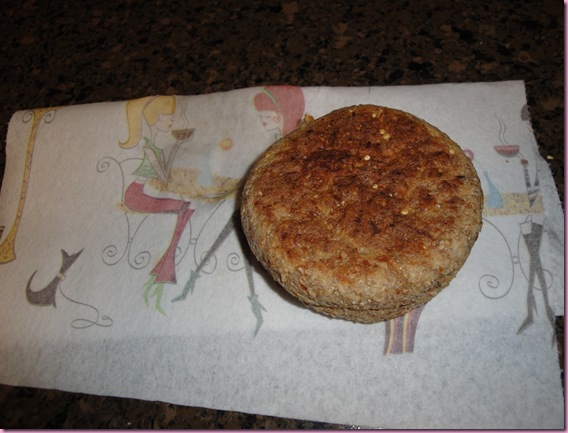 (Cute paper towels huh???)
Here's what we did:
| | | |
| --- | --- | --- |
| Lunge and lift | 8 lbs each | 3 sets of 10 on each side |
| Stability ball hamstring curl | Body weight | 3 sets of 12 |
| Stability ball single leg calf raise | Body weight | 3 sets of 12 on each side |
| Weight Step Ups | 15 lbs | 3 sets of 12 on each side |
| Cable leg abductors | 7.5 lbs | 3 sets of 10 on each side |
| Pilates abs (Ash is a pilates instructor) | 10 painful minutes |   |
| Total time: 50 minutes |   |   |
After out workout, we hit up the commiscary so I could replenish my almond butter stash. When I told the pilot I was out of almond butter (and just bought a jar Sunday) he started laughing hysterically. I told him to hear me out because the jars they sell on base are MINI! He wouldn't listen. He was just laughing that I finished a jar in three days when it usually takes me a week.
Dear Maranatha,
Your 8 oz. jars of almond butter are a joke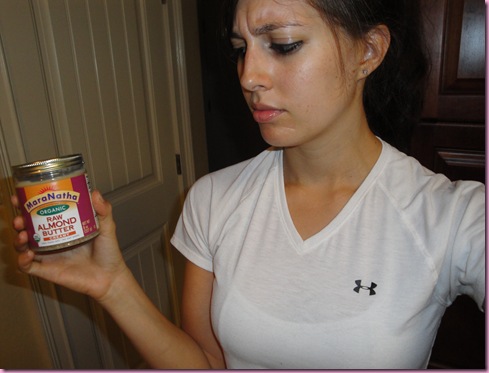 See??? TINY! I've got a big almond butter appetite 🙂
I opened up the jar and smothered some on an apple with mesquite and cinnamon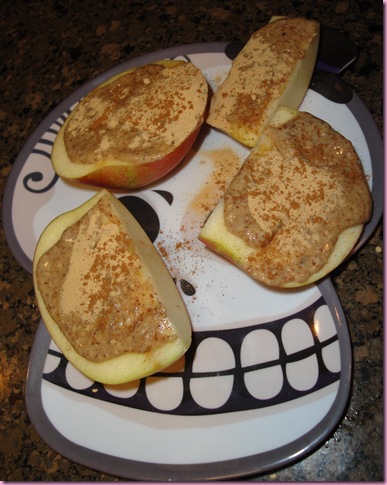 Ahhhh! The void is filled 😀
Off to work on the upstairs reorganizing abomination. Hopefully I'll finish today!
There is SO much to do with my life right now.. I have two huge projects that got put on the backburner, but I'm one of those people who can't be productive until the house is clean. If everything isn't in order, I'll try to work and just get distracted.
So… here we go!
See ya later!
xoxo,
G$