Hi friends! Thank you for your patience while we switched hosts and servers with the blog. It ended up being kind of a mess -hiccups tend to happen with this sort of thing- but my amazing web wizard was hard at work fixing everything as it occurred. The new server should prevent any future downtime. Thanks again for hanging in there with me!
A couple of months ago, I got my Aqua Zumba license along with some friends from work.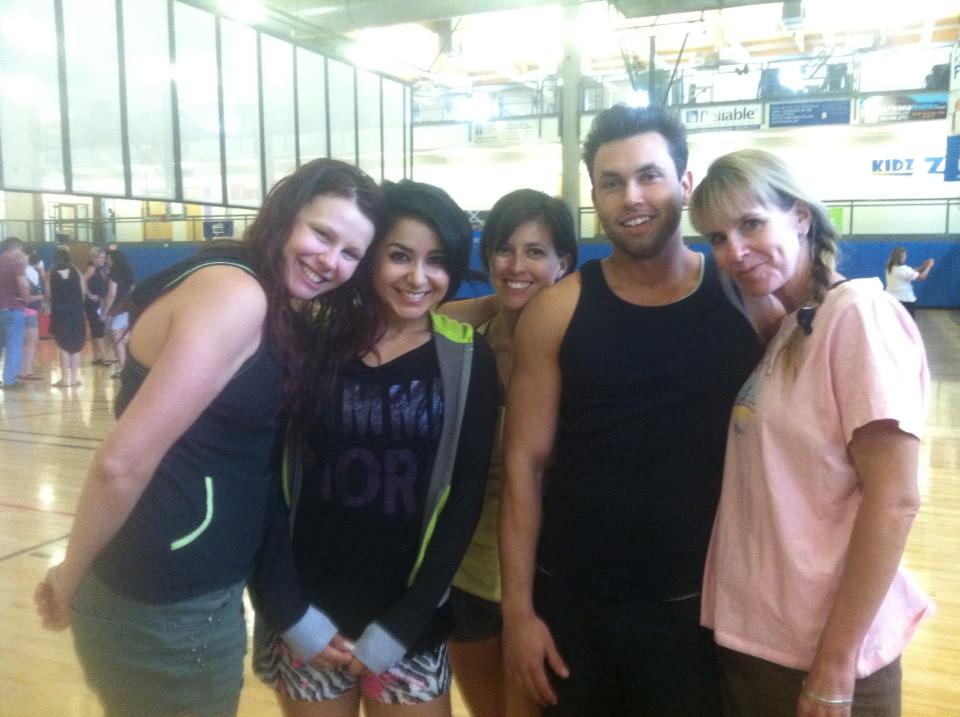 I was waiting until I had my first class under my belt, and now that I've taught and survived, here's a Focus On post 😉
What is it? Aqua Zumba is very similar to regular Zumba classes, except for the very obvious: you're in the water. Similar to many pool classes, you're going to be doing lots of resistance work with the water, including cardio elements, lateral movements and jumps!
What to expect? A pool dance party. Something about being in the water with loud Latin music playing really makes you feel like you're at a beach party. Everyone is smiling and having a blast. Similar to classic Zumba classes, the moves are not broken down. You dance along and follow the instructor, who will use physical cues and patterns in the music to teach. The beauty about Zumba is that the moves will repeat themselves for the same portion of the song (for the chorus, you'll always do the same thing, for the hook, you'll do the same thing and so on) and if you're not doing it perfectly, it doesn't matter. Feel the music, enjoy yourself and as long as you're not slamming into your neighbor, you can pretty much do whatever you want 😉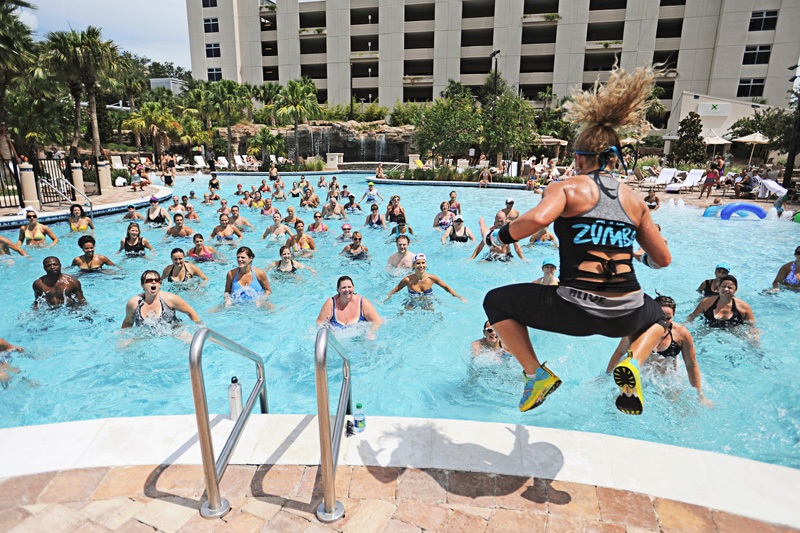 One of the things that makes Aqua Zumba appealing is the fact that no one can see your dance moves. They can see your face, shoulders and head, so if you're smiling and moving the bottom half of your body, no one knows if you're doing the moves perfectly. It's a great option for those who are intimidated by dancing in front of others, and also a great option for those with joint concerns.
What to wear? A supportive swimsuit (lots of shimmying…just sayin') and water shoes to protect your feet. I also recommend a hat and sunglasses if the pool is outdoors. Bring a water bottle, towel and SPF.
Pros: Like I mentioned above, Aqua Zumba is a fantastic option for many people with joint concerns. (Of course, check with a doc before taking any new classes, especially if you have health considerations or injuries.) There's also the added benefit of resistance from moving against the water, so you'll get some strength gains as well! When you're moving under water, the cost of energy rises as your speed of movement increases. To be able to keep up with the faster movements, your muscular endurance gradually improves. You're able to more safely move through full ranges of motion, without extra stress on the joints, which can thereby increase flexibility.
This is a benefit of aqua fitness in general (not just Zumba!), but being in the water can help to improve circulation while your heart pumps more efficiently.
It's something different to try. Anything you can do to challenge your body in a different way is a GOOD thing, and it's a fun, low-impact cardio option.
Cons: Getting used to moving in the water can be a little tricky, especially if you're not used to it. The more you go, the easier it gets.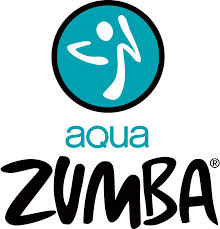 Some teaching notes:
-Most of the movements for Aqua Zumba are half-time, since it's hard to move quickly under the water.
-If you can team-teach (especially if your pool is outdoors), DO IT. We team-teach at work, each instructing two songs before switching, while the other instructor gets in the water to cool off. It gets hot out on the deck!
-Your core and booty will be sore after teaching the first time. Since you really need to overemphasize the pushing and pulling motions of dancing in the water, it's amazing how much of a workout you get get on the deck. Especially those jumps.. you're not quite as buoyant on land 😉
-Use music you already know well. Teaching Aqua Zumba is like starting a new class format from scratch, so if you already know the music, it can make it a lot easier to come up with and remember your choreography. YouTube is a great resource, too.
I used this dance last weekend:

Have you taken Aqua Zumba? Are you a fan of pool fitness classes, or notsomuch? They can be deceptively challenging!
xoxo
Gina
Summer Shape Up: How was Workout 3 again today? Here's a leg burner if you're looking for one to go along with it!
More Zumba posts: