Hey hey hey 😀 How are you? Hope your day is going well <3
For this week's "Focus On" post, I thought it would be fun to focus on one of my favorite types of yoga : Bikram yoga. I was actually very intimidated by Bikram for quite a while until I took my first class in Orlando. We became good fitness friends fairly quickly 😉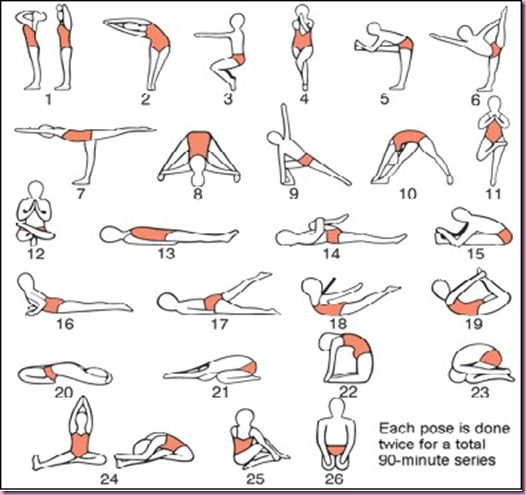 What is it: A hot yoga practice designed by Bikram Choudhury, based on traditional yoga techniques. The room is heated (100-105*) with humidity set around 30-40% –which makes it feel like rainforest yoga 😉 The practice consists of 26 postures which are completed twice and two breathing exercises.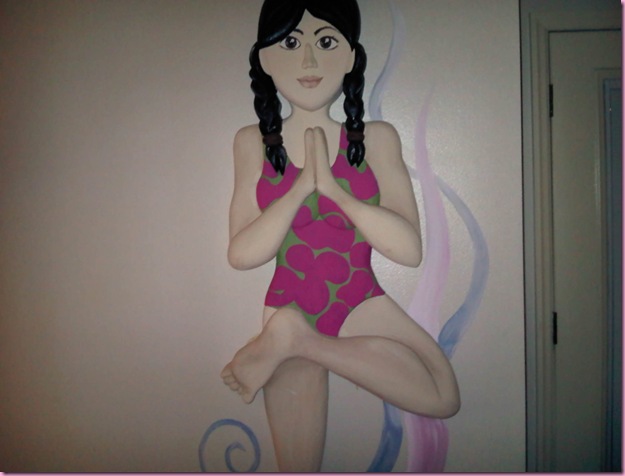 From Wiki:
Bikram Yoga's goal is toward general healthiness and Bikram Choudhury claims the heated studio facilitates deeper stretching and injury prevention, while reducing stress and tension. Bikram claims that his system stimulates and restores health to every muscle, joint, and organ of the body. Bikram's Yoga claims to increase circulation to all organs in the body, and claims this helps in the prevention of heart disease and organ failure. According to Choudhury, many people only use up to 50 percent of their lung capacity and thus the lungs must be stretched in order to withstand holding more oxygen. In a 2007 interview, Choudhury stated that when one is practicing pranayama she or he will eventually be able to enhance oxygen conversion and absorption, as well as improve blood circulation, as in many other forms of cardiovascular activity.

Choudhury claims that blood circulation is affected immensely during Bikram Yoga because of two processes called extension and compression. These two dynamics are said to work together to deliver fresh blood to every joint, muscle, and organ within the human body. While performing a specific asana (pose), the practitioner stretches or compresses a certain part of the body, thus cutting off circulation temporarily. This restriction of circulation causes the heart to pump more blood in reaction to the shortage. The pumping of excess, fresh blood is called extension. Once the asana is complete and the individual comes out of the posture, the new oxygenated blood is able to rejuvenate the arteries that were being compressed. Because of the volume change and influx of fresh blood, it is said that infection, bacteria, and toxins can be released through this process.
What to expect: To sweat BUCKETS. I sweat more during Bikram than I do, ever. It's fascinating, really. The first time I practiced Bikram, I hated it. It was too "strict" for me –they yelled at me for drinking water before eagle pose– and the instructor was more like a drill sergeant than the warm, fuzzy yoga teachers I was used to. And then the weirdest thing happened: I started craving it. The second time I went back, I knew what to expect, was familiar with the poses and teaching style, and loved it. Bikram definitely isn't for everyone- at first I thought it wasn't for me. Now I'm a huge fan and have taken classes in Atlanta, Tucson, New York, Jacksonville, Ft. Lauderdale and Orlando.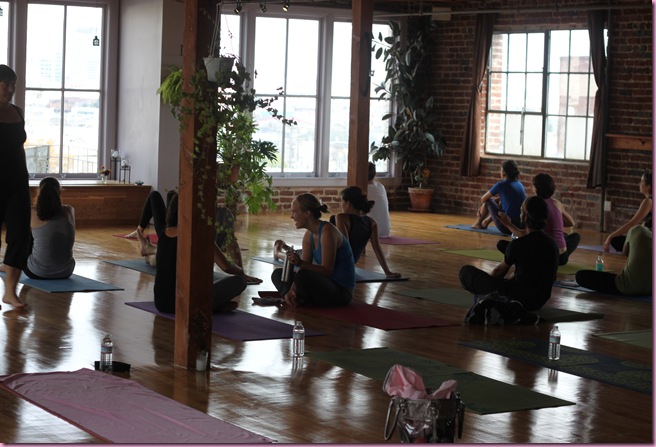 I've also found, like with all other fitness classes, the teacher makes a huge difference. Usually they'll follow a "script" for classes… and let's just say my teacher in NY didn't do any of that. He was hilarious, kind and amazing.
A few tips:
-Familiarize yourself with the pose guide beforehand. I didn't do this and wish I would have! It would have been nice to know exactly what to expect.
Here's a list of the poses (and a diagram can be found at the beginning of the post)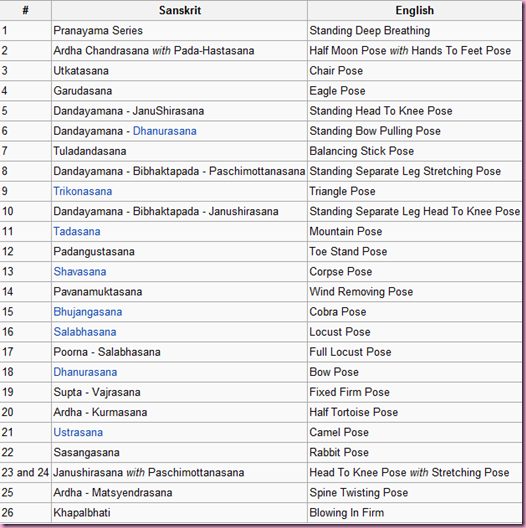 Source
-Make sure to let the teacher know it's your first time. Ask them if you need to rest, which pose they would like you to rest in [Some teachers say to sit down, others say to lay on your back]
-Don't chug water during the entire class, or in between poses. Not only will it make you feel icky, but if the instructor is cranky, they'll point you out. First water break is after eagle –they'll let you know it's "party time"- and after that, if you need water, grab a drink at the end of a pose before the rest period in between. In between poses, you get a rest to either stand motionless and reap the benefits of the posture, or you'll be laying down in savasana. Right before then is a great time to sip some water if you need to.
-Take it easy the first time and make sure to hydrate the day beforehand. Drink TONS of water the day and morning before class. [But not too soon to class because it's a 90-minute class and they discourage leaving the room]
-First-timers often get some kind of promo price (like 2 for $20, or $20 one-week unlimited), which is a great chance to try it out more than once to see what you really think about it.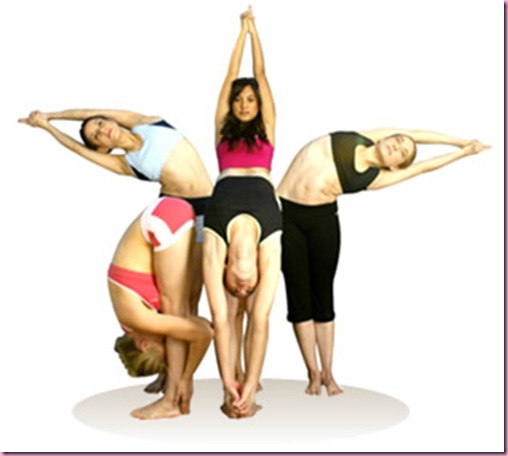 Source
What to wear:
-Less is better! [Good thing for you because it's more comfortable.. interesting if you end up next to or behind a very hairy man in a Speedo. I'm just sayin'] Booty yoga shorts and a sports bra is my fave combo. You can wear pants, but I'd definitely recommend crops over full-length and tighter, sweat-wicking material. Nothing is more uncomfortable than wearing something baggy, drenched in sweat for 90 minutes.
-Make sure to bring a huge water bottle, beach towel and yoga mat. If you forgot any of those things, NBD, you can rent them at the studio.
Pros:
-Great workout and calorie burn. This style of yoga encourages me to work extremely hard each time I go, and afterwards I feel amazing. I've never worn my heart rate monitor for class, but know a few people that have and it's ranged from 500 to over 1000 calories per session, which is pretty amazing.
-Always room for improvement. You can always take the pose to the next level, and since the poses are the same, it's easy to see how you improve over time.
Cons:
-The script gets a little old after a while. Sometimes, I love the redundancy and knowing exactly what's coming next and others, I'm thinking "if they tell me to take off like a 747 jet plane one more time I might punch something."
-It's a major time commitment, which is one of the reasons I stopped practicing so often. Driving to the studio + class + changing out of nasty sweaty clothes = easily 2.5 hours out of the day. The results are awesome, but it's definitely a commitment.
-Sometimes the studios are stanky. Lots of sweat, lots of people, it's not a huge shocker. Some studios still manage to smell lovely, but others.. ewww. Haha.
-Like I said before, the instructor will make or break a class. I've been fortunate to practice Bikram with at least 20 different instructors, but I do have to say that by far, the best of the best is Rob in Jacksonville, FL. If you live in JAX, take one of his classes- you will not regret it 🙂 He's extremely laid-back and kind- a good dude 😀
Have you taken Bikram yoga before? What was your experience like?
I'm off to get started on the day's to-dos 😀
See ya later today!
xoxo
Gina