Hey Fitnessista Fans!
My name is Elizabeth and I blog over at FitwithLizzie. I am so honored to be here and completely freaked out when Gina asked me to write a "Focus On" post for her. I've followed her shenanigans here for a looong time. I might be geekishly looking forward to finding out whether she's having a boy or a girl. I'm thinking girl. Any bets?
Like Gina, I'm a group exercise instructor. I teach Zumba, Turbo Kick, Hip Hop Hustle and PiYo. Those last three formats are all invented by the goddess of fitness herself, Queen Chalene Johnson. Chalene is the reason I began teaching group exercise and the woman has changed my life. That's another post, though.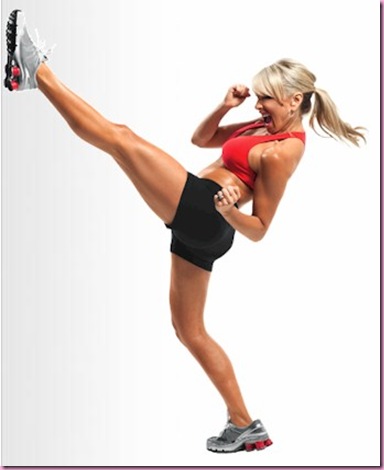 Source
[Side note from Gina: Chalene is also the goddess behind TurboFire, one of my all-time faves]
PiYo is the newest format I teach and the only one that doesn't involve vigorous shaking of the buttocks. I went into PiYo a skeptic since I'm not really a mind-body sort of gal. Someone recently called me "high-strung." I like to think of it as more "energetic," but whatever. I just have a problem sitting still. Savasana? Torture. How long do I have to lay there before I can get up and get an iced coffee? Two breaths? Four? What's the protocol here? But because Chalene invented PiYo, I had faith it would rock. Ohhhh, did it rock.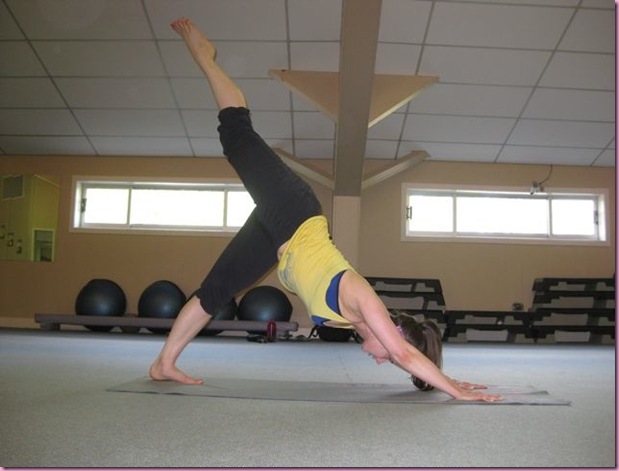 PiYo is a fusion of Pilates and Yoga with elements of martial arts and dance as well. At this point in the description, most people say, "OH! I've taken Yogilates before. Is it like that?" Not really. Yogilates still uses the zen-y music. PiYo uses Rhianna. If the military invented a mind-body workout, I think it would be like PiYo. Holy tricep pushups! Here's a clip of PiYo 16. Can you feel those diamond pushups? Yowza!
The unique thing about PiYo is you receive strength, flexibility and balance training all at once. Often, the moves will also have a cardio effect as well. Multi-tasking! The hyperactive exerciser's dream! Because I teach and practice PiYo 3-4 times a week, I find that I don't need separate strength training. Hauling my body weight through PiYo is plenty! The first week I tried PiYo I was amazed at the results (and soreness) in my body.
PiYo also led me to appreciate pure yoga and pilates. I loved PiYo and found I wanted to explore these disciplines further. I'm even loving savasana!
There are a few downsides to PiYo. For my zen friends who love the tranquility of pilates or yoga, PiYo can be a huge culture shock if they're not expecting the rockin' music and faster pace of class. The pushups and downdogs can be a bit hard on the wrists as well. However, a good instructor will notice if the music or moves need to be modified for her students and PiYo is very easy to customize for different tastes.
To wear for PiYo: You'll need a yoga mat and bare feet (socks are too slippery). Yoga pants and a snug-fitting tank are the best bet (lose shirts tend to slip over your head when you're upside down).
I absolutely love teaching PiYo and I hope that you get a chance to check it out in a gym near you! Thanks Gina for letting me share this fun format with your readers. Hey, anyone else have a hard time sitting still in savasana?