I'm really excited about this week's Focus On post, since I've only been able to take 2 live classes and fell instantly in love. Nothing has made my thighs beg for mercy like Physique 57, and even though I've been doing the DVDs fairly regularly ish, I still can't complete a full workout without stopping for a little break. It's a seriously awesome burn and if I had access to live classes, would be one of my standard weekly workouts.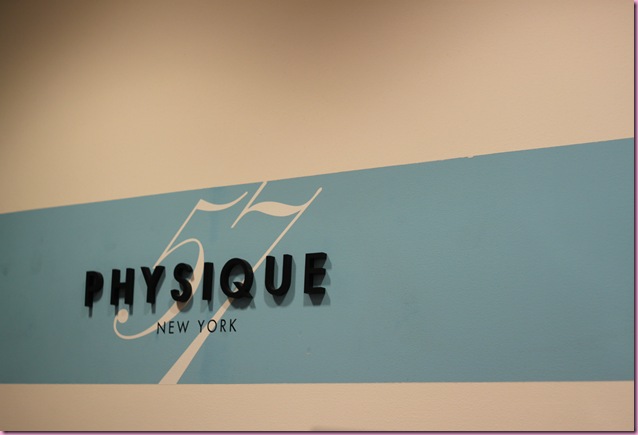 My first experience with Physique 57 was in NYC, with Gabriela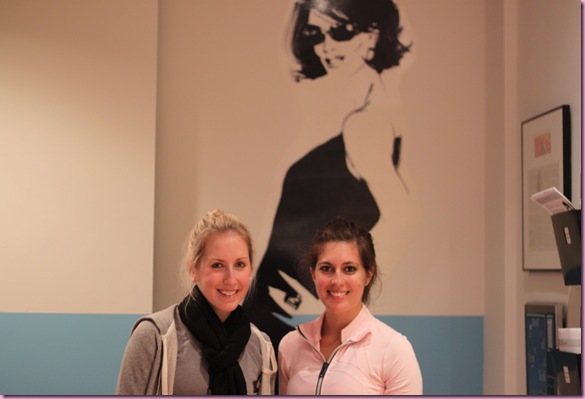 and I also had the opportunity to hit up a class with my friend Sheila in Beverly Hills.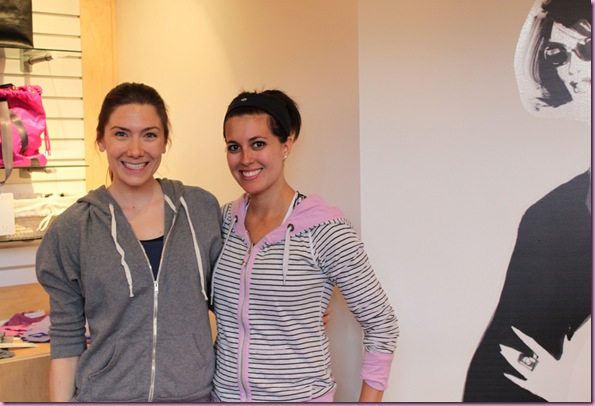 To keep up with the workouts, the company was so kind to send me the volume 2 DVDs.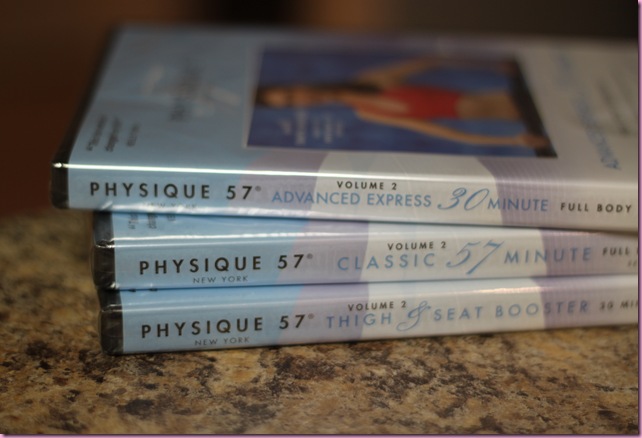 There is an Advanced Express DVD, which is 30 minutes, a classic 57-minute workout and a Thigh and Seat booster (30 minutes). I rotate between the 3 and do maybe one (2 max) DVD(s) each week in addition to my other workouts. They're also extremely easy to modify for prenatal concerns, which I'm so thankful for- I'll be able to continue to do the workouts through my pregnancy and after 🙂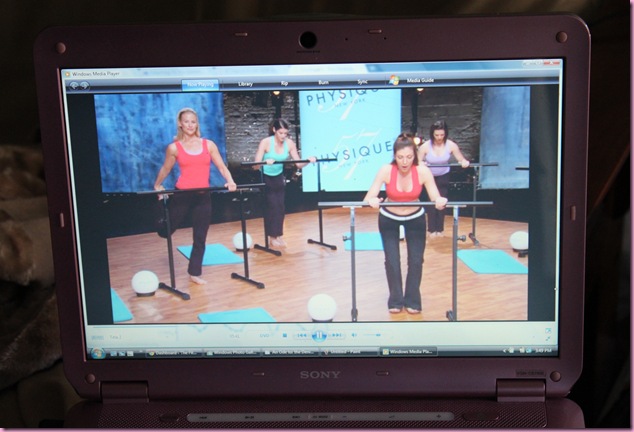 What I think:
-They're a great substitute if, like me, you don't have access to live classes
-They work! My booty has already seen a nice little lift, and I don't even do the DVDs that often (which makes me wonder what the results would be like if I did it more frequently….)
-The instructors are incredible (Shelly is my favorite- she's so cute) and the music is upbeat without being annoying. It's more like background music than the focus of the workout, which I like. The coaching is fantastic, but some of the things they say get kinda cheezy after a while <—a complaint of mine with pretty much all DVDs, I memorize and know what the instructor is going to say before they say it. It drives me crazy.
-You don't need a ton of equipment. A study chair, a mat, a small ball (I bought mine at Walgreens in the kid's toy section)- that's it!
Since I'm destined to do DVDs until my next trip to a Physique 57 studio, I thought I'd enlist some help with the rest of this Focus On post from someone who has access to live classes and attends them regularly. So here's more info from a P 57 devotee, Sarah 🙂
___________________________________________________________________________________________
Hola!
My name is Sarah, and I'm a New York City-based food writer and nutrition counselor. (Oh, and I also have a painfully neglected little food blog.) I'm so excited Gina invited me over to give you guys a little rundown on Physique 57. While I'm more commonly known to talk a stranger's ear off about hummus, cheese or something of the edible nature, these days I'll tell anyone willing to listen (and probably some who are just being polite) how life changing Physique 57 is.
What is Physique 57?
Straight from the horse's studio's mouth:
" Physique 57® is an innovative workout program that combines isometric exercises and orthopedic stretches to systematically lengthen and sculpt your muscles and create a beautiful, lean body.  Our process is similar to interval training, but we've taken that concept to the next level to make it even more effective.
Physique 57®'s interval sets use your body's own weight as resistance, and through dynamic exercises, your muscles are targeted and overloaded to the point of fatigue, then stretched for relief.  We call this groundbreaking process Interval Overload which includes muscle-defining arm exercises, intense thigh and seat sequences, waist-chiseling ab moves and fluid stretches."
To me, it's a lovely blend of weight lifting, body-weight resistance training, ballet and Pilates—with generous cardio bursts and stretches thrown in for good measure.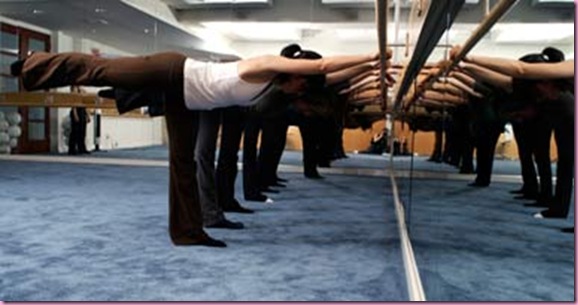 Source
It's also the workout Kelly Ripa credits for her ridiculous bod. No big deal.
What to expect:
If you've taken other barre classes, the format is relatively similar (arms, thighs & seat, abs). But, compared to others I've taken, Physique 57 is faster-paced and more cardio-oriented.
The class begins with a quick warm-up, and then moves right into the arms section. You'll grab 5-8 lb. dumbbells, and do high-reps of pretty standard arm moves—all while engaging your thighs. The arms portion finishes up with push-ups and tricep dips—and then you get into the heart of the workout: thighs and seat.
Give your lower limbs a little pep talk because they will BURN like they never have before. No matter how many weighted squats, lunges, whatevers you may be accustomed to, the thigh and seat portion (mostly performed at the barre) will have your legs on fire. The good news: though this is the longest, hardest section, it will fly. Because Physique 57 promotes "interval overload," you perform each move until you think you can't possibly perform another rep (and consequently start making angry faces at yourself in the mirror)—and then you move onto something else.
The class finishes up with a loco (and often oblique-centric) abs portion that uses props to engage the core in a "these ain't your average crunches" way. Oh, and then—in a glorious pool of sweat—you stretch. Like, really stretch. The instructors always encourage you to mindfully go deep and reward your muscles for the hard work they just did.
What to wear: lululemon.
Kidding. Sort of. While you will see just as much lulu apparel in a Physique studio as in a lululemon store—any moisture-wicking, form-fitting stretchy clothes will do. I'm partial to Wunder Under crops with a Power Y tank. Wear crops or full length pants so you have a better grip when you do moves with the ball behind your knee—and any medium support tank works fine.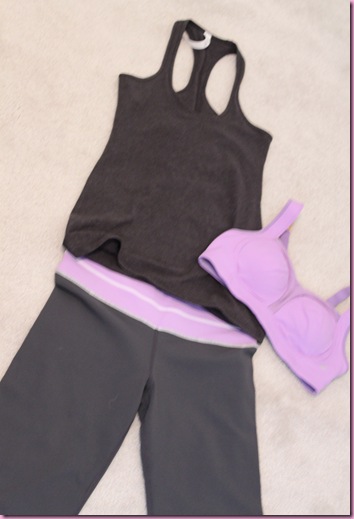 And splurge on the grippy socks (all the studios sell them for $18). Class is challenging enough as it is—no need to be slipping all over the place ;).
Pros:
-Consistency between DVDs and studio workout: I was probably the last New Yorker to jump on the Physique bandwagon. And, actually, I started doing the DVDs before I stepped foot in the studio. When I'd not yet been to the studio, I wondered whether the at-home version was as challenging as a live class. Good news for non-New Yorkers/Los Angelenos : it is! There are pros to going into the studio. You get personal attention/adjustments from instructors. And the live routines always change. Whenever I come into the studio after a period when I've mostly done the DVDs, I get extra sore because the moves are always different.
-It never gets easier: Depending on your outlook, this can be a pro or a con. But in my book, it's a pro. The worst part about finding a workout you love is hitting the point where it no longer challenges your body in the same way. With Physique, you'll improve your form and efficiency of the exercises—but they will never get "easy." AKA—there's no escaping that burn ;).
-Strength: Regularly doing Physique has made me SO much stronger. And while the Physique classes and DVDs haven't exactly gotten easier—other activities do! A couple months after getting into Physique, I tried an Insanity workout that I'd previously tried (and nearly died from!). And because of all of that crazy thigh work, all of the plyometric moves felt SO much easier.
-Results: Physique will tone you up, and it'll do it quickly. I think this is due in large part to the uniqueness of the workout. Interval training combined with moves most of our muscles simply aren't used to does good things for the bod.
-Tanya Becker: Tanya is the creator of Physique—and I have a legit girl crush on her. While I haven't taken one of her studio classes, I've met her many times during the DVD workouts. If you decide to purchase either volume of the DVDs, Tanya will lead you through the brutal workout and make you laugh at the same time. (She has pretty hilarious one-liners. My fave is: "If you don't squeeze your bottom, nobody else will!")
Cons:
-Expensive: Honestly, this is the only con I can think of—but it's kind of a deal-breaker dependent on what your fitness budget looks like. Classes run $35 each—and while there are rewards programs (like a BFF challenge!) and mildly discounted packages and unlimited options, it's still a hefty investment.
Have you taken a Physique 57 class before? What was your experience like?