When I go out of town, my workout strategy varies, depending on what kind of trip it is and how I'm feeling. If the trip is for blog or work-related stuff, it's pretty much like my normal schedule (whatever normal at the time may be), if it's a family trip, I fit it in where I can (and will usually do DVDs or podcasts in our room or at the hotel), and if it's just the Pilot and myself, or now the three of us, I kind of go with the flow like I would at home. The awesome bonus about vacations is that you're usually doing a ton of walking, so it's easy to get in lots of unplanned activity,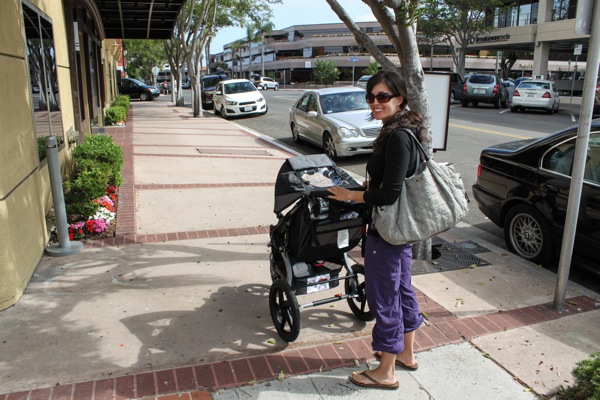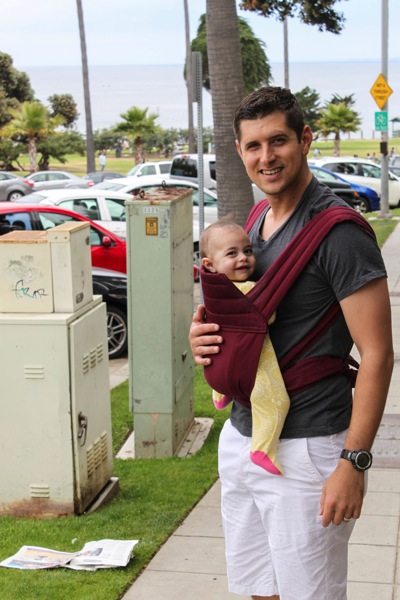 (I can't even handle the combo of these two in this pic… between the babywearing and her sweet little smile, it's too much)
and if I get in a traditional workout while I'm on a trip, I look forward to checking out new studios or classes.
While we were in La Jolla, I took a class at Pure Barre and one at Prana Yoga. Each time, it worked out perfectly, because Liv and the Pilot napped at the hotel and then we met up at the beach when class was over.
Pure Barre killed me.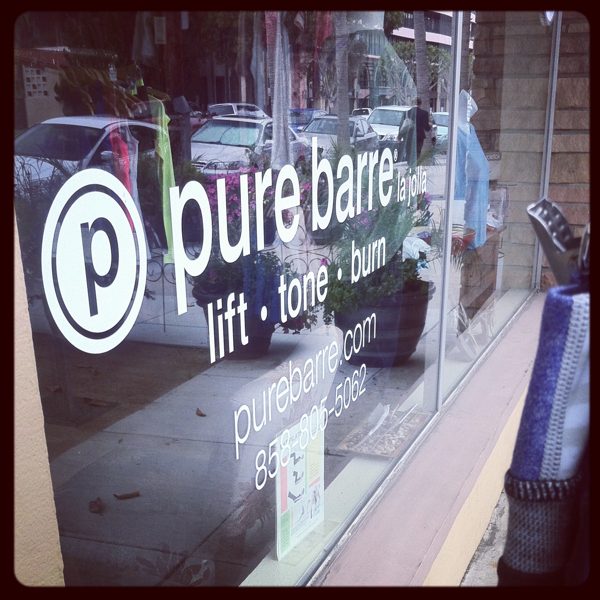 My quads and hammies felt a fiery fury that they haven't known in a long time. As far as the setup goes, it was kind of similar to Physique 57 in the type of training (isometric movements), but we used a very small exercise ball, plus resistance bands (which were only used for stretching, and kind of seemed unnecessary to me). I really loved the music the instructor chose (lots of pop remixes) and tried some exercises that I'd never seen before. There were quite a few times that I needed to take a break in between the set (muscle fatigue victory) and thought it was a great workout. I actually had to sign a disclaimer since I'm a fitness professional stating that I wouldn't replicate any of the movements in my own classes (they're serious about protecting their moves), or I'd give you guys some examples of what we did- it's very similar to Physique 57 and Core Fusion.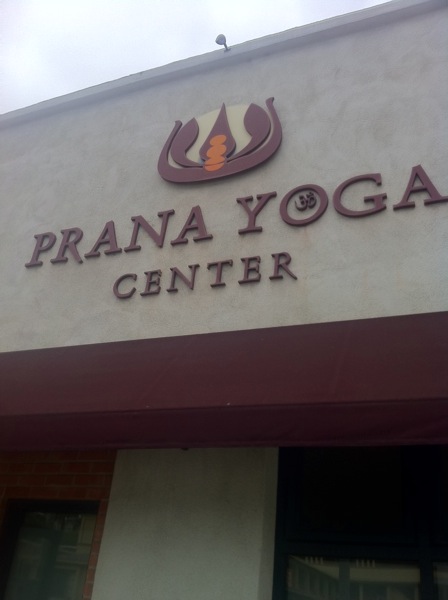 I took a vinyasa class at Prana Yoga, which I absolutely loved. Taking yoga classes has become a huge treat, since they're such a time commitment (in Tucson, by the time I drive down there and take class, it's 2.5 hours out of the day), so it was especially amazing. The instructor led us through a lunge series (the day after I toasted my legs in Pure Barre), lots of backbends and arm balances. I was rusty in my practice, but it felt good to just enjoy class, do what I could, and relish in that zen, noodle feeling when it was all over. (La Jolla Yoga Center is my other favorite yoga spot)
I also did something a little cray while we were in La Jolla: 
ran.
I ran, longer than my usual 20-minute HIIT intervals on the treadmill, and.. I liked it.
Whitney suggested it as a fun morning workout before breakfast, so the 6 of us (Whitney, her hubby, their dog Jackelope, the Pilot, myself and Liv) took off on a jog from our hotel around the beach, where everyone was setting up for the 4th of July festivities.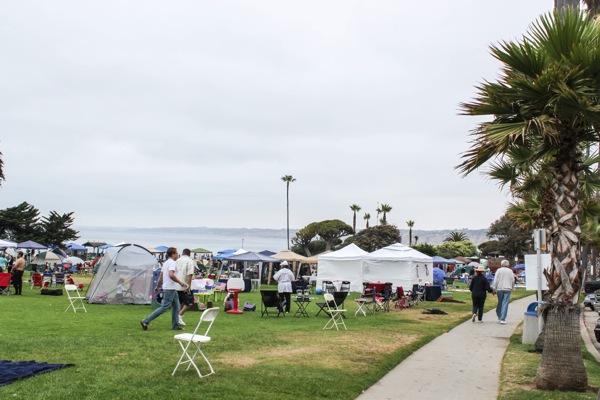 I'm not sure how far we ran, but I'd guess it was around 3 miles, and while it was challenging, it made me remember why I used to enjoy group runs so much. We talked the entire time, which almost made me forget about the fact that I hadn't ran like that in at least a year, and had the promise a delicious Cottage breakfast in my brain.
One of the things that amazes me about other cities, is how dog-friendly they are. Tucson is just starting to join in the fun, but we're lightyears behind this: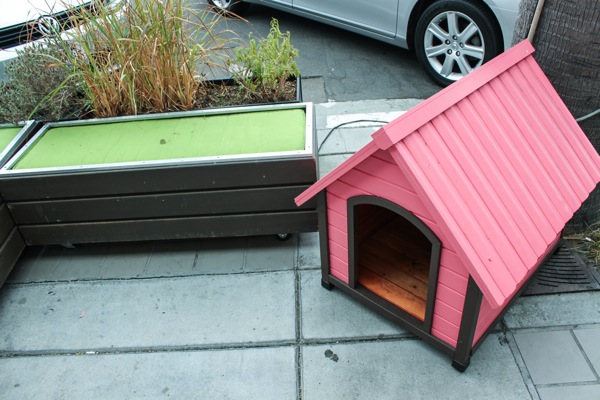 Easily accessible dog houses and water bowls, and the Cottage didn't mind at all that we had a dog with us (he just had to be outside the fence of the patio). I really wish we would have brought Bella along for the trip, but now that we know we can take her around with us and what to expect traveling with a baby, it will be a little more feasible next time. I'm not sure Bell missed us as much as we missed her, though- she was living it up at the madre's.
So tell me, friends: what's your vacation workout strategy? Some of my tips for taking your workouts with you are in this post. Are there any traveling workouts that you'll always remember? I'll never forget the Bikram instructor in NYC- he told us that eagle pose is good for our reproductive organs and that we should release our inner chakra and our Chaka Khan.
Is your city very dog-friendly, or notsomuch? 
Hope you're having a great night <3 See ya in the morning with the awesome pics you've sent in this week!
xoxo
Gina