Focus On: The Paleolithic Diet
Let's get all caveman up in here….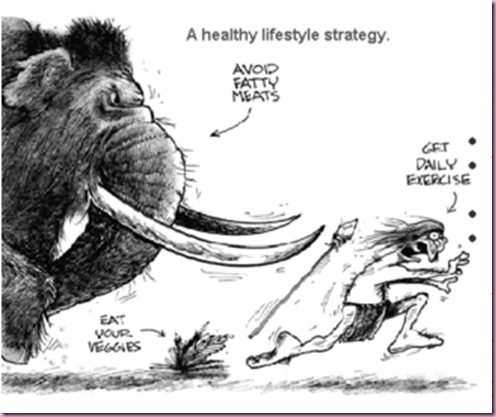 Source
and talk a little bit about the Paleo style of eating.
It's gained a lot of popularity over the last few years and is huge among Crossfit devotees. When I first heard about it while we were living in Valdosta, GA, I diverted my attention as soon as I heard "no grains or goat cheese."
Um, no thank you.
Here's what the Paleo food pyramid looks like: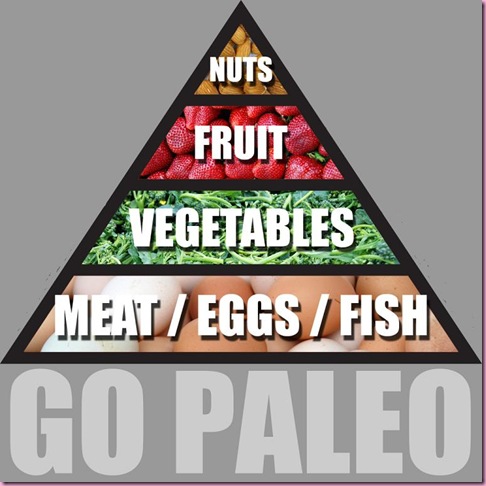 Source
Entirely based on whole, organic foods but no grains, dairy, beans/legumes, sugar or salt.
So what is it: The Paleolithic style of eating is based on the foods that our ancestors, hunters and gatherers, used to ingest before the introduction of agriculture (10,000 years ago). The idea is that humans are intended to eat certain foods, and evolution hasn't caught up to digest or utilize the highly processed foods we see today. The Paleo diet was first suggested by gastroenterologist Walter L. Voegtlin, who claimed that a carnivorous diet, high in fats and proteins and low in carbs, would improve health and prevent digestive problems. Since then, many doctors and nutritionists have jumped on the Paleo bandwagon and offer alternatives to the original plan which can include diary and starches.
Pros:
Paleo emphasizes whole foods, which is always a winner for me. I also think it's great that many followers of this style of eating also pay close attention to the origins of their food and strive to buy organic products. Wayyyyy back in the day, when we had to hunt for our meat, it wasn't pumped up with antibiotics and hormones, and fruits and veggies weren't sprayed heavily with pesticides and chemicals.
Health benefits. No matter what style of eating you follow, eating whole foods will provide health benefits. Whole foods are higher in nutrient value and by avoiding processed foods, you're also avoiding chemicals that make the foods more difficult for the body to recognize and digest.
Lower carb. I agree with the fact that society eats way too many starches and carbs as a whole, but don't think they should be eliminated.
Cons:
Can be high in saturated fat. From what I understand, meat is pretty unlimited as far as Paleo goes. There a ton of lean options (chicken, turkey, bison, elk, etc), but also the potential to consume a lot of saturated fat, thus promoting health complications such as heart disease. Meat is extremely high in protein (a serving will give ya 20g or so) and too much of any macronutrient will be stored by the body as fat.
Activity level. One thing I've always wondered about the Paleo diet is that it's a diet intended for our ancestors who lead an entirely different lifestyle than modern society. We sit at desks and computers all day, they were gathering food and battling mastodons. They had to work for their food, we get in a car and drive to the grocery store. They needed more fuel in general, which includes high fat and protein.
Here's a video that explains Paleolithic food:
It's obviously one-sided –many doctors will educate and emphasize whole foods and good nutrition- but breaks it down concisely.
My verdict?
Paleo isn't something I've tried, but I don't recommend it to my clients or to readers who email asking my thoughts on the diet.
I can totally see that it's a method that works for many people –otherwise it wouldn't be so popular- but don't agree with eating styles that totally eliminate entire food groups. I do understand the beef with dairy, as I don't consume cow's dairy myself, but think that starches and grains are beneficial if used in moderation, especially if you're active. Salt is also a beneficial in moderate amounts.
One of my friends, who is Paleo, told me that by eating so little carbs, you're tricking the body to use fat as fuel instead. This isn't something that I've heavily researched, so I can't say whether I know if it's true or not, but it seems a little unnecessary to me.
Paleo seems to be very hard to follow in everyday life, especially if you're social and have and non-Paleo friends. I prefer to recommend diets based on whole foods, lean meats, veggies, fruits, whole grains and lowfat dairy if desired. Not only does it provide health benefits, it's an easy and feasible plan follow.
Do you or would you follow a Paleo style of eating?