Hi everyone! Happy Sunday 😀 Hope you've had a beautiful and relaxing weekend.
Dinner at the Melting Pot was pretty legendary last night.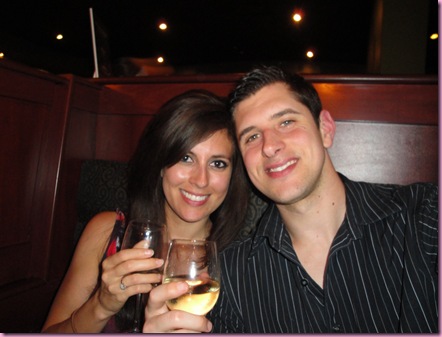 Of course, I relish any opportunity to wear "real" clothes and have a nice dinner 😀
Outfit shot: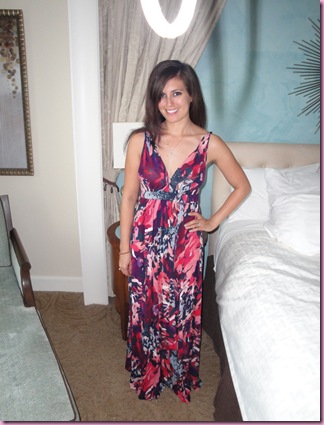 The best part: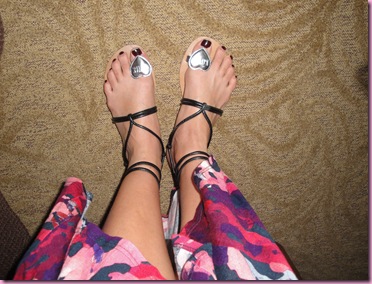 My seksi date: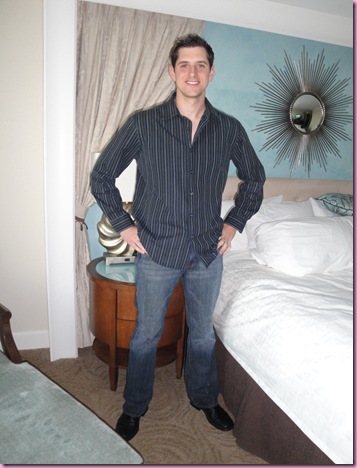 Yeahhhhhhh 😀
When we got to dinner, we got straight to biznazz and ordered a bottle of Riesling.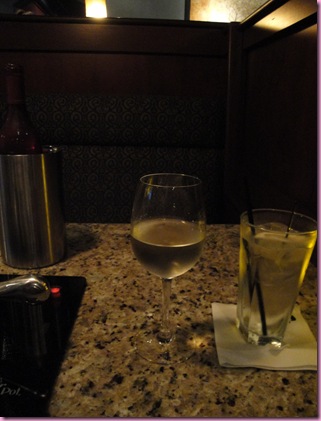 For our feast, we rolled with the Lobster Indulgence and made some substitutions.
*Warning: Most of my Gina-style of eating went out the window. Why? Because it's very rare that we have a lovely cheese and chocolate coated meal, so I lived it up 🙂
Spinach Artichoke cheese: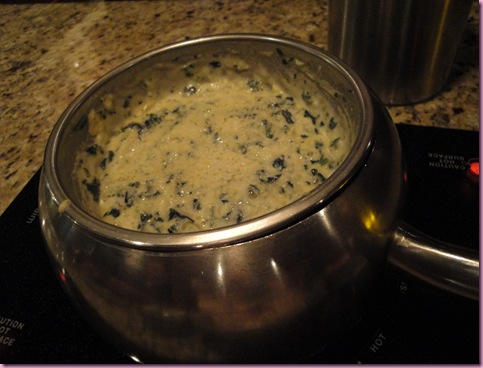 The dippers: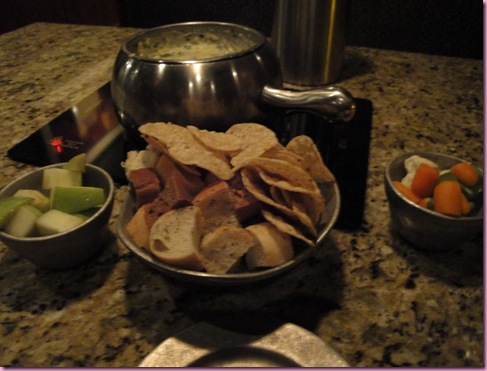 I was all over the wheaty bread pieces, carrots and apples.
For the salad, I chose the California salad with no cheese, since I was already eating my body weight in spinach artichoke dip.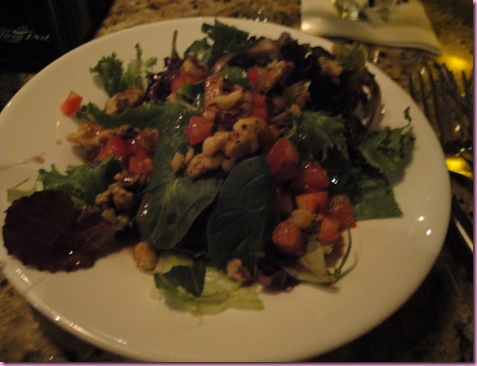 The lobster indulgence: 2 lobster tails and shrimp (the filet, chicken and raviolis were for the pilot)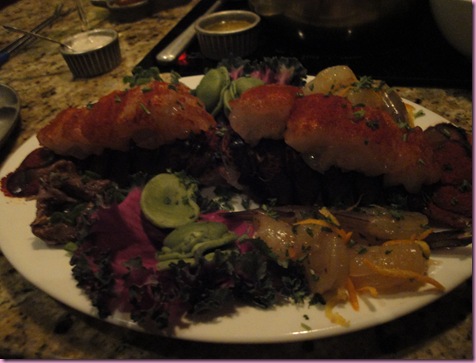 Veg: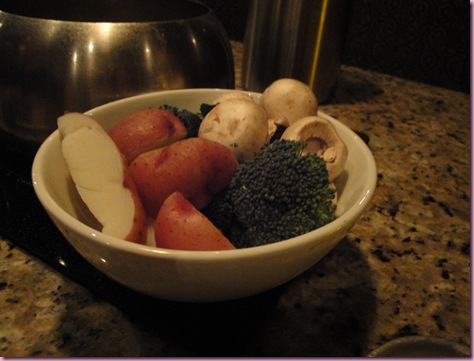 (The potatoes were also the pilot's)
The veggie broth we cooked everything in: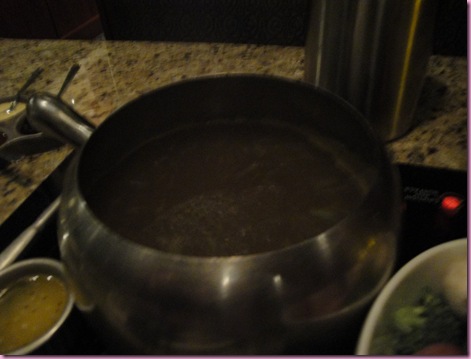 The pilot and I have it down to a science. We cook the seafood and veggies first, then I help him cook the chicken and filet last. This way, his meatiness doesn't contaminate my veg and seafood 😉
And the best part….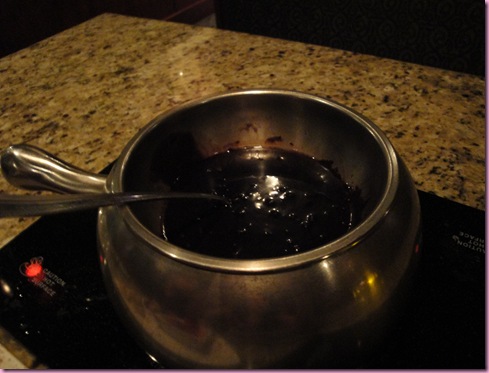 Dark chocolate and BAILEYS
With a devilish array of dippers: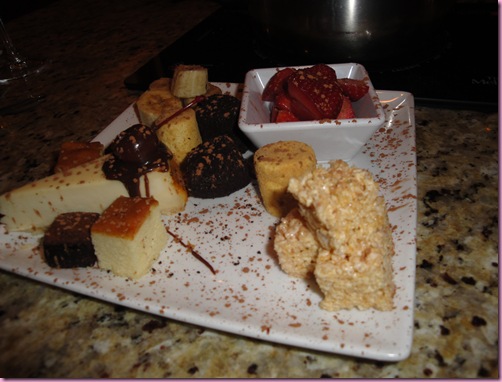 Just when you think dessert is amazing on it's own, go ahead and swirl it in a pot of dark chocolate and Bailey's ;)  Foodgasms all around.
After our beautiful feast, we came back to the hotel.
Action shot: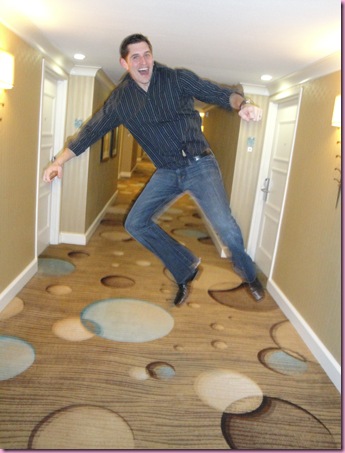 We may or may not have had some champagne before crashing out. Yes, it was that kind of night 🙂
Still, I was a trooper this morning and hit up a 90 minute power yoga class at M Body yoga, down the street. After yesterday's class, I knew I couldn't be this close to a yoga studio and not go. SO GLAD I went. It was an incredible class, and after sweating out the Riesling and champagne, I feel ahhhhmazing. It was also so cool to practice with a twitter friend!!! Thanks for joining me for class and hanging out, Pamela! It was so nice to meet you 😀
It's a little stormy over here in J-ville today: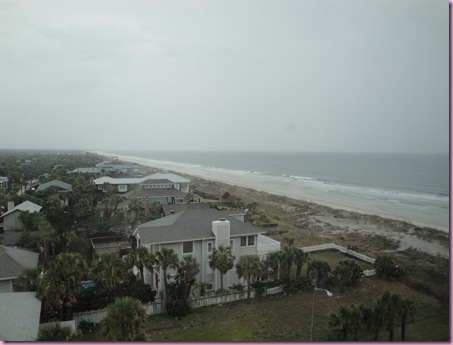 So instead of another beach day, we're going to get ready and check out, hit up Whole Foods and Fresh Market, then get on the road back to Valdizzy.
See ya from the swampland 😉
xoxo,
Gina