Getting the party started
I took a Zumba class at work today. It still feels really good to move around –and makes me forget that baby and I are spine-to-spine– and I can take it easy, since I was just taking class instead of teaching. It was a great class, and the best part was when my boss walked past the door, saw me dancing, started laughing and mouthed, "What are you doing?!"
I ran over to say hi and talk to her, and she asked when the baby is coming out.
"I have no idea."
"You're crazy."
I love her.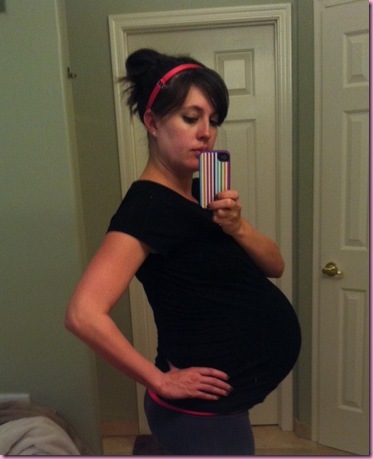 39 weeks and still moving and grooving 🙂
I went into the locker room to hang out with my work friends after Zumba, and they were all taking bets on when the baby will make her appearance. A few friends have asked me if there was anything I was doing to try and kick start labor, besides continuing to workout.
This entire time, I've been happy to wait for her to decide when she's ready to come out, and even more so since I found out she was in a less-than-ideal position. Last week, before I knew she had flipped, I researched some natural ways to encourage labor in the event that I got to 41 weeks and the midwives started talking about induction. (They used to let patients go to 42 weeks, but now it's 41)
Here are some of things I found:
(please don't do anything to try and initiate labor without talking to your doc and get mad at me, mmm k?)
-Walking. This is supposed to be beneficial in helping the baby flip over, too
-Dancing. Same- it could also encourage her to flip
-Mattress mambo. Even with someone as debonair as my husband, the discomfort has finally put a damper on things. Plus, there's no better way to seduce someone than crawling around on your hands and knees and moaning in pain every night.
-Acupuncture. I was going to go see my acupuncturist this week anyway for the hip pain and posterior position, because I know it will help. It's just a matter of making an appointment and going. If I go to 41 weeks, I could also ask him to press the button to get labor going.
-Castor oil. Some people swear by this one, other people say DON'T do it. I'm not sure I'd be down with this one, especially since it can cause you to dehydrate- not something you want to deal with before going into labor.
-Herbs. The midwives and my homeopath would be great resources for this.
-Spicy food. Since I've been drowning my food in hot sauce and red chili flakes this entire pregnancy (and my entire life), I don't think this will be much of a factor. Word on the street is that when the baby comes out, the fluid smells like what you've been eating… if so, baby is going to be a spicy little meatball.
-Massage. This sounds like a fabulous option, because even if it doesn't work, you get a massage out of the deal 😉
Did you try any methods to encourage labor naturally?
Taking guesses on when the little one will be born, too 😀
My original guess was Christmas weekend, so my next guess is January 3.