Breakfast was the return of an old fave: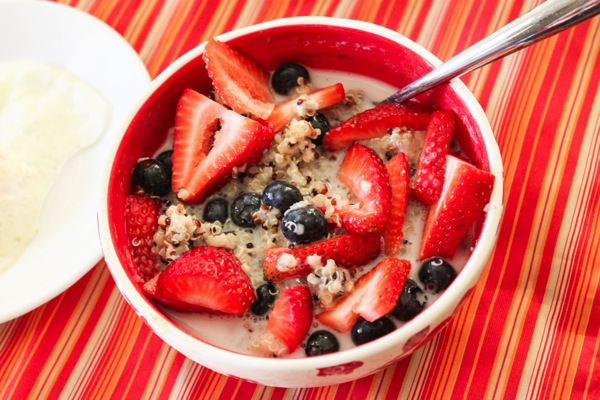 Quinoa bowl!
Since I usually make a giant batch of quinoa and lentils for the week, I figured I'd leave the quinoa plain since it would be more versatile that way, and didn't season it so we could do sweet or savory versions.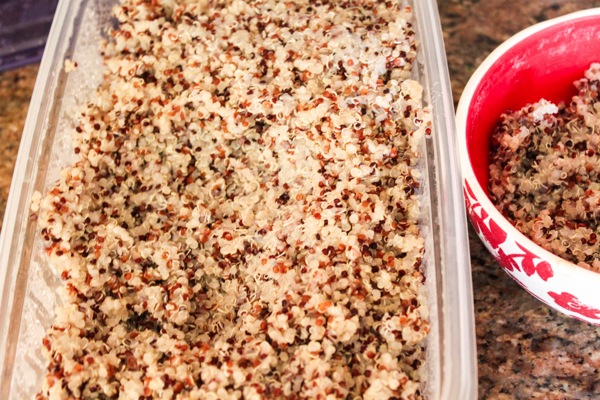 I picked up a bag of the tricolor quinoa at Trader Joe's and prepared it the usual way: rinsed, added it to the rice cooker with water (2 parts water to 1 part quinoa) and put it on the brown rice setting.
This morning, all I had to do was take the quinoa out of the fridge, scoop it into a bowl (I had about a cup and a half) and added berries, honey, hemp seeds and almond milk: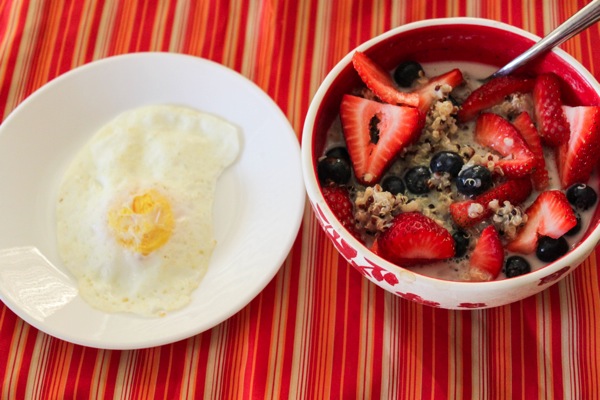 + a pop egg on the side
Another recent reunion: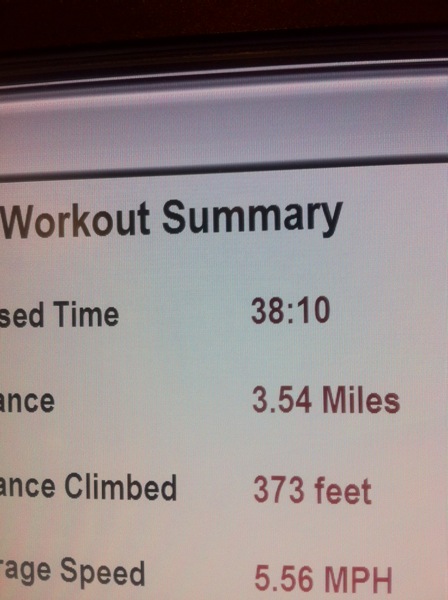 A date with the ex-boyfriend! He looked niiiiiiiiice. We've been on and off for the past couple of years and lately, it's just been short and quick rendezvous. 
I ran a few weeks ago with friends while we were in La Jolla, but last night it was just me, the treadmill and my iPod. Lucky for me, Michele stopped over to chat for a while, too. I didn't have a goal as far as distance or pace went, but figured I'd do 2, 3 or 4 miles, depending on if I felt like running, if I was dying, if my music was good, or if I wanted to do a combo jog/walk. To my surprise, I felt great and the iPod did that magical thing where it seemed to pick the songs I wanted to hear. I ran 3 miles straight and then walked for 8 minutes to cool down.
The reason why I decided to treadmill it up is because I'm doing a race in the fall. I'll post all the details when they're finalized, but hopefully some of you will be there! You may see me on the sidelines trying to Zumba the pain out of my legs 😉 The good news is that there are different distances, so I don't have to decide how far I want to go until I get there, which is perfect since my workout time and schedule is limited these days. I'll probably only run once a week to train, on Sundays, which is what I did for my first half marathon and it didn't end up being too bad. Michele said to train like I want to run the half, and then if I get there and decide I don't want to, I can smoke the 10k. I like that idea. I'm not sore at all today, but I got a massage right after my workout… can't all runs be like that? Heh heh .
While I was on the treadmill, I was thinking about the fact that some people prefer to run long distances, while others, like me, like short bursts of energy followed by recovery (interval training and sprinting). I think I'll always be an interval girl, which is why running is a good challenge for me. By interval training, my steady state workouts feel easier (even though the time seems to drag on sometimes) and it's a great idea to alternate intensities. If you're a distance runner, it's beneficial to add in some cross-training and tempo work to your routine. 
Some things to remember: steady state workouts can be done more frequently and will burn more calories than short, interval workouts. Interval workouts have a higher afterburn affect, and should only be done max 3x per week on non-consecutive days. (Your heart is a muscle- remember that it needs rest, too!) For more info on my favorite types of intervals, check out this post on HIIT and this one on Tabata.
Do you prefer steady state or interval training? What's your favorite? Anyone else signed up for a race this fall?
Hope you have a happy Monday! See ya later today on the family page and tonight with a recipe.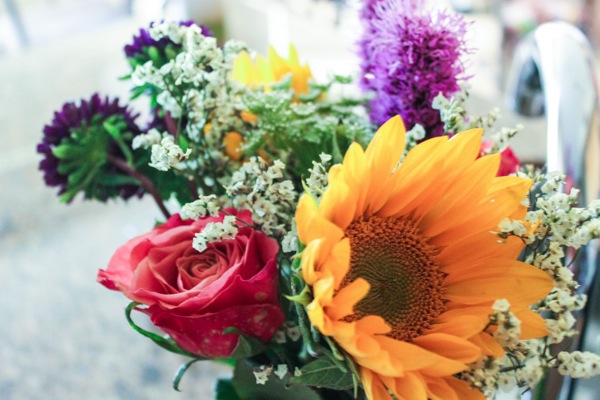 xoxo
Gina
Something to do: "Make It Happen" Monday! Don't forget to write down and declare a goal for yourself this upcoming week. Put it in a visible place and make steps each day to make it happen. If you'd like to share, I'd love to hear your goal! Tweet me (@fitnessista) or send me an instagram shot (@fitnessista) <3