Hey everyone! Sorry to disappear this morning! It's be a whirlwind of a day 😀
I am rocking these bad johnnies: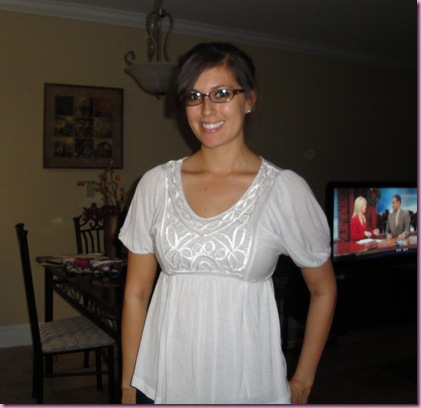 Glasses face! It's definitely been a little weird to get used to –I always have contacts in- but until my eyes are healed (eye infection from the new contacts they gave me), I'll be wearing these little guys. We'll see how teaching aerobics and running go this week. Athletes with glasses, what do you do?!
I woke up this morning to a lovely bfast cookie (Tina had one today, too!)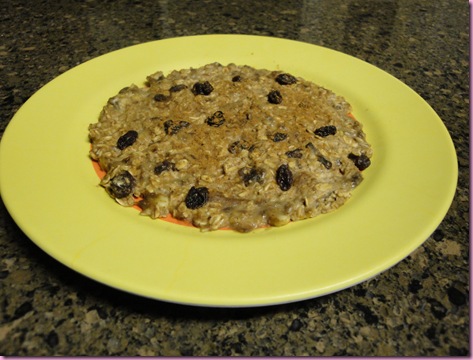 It was a twist on the ol' bfast cookie original (born on July 28, 2008)
-1/3 cup oats
-1/2 scoop Sun Warrior vanilla protein
-1 T almond butter
-1/2 banana
-almond milk
-1/8 cup raisins
-Stevia, sea salt, vanilla and cinnamon
I can't get over how FILLING these cookies are! I'm super satisfecho afterwards 😀
I couldn't wait to try this new yoga DVD, courtesy of Tinkerbell who got it for me as a Christmas present: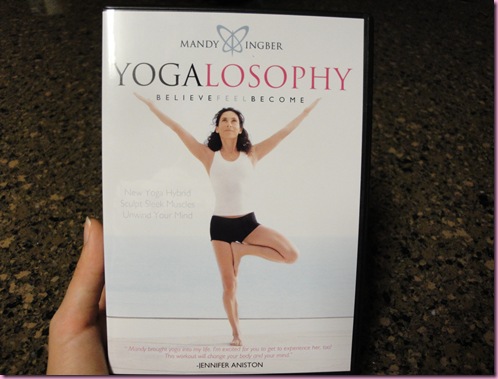 Bummer was that I have no clue how to use the remote on our new DirectTV she-bang. After many failed attempts (and messing up all of our satellite settings…sorry Pilot!), I called it quits and will have to wait until Thursday. In lieu of the super awesome Mandy Ingber DVD, I did a Namaste Yoga episode on the DVR.
After that, I went to work and had two training clients today before coming back for a snack: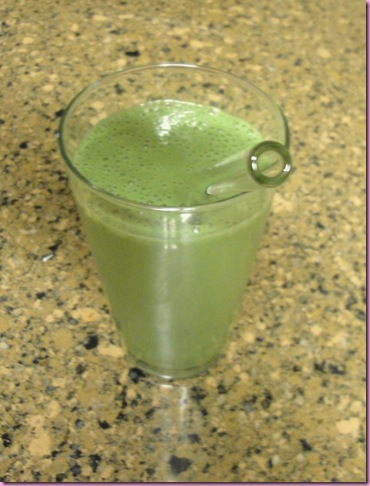 An hour walk with the puppers, and lunch 😀
I made a lovely tuna pate, based on one by Ani Phyo.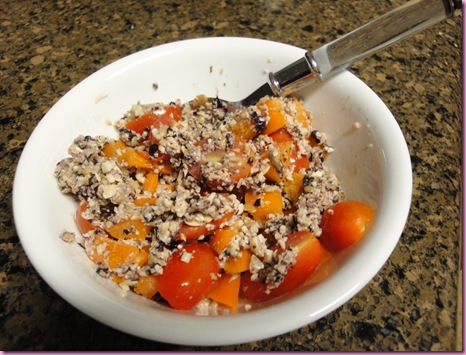 Soaked cashews, sunflower seeds, dulse, lemon juice, garlic powder all processed in the food processor with grape tomatoes and bell pepper stirred in.
Into romaine boats: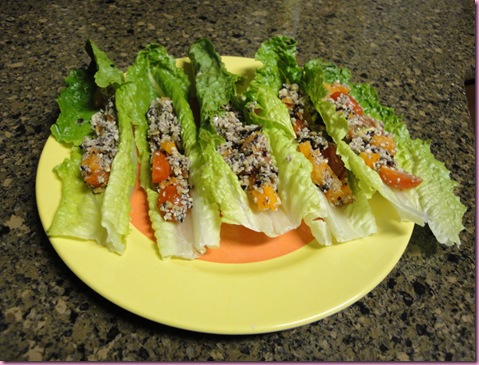 I stuffed said boats into my face and went back to work, where Jeni met me for a back and biceps sesh.
Here's what we did:
| | | |
| --- | --- | --- |
| Elliptical | 5 minutes | warm up |
| Straight bar curl | 30 lbs | 3 sets of 12 |
| Bent-over flys | 4 ea | 3 sets of 12 |
| Seated row | 50 lbs | 3 sets of 12 |
| Hammer curls | 8 lbs each | 3 sets of 12 |
| Elliptical | 20 minutes | Crosstrain program, level 5 |
| Total time: 1 hr |   |   |
After training one more client, I hit up Walgreens (Walgrizzle) for my eye drops, changed and met the girls at Longhorn for dinner.
With the usual wine and wheaty bread, I chose the shrimpies with no butter sauce, steamed veggies (no butter) and a plain baked sweet potato instead of the rice (which they gave me two of, since they were tiny)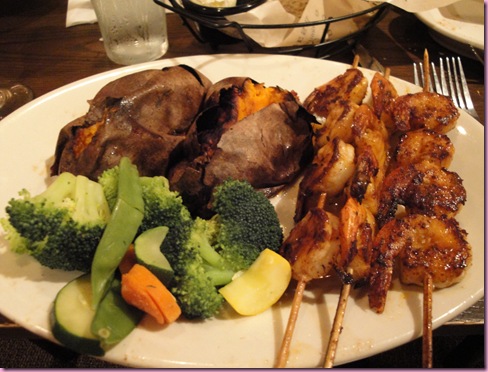 Glorious. I love shrimpies, wine and girls night 😀
I'm off to get ready for bed, but I hope you're having a wonderful Tuesday.
See ya in the morning <3
xoxo,
Gina
Something to think:
Look well to this day,

for it is life,

the very best of life.

In its brief course lie all the realities

and truths of existence

the joy of growth,

the spendour of action,

the glory of power.

For yesterday is but a memory,

and tomorrow is only a vision,

but today if well-lived,

makes every yesterday a memory of happiness

and every tomorrow a vision of hope,

look well therefore to this day.

 

– Ancient Sanskrit poem

(source)

–