Hey everyone 😀 Hope you're having a lovely night! A little note about the giveaway: there's still one more thing I need to do, so be on the lookout for it sometime tomorrow.
I've done a little pre-celebrating –and just had a glass of wine the size of my head so let's see how this turns out 😉
Bday cards have come in the mail: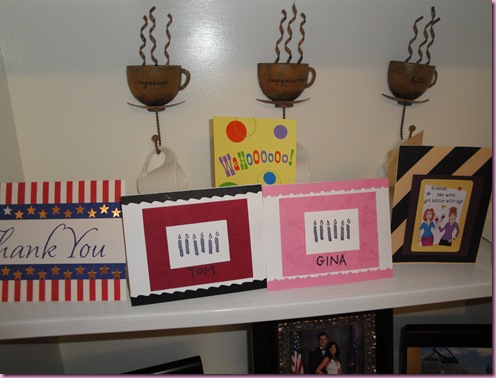 Mr. FedEx stopped by and brought a bday package from the familia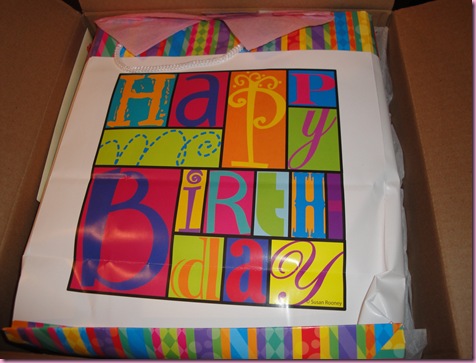 Full of fun gifties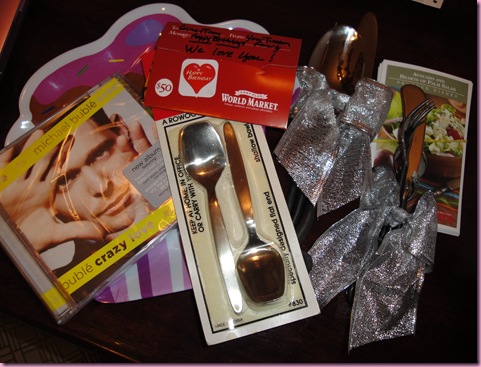 Including snowman PJ pants, the new Buble CD, yogurt spoons, a cupcake plate, baby utensils and matching adult-sized one for the pilot, recipe cards, Bailey's truffles, and a gift card to one of my favorite stores ever: WORLD MARKET 😀
I blasted the Buble CD, coerced the pilot to dance with me, and made some omelets 😀
His omelet: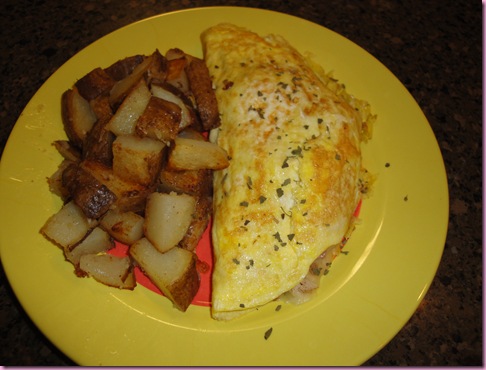 3 eggs stuffed with proscuitto, chicken and mozarella left over from the cordon bleu and potato pan fried in organic butter with garlic
Her omelet: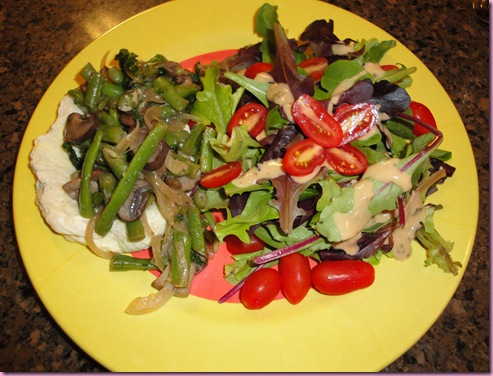 1 egg + 1 egg white puffed in the microwave, topped with leftover Giada veggies and a salad beast with Goddess dressing
His workout: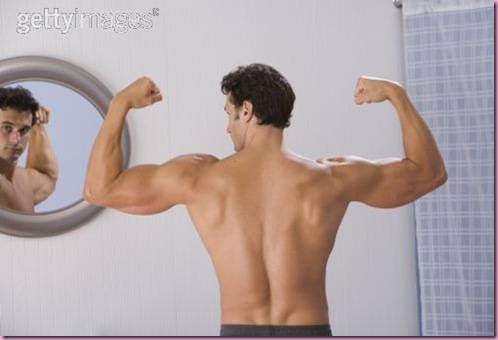 (Source)
(Just kidding.. but he really doesn't have to do anything to look like a Roman god. If he eats a donut, it just makes his six-pack more defined. Man metabolism astounds me every day, haha)
Her workout:
| | | |
| --- | --- | --- |
| Treadmill | 4 miles | Hill walking and sprint intervals; 45 minutes |
| Elliptical | 5 minutes | Level 5 |
| Kettleball squats | 6 lbs | 3 sets of 12 |
| Barbell deadlifts | 20 lbs | 3 sets of 12 |
| Stability ball inner thigh squeeze | Body weight | 3 sets of 12 |
| Plank | Body weight | 3 sets of 30 seconds |
| Prone dumbbell hamstring curl | 8 lbs | 3 sets of 12 |
| Calf raises on a step | Body weight | 3 sets of 12 |
| Dumbbell oblique toe reach | 5 lbs | 3 sets of 10 on each side |
| Total time: 1.5 hr |   |   |
His smoothie: Was PB & J and full of protein
Her smoothie: Was GREEN 😀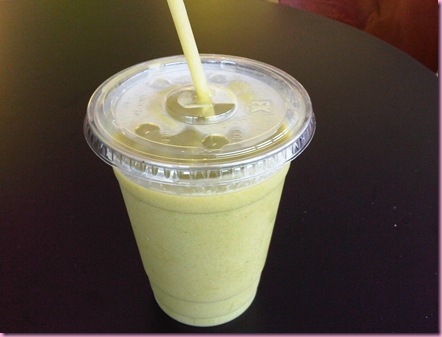 (Tropical superfood smoothie from The Main Squeeze)
His birthday cupcakes: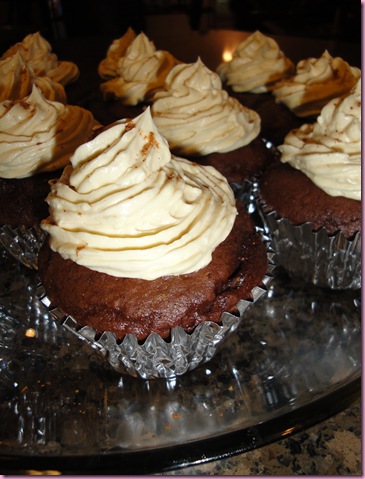 The Car bomb cupcakes 😀
Her birthday cupcakes: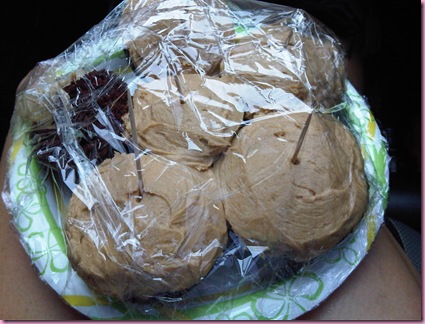 Jeni made me chocolate cupcakes with peanut butter frosting! See the one on the left?? I ate all the frosting and the top off that one 😀 And it was foodgasmic 🙂 Thank you Jeni! <3
His pizza: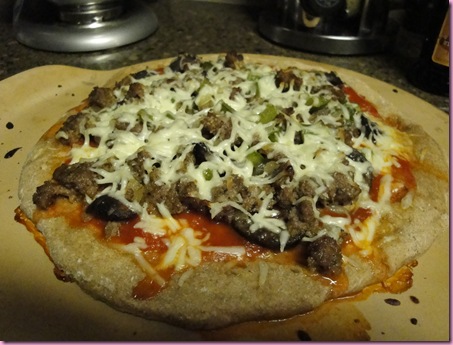 Organic marinara, baby bella mushrooms, sausage, green bell pepper, onion, garlic, mozarella
Her pizza: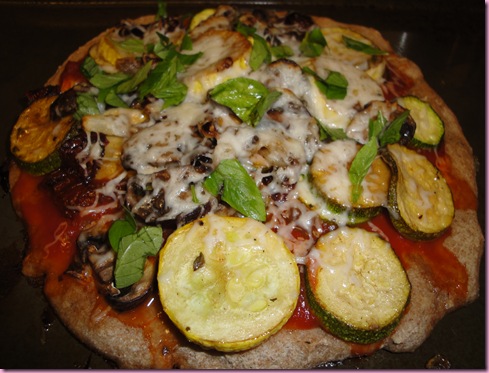 Organic marinara, yellow squash, zucchini, sundried tomatoes, onion, garlic, oregano, balsamic vinegar and goat gouda
Topped with basil and red pepper flakes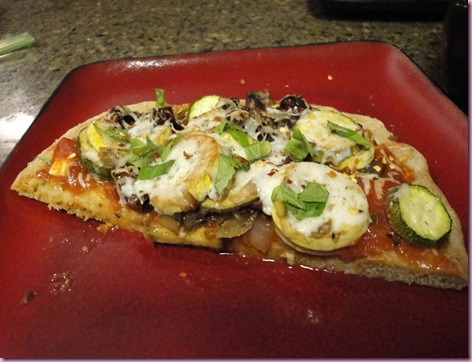 (I only cut it in half for kicks.. you know I ate the whole thing)
The dough that made it possible: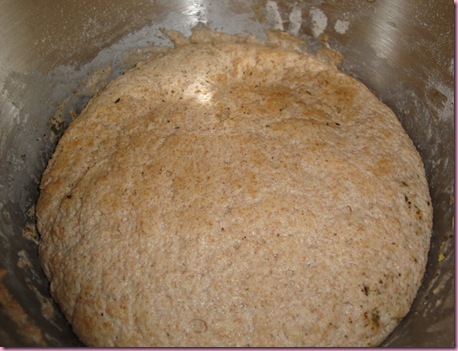 Homemade brown rice flour and spelt dough with oregano, basil, garlic and extra virgin olive oil
And we each had a salad with mixed greens, grape tamaters and Goddess dressing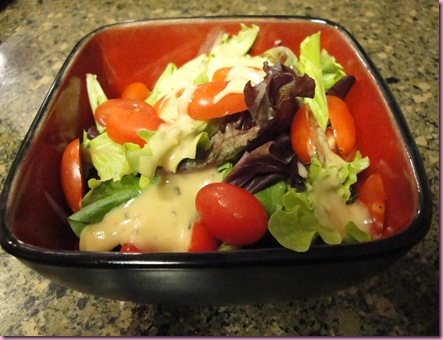 Now we're sitting here complaining that nothing is on TV and he's trying to convince me to "bundle up" (it's FREEZING outside) and putt putt golf with him.. we shall see 🙂
Well I'm out like sauerkraut 😉
See ya when I'm 25 😀
xoxo,
Gina
Something to do: Take a second to be thankful for those who risk their lives to protect us <3 To all of my fellow military families out there, I am so thankful to each and every one of your service members for their selflessness and have so much respect and gratitude to all of you for sharing them with the rest of us. I know how the worry, loneliness, stress and the craziness that comes with watching the ones we love do courageous and dangerous things so that we can be safe and enjoy the many freedoms we're entitled to.