Home Workout Warrior + Meal Prep Ninja Bundle
Hi friends! I hope you're having a wonderful day. Today's post is a quick one, but I wanted to stop by and share the news that I'm collaborating with my friend Tina to share a ton of resources that will help you start spring off in a healthy way:
The Home Workout Warrior and Meal Prep Nina Bundle!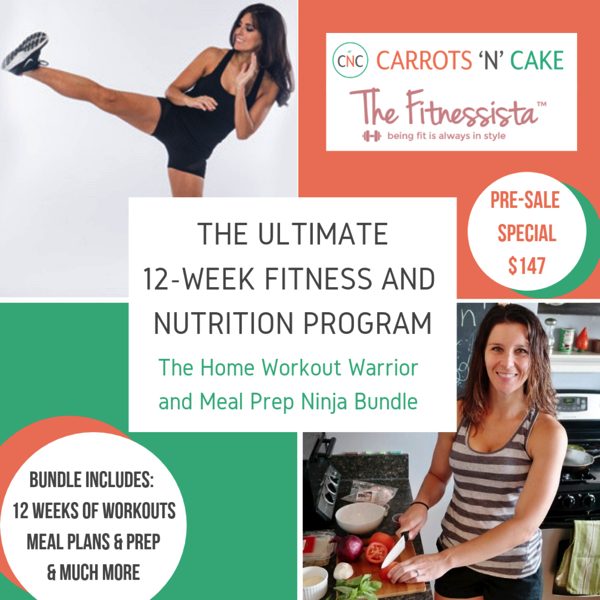 So what is it?
The Home Workout Warrior and Meal Prep Ninja Bundle is a combination of my 12-week Home Workout Warrior Fit Guide (the most popular plan!) and Tina's 12 weeks of macro planning, meal plans and recipes.
You get a LOT of good stuff:
– My 12-week Home Workout Warrior Plan. These are challenging at fun at-home workouts using a pair of dumbbells and optional stability ball. I spent so much time and love creating this plan to make it as strategic and effective as possible. The reviews are in, and I've received such an amazing response from this program
– 2 bonus workout videos: a full-lenth HIIT/Strength Combo and a pure HIIT workout. These were created just for Fit Guide participants
– 2 months of bonus cardio guidelines, including workouts you can use on your favorite cardio machines at the gym
– Meal Prep Ninja 12-week plan, including macro ratios, meal plans, and recipes. These are simple, whole food recipes (so you don't need fancy equipment or obscure ingredients) with nutrition and macronurient information included
– Macro Tracking Without the Hassle (with grocery shopping lists, printable meal plans, a How to Track Macros Quick Guide and Macro Cheat Sheet)
– Online accountability through Carrots 'N' Cake Nutrition & Accountability Group and Fitnessista Virtual Workout Community
Who is this program for:
– Those who are looking to shake up their routine and get some serious changes in motion as we head into spring and summer
– Those who feel motivated and excited to crush some at-home circuit workouts, meal prep, and enjoy a balanced eating plan
– Friends who are curious about tracking macros but aren't sure how to get started
– Those who are looking to build lean muscle and increase fitness performance to achieve their fitness goals. This is also helpful for all of my friends out there who don't have gym access, or prefer the convenience of working out at home!
Who this plan is not for:
– Those who have no interest in tracking macros
– Friends who prefer taking group fitness classes instead of working out on their own
– Those who are happy doing their own thang
When you sign up for this special bundle, you get everything as an instant download! If you've been curious about trying a Fit Guide or macro tracking, now is the time to jump on it.
Click here to learn more and sign up! 
*** Please note that the $147 is a pre-sale price. It will go up after March 11th at 12pm EST, so be sure to hop on it!
xo
Gina