2012 was an amazing, amazing year. It definitely went by a little more quickly than I would have liked, but was a life-changer. Livi was born in the very beginning of the year (I'm still in shock that her birthday is next week!) and we've also added a fur sister for Bella. Our house and hearts feel very full and happy.
When I made my inspiration board for 2012, my main goals were to deliver a healthy baby and provide all of the things she needed: love, warmth, food and a safe, happy home. At first, I thought I had a lot of fitness and career-related aspirations, but knew that it was more important to me to focus on my new role as a mom and aim to maintain where I was career-wise. I wanted to enjoy every possible moment with our family and can definitely say I succeeded with that one. From our first year together, from the day we brought Livi home from the hospital to our first Christmas, I have so many beautiful and vivid memories that will stay with me forever.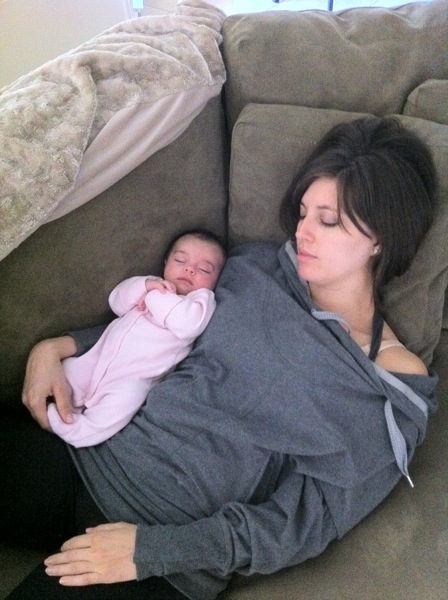 Fitness-wise, my main goal was to find time to work out again consistently. I missed the mental benefits of working out and eventually was able to get back into a fitness routine, teach classes (and even added some new ones to the rotation that I couldn't teach while pregnant) and have done two Zumbathons, two half marathons, a 10k and a couple of 5ks. My workouts are much shorter now (usually 45 minutes or less) and I wouldn't have it any other way. This year I've learned a lot about prioritizing (if I'm tired, I skip the gym and go to bed early) and time management. It's an equal mix of planning and flexibility, because I never know what the day will bring.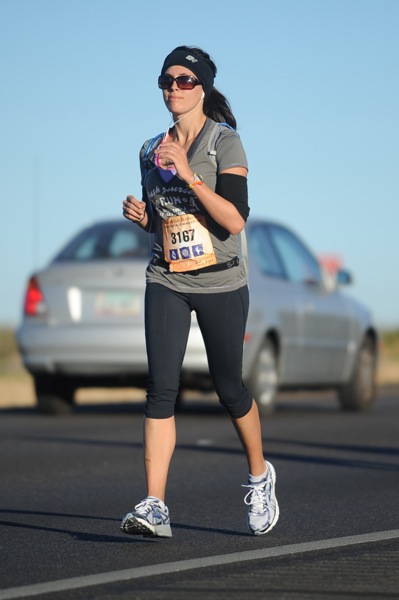 It has also been a challenging year for Tom and myself. While we've certainly been through a lot together (three deployments, countless TDYs, living across the country from each other, moving), becoming parents, while absolutely incredible, can put a different type stress on a marriage. We're definitely not perfect, but we've worked hard as a team this year and have become stronger than we've ever been. We've experienced high highs, and low lows, all within the span of a year. I couldn't be more fortunate to have him as a husband, partner and dad to Oliv (and the pups!).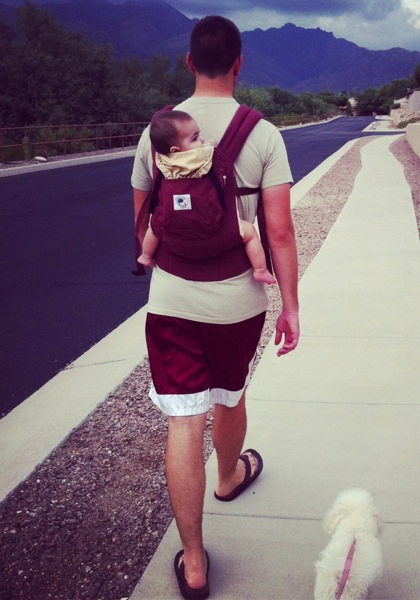 It's going to be tough for 2013 to beat 2012, but I have a good feeling about it 😉 We want to plan one big trip as a family and will also get a better idea of where we may be living a year from now. I'm excited to see what 2013 will bring 🙂
Here are some of my goals for the upcoming year:
Personal goals:
-Continue to plan fun adventures with Liv: library, children's museum, play dates, baby class. Each day, I like to think of something to do, whether it's a small arts project or impromptu picnic.
-Organize our closet… and keep it clean! I actually went through our closet Sunday night, organized everything and also did Liv's closet (bringing out clothes that will fit her, packing away the too-small items). Here's hoping it lasts for more than a week 😉
-Become more efficient at typing on the iPhone. I still miss my Blackberry for this very reason and have the worst time typing on the iPhone. Maybe I just have giant fingers?!
-Continue to make the blog as informational, fun and easy-to-navigate as possible. Along with this, I really need to take some kind of photography class and would also like to improve my Lightroom skills.
-Go to bed earlier. I've been saying this for the past couple of months, but it's gotta happen. Liv goes to bed around 7:30 and Tom and I will end up staying up until midnight. Even if Tom has to stay up to do Master's homework, I'm going to try and go upstairs by 10 each night at the latest.
-Travel somewhere amazing. We've been wanting to go to Italy for years and have put it off due to moving and deployment schedules. We've decided to just take Liv with us and go for it. Whether it's Italy, NYC (my fave!) or somewhere tropical, we're planning a vacay.
-Read more
-Pray more
-Go on more date nights
-Be the type of person I want to see in others- always working to be more generous, compassionate and kind.
Fitness goals:
-Beat my half marathon PR.
-Lead a Zumbathon.
-Develop a new dance cardio class format.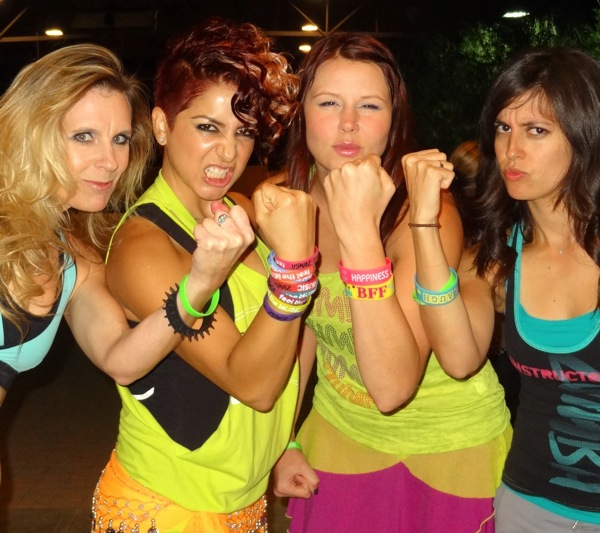 (my Zumba BFFs)
Career goals:
-I still have no clear idea of what I want to be when I grow up and am always brainstorming things I'd love to start or create. This year is going to be a year for me to explore my passions and figure out a path for the future. It's time to focus and take action.
Pinterest challenge!
Last year, when I made my inspiration board, I appreciated a tangible reminder of what I'd like to accomplish in the new year. I didn't realize that there was another way, until I was sitting at the breakfast nook taping photos to a sparkly piece of paper. Pinterest! Derp. I fought Pinterest for the same reason I write to-do lists on paper instead of using my phone, but this year, I am happy to welcome a little technology. Please feel free to create your inspiration board with 2013 goals and the hashtag #inspirationboard . Leave a link to your board in the comments – I'll pick 5 to feature this Friday and will send ya a little prize 🙂 You can check out mine here, if you'd like (still a work in progress).
Everyday, I'm so thankful just to be alive and for all of the blessings we have. I feel like a lucky girl, in so many ways, and can't wait to see what's in store for lucky # '13.
Happy New Year!
xoxo
Gina
What are some of your fitness, personal and career goals?
Don't forget- it's day 7 of 12 days of Fitness!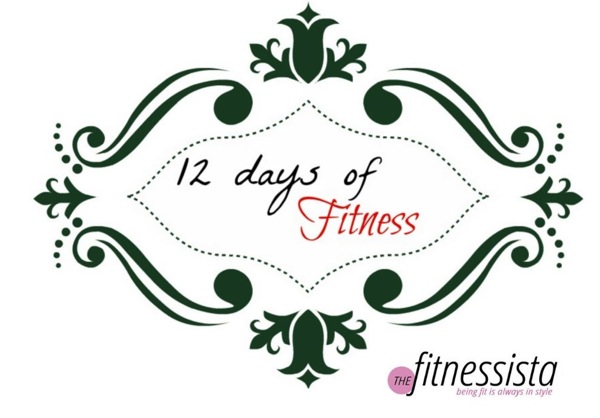 7 tricep dips
6 pull-ups (resistance band rows or weighted deadlifts if you're at home)
4 toe touches (each side)
3 mountain climbers (each side)
2 pushups
1-minute plank (can be 6 rounds of 10 seconds up, rest for 3 seconds)