Hi friends! Hope you're having a great night <3 Loved your comments on this morning's post! It was interesting to hear that so many of you have had a similar experience. Tonight I'm off to each spin, but wanted to post a recap of the adventures at L'Auberge de Sedona this weekend.
As part of this press trip, I was invited to stay at L'Auberge de Sedona and attend the Sedona Yoga Festival. (My recap of the festival and what I learned is here.) It's funny because even though I'm an Arizona native, I had never been to Sedona! We must make up for lost time.
When I arrived, I was instantly in awe of the gorgeous surroundings: the towering red rocks, the desert scenery I love so dearly, and the Oak Creek, gently serenading our stay. I had checked out L'Auberge online, so I had an idea of what to expect, but I had no clue I would basically be staying in my own cabin. It was luxurious and cozy, with a glorious bed, fireplace, amenities, and personal outdoor cedar shower. That was one of my favorite parts of the cabin! I felt like I was showering in the wilderness, which was surprisingly relaxing.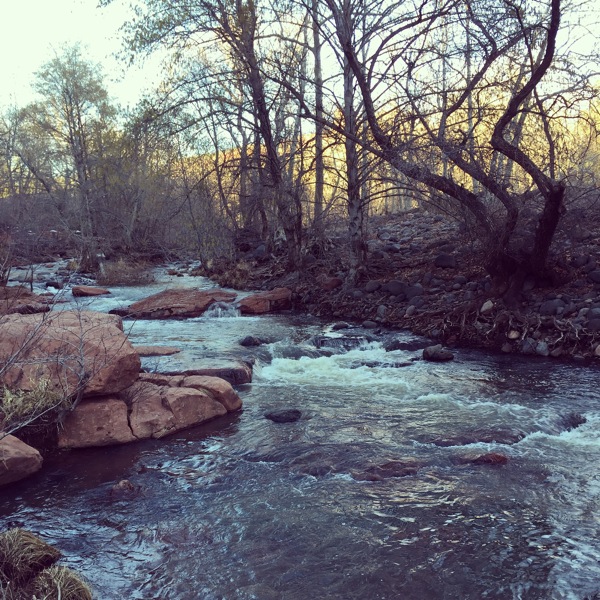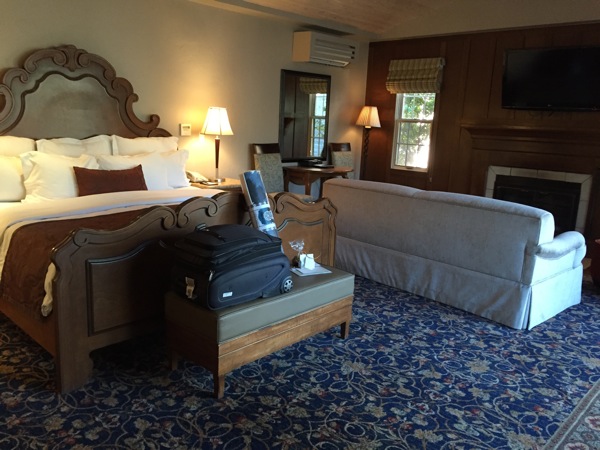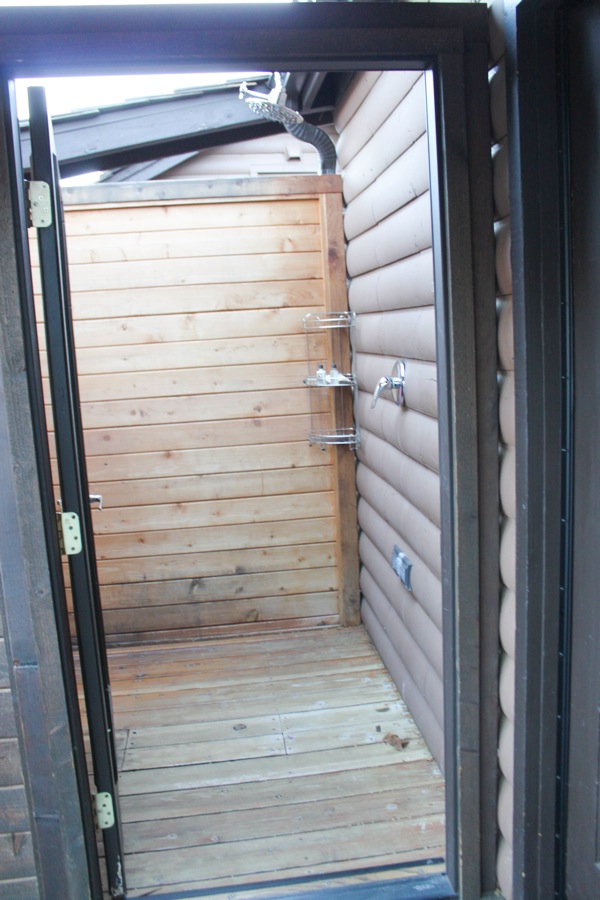 (There was an indoor shower, too, if that's not your thing haha)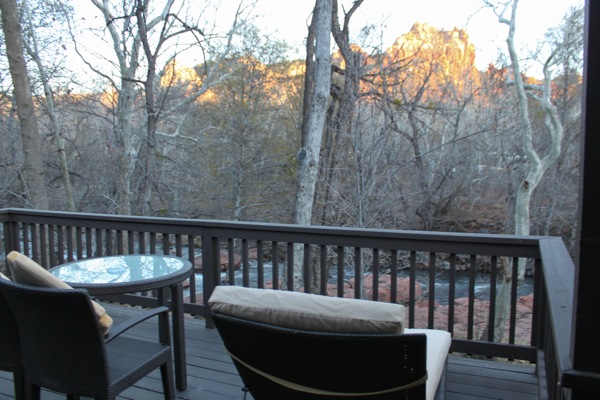 I was greeted by some treats, including this gorgeous La Vie Boheme yoga mat, trail mix, and a gluten-free brownie. THAT BROWNIE. I'm wondering if I can track down the recipe somehow?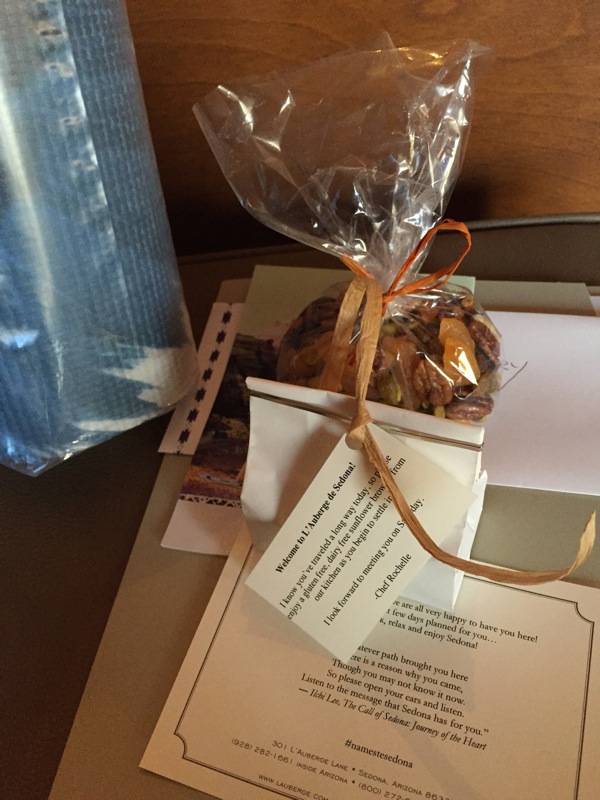 Our first dinner was at their Veranda Bar, which included a fantastic selection of small plates and seasonal cocktails. After sharing croquettes, flatbreads, mussels, and chili-spiced cashews, the entrees came out. I chose the snapper, which has a delicious creamy sauce and roasted chickpeas. It was absolutely perfect.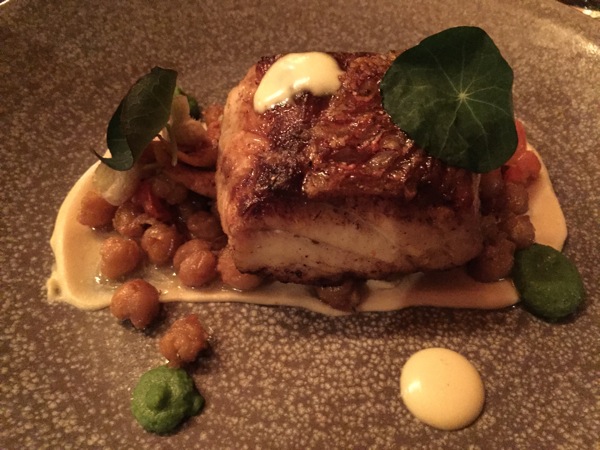 And then there was dessert row. I love that our table wanted to share everything, which is how I like to do desserts. I'd rather have little bites of everything than commit to one. 😉 We ordered all of the desserts on the menu, and shared. My favorite was the oatmeal cookie float, which was in a sea of bourbon, caramel and ice cream, delicately garnished with a flower. Everything was AMAZING, and I love that they utilized fresh, seasonal, and many locally-harvested ingredients.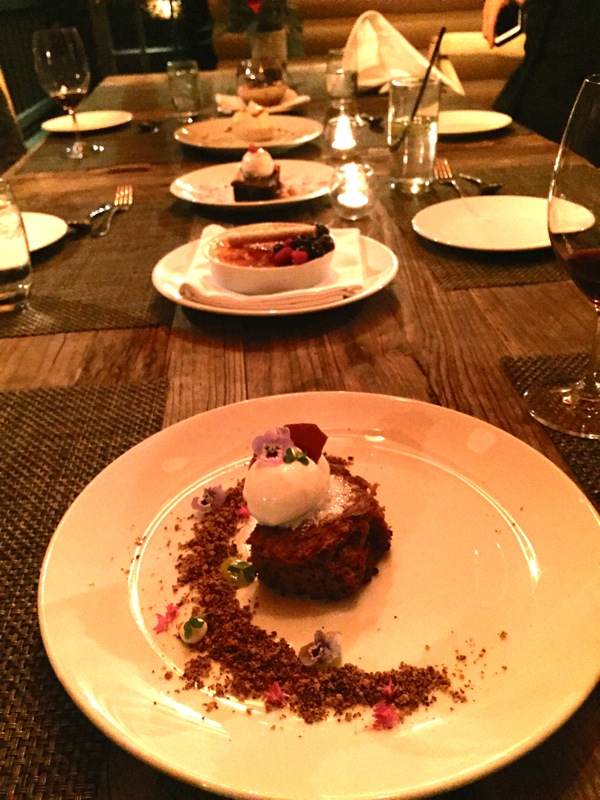 The resort includes 26 lodge guest rooms, 32 creekside cottages (where I stayed) and 29 vista and spa cottages. They have a full spa, heated pool and hot tub, a glorious restaurant and outdoor dining patio. This cute little area is where many wedding proposals have occurred: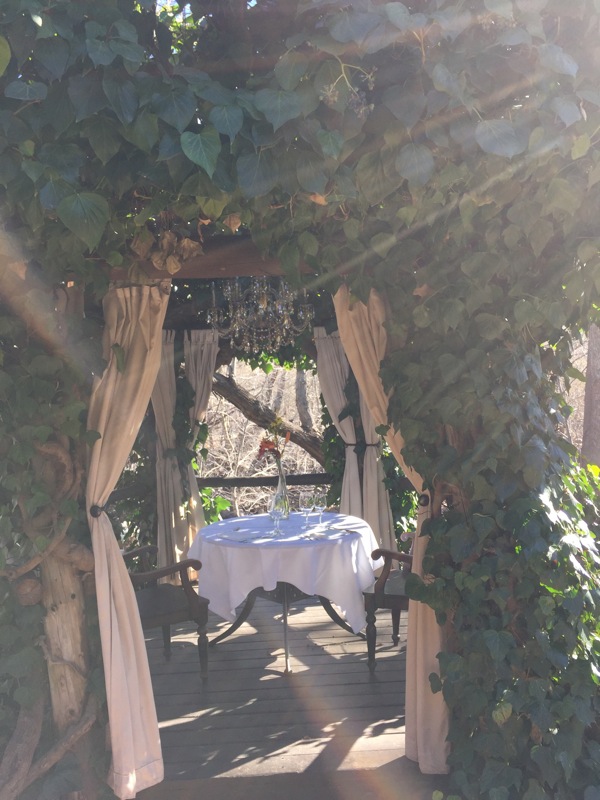 While I was at L'Auberge, I was able to participate in activities that are unique to the resort. The first was an adventure in forest bathing, which deserves its own post. It's a huge 2015 wellness trend, too!
I enjoyed a "Quiet Mind" relaxation massage at their L'Apothecary spa, which was designed by the massage therapists in house.
A view of the spa locker room: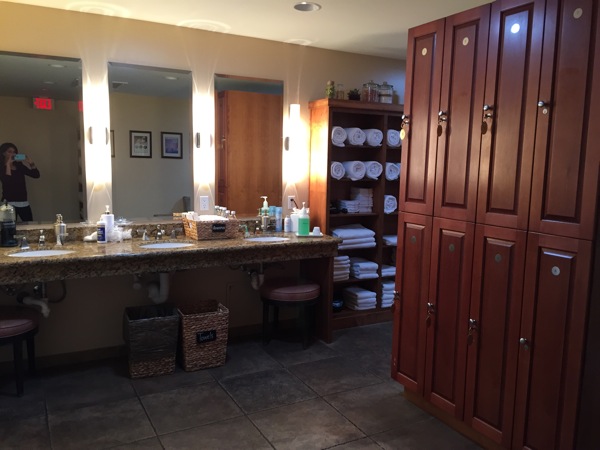 The massage was 90 minutes (ahhhhhhhh) and featured breathing techniques and meditation to promote full relaxation. I'm a notorious "monkey mind" during massages, often thinking of to-do lists or convincing myself not to smile like a creeper during the massage, so I really enjoyed the extra breathing and relaxation. During the massage, she used a "quiet mind" mist, featuring flower essences from the property. Afterwards, I drank an elixir featuring the same ingredients. I was still half-asleep when I walked out, and floated into the spa lobby for our next activity.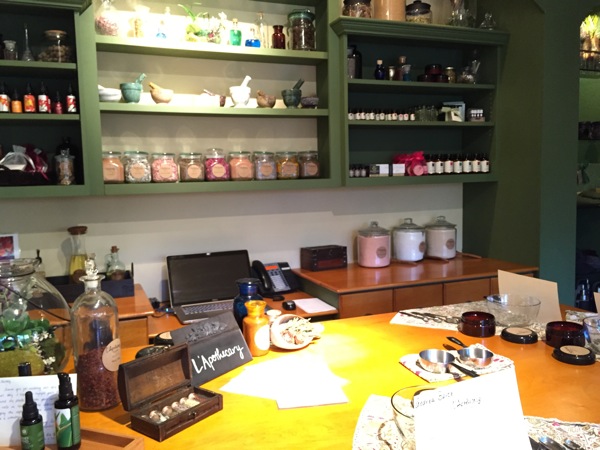 We were greeted by a variety of healing botanicals, including fragrant herbs, flowers, oils, salts and sugars. We had the option of making a bath soak or body scrub. I made a body scrub with lavender, rose, pink rose, rosemary, L'Auberge floral oil, pink sea salt and sugar. It smells heavenly!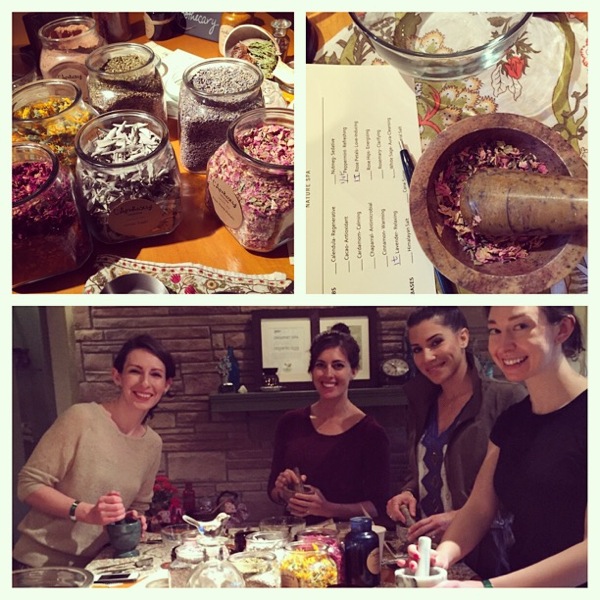 With Yelena, Lindsay and Andi!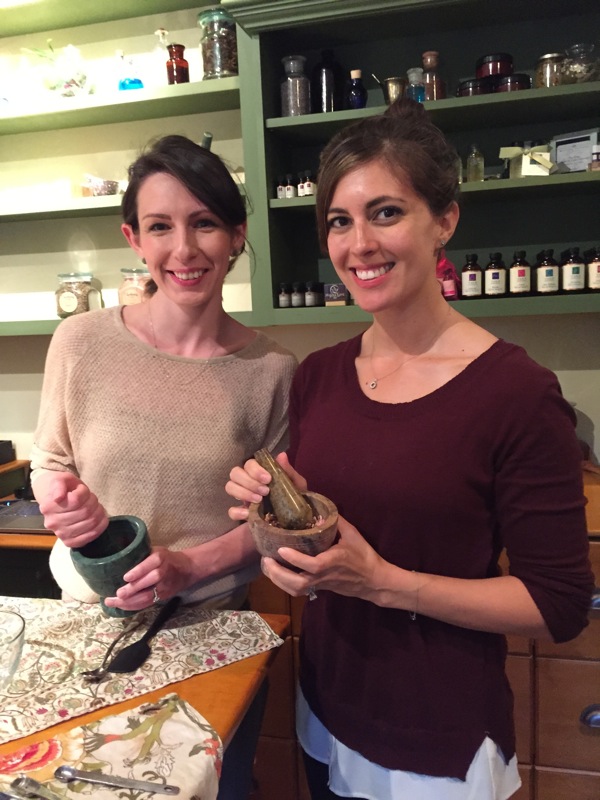 My sugar scrub: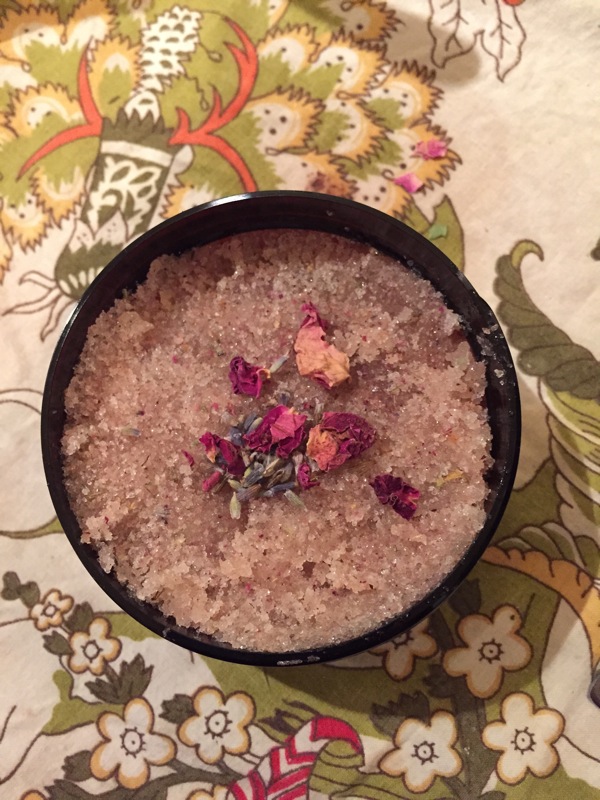 The final evening, we enjoyed dinner from Chef Rochelle in L'Auberge's Four Diamond restaurant, which serves French-inspired American cuisine. We enjoyed a four course meal, and some of my choices included Oregon Dungeness crab, House Goats Crème and Scottish Salmon (with buttered peas, grapefruit, fennel bulb and roasted beet). It was dark, but I did get a decent picture of the aforementioned cookie float.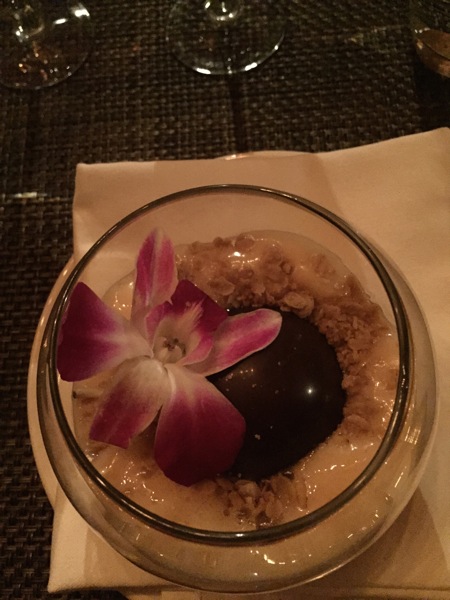 There were so many special touches that made L'Auberge (and Sedona!) a magical place, from lounging on the patio and watching the sun set over the red rocks, hiking with friends up Brins Mesa, the fantastic meals and amenities, exploring the property, the even feeding the ducks. 🙂 The ducks know breakfast is at 8am.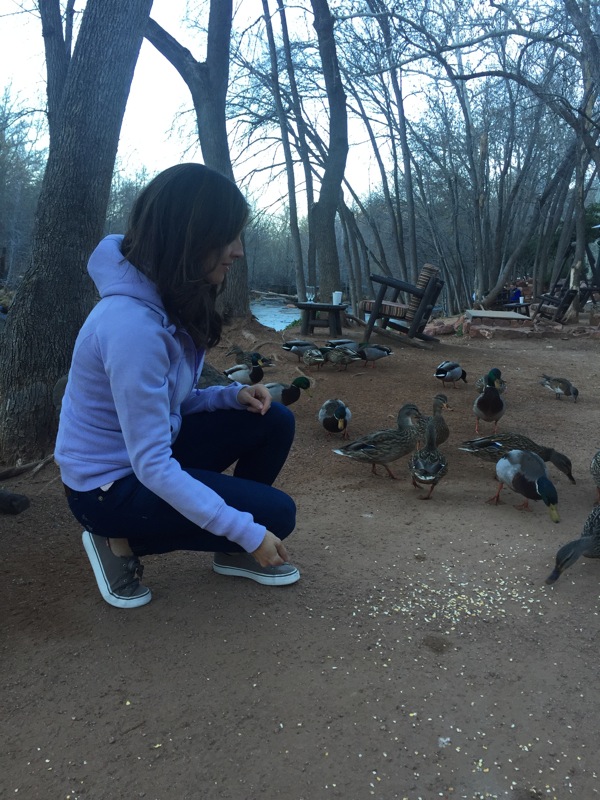 It's also extremely family (and pet!) friendly, so I can't wait to make it back one of these days to share it with the fam.
Hope you're having a lovely night! Do you have any spring travels on the horizon? We're visiting the Pilot's family next month, and we can't wait to see everyone.
xoxo
Gina
Special thanks to L'Auberge de Sedona for hosting my travel and accommodations, and to Sedona Yoga Festival for the festival attendance. <3