Since Livi was born, I have loved being able to wear her in the Moby and Baby K'tan. In the beginning, that's the only place she would nap, and I loved feeling her soft baby snores on my chest.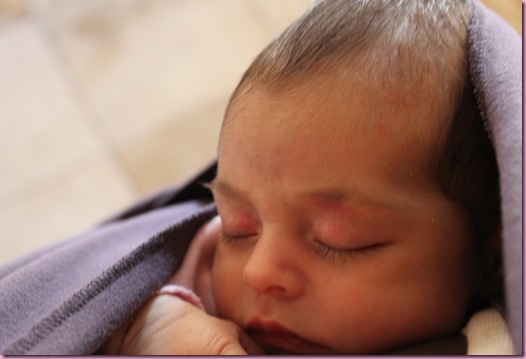 (she was only 3 weeks old in that picture!)
There are so many benefits of babywearing: the baby feels secure and safe, it helps promote healthy breastfeeding and bonding between the baby and the carrier. While baby wraps and carriers are expensive, I feel like they pay for themselves with repeated use –I've used at least one every day for the past 4 months- and the resale value is very close to what you pay for them. We'll keep our wraps and carriers for baby #2 and can easily trade or sell them when we'll no longer use them.
Now, she naps like a champion in her crib, but I still love to put her in the wrap for walks with Bell, grocery shopping and around the house during that time before bed when she just wants to be held.
The Moby and Baby K'tan have been incredible, but it's to the point where Livi is too big for them. Lately, I've felt like she's getting too heavy to be well-supported and after Googling, found out that after the baby gets to 15-18 lbs, stretchy wraps (like the Moby and K'tan) are no longer recommended. Also, Livi is to the point where she wants to be able to look out and see the world, and the forward-facing carry in the Moby and K'tan aren't the best choice for baby's hips, since they're being pushed out unnaturally and could be painful for them. I'd love to be able to wear her on my hip or back.
The next step:
(most of these carriers are for older babies who have full control of their head and neck; check with your doc if you're unsure)
-a woven wrap, which I think is the most baller of babywearing. There are so many ways you can tie them, including back carries, and since they're not stretchy, they're very supportive for the baby and comfortable for the mama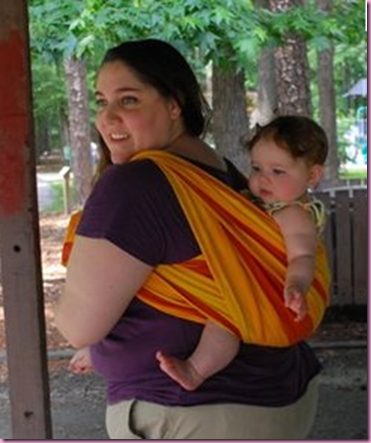 -a mei tai carrier. These are like smaller versions of the Ergo, can be worn on front, back or hip, but aren't the most supportive for very heavy toddlers.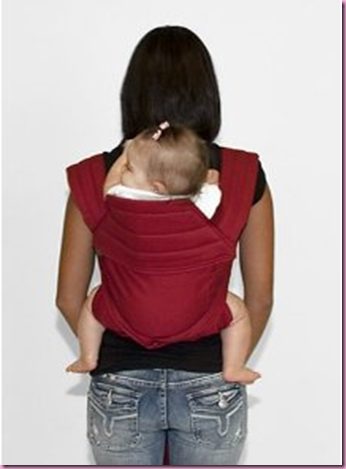 Source
-a ring sling. The baby is worn on one shoulder, sitting in a pocket. Ring slings are awesome for breastfeeding on-the-go, too.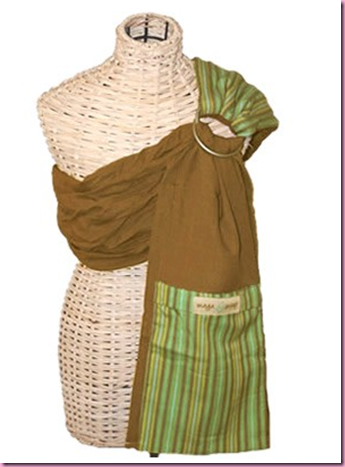 Source
or
-a soft-structured carrier, like the Ergo. The Ergo can also be worn on the front, back or hip and is very supportive for heavy toddlers. It's a versatile carrier because it can be used from the time the baby is a newborn until they're a couple of years old.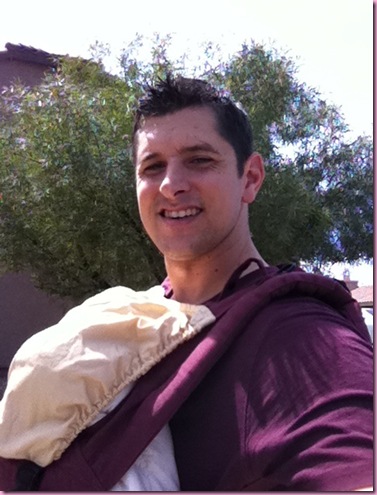 (a babywearing man is a handsome thing indeed)
Here's the thing: we have an Ergo (in the pic above), and I'm not the biggest fan of it. It's adjustable but feels like it's too much for me- it's extremely bulky. I have a short torso and don't feel the most comfortable carrying Livi around in it. I've tried a few times, but I don't love it nearly as much as I've enjoyed the Moby and K'tan. Tom, on the other hand, loves the Ergo and loves carrying Livi in it. I also think it may be too hot in the summer months.
For now, I'd like to get another carrier that Livi will be comfortable in and that I'll be able to wear her on my back. I have a feeling that when she's bigger, I'll like the Ergo more, but for now am trying to decide between a mei tai or a woven wrap.
There is an amazing babywearing group on Babycenter, but it's intimidating to sift through the multiple pages of forums, so I thought I'd ask for some advice 🙂
-I know I'd love the woven wrap, but is there a version that won't be so hot in the summer? It gets crazy hot here, and I don't want Livi to be too warm wrapped up in heavy fabric. There are literally hundreds of types of woven wraps and I'm a little intimidated to pick one (especially when they're very expensive) and have it be too heavy.
-Is there a mei tai version that you recommend? I'm looking mostly at the Babyhawk (in the pic above)
I'm excited to hear what you think! <3