Hi guys! Hope you're enjoying the morning <3 I'm pretty excited to be writing this post with real internet, as ours mysteriously stopped working and I've been depending on my iPhone as a hot spot for the past couple of days. It's the little things, right?
Thank you so much to those of you who took the time to complete the blog survey a couple of weeks ago. I really appreciate your feedback and take your suggestions to heart; I've been enjoying reading through the data and am so thankful for your time and help!
Congratulations to the winner of the $100 Visa gift card:
Kristin, who said, "Took the survey! This recipe looks yummy! Can't wait for fall :)"
[The winner has been emailed. Thank you again to those who participated and stay tuned for more giveaways coming up!]
On the horizon:
Fall weather. Maybe? My guess is that it's pretty mild here year round, but we've been enjoying lots of sunshine.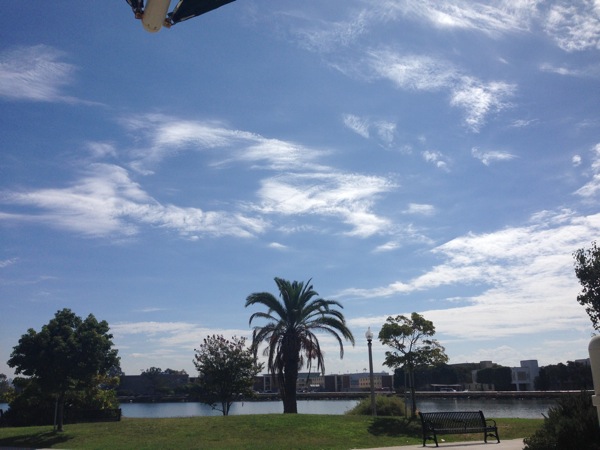 Hopefully an official Bodypump certification. After ThumbHack2014 I had to get an extension and finally got my video filmed. It was a huge sigh of relief to get that out of the way! I'm really excited to learn a new release, too, since I've been practicing the same one for months now.
After class yesterday, we played outside and headed to Liv's yoga class. If you're local, I highly recommend If I Was a Bird yoga studio. My friend Betsy recommended it to us, and they have two locations. The teachers are wonderful, and each week they have a different theme. They also include a craft and a snack with each class; yesterday the theme was Hawaii and the girls made beautiful paper flower crowns. (Bonus: the classes correspond with Core Power Yoga and Barry's Bootcamp classes, so if your child is potty-trained, they can take yoga while you go to class. I haven't done this yet, but it's a cool option if you want to get in your own workout while your kiddo gets a beautiful yoga practice.)
More trips to the little Italy farmers market. It was our first time this weekend we were blown away!! So many incredible vendors.
Paddleboarding adventures.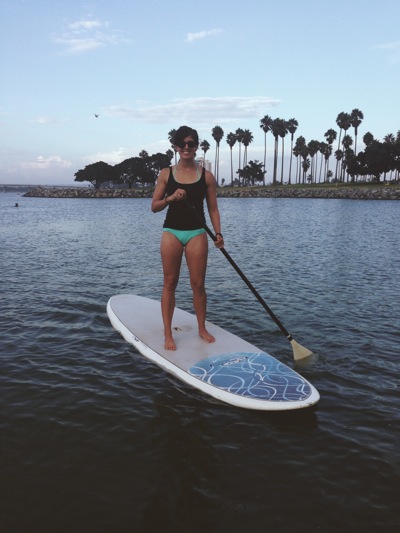 (Cool shorts tan brah.)
Two new eBooks. I'm often asked about blog tips and suggestions for increasing blog readership + my favorite tools. I put everything together into one spot and should have it uploaded (under the "Work out with me" tab) tonight. I also wrote a freeeeee 30-day healthy eats and fitness plan so stay tuned for details on how to get a copy!
Bella's craziness. It knows no bounds 😉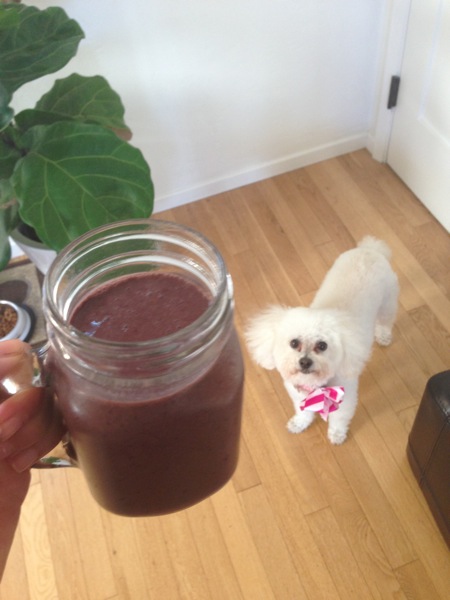 This is totally random, but Bell has taken her begging to an entirely new level. She will eat ANYTHING now, even though she has access to food and water 24/7. If you leave any food out, she will find it and eat it. She had the rest of Liv's peanut butter sandwich yesterday that we had left on the table before naptime. It reminded me of the time we went to upstairs to put Liv to bed (in our Tucson house) and came downstairs to find Bella slurping the last of the chicken coconut curry out of a bowl. She knows the good stuff.
Caro has officially crossed over to cuddlebug status: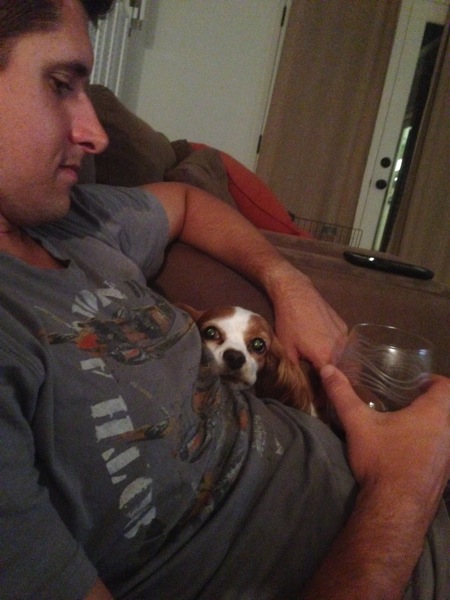 Today is back on the running bandwagon! Tackling 4 miles before the day's adventures.
Hope you have an amazing day <3
xoxo
Gina
Something to do: Today's squat challenge! Don't forget to check in on the workout page after completing it 🙂