September Shred Workout Calendar
Hi friends! Welcome to September! (Does anyone actually remember to say "rabbit" 3 times on the first of the month? I always think of it about 2 days too late.) Are you ready to start off the month with a BANG?
September is always an exciting time. There's the back-to-school hubbub, the slightest hint of cooler weather, and football season. Pumpkin also tends to make an appearance (already!! give me pumpkin everryyyyything) and I start to look forward to the upcoming holidays.
It's also a great time to think of fall fitness goals and reassess your plans for the rest of the year. If you're looking for a little fitness inspiration, here's a calendar I made for the next 4 weeks:
(as always, check with a doc before making any fitness changes)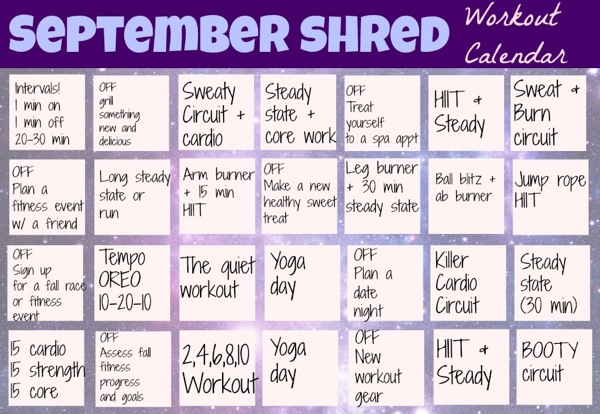 Similar to the August calendar, you'll notice that there aren't any specific days on there. This way, there's no pressure to do things on certain dates. You can shuffle or move things around as needed, but I organized the types of workouts so that it's a nice balance of strength, cardio, rest and flexibility.
Here's what's on the menu:
-For the tempo Oreo, you're going to pick your favorite type of cardio and warm up, nice and easy for 10 minutes. Then for 20 minutes, push yourself by increasing speed, resistance, or a combo of the two. Cool down for the last 10 minutes. See, it's like an Oreo: a little sandwich with the good stuff in the middle.
What fall fitness goals are you working towards?
What types of workout would you like to see on the blog this month?
Please be sure to tag me with your healthy eats: #eatlikeapro @fitnessista
and workout pics: #septembershred @fitnessista
Thank you to all of you for keeping me updated and sending in your awesome pics. I love to see them! <3
Here's a healthy goal I'm going to do for the month of September: aim for minimally processed foods. Anyone want to join me?
Here's to a happy and healthy September!
xoxo
Gina