Hi friends, here is the October cardiolicious, sculpting, sweaty Halloween workout. I hope you love it 🙂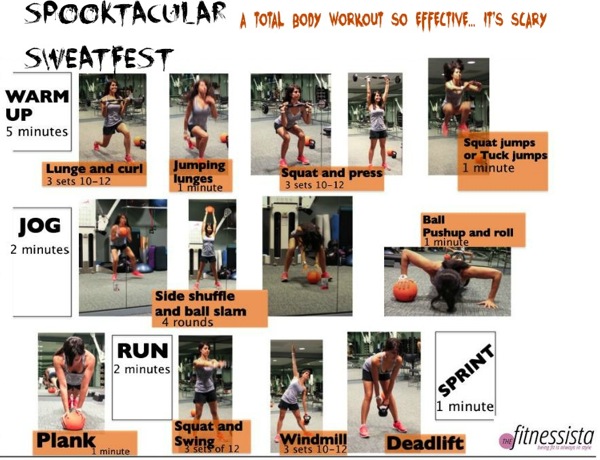 Halloween Workout Form Cues
*For any of these exercises, feel free to ditch the equipment and use dumbbells (or just your body weight for the push-ups and planks) instead. I originally designed it with a body bar, but didn't have access to one when I went to photograph the moves. A pair of dumbbells or a barbell will work just fine 🙂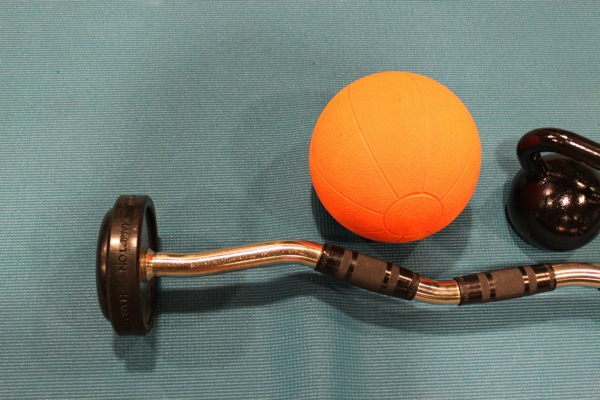 -Make sure to warm-up before starting the workout
-Lunge and curl: Watch your front knee to make sure it isn't shooting forward, and as you curl, keep your arms in close to your sides. Use your biceps to lift the weight, not your low back or swinging hips.
-Squat press: When you're holding the weight in front of you, it's tempting to let those knees stick out. Think about REALLY sitting your hips back and keeping your weight in your heels- you should be able to wiggle your toes at any time
-Squat jumps or tuck jumps: too much for your knees? Try half-jacks, jogging in place or jump-roping instead.
-Shuffle and ball slam: Shuffle to one side 10 times, and then bring the ball up to slam it down 10 times, landing in a low squat. IMPORTANTE: use a heavy ball and test it first- otherwise, it may bite you in the face. And that hurts.
-Push-up and ball roll: I have to do this one on my knees, but if you're wicked strong, go for it on your toes. Make sure to keep your hands out wide, pushup and then roll the ball under your opposite arm, placing that arm on top to switch sides.
-For the plank, if that's too easy, try lifting up one leg. Too much? Go onto your knees, and make sure to keep your booty in line with the rest of your body (no hips in the air).
*For all of the kettlebell moves, if you're new to kettlebells, I recommend using a dumbbell instead to get the feel for it.
-Squat with the kettlebell down low and as you come up, swing it in front of you. Be sure to keep your wrists STRAIGHT- if they bend, the kettlebell is too heavy. Only swing the weight up to shoulder height, and for even more of a challenge, try switching hands.
-Windmill: If you're holding the weight in your right hand, your right toes should be facing outward (the other toes are straight ahead). Lower down into a triangle position, and using your core, come back up. Imagine your body as a flat piece of toast about to go into the toaster- keep your shoulders in a straight line and avoid rounding your back.
-As always, check with a doc before making any fitness changes. Modify as needed, honor your body and any injuries/considerations you may have.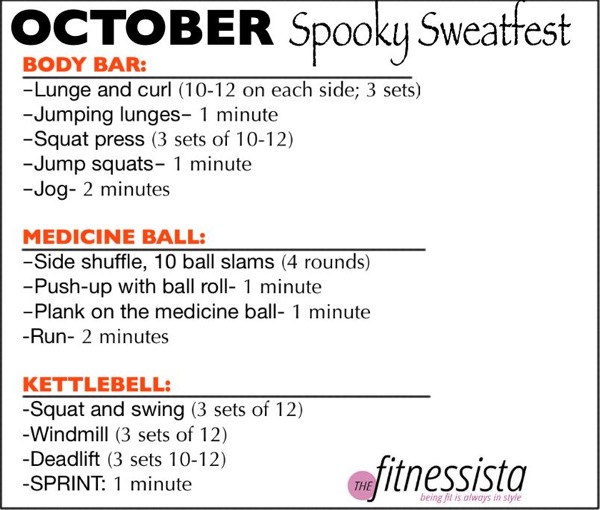 I hope you love it! Be sure to send me LOTS of sweaty pics, mmm k? @fitnessista
Please leave a comment to let me know how it goes!
For more ideas on incorporating this workout into your fitness plan, check out the October Workout Calendar.
More October Workouts:
JACKED-o-Lantern Halloween Workout
Happy sweating <3
xoxo
Gina
Any workout moves or gym equipment that intimidate you? I used to haaaate the scary cable pulley thing.