Heyyyy 😀 Hope your Tuesday has been wonderful <3
Our last day in the Bahamas was pretty much like every other day there… amazing 😀
The pilot said that life in the Bahamas is like a weekend, every day for a week. I totally agree.
After this morning's Insanity, we went to the Italian restaurant for bfast.
I got the usual smoked salmon and egg whites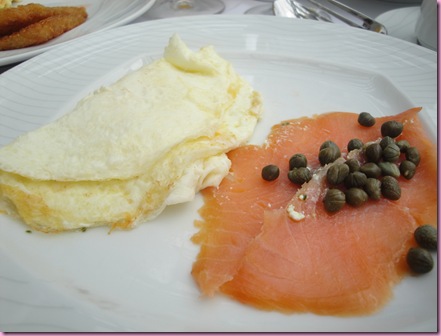 and oats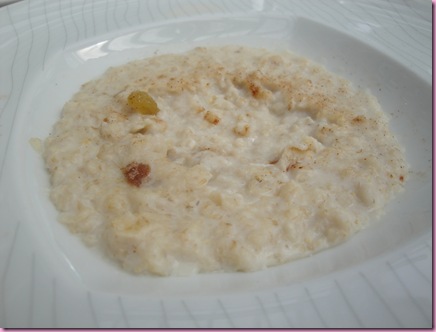 (I asked for half a bowl this time, which ended up being perfect)
We went back to the room, packed up, and spent the day at the beach with T-bone and Jeni.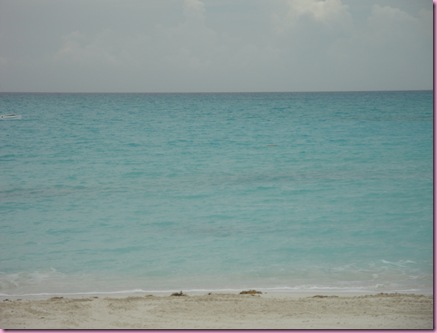 The pool was closed today, so they had a ton of food set up on the beach, music, a bar, water sports and games (like tug-of-war and volleyball).
The pilot and I did one more kayaking trip and then grabbed a snack.
A cheffer was making this conch ceviche right on the beach!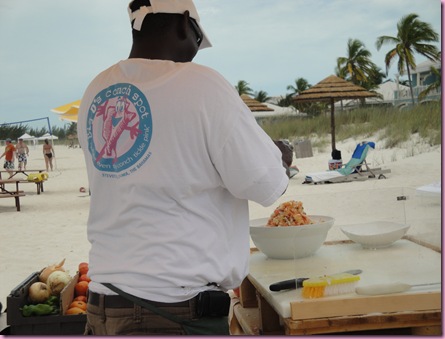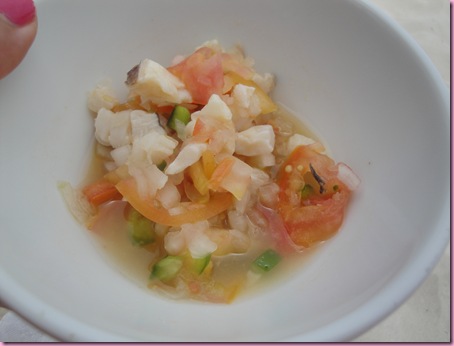 This, by far, was the best thing I ate on this trip.
He had all of the ingredients out: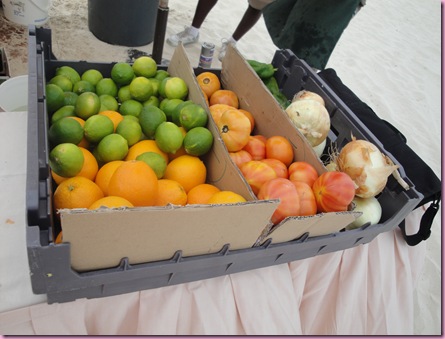 Along with conch shells, straight outta the ocean.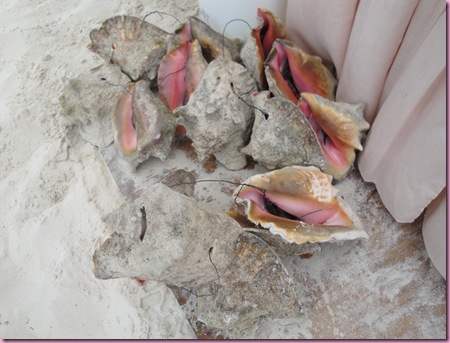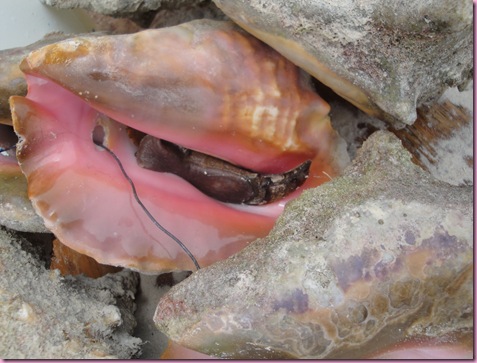 Take a gander at that, heh heh.
The conch ceviche was INCREDIBLE (like a spicy pico de gallo with fish and citrus)- I also had some fruit and one last Bahama mama.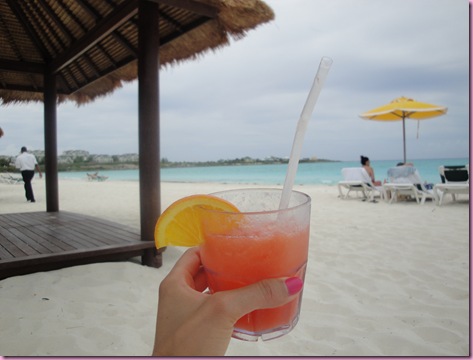 Perfection.
This trip was such a blasty and MUCH needed after the craziness the pilot and I have been going through lately. I don't discuss this much on the bloggy because I'm not a complainer, but the pilot works a LOT and I have three jobs, so things get a little busy and frantic sometimes. I thrive on stress and being a busy bee, but it felt like heaven to take a week with nothing to do and enjoy the company of that guy I'm in love with 😉 Even better: I feel rested, refreshed and ready to go 😀 We were wound up pretty tight when we left for vacay and both feel like different people.
Since many of you were asking about the deets on where we stayed, here's all the info for ya:
-We stayed at Sandals Emerald Bay in Great Exuma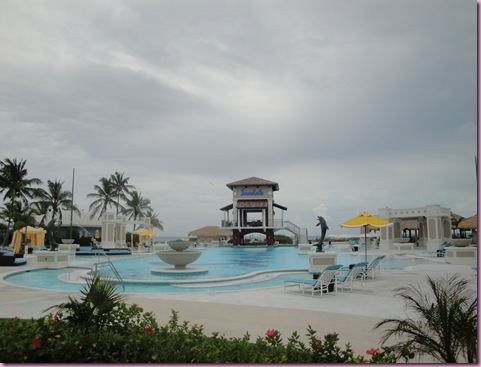 -The resort is all-inclusive and all-butler (so each couple has their own personal Butler for their stay)
– There is a full-up spa, excursions that you can take (we didn't do any because they're pretty pricey wicey), 2 pools (party pool and a quiet pool)
, tennis, deep sea fishing, a full-up gym (with yoga classes), 3 restaurants and a pub (which has excellent food as well)
– "Best of" eats: Bahama Bay has a Mediterranean-style menu (with an awesome appetizer and dessert buffet- home of the glorious sundried tomato pesto) and was perfect for dinner or breakfast, Il Cielo is the swanky Italian place (you need reservations 48 hrs in advance) with great food and a girl who sings like an angel (I wanted to pretend it was my birthday!), Drunken Duck has AMAZING drinks and excellent pub food- the pilot loved the cheeseburgers and wings and I enjoyed the vegetables and curry shrimp, Barefoot has a great dinner menu and has the coolest atmosphere- you dine on a picnic table facing the ocean with your feet in the sand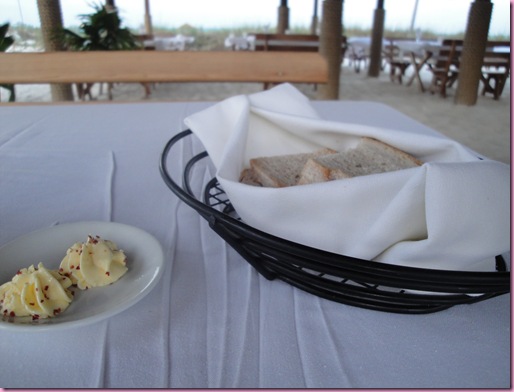 –LOVED:
             The FOOD! It was soooo easy for me to find food that I wanted to eat and it was all fresh and delicious. No food complaints at all, and even when I requested weird off-menu things (grilled veggies, grapes and salad for lunch) and drinks in coconuts, they were happy to oblige. My butler said he climbed a tree to get the coconuts for us (he was joking, but it goes to show that they'll take extra steps to make sure you're happy)
             The service and people. Everyone was so friendly, so pleasant and truly accommodating.
             The goods. This place had top-shelf alcohol in the bars and in our rooms, which I hear is unusual for all-inclusive places. They were also very generous with it, especially when they filled the pilot's 64 oz Bubba Keg with mudslide for him.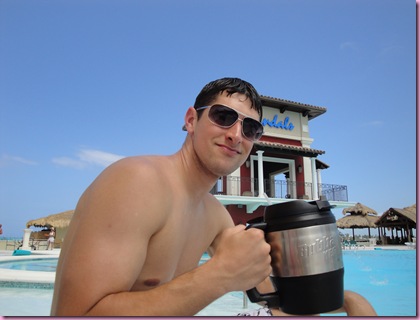 The extra stuff to do. Even though it's more of a "chill out and relax" type resort, they offered a lot of fun activities for each day (hello Shell painting and chocolate buffet). There was also an afternoon tea every day, which I was a fan of 😀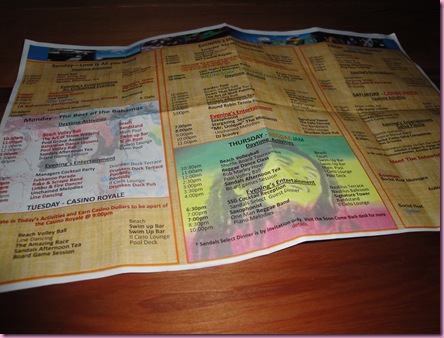 -Meh:
             The butler thing is a good idea in theory, but from the beginning I could tell that we wouldn't be using it very much. When we did call our butler, it often took 45 min to an hour to get food, so we'd have the anticipate when we'd be hungry or just go get it ourselves. The butler thing would work if it were managed a little better (I think they may be low-staffed) but I wouldn't go to this resort just for the Jeeves aspect.
            The pilot's Bubba Keg was accidentally taken from the room by housekeeping and they couldn't track it down. We had to talk to 3 different people (it wasn't the fact that we had a deep attachment to the mug, but it was weird that something was randomly taken from our room), but management reimbursed us for said mug. Problem solved.
Would we stay here again? MOST DEFINITELY. Our room was gorgeous, the food and drinks were fantastic and we got a romantic week of R&R. We're thinking of making this a yearly thing 😀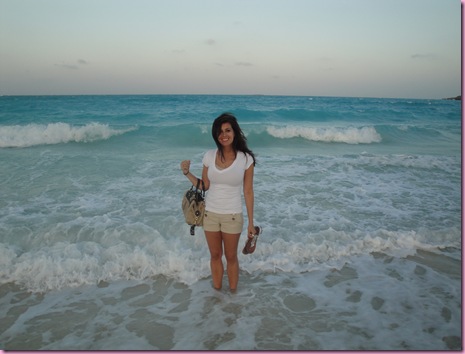 I also took some video while we were there just to give ya'll an idea of what the property looks like and will post it sometime tomorrow.
Thanks again to Heather for booking our trip <3
We just landed in Miami and are on a mission for Cuban food. See ya from Hotlanta!
xoxo,
Gina