I can't believe the Olympics are over!
It's the first time in a long time that I've really gotten into it -I've always loved the Olympics but am not usually home during the day, so I missed quite a bit of the last couple summer Olympics. Since I've been here playing with Liv, I've kept the games on during most of the day and have been able to catch a lot of incredible events, even the ones I didn't know existed.
Beautiful.
I loved watching, and many times when I heard the national anthem during the medals ceremony, it brought tears to my eyes. It's truly inspirational how hard these athletes work- watching the Olympics also helped me power through a training run on the treadmill.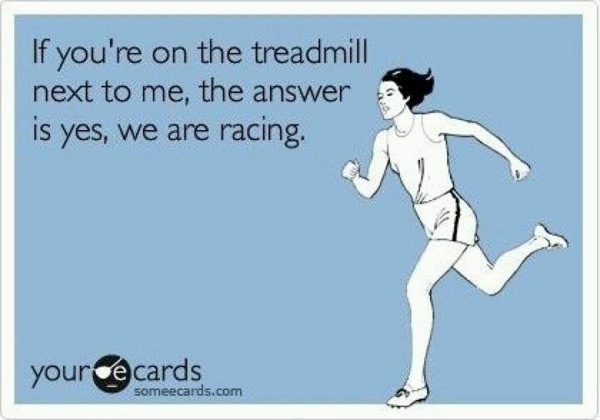 I haven't been training for my race like I should be, even though I only have one "run day" each week. I told myself I'd go into it with a laid-back attitude, and it's gone a little to the extreme. It's been wicked hot here, and I get soooo bored on the treadmill. I haven't really been running as planned. I was secretly hoping I'd be able to do the half marathon, but it's looking more like a one-way train to 10k city. I'd rather run a shorter race and feel good about it than a longer race without training properly and risk injury. We'll see how it goes. Until the weather gets nicer, it's easy to make weather-related excuses. Fall is the BEST running weather, so I'm really excited to get into some 5ks with the family.
Something that's been easy to stick to?
Strength training.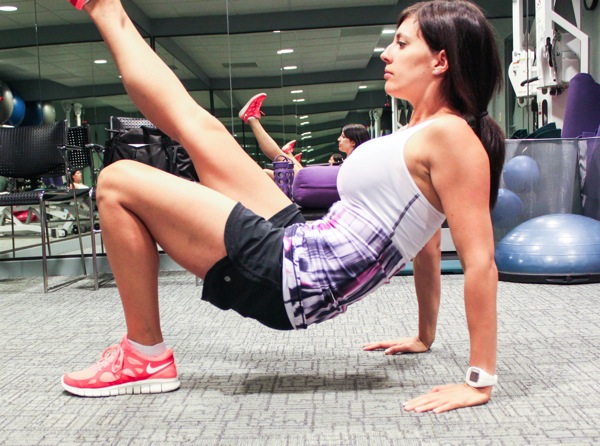 With my current fitness schedule, I strength-train twice a week and look forward to it all the time. It makes me feel strong, and recently I busted out some moves on the Smith machine like the good ol' days.  I especially love my new gym– I dress like a grunge-ball and get in a quick, awesome workout.
Here's the circuit I'll be doing this week on Tuesday and Thursday, in addition to a little HIIT: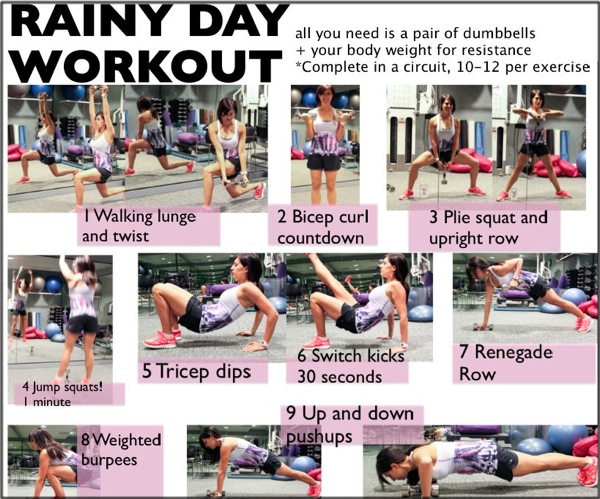 I call it the rainy day workout because you can do it anytime, anywhere, with just a couple of dumbbells- no excuses 😉
Some form cues:
1) Watch that front knee to make sure it doesn't extend past your toes, engage your abs and exhale as you twist. 
2) Do 10 curls first, then 9, then 8, and so on.. but instead of doing 1 at the end, you do 10 again. Whew!
3) Make sure your knees go out in the direction of your toes instead of forward. Think about sinking straight down with tight abs and try to bring your thighs parallel to the floor. As you come up, squeeze your inner thighs as you lift the weight (elbows up first).
4) Jump squats! This is just to get the heart rate up.
5) Make sure you're bending and straightening your elbows. Cheating is just lifting your hips up and down.
6) Keep your core tight as you take deep breaths and alternate kicking legs
7) Maintain a plank position as you row on each side (may have to go lighter on the weights)
8) Like regular burpees with dumbbells for some extra excitement 😉
9) From plank position (holding onto the weights) walk your arms out to the sides of the weights, complete a pushup and bring your hands back onto the weights.
*This workout is intended to be completed circuit style, with little to no rest in between exercises. By doing it this way, your heart rate will stay elevated and you'll possibly burn more calories. Bonus: you'll be done faster!
*I'll be including a warmup, 20 minutes of HIIT at the end and a nice cool down. To incorporate some Tabata instead of the HIIT, you can do a Tabata round (4 minutes) instead of the squat jumps each time through the circuit. I'll be completing the circuit a total of 3 times.
(As always, check with a doc before making any fitness changes. Honor your body and your injuries)
Anyone joining me for the circuit? After you finish it this week, leave a comment on this post to let me know how it goes! You can always tweet me a sweaty pic, too (@ifitnessista)- I love them! 
Hope you have a very happy Monday!
See ya later on the Family page <3
xoxo
Gina
Something to talk about: Did you watch a lot of the Olympics? What was your favorite? Who was your favorite? I'm a fan of Michael Phelps.. he is very.. talented. 😉
Make It Happen Monday!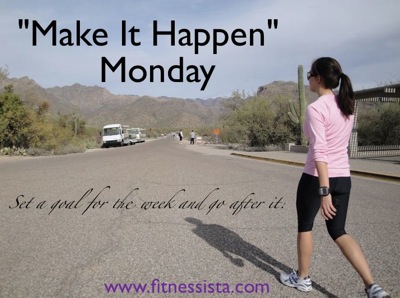 What goal are you declaring for the week? Write it down and take steps every day to make it happen! Mine: choreograph a little hip hop solo for dance week and drink more water.