Heyyyyy 😀 Happy Sunday! Hope you've had a wonderful weekend so far <3
Last night was a lot of fun.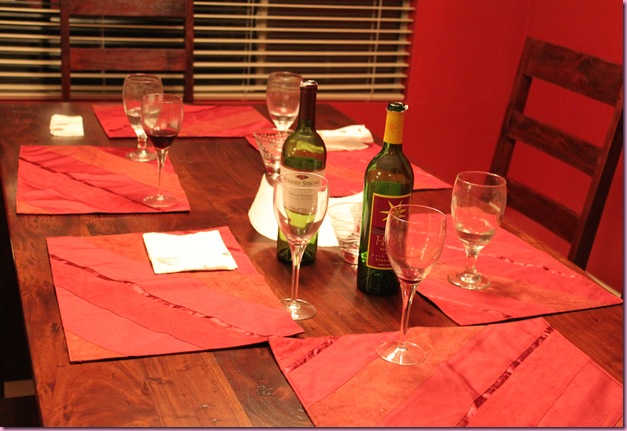 I didn't get the chance to blog again yesterday- once I got home from teaching Zumba, I had to shower, make the last-minute things and put everything out.
The good news is that I made the lasagna in advance –I always think about lasagna being *so easy* until I actually set out to make it. All of the little steps are a beast- and just had to assemble the pizookies, get the appetizers together and make the salad and sparkling water.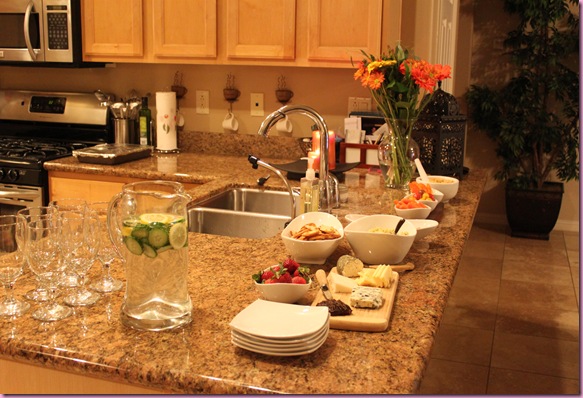 For the sparkling water, all I did was slice an English cucumber and 2 lemons, and added it to Trader Joe's lemon sparkling water. It was so refreshing and a good option for my friend Kelly and I, who couldn't partake in the vino and beer.
Appetizer row: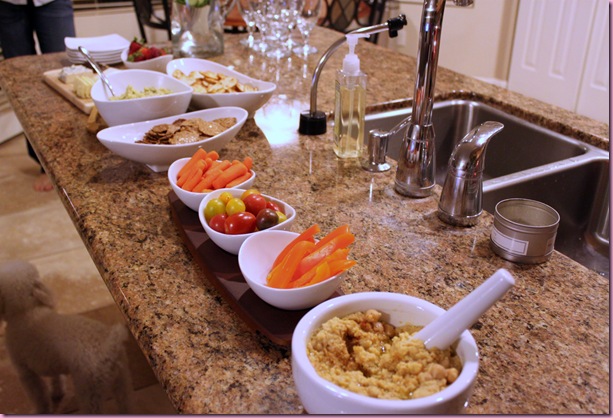 Hummus, served Opa! style in a mortar and pestle, drizzled with olive oil and paprika.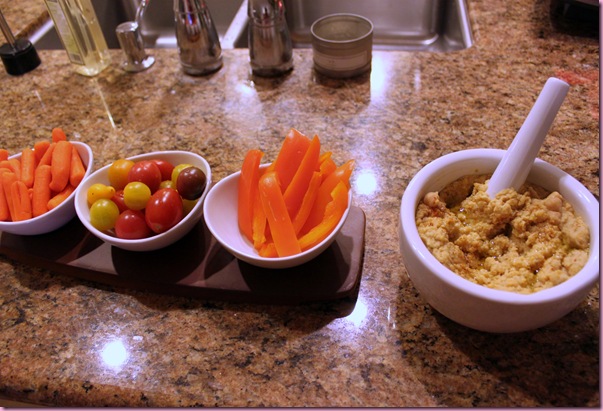 Carrots, baby heirloom tomatoes and sliced bell pepper
Artichoke dip (from Eat, Drink and Be Vegan)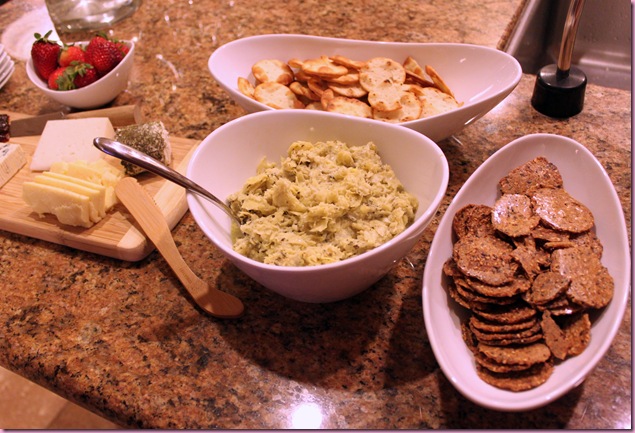 with Mary's Gone Crackers and Pita Crackers.
A cheese plate: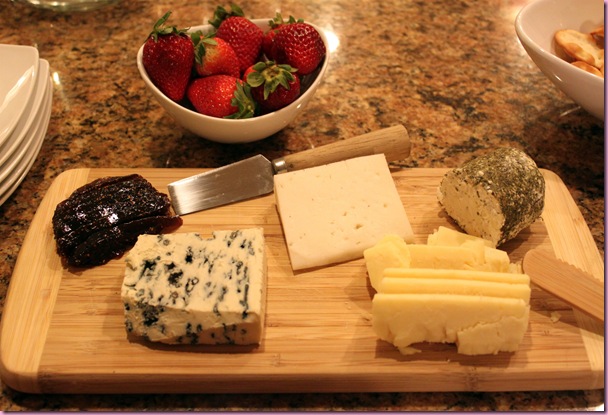 Strawberries, fig paste, bleu cheese, goat gouda, cheddar and soft herbed goat cheese.
[The cheese plate items + the lasagna noodles and Mary's crack are the only things I grabbed from Whole Paycheck. Everything else for the dinner was from TJs]
Set out plates and placemats: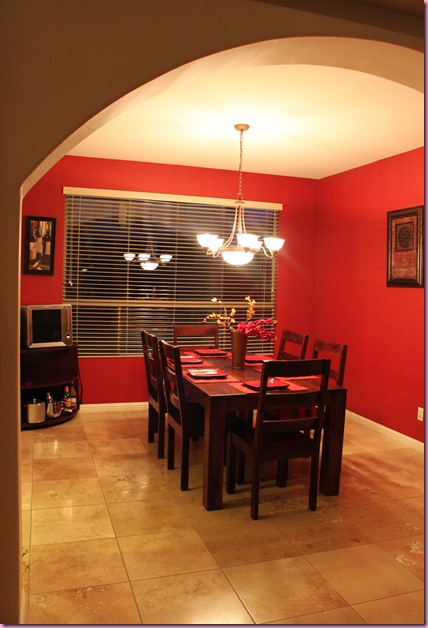 Made the salad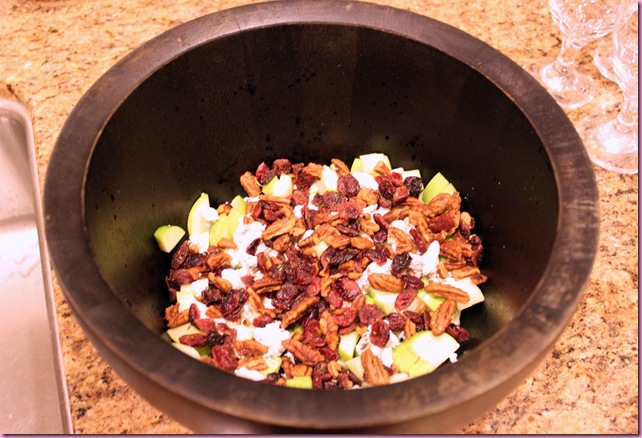 [herbed goat cheese, diced green apple, dried cranberry, rosemary and candied pecan mix, with arugula and spinach and top- tossed right before serving]
and lit the candles 🙂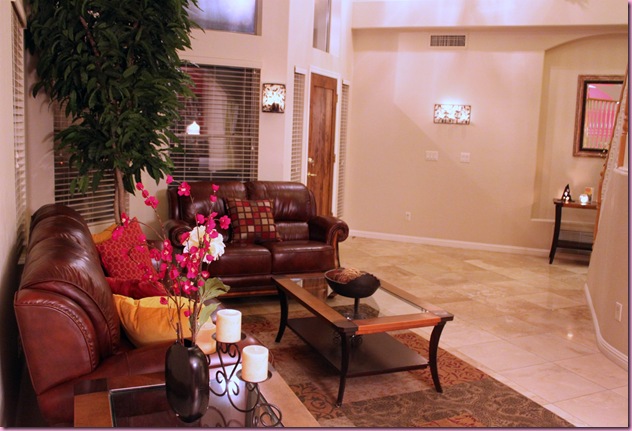 It was so nice to have a friend dinner party, finally. Now that we're back in the swing of things, we're planning to have friends over a lot more often.
For our meal, we had two different types of lasagna: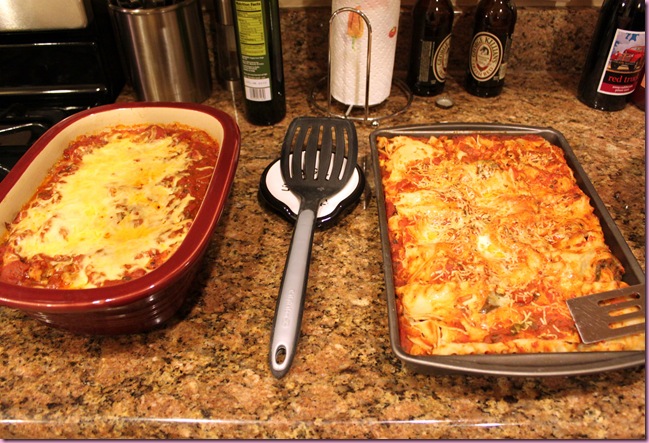 Meat lasagna on the left (Ina Garten's recipe, using my homemade marinara), and butternut squash and goat cheese lasagna, using brown rice noodles and the same sauce, plus a lot of shredded goat gouda [adapted from *this Cooking Light Recipe*].
Salad with balsamic: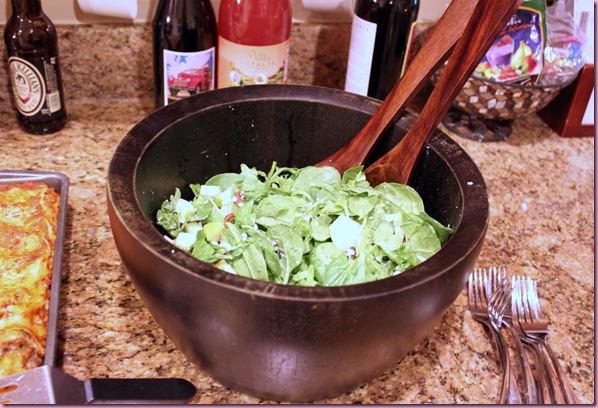 [this is probably my new favorite salad… but I say that every time I make a salad]
my plate: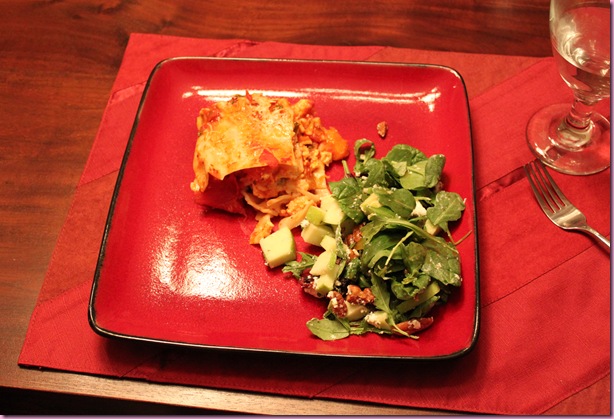 and the best part: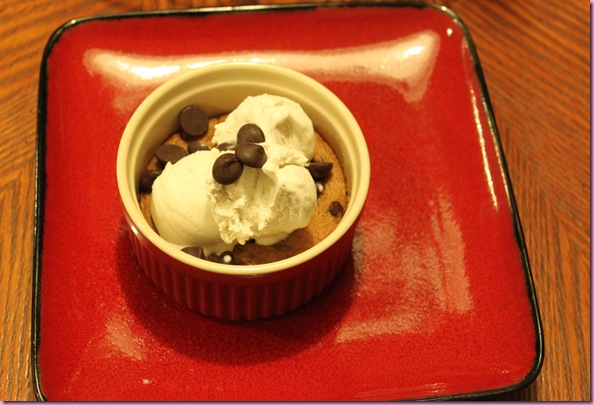 PIZOOKIE!!!!!!!
For the pizookies, I used Tollhouse dough for the regular ones, and a store-bought gluten-free dough for the GF girls. The plan was to make the dough, but in the end, it didn't happen. [And I needed so many ingredients, it was just easier this way] Two types of ice cream –Coconut Bliss Vanilla or regular Vanilla- and lots of dark chocolate chips.
For the pizookies, just add the dough to the tart pan (or a little soufflé dish) and bake for 15-20 minutes, top with desired toppings and serve. For these ones, the regular ones overflowed since I got overzealous with the dough, but it made for a cool-looking presentation.
Super easy, and I'm pretty sure everyone likes warm cookies with ice cream. 😀
It was an amazing night, with lovely company <3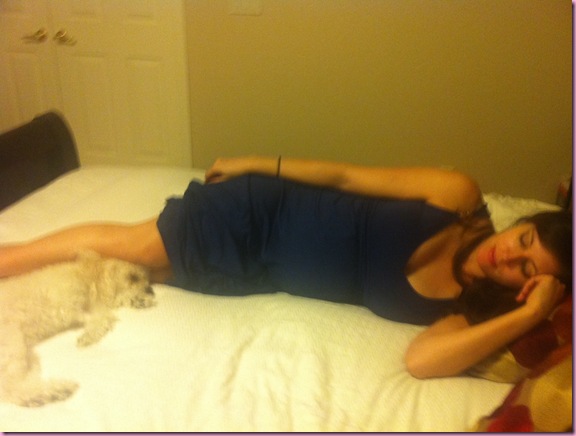 [I went upstairs to get ready for bed with Bell, but didn't make it very far]
This morning, we're just hanging out before getting started on Sunday chores.
Have a wonderful day and I'll be back later with a family post.
xoxo
Gina