Hi friends! Happy almost-Friday! How about a little workout?
It's important to give planks this holiday season….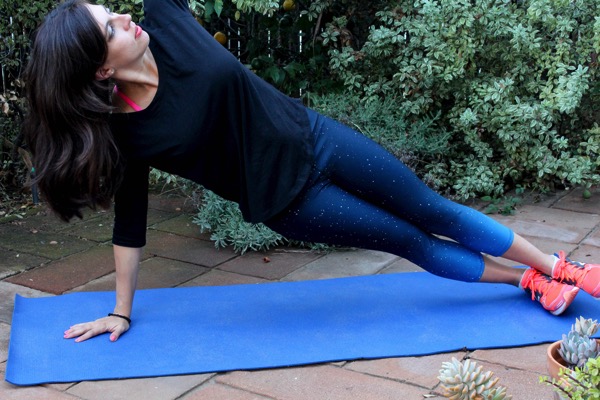 (Outfit is from Fabletics; shoes are my fave New Balances)
This one is bodyweight only, so this means that it's the perfect option to do anywhere, especially while traveling. You don't need any equipment, so no excuses. 😉 This combines some of my favorite strength moves, in addition to a crazy plank combo.
[Little note: I love to try all of the workouts on the blog before posting. I'm a stickler for sequencing and like to make sure that the exercises flow well and that the combo is sweaty enough. Since I'm not back on the workout wagon, I didn't get to try this one, but just snapped some quick pics of the moves for ya. I hope you love it!]
Here's the workout if you'd like to give it a try!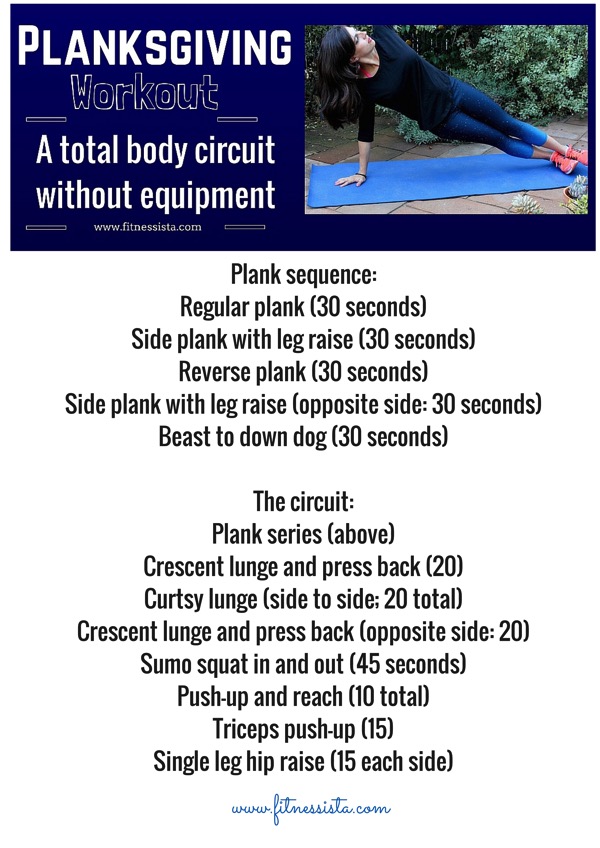 Form cues and tips:
This workout is meant to be done circuit-style. You'll go through then entire workout, and then repeat it up to 2 more times for 3 max total sets of each exercise. Try to move quickly and efficiently through the moves. As always, check with a doc before making any fitness changes. Honor your body and modify as needed.
Plank sequence
Regular plank (30 seconds): make sure that your body is in one straight line from your head, all the way back through your knees or toes (depending on whether you're modifying). If you're on your toes, press back through your heels, and no matter what, keep your hips in line with your spine. Tilt your chin away from your chest so your neck stays long, and take some nice deep breaths.
Side plank with front leg raise (30 seconds): [modify by placing bottom knee on the ground). Lift up through your bottom oblique and make sure your entire hand is planted into the floor. Challenge option: top leg kick forward, and tap with your top extended arm.

Reverse plank (30 seconds): come into a seated position, and with your hands below your shoulders, press through your hands to lift up your hips. Take your gaze towards the ceiling, and try to avoid letting your head droop back.
Opposite side plank (30 seconds): side plank on the opposite side, with the same modification and challenge options.
Beast to down dog (30 seconds): start in all fours, with your knees under your hips and your hands under your shoulders. Engage your core to lift your knees off the floor. Hold for 3 breaths before pressing back into down dog. Slowly, and with control, come back to the beast position and repeat for the 30 second block.

The circuit
Plank series** (above)
Crescent lunge press back (20): Start in a crescent lunge with front leg bent at 90 degrees (keep your front knee stacked over your front ankle), and your back leg straight and strong. Bend your back knee slightly, before pressing it back to straighten your leg.

Curtsy lunge side to side (20 total): start with one leg forward, and toes angled out 45 degrees. Step your other foot totally back behind the front, so that your foot is behind the opposite shoulder. Sink low into a curtsy lunge, rise, and then step to repeat on the opposite side.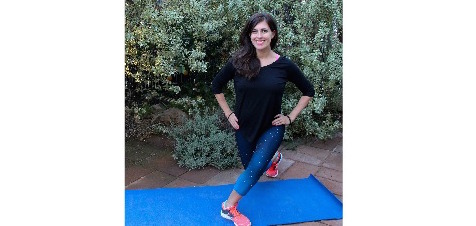 Crescent lunge press back (20): opposite side
Sumo squat in and out (45 seconds): start in a deep sumo squat, with feet under your shoulders and bending your knees so your thighs are almost parallel to the floor. Your knees should extend towards your toes, but not over your toes. Walk your right foot in to center, and then your left foot, keeping a deep bend in your knees. Walk in and our for 45 seconds total.

Push-up and reach (10 total): start on your knees or toes, with hands wide and knuckles pressing into the floor. Keep your hips down as you perform your pushup, exhaling on the way up. As you rise, extend one arm and the opposite leg. Place the hand and leg back down before your next pushup.

Triceps pushup (15): knees or toes, with hips in line with your spine and core tight. Keep your elbows close to your body as you lower down, and avoid letting them go above your torso. Exhale to rise.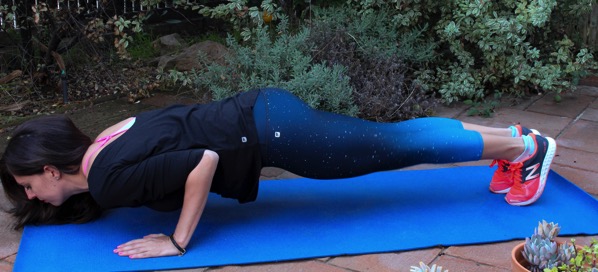 Single leg hip raise (15 each side): start on your back, with knees bent and feet pressing into the floor. Extend one leg, keeping both knees glued together. Press your hips up towards the ceiling, and lower down to 2 inches above the floor. Lift and lower 15 times total, before switching to the opposite side.
Hope you enjoy!
What's your favorite workout for travel? I'll almost always seek out a barre or yoga studio, and I also love hotel room circuits like this one and this one.
Have a wonderful morning <3
xoxo
Gina
Blast from the past: last year's Give Planks workout + video + 10 ways to plank